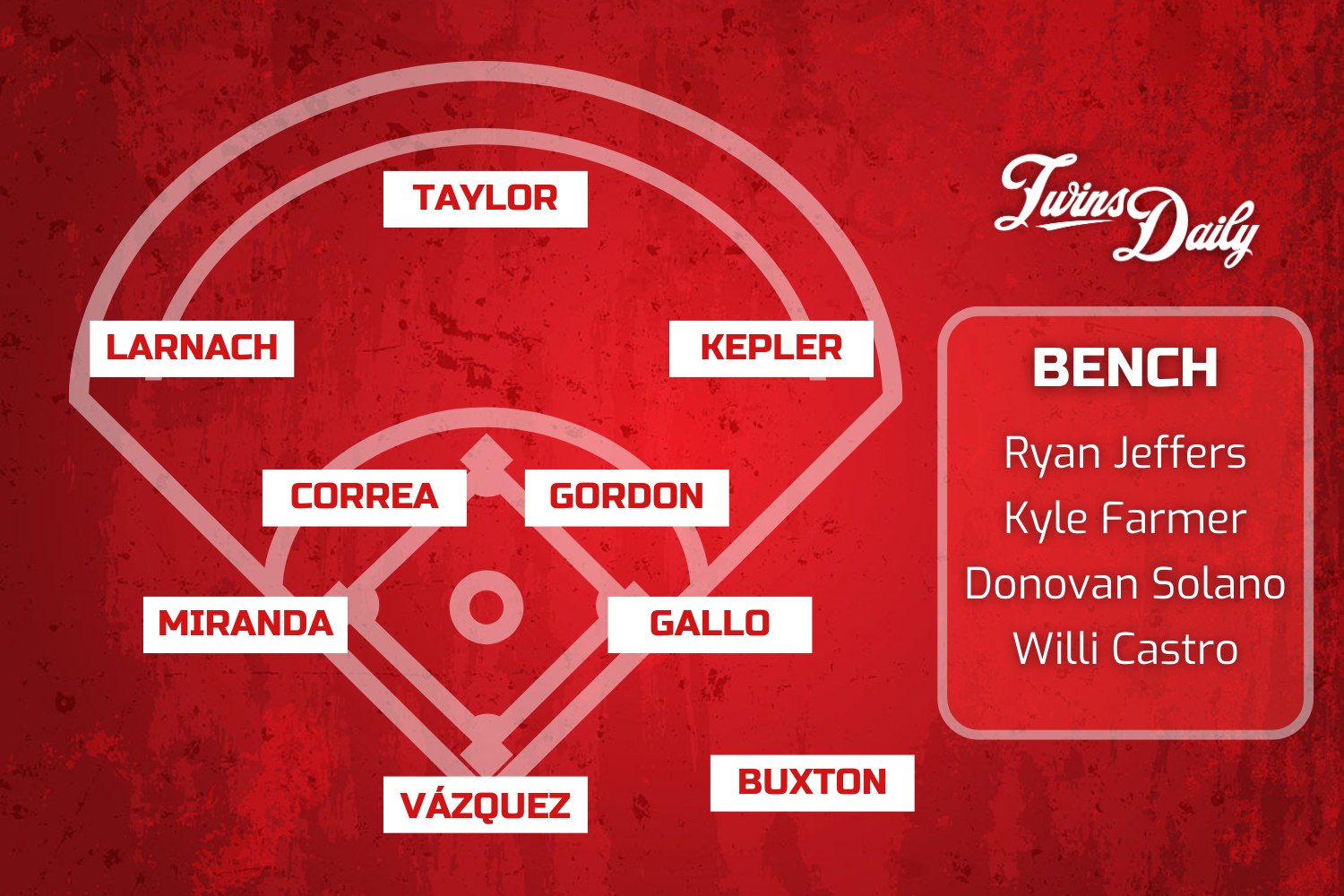 Image courtesy of Thiéres Rabelo, Twins Daily
As baseball fans, we've grown accustomed to things changing from year to year: a new scoreboard at the stadium, a new alternate uniform on Sundays, a subtle tweak to the game's rules.
Never before have we seen this much drastic change, occurring all at once. 
The 2023 season will introduce, at a league-wide level, rule changes that fundamentally affect the fabric of the game, including a pitch clock, pickoff limit, shift reduction, and enlargement of bases. Oh, plus a completely reconfigured schedule that includes less intra-division and more interleague play.
The Minnesota Twins will be wearing all-new uniforms with revamped branding, playing at Target Field beneath a newly supersized scoreboard and ... LED baseball medallion? All part of what team president Dave St. Peter called "the largest off-season project in the history of this ballpark."
Par for the course, in 2023. The year of brand new.
Breaking Down the 2023 Minnesota Twins Roster
There are plenty of new faces on the Twins team this year, but for all of the offseason roster churn and upheaval, the biggest shocker is what stays the same: Carlos Correa is back at shortstop. His free agent odyssey led to agreements falling through with the Giants and Mets before Correa found his way back to Minnesota on a six-year, $200 million deal.
Now, he'll bear the full weight of a franchise that's positioned to compete but plagued by huge question marks around him. Correa gives them a second superstar talent alongside Byron Buxton to complement a strong position-player core with several proven standouts. 
The Twins are hoping the returning duo of Correa and Buxton, along with mainstays like José Miranda, Jorge Polanco, Max Kepler, and Alex Kirilloff can elevate Minnesota back into the upper tier of run-producing teams. While Christian Vázquez and Joey Gallo are now aboard as regulars, the story of the offseason was adding high-caliber depth.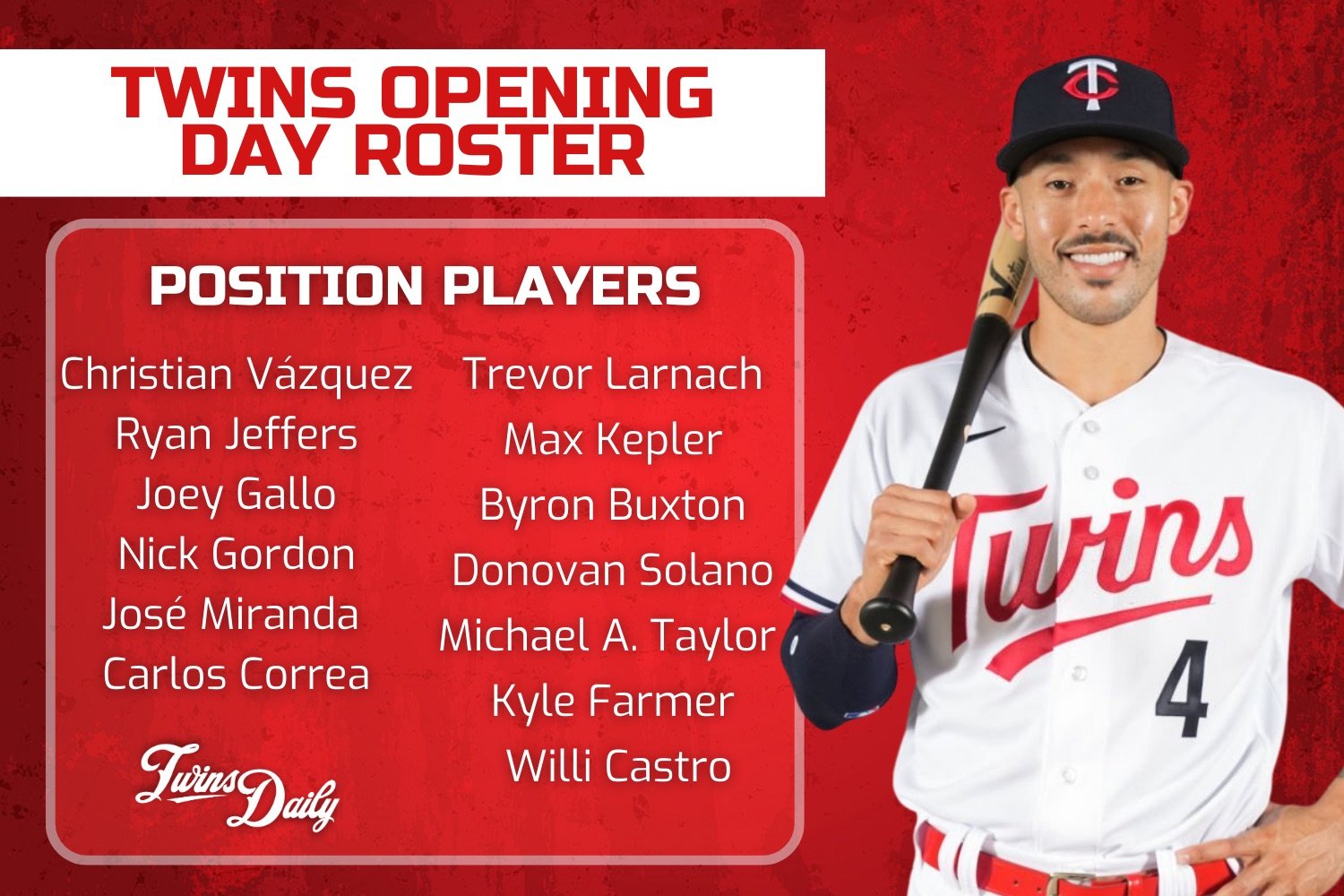 Minnesota's front office insured its most prized assets to an admirable degree. Kyle Farmer, acquired from Cincinnati after starting 200 games for the Reds at shortstop over the past two years, will be Correa's top backup. Michael A. Taylor, acquired from Kansas City after starting 250 games in center field over the past two years, will be Buxton's top backup.
Both Farmer and Taylor provide valuable depth elsewhere, too. They're contingencies at worst, and bonus contributors at best. It's a good place for Rocco Baldelli to be following a season where he ran out of both, and was reduced to routinely fielding makeshift lineups as contention slipped away in September. 
Health situations for key players already trending in a troubling direction, with Polanco and Kirilloff both opening on the injured list, so this added high-level depth will undoubtedly come into play early and often.
Building depth was also the focus of Minnesota's biggest and most controversial offseason trade, which sent batting champ Luis Arraez to Miami in exchange for Opening Day starter Pablo López. It was a bold move by the front office, removing one star-caliber bat from the offensive equation in order to bolster a rotation plagued by its own health concerns.
López, who gets the nod on Opening Day, joins Sonny Gray, Joe Ryan, Tyler Mahle, and Kenta Maeda in the starting five. Bailey Ober will stand by as an impact reinforcement at the ready in Triple-A – very important given the uncertainties attached to Mahle and Maeda especially.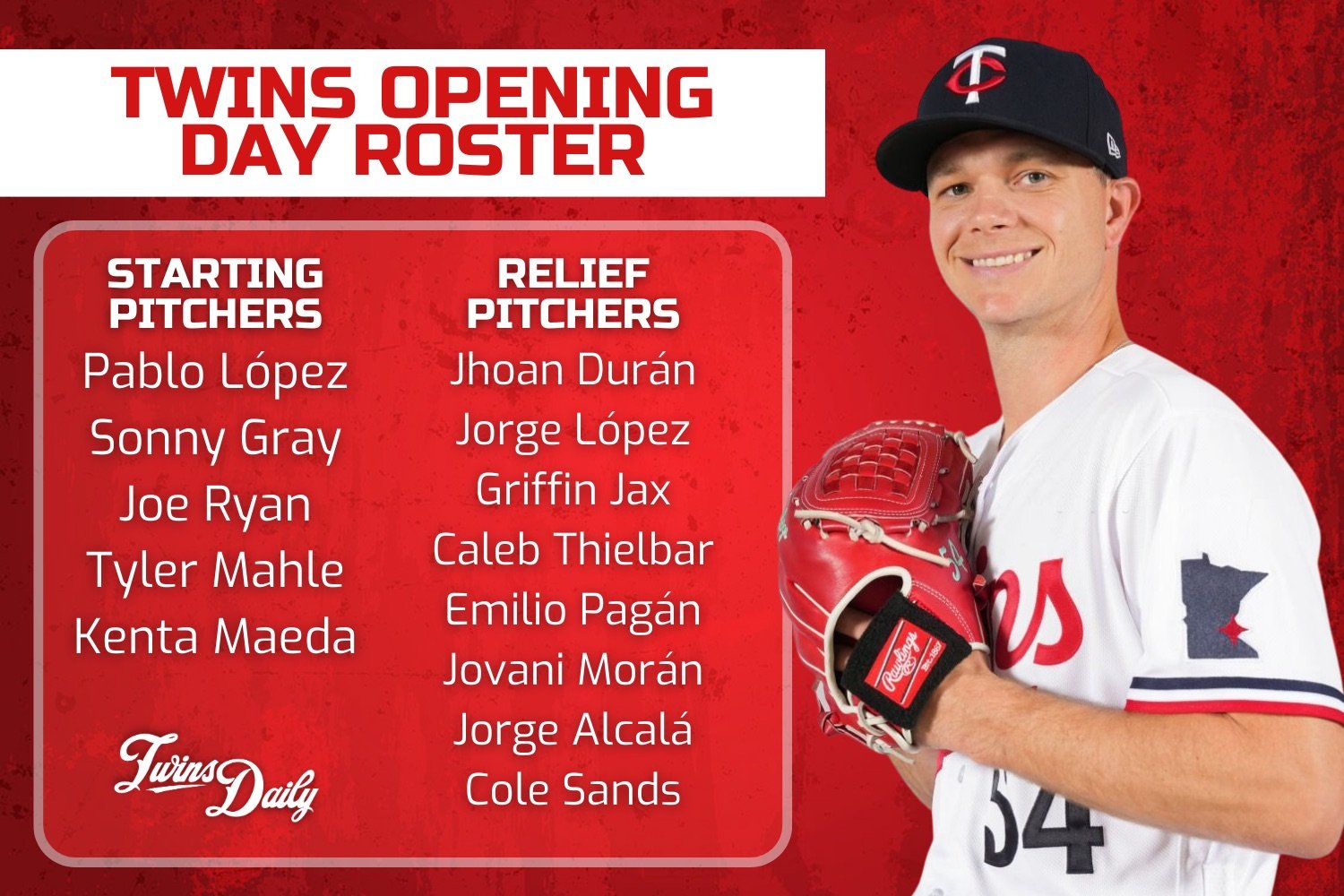 You can click through to in-depth analysis of the outlook and depth at each position below, or keep reading for more 2023 Twins storylines.
The 2023 Twins, Position by Position
Youth Movement: Twins Top Prospects to Arrive in 2023
The Twins are in an interesting period of generational transition, with a position-player core that comprises basically three eras of top prospects. First, an established class of veterans, and another of developing talents without much experience:
The Old Guard: Buxton, Polanco, Kepler (and Correa, albeit not a former Twins prospect)

Entering Their Prime: Kirilloff, Miranda, Larnach, Jeffers, Gordon
Then, an intriguing wave of strong prospects who are, by and large, ready to enter the fold. Royce Lewis, Edouard Julien, Austin Martin, Matt Wallner and Brooks Lee are all players ranked near the top of the Twins' system who could be in line for significant MLB playing time this year. 
Read: Twins Daily Top 20 Prospects: Recap and Analysis
This intermingling of youth is one of the season's main sources of intrigue for me. Should things generally go well, the Twins will find themselves swimming in quality depth, with high-performing prospects slamming on the door. And if things don't go so well, fans should get a prolonged look at the next generation of talent, as a silver lining.
Key Storylines for the 2023 Twins
We've been writing here at Twins Daily all spring and offseason about some of the team's biggest priorities, narratives, and question marks heading into this pivotal season. Click through the stories below to explore these topics in depth:
Can Kenta Maeda shake off an underwhelming season and recapture something resembling his 2020 form, as he comes back from a lost year at age 34 with free agency bearing down? Read: Kenta Maeda's Discouraging Spring, by Cody Pirkl
How big of an impact can top prospect Royce Lewis have in the second half of the season, as he works back from a second straight knee surgery? Read: Royce Lewis Is Ready to Rock, by Ted Schwerzler
With injuries to key players already being established as a major 2023 storyline before the season has even begun, how will the Twins make up for the loss of absent stars? Read: Here Are Five Options If Alex Kirilloff Misses Time, by Adam Friedman
How good can this starting rotation – so deep in quality options that a clearly capable big-leaguer will open at Triple-A – really be? Read: The Best Twins Rotations of the Last 25 Years, by Hans Birkeland
For that matter, what does the future of this rotation look like? Three of the four veteran starters are due for free agency at year's end. Read: How Likely Are the Twins to Extend Their Veteran Starting Pitchers? by Cody Christie
Will the Twins benefit from MLB's rule changes, which seemed to play a role in how the front office went about building this year's team? Read: Twins Roster Built on Defense and Rule Changes, by Alex Boxwell
Assuming he can stay healthy (knock on wood), will Durán get enough late-inning support to protect leads and avoid some of the costly bullpen lapses from last year? Read: Can Jorge López Rediscover His First-Half Success? by Lou Hennessy
Charting the AL Central Competition
The Guardians are generally viewed by betting odds and projection systems as the favorites in the AL Central, but not by a huge margin. This division forecasts (once again) as a mediocre one where the crown is there for the taking. The Twins probably won't need everything to go right to make the playoffs. 
Catch up on how the rest of the Central shapes up in 2023 with Matt Braun's "check-in" series:
Celebrate Opening Day with Twins Daily
Got plans for the game on Thursday afternoon? Well if not, you do now: Twins Daily will be hosting a watch party for the season opener against the Royals at Forgotten Star Brewing in Fridley. Join the "Twins Daily Social Club" for free beer, meat raffles, prizes, and most importantly: REAL LIVE BASEBALL! Here are the details:
What: Twins Daily's Social Club Season Opener
When: 3 PM – 6 PM, March 30th, 2023
Where: Forgotten Star, 38 Northern Stacks Drive Fridley, MN 55421
Cost: FREE