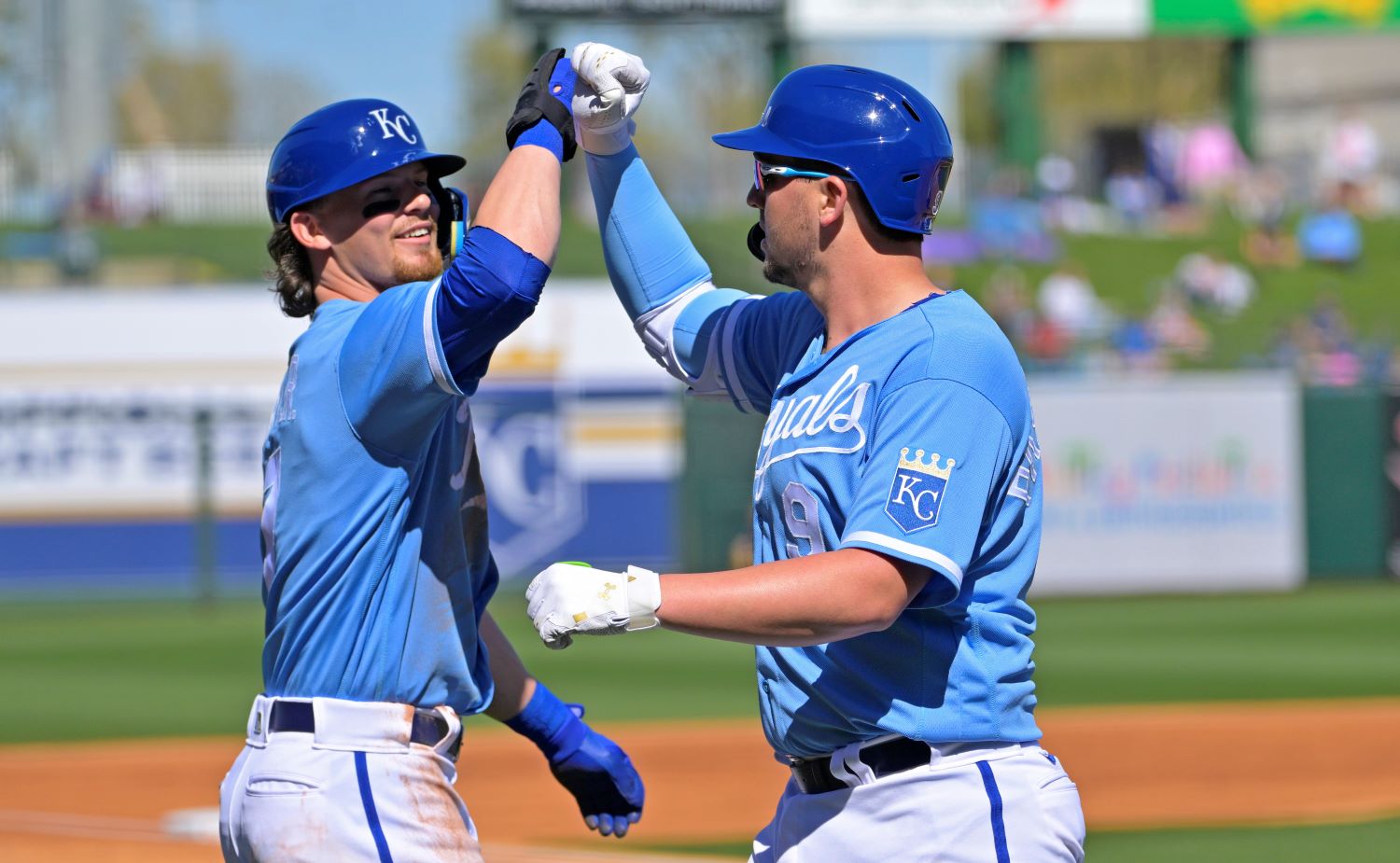 Image courtesy of Jayne Kamin-Oncea-USA TODAY Sports
How did last season go?
Poorly. Again. The Royals extended their post-World Series rebuild another season, failing to crack .500 for the sixth straight season. 
They couldn't pitch, but they made up for it by not hitting. Despite a recent influx of minor-league talent —including a gift from the prospect gods in Bobby Witt Jr.— the Royals allowed 810 runs, scored just 640 of them and dragged down a dismal AL Central with a 65-97 record. They will pick eighth in the 2023 MLB Draft.
There were bright spots, a few shiny diamonds littered in their rough. Brady Singer made The Jump, improving his control enough to net him a more-than-respectable 3.23 ERA with peripherals to match. He will continue to spot sinkers on the outside corner for years to come. The aforementioned Witt Jr. treaded water at the major-league level, showcasing elite bat speed and a potentially dynamic hitting package, but couldn't find his aggressive sweet spot, and his OBP sat below .300 on the year. For the sake of decency, his defense at shortstop should remain ignored. But then, Vinnie Pasquantino, the first baseman netted fewer than 300 plate appearances, but showcased a frightening Freddie Freeman-esque combo of contact and power with a walk rate higher than his strikeout rate; he's their next Alex Gordon.
What did they do this offseason?
Not much. They unceremoniously dumped Adalberto Mondesí onto the Red Sox after years of waiting for his injury bug to find a new host (it never did), signed a few arms to eat innings—Ryan Yarbrough and Jordan Lyles—because, well, someone has to, brought on Aroldis Chapman because their version of baseball reference stopped updating at 2019, and re-signed Zack Greinke after his 2022 nostalgia trip resulted in a shockingly usable pitching campaign. They also dealt away Michael A. Taylor for bullpen arms.
If that sounds like shuffling an old, mildew-covered deck of cards, you're right. While they acquired capable major-league players—and a few once dominant ones—their on-field moves were made in order to fill roster spots, not to add impact pieces.
The difference-maker for the Royals comes via their brain trust. Longtime decision-maker Dayton Moore earned the boot before the season ended, and J.J. Picollo took over to help steer Kansas City into modernity. Manager Mike Matheny transformed into Matt Quatraro, the recent bench coach for the Tampa Bay Rays. Trekking from Cleveland, Brian Sweeney replaced Cal Eldred as pitching coach. 
The moves, while small, point towards an acknowledgment of baseball's changing times. With their laughably archaic minor-league pitching laws likely gone, the Royals appear set to embrace the data-driven movement. 
Perhaps no player represents Kansas City's issue with developing pitchers than Asa Lacy. The former 2020 4th overall pick dominated as a sophomore with Texas A&M, earning 130 strikeouts with a miniscule 2.13 ERA. His pro time has been a disaster. The few healthy innings Lacy owns are tainted with horrifying walk rates and uncompetitive starts; his prospect status is nowhere near his draft pedigree.
What should we expect in 2023?
The Al Central-hater that resides deep within this author's core says more of the same, but that could be a touch mean. A playoff appearance would likely only occur if the rest of the division implodes, revealing each team to be groups of children wearing trench coats, but the Royals probably aren't looking at wins to judge success.
With Daniel Lynch, Kris Bubic, Jackson Kowar, and Jon Heasley, Kansas City has assembled a group of talented arms, pitchers who would otherwise likely thrive in more ideal pitching environments but have floundered in the Royals' weird philosophical model. That should change. Picollo and Sweeney will make it change. It's unclear specifically what the new Royals will preach, but it seems impossible for them to take a step backward.
The position players tell a different story. Pasquantino is going to rake (seriously, buy as much stock in him as possible), but Kansas City has accrued an odd combination of talented hitters with poor defensive specs. Witt Jr. will probably hit well, but his defensive chops at shortstop in 2022 were atrocious; M.J. Melendez boasts a promising OBP/power skillset, but he's a butcher at catcher and appears set to follow the Billy Butler defensive route. After them, it's a weird assortment of older not-really-prospects and whatever Drew Waters has left in his hype tank. Although, even Waters will be out for six weeks with an oblique issue. 
What you see is mostly what you get; outfielder Gavin Cross likely won't impact the 2022 team, leaving the light-hitting Maikel Garcia and the lighter-hitting Nick Loftin as the prospects most likely to alter Kansas City's fortunes. Both players are infielders. Outfielder Tyler Gentry could mash enough to break the team at some point (he slugged .550 at Double-A last season). Their pitching is more dry, as Angel Zerpa and Alec Marsh represent the talented arms closest to the majors, but Kansas City will likely bank on their technically-not-prospect pool of pitchers anyways. 
The Royals probably won't challenge much in the AL Central, but they've finally righted the organization, bringing in quality candidates from successful franchises who should help sift through the development quagmire that has soiled the team for years. It won't work immediately; the 2023 Royals will exist in the nebula, only becoming apparent once the dust settles on their infrastructure altering. 
But for real, Vinnie Pasquantino is going to be awesome.