Updated on 06/06/2023 for Father's Day!
To start things off, we'd like you to take a look at the products from our friends at FOCO. They make a variety of novelty Twins bobbleheads along with Twins hats, apparel, and other products. Any purchase from FOCO using this link earns Twins Daily store credit, which we use exclusively for gifts for our awesome users. Please consider giving FOCO a look!
Is someone you know a Twins Daily user? If so, consider giving them a gift card to be redeemed for either a Gold or Silver Caretaker year-long subscription! Caretakers are offered free publications, Winter Meltdown tickets, and exclusive content alongside ad-free browsing across Twins Daily if you opt for Gold Caretaking!
Gift Ideas for Twins Fans (click to jump directly to section):
FOCO Products
Apparel & Gear
Unique Gifts
Game Tickets
Books
Fan Memorabilia
Minnesota Twins Flamingo Button Up Shirt 
Aloha, party people! No need to set your watch - You're always on island time for Father's Day 2023 when dad is rocking this officially licensed Minnesota Twins Flamingo Button Up Shirt.  Act fast and make sure your dad is the life of the spring barbeque and rock in spring style!
Minnesota Twins Floral Straw Hat 
On those warm summer days, you can rest assured knowing your dad will look as cool as a cucumber this Father's Day when you've got this Minnesota Twins Floral Straw Hat. This is the sizzlin' Father's Day style you've been looking for.
Minnesota Twins Hibiscus Boardwalk Stripe Boardshorts 
You know those awesome grand prizes you can win at boardwalk games? These Minnesota Twins Hibiscus Boardwalk Stripe Boardshorts are just as awesome, but they're way easier to get this summer season and the best gift to gift your Twins superfan dad on Father's Day on  the FOCO website.
Minnesota Twins Gradient Wordmark Gel Slide 
Be sure to have dad thanking his feet for all that walking they help you do this spring season by keeping them comfy in these officially licensed Minnesota Twins Gradient Wordmark Gel Slides!
Minnesota Twins Gray Woven Hoodie 
Some summer nights are chilly, especially in good old Minnesota, so let's keep dad warm this Father's Day with this super soft attire for the most hardcore dad Twins fans. Say hello to the Minnesota Twins Gray Woven Hoodie!
Minnesota Twins Floral Swimming Trunks 
The only thing better than taking a dip in the pool on a warm summer Father's day is doing so while showing off your one-of-a-kind team spirit. That's why we made these Minnesota Twins Floral Swimming Trunks.
If you haven't heard of Sota Stick, you're in for a treat. They create custom Minnesota-themed apparel and clothing for all Minnesota sports teams. You won't find team logo-branded merchandise here; every one of their products is lovingly crafted to capture an iconic sports moment, player, often using fun wordplay. If you want apparel with the flavor of something a little different for the Twins fan in your life, you can't go wrong starting with Sota Stick.
NEW GEAR! The Twins Pro Shop has released loads of new apparel of all kinds. Some of these designs will be the hottest things going during the 2022 holiday season so check out the new designs by clicking here!
If you're looking for more traditional Twins-branded hoodies, shirts, sweatshirts, women's apparel, or jerseys, the MLB Pro Shop is the place to go. They offer an enormous collection of branded apparel and gear that covers the history of the Minnesota Twins.
And finally, no list would be complete without a link to the New Era Minnesota Twins collection of hats. Over the past several years, New Era has expanded their line of caps to meet every color preference, shape, and design a Twins fans could ever want. Here is their special release for 2023 Father's Day with the new "TC" logo.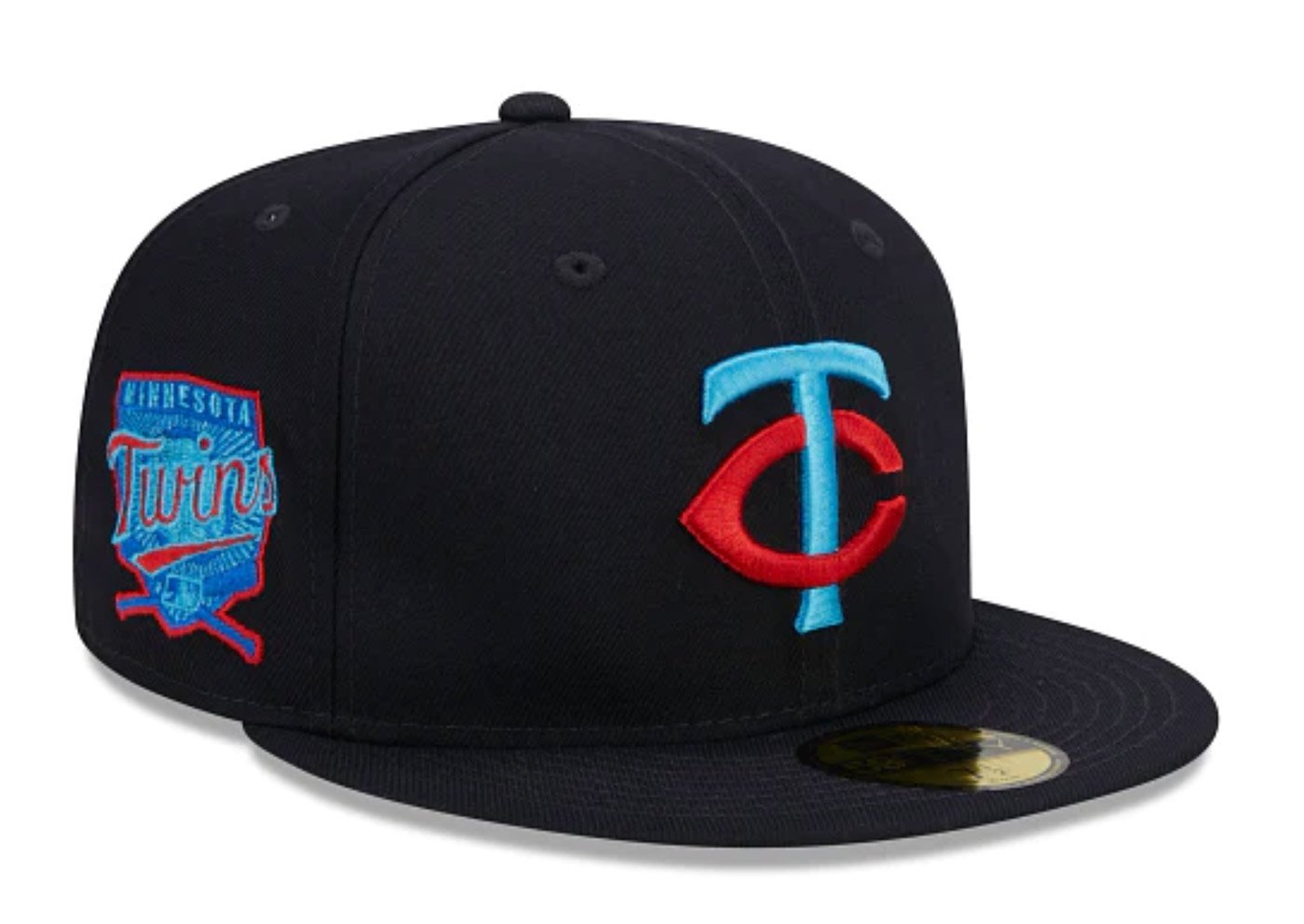 If the Twins fan in your life is so hardcore that they're more likely to rock minor league baseball gear than something from the Minneapolis squad, look no further than the pro shops for the Twins minor league affiliates: AAA St Paul Saints, AA Wichita Wind Surge, High A-ball Cedar Rapids Kernels, A-ball Ft Myers Mighty Mussels.
When it comes to unique gifts for a Twins fan, Dugout Mugs is one of the coolest companies you'll find for any gift-giving occasion. They make a line of "glassware" built from baseball bats! They offer a variety of sizes and styles, including their newest Twins release, the "M" logo with the North Star above.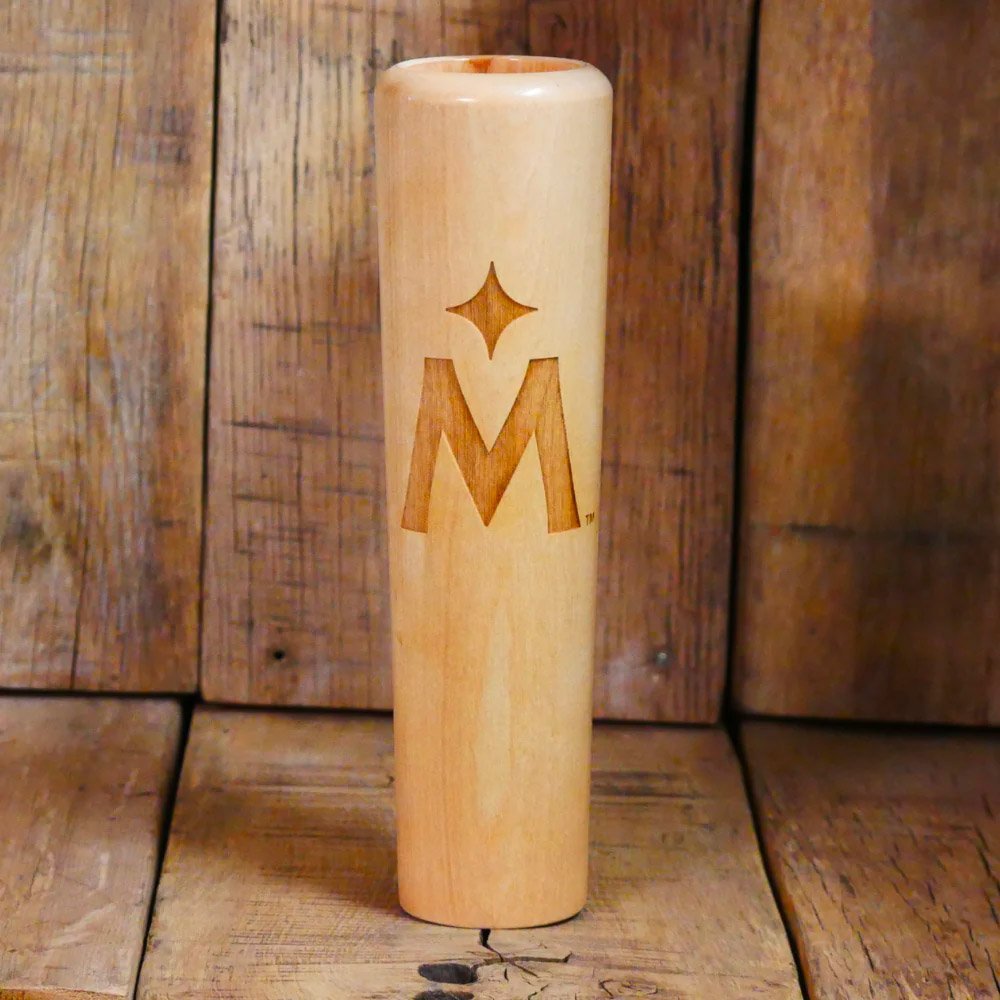 Speaking of custom baseball bat gifts, Pillbox Bat Company is another outstanding gift opportunity if your budget is on the higher side of things. They offer a range of custom carved and/or painted baseball bats, such as the beautiful bat pictured below. If you're looking for something unique and exclusive, you won't find anything better than Pillbox Bat Company.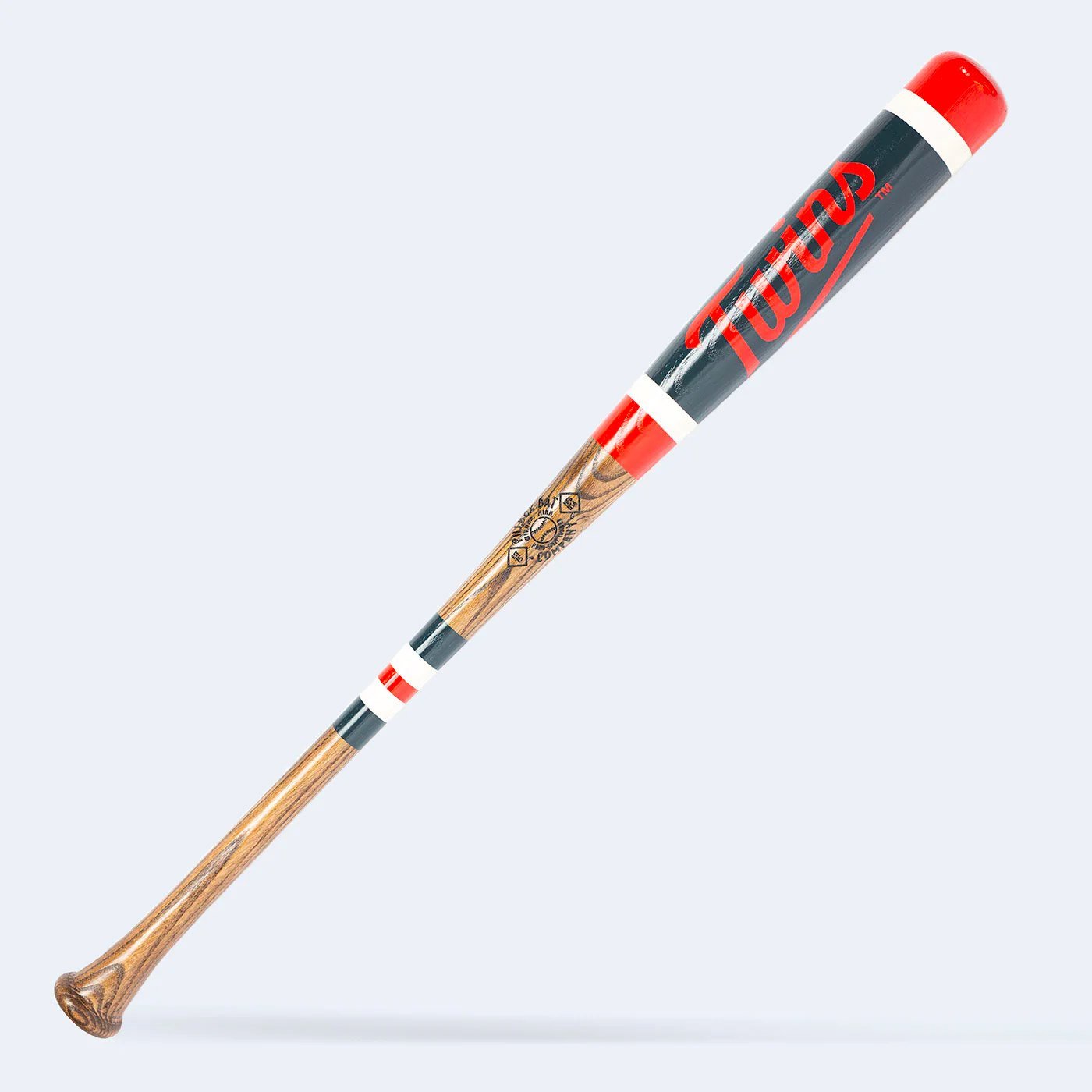 What's the point of being a baseball fan if you never catch a live game at lovely downtown Target Field? The 2023 Twins schedule has been released with both single-game tickets and a variety of season ticket packages available at the official Twins ticket store. And if you're up for traveling to get out of the long, dismal Minnesota winter, spring training tickets are also available!
The Big 50: The Men and Moments that Made the Minnesota Twins by Aaron Gleeman
Aaron is a phenomenal writer, diligent researcher, and lifelong Twins fan, making him the perfect fit to write this expansive journey through the franchise's history. With stat-centric slant, AG counts down the 50 most important players and milestones since the team moved to Minnesota.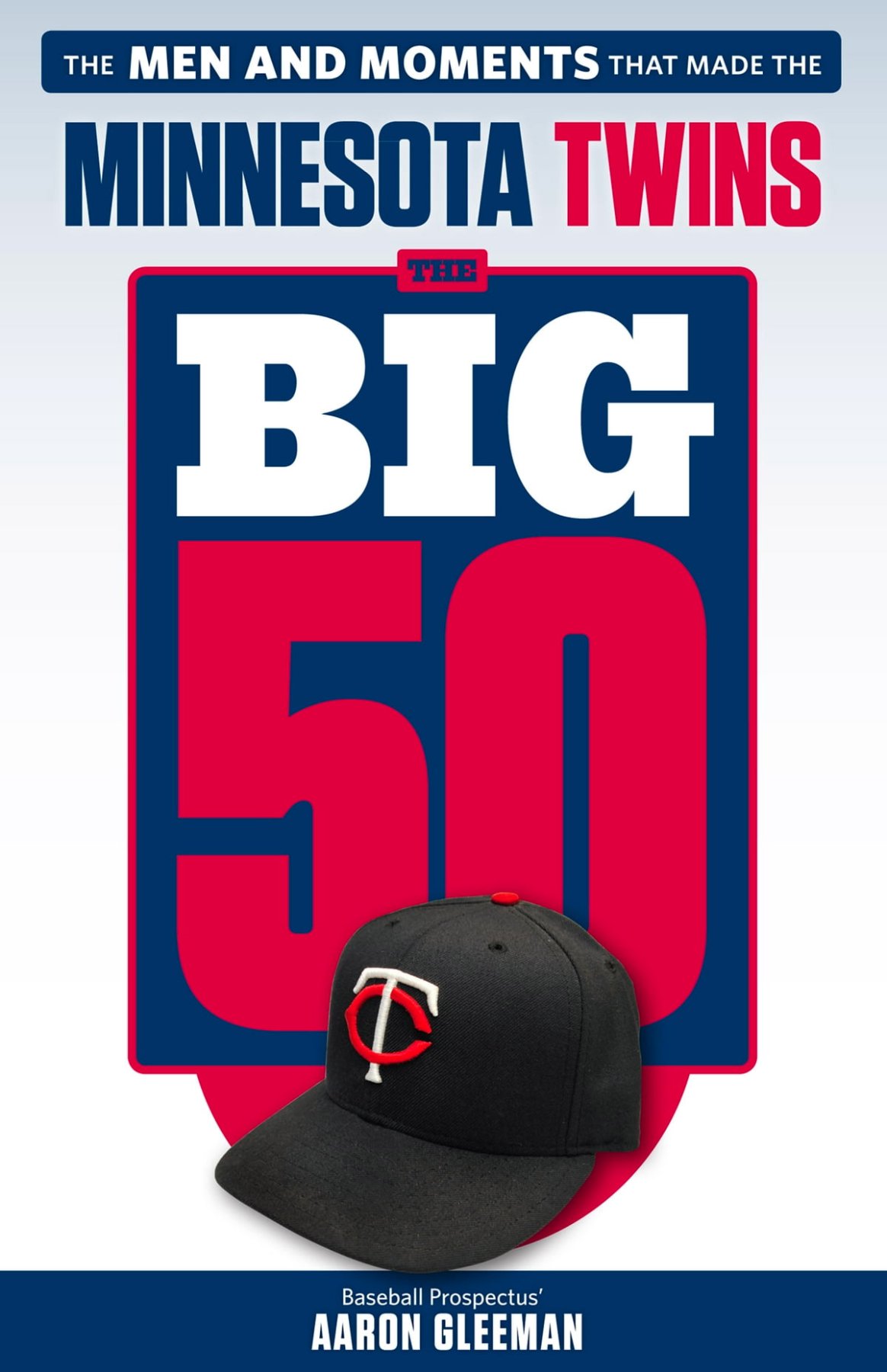 Minnesota Twins: The Complete Illustrated History by Dennis Brackin, Patrick Reusse 
I received this as a gift some years ago and I love it. It's the perfect coffee table book: a big glossy hardcover full of colorful photos and nostalgic memories. If you've read his columns in the past or listened to his recent appearance on Gleeman and the Geek, you know how good a storyteller Reusse is. 
Game Used: My Life in Stitches With the Minnesota Twins by Dick Bremer
With help from co-author Jim Bruton, Bremer shares more than 100 anecdotes drawn from a 30-plus year run as Twins TV play-by-play announcer. Dick spoke a little bit about the book during a "Minnesota Made" interview with David Youngs for Twins Daily earlier this year. 
Minnesota Twins Baseball: Hardball History on the Prairie by Stew Thornley
A must-have for any baseball history buff. Thornley is an official scorekeeper for the Twins and also one of the premier Minnesota sports historians around. If your gift recipient is familiar with much of the mainstream Twins history – Killebrew, Carew, Oliva, et al – but interested in learning about some of the lesser-known wrinkles of the franchise's legacy, this is a great choice.
No one has you covered like FanHQ when it comes to Minnesota Twins memorabilia. FanHQ has been a long-time friend of Twins Daily and they're the place we go when we need one-off memorabilia you can't find elsewhere. They always have a wide variety of autographed prints, balls, bats, jerseys, and more. They have you covered for memorabilia of Twins players both past and present. Only here can you find something from a Twins Hall of Fame player alongside this lovely set of gold-and-black autographed balls from Twins rookie Jose Miranda.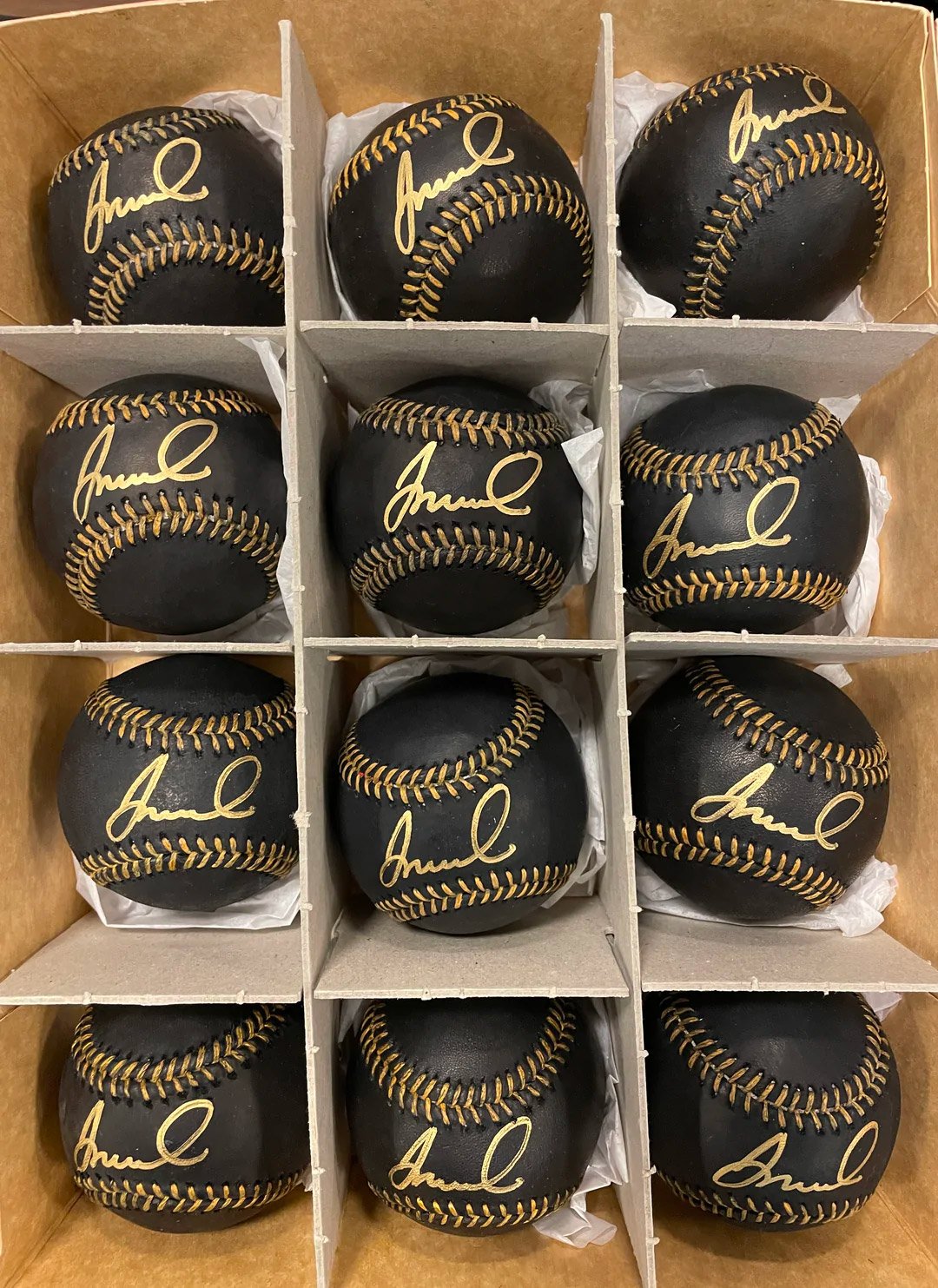 That's all we have for our ultimate Minnesota Twins gift idea guide! This list will be regularly updated and changed as we find new, exciting Twins gift ideas. Is there something missing from this list you believe should make the cut? Comment below and share some of your best Twins gift ideas with the community!