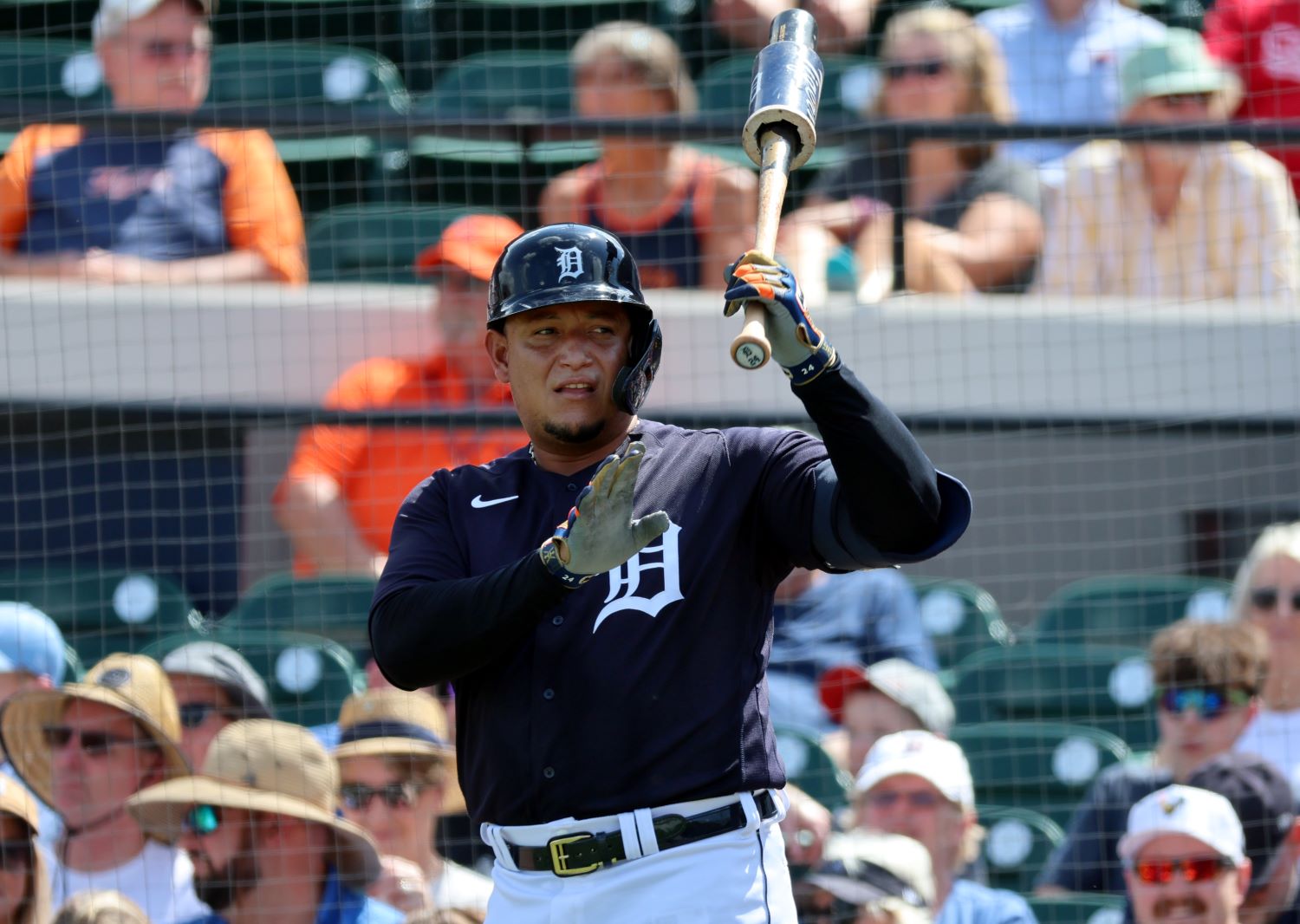 Image courtesy of © Kim Klement-USA TODAY Sports
How did last season go?
Terrible. After a surprisingly competent showing in 2021, the Motor City Kitties fell back into their typical post-2016 swampy waters, finding themselves stuck in a 66-win quagmire.
It was a puzzling everything-that-could-go-wrong-did type of season. Their big free agent splashes in Eduardo Rodríguez and Javier Báez capitulated; Rodríguez battled personal issues while Báez continued his lifelong struggle with sliders off the plate. A good team could overcome those things, but when mixed with overbearing injuries to young stars and poor play by their top prospects, Detroit's 11-win slide isn't much of an Agatha Christie mystery. 
Cruelly, almost any bright spot on the team comes with attached asterisks and lawyers' notes. Tarik Skubal was excellent to start the season, appearing on his way to finally grow into Young Ace territory before Flexor Tendon surgery curtly cut his year short; he will likely start 2023 recovering from surgery. Joe Jiménez figured out that you need to strike people out, not walk them, and limit homers… just to be traded to Atlanta following the season. So it goes. Eric Haase's continued breakout might be the most notable positive for the team; he's 30 with a poor glove.
What did they do this off-season?
The Tigers did what all underperforming teams do: tread water on the roster while cleaning up the muck internally. Was Al Aliva the problem? Who knows, but he's gone, now replaced by former Giants brain man Scott Harris. Was the training staff poor? Maybe, but a clean sweep of the system will now ensure that, if injuries strike again, Detroit will at least have new people they can blame. 
That cleansing may be wise; the Tigers once claimed a hoard of talented pitching prospects—Casey Mize, Matt Manning, and Alex Faedo, among others—but one after the other has either underperformed, fell victim of an injury, or faced some combo of the two. Only the aforementioned Skubal has established himself in the majors. That's not a pattern Detroit can afford to repeat. 
Outside of the Jiménez deal, the Tigers' most impactful move was sending Gregory Soto and his lethal stuff/minimal control combo to Philadelphia for a haul of fascinating players. Will Nick Maton, Matt Vierling, or Donny Sands be good? Who knows, but parting with a reliever to find the answer to that question is a worthwhile bet. They also brought back the prodigal son, Matthew Boyd, and paid $8.5 million to Michael Lorenzen to pitch a bunch of forgettable innings. 
What should we expect in 2023?
Perhaps it's the madness of modern life sitting in, but the Tigers might be a compelling bounce-back team. It's unlikely that the bats will be as historically dreadful as they were at parts in 2022, and their wall-moving project—a tasteful venture, unlike Baltimore's—should improve offense, at least a little bit. If Austin Meadows stays healthy and Spencer Torkelson and Riley Greene figure out major-league pitching, the lineup could be at least passable. 
The rotation is shakier. Mize is still on the mend after receiving Tommy John surgery, although his contributions were questionable to begin with, and Skubal just began throwing from flat ground. That leaves a strange hodge-podge of uninspiring veterans in Boyd and Lorenzon, rebound candidates in Rodríguez and Spencer Turnbull, and Manning's impossibly low strikeout rate. It's bizarre; this team is bizarre. They need a solid showing from their Faedos and Joey Wentzs to escape the AL Central doldrums. 
There's little good news on the prospect front. Keith Law wrote that "[f]rom the 2016 through 2021 drafts, their top three picks by WAR to date are Tarik Skubal, Casey Mize … and John Schreiber, signed for $6,000 in the 15th round. Their international free-agent classes have been totally unproductive. And we haven't seen many players get better once in the system over the last decade, whether they come in as reasonably polished players or not." Other than that, things are fine. Jackson Jobe and Jace Jung—brothers in alliteration—pepper the back-end of top 100 prospects lists (so does the other Wilmer Flores, this one a pitcher), but the depth is malnourished, and Detroit lacks the history of identifying and fixing young talent. Colt Keith and Parker Meadows are interesting, though. 
Their future appears more unpredictable than Kansas City's, but their upside could be legit. A.J. Hinch is a more-than-competent manager, and some elusive injury luck could spit out a team unlikely to compete for a playoff spot, but one who could flirt with .500 enough to make the effort seem worthwhile. Hopefully, Miguel Cabrera's final season isn't wasted on mediocrity.