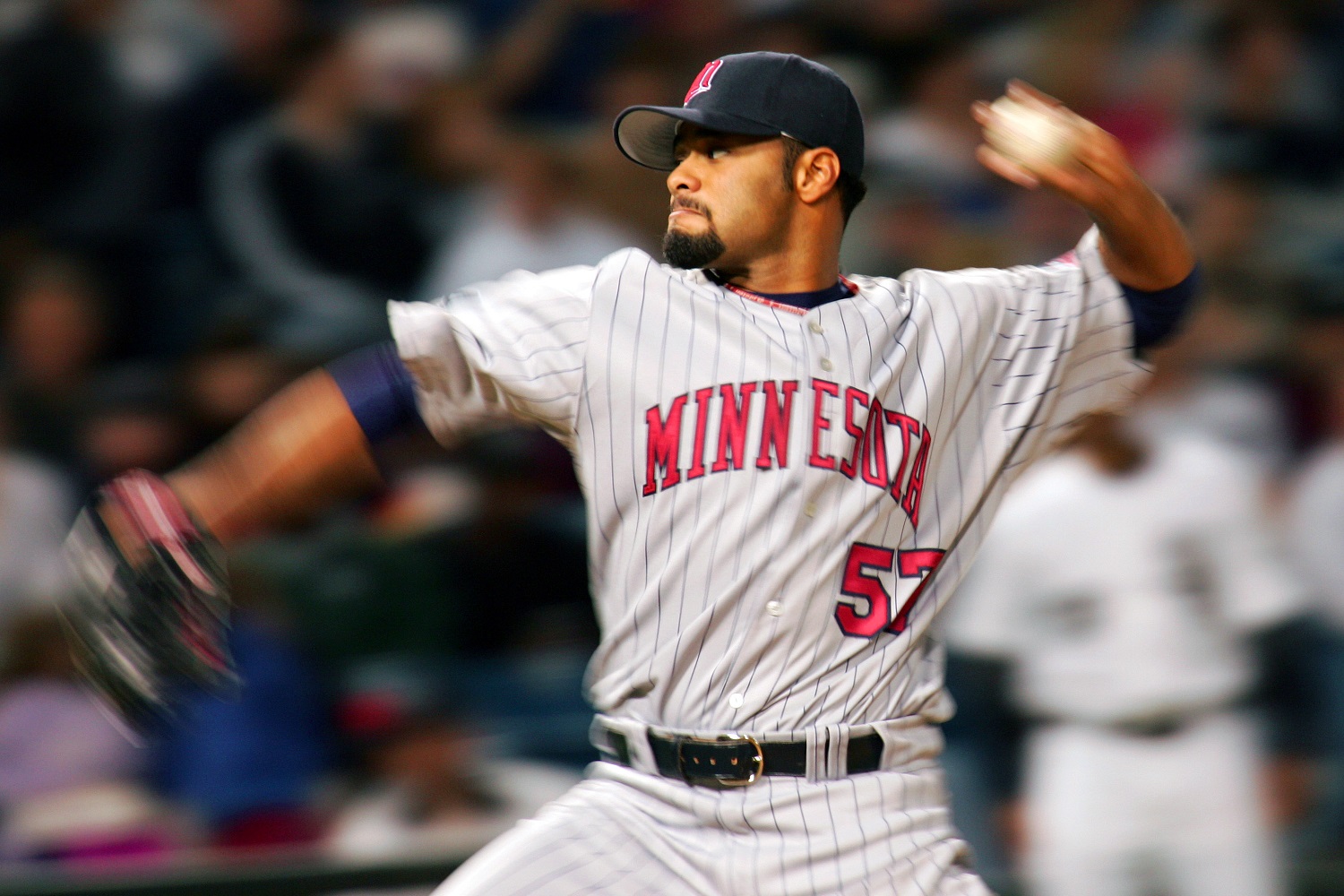 Image courtesy of © Jerry Lai-USA TODAY Sports
With this year's rotation looking promising and, so far, healthy, let's rank the past 25 years of Twins rotations. Fangraphs WAR will feature prominently in the rankings, but contextual factors are considered, as well. I also included AL rankings.
As a point of comparison, the number one team in fWAR for their rotation in a given year is usually around nineteen to twenty. For instance, the 2001 Diamondbacks with Curt Schilling and Randy Johnson had 19.6 fWAR; the 2022 Astros had 19.4. The 2023 Twins staff … well, let's talk about them at the end. Let's get started!
1. 2004- 15.9 fWAR (2nd): The top four starters all threw in 33 or more starts, with Johan Santana winning the Cy Young, Brad Radke posting the lowest ERA of his career, and Carlos Silva and Kyle Lohse contributing above-average seasons. In July, Radke, Santana, and Lohse pitched consecutive shutouts. This rotation had top-end talent, depth, and health.
2. 2020- 16.2 fWAR (2nd) (projected to 162 games): Kenta Maeda was a revelation, Rich Hill was decent, Jose Berrios and Michael Pineda were their usual selves and the team used openers and peak Randy Dobnak to post the third-best starting pitcher fWAR in baseball. Imagine if Jake Odorizzi had been available. I would rank them first but in a 60 game season, there isn't much of a test of depth.
3. 2006- 12.5 fWAR (6th): Prior to Francisco Liriano getting hurt, this team had the best rotation of any listed here. But in addition to Liriano needing Tommy John, Radke famously couldn't brush his teeth due to a total lack of rotator cuff and Boof Bonser ended up starting game two of the ALDS as a result. Johan Santana had perhaps his best year, it should be noted.
4. 2005- 15 fWAR (4th): Santana was electric again with 7.1 fWAR. Radke, Lohse and Silva were solid. Unfortunately, this team couldn't hit and the team missed the playoffs despite ranking seventh in MLB in rotation fWAR.
5. 2019- 16.4 fWAR (4th): By fWAR, this is the best rotation on this list, led by excellent seasons from Berrios and Odorizzi. However, Martin Perez and Kyle Gibson fell apart down the stretch and Pineda was suspended, leading to Dobnak starting a playoff game.
6. 2010- 14.5 fWAR (5th): Liriano finally recaptured some of his old magic this year with 5.6 fWAR and Carl Pavano, Scott Baker and Kevin Slowey were pretty good wingmen. Another bat would have helped.
7. 2015- 13.5 fWAR (5th): Seven guys contributed over 1 fWAR in the team's return to contention led by Gibson, while Mike Pelfrey had his best Twins year. Tyler Duffey almost pitched the team to the playoffs with a 3.10 ERA down the stretch.
8. 2002- 11.2 fWAR (9th): This staff had decent depth with five starters accumulating over 1.4 fWAR, but Radke only started 21 games due to injury. Johan Santana made his first contribution, ranking third among starters in fWAR despite only fourteen starts.
9. 2003- 12.2 fWAR (6th): Joe Mays fell off a cliff this year, but Kenny Rogers, Lohse and Radke were solid (combined 8.1 fWAR) and Johan Santana sealed his rotation status (finally), posting a strikeout percentage 9.8% better than any of his rotation-mates in 110.1 innings.
10. 2014- 11.7 fWAR (7th): This was the inexplicable and record-setting Phil Hughes year, as well as the first full Gibson year where he posted 2.7 fWAR. Ricky Nolasco was supposed to stabilize the rotation but instead started his decline phase in rapid fashion.
11. 2007- 11.7 fWAR (9th): Baker emerged for 2.7 fWAR in only 23 starts. Silva and Bonser were decent while prospects Matt Garza and Slowey showed promise.
12. 2001- 10.1 fWAR (8th): This was a wasted year of peak Radke and Milton (6.7 fWAR) along with Mays' best year. Coming off a promising 2000 season, Mark Redman was traded while Rick Reed was acquired for twelve bad starts and Matt Lawton.
13. 2009- 10.7 fWAR (10th): Baker and Blackburn were solid, and Pavano was acquired for a playoff push and contributed 1.6 fWAR in twelve starts. Brian Duensing was the savior, throwing big games down the stretch with a 2.73 ERA. He was no match for the Yankees, however.
14. 2008- 11 fWAR (9th): Another good Baker year, Nick Blackburn was the best version of himself (1.9 fWAR) as was Slowey (2.6 fWAR). Livan Hernandez barely held it together. 
15. 2011- 8.5 fWAR (13th): Baker and Pavano were decent but the rest of the staff was a mess. The offense was even worse with only 4.3 combined fWAR.
16. 2018- 8.8 fWAR (8th): Gibson reemerged with 2.6 fWAR and Berrios cemented his place at the top of the rotation. Odorizzi contributed 32 solid starts. If only the fully formed Texas/Chicago Lance Lynn were pitching and not the one with a thirteen percent walk rate.
17. 1998- 11.5 fWAR (8th): Radke followed up his twenty win season with 4.2 fWAR and Bob Tewksbury threw good enough slop to post a league-average year. Mike Morgan was excellent until he was flipped at the deadline. Eric Milton got his feet wet.
18. 2022- 8.2 fWAR (10th): The team addressed its issues from 2021 and acquired Sonny Gray, Chris Paddack, Chris Archer, Dylan Bundy and Tyler Mahle. Gray was pretty good.
19. 2000- 9.9 fWAR (10th): Redman gave the team 24 solid starts, Radke and Milton held serve, and Sean Bergman made his (impressively bad) mark.
20. 1999- 10 fWAR (11th): Radke and Milton were solid again (combined 7.3 fWAR), Joe Mays contributed twenty decent starts, and this was, mercifully, the last year of the LaTroy Hawkins starter experience.
21. 2017- 7.1 fWAR (11th): Berrios emerged as a solid number two starter and Ervin Santana was good again. This was the Bartolo Colon year, and that speaks to the lack of talent. The wild-card loss to the Yankees also was an indicator.
22. 2013- 5.5 fWAR (Last): Mike Pelfrey and Kevin Correia were newcomers and as advertised, combining for 3.8 fWAR in 338 innings. This was the era of peak Sam Deduno, as well as the horrifying Vance Worley experiment.
23. 2021- 5 fWAR (14th): This is the year the team realized Griffin Jax was best suited for the bullpen. Except they had no other options and threw him out there for fourteen brutal starts. Berrios was traded, while Maeda and Pineda broke down physically. At least there was Bailey Ober.
24. 2016- 7.6 fWAR (13th): The year everything went wrong. Nolasco, Gibson, Duffey, Hughes, Tommy Millone, newcomer Berrios and Hector Santiago were all nearly unplayable and all had ten or more starts. Ervin Santana was good.
25. 2012- 3.4 fWAR (Last): This was as low as a starting staff can go, and it could have been even worse if Scott Diamond hadn't come out of nowhere to post 2.4 fWAR in 27 starts. Cole DeVries, P.J. Walters, and Jason Marquis featured prominently.
The 2023 rotation is projected for 11.9 fWAR, if you were wondering. None of these staffs had the depth this year's crew figures to have, but the Radke and Santana-led rotations were stronger at the top. Where would you rank the 2023 rotation?