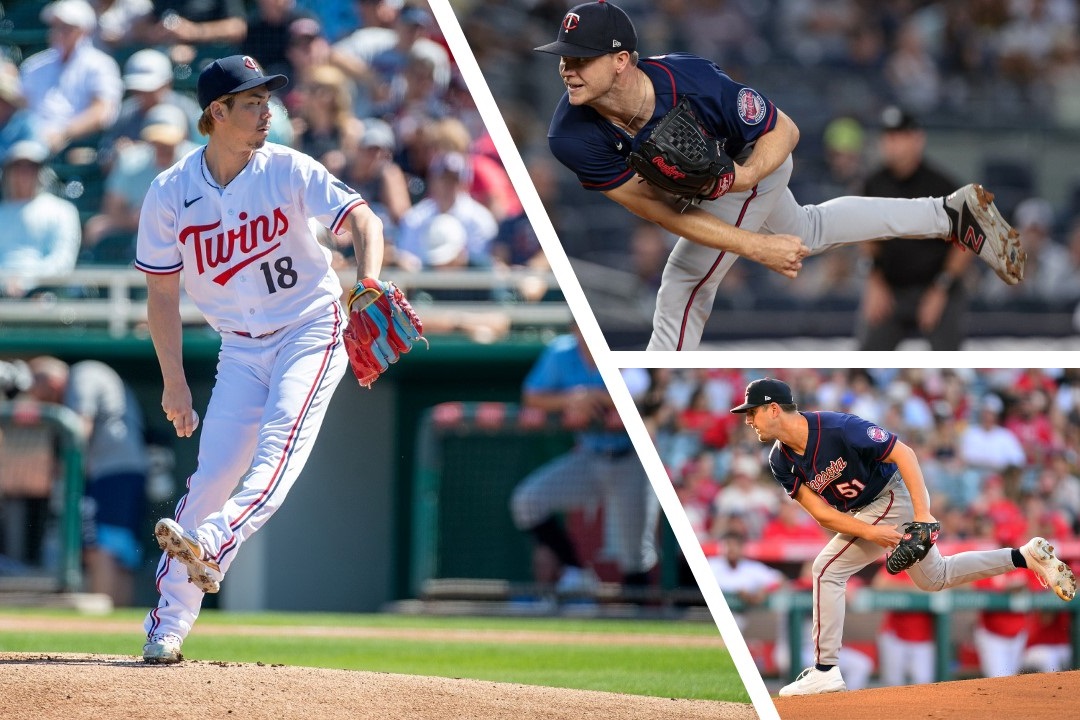 Image courtesy of Gary A. Vasquez- USA Today Sports (Mahle), Vincent Carchietta- USA Today Sports (Gray), William Parmeter (Maeda)
Minnesota's front office is still waiting on its pitching pipeline to produce consistent big-league-caliber pitchers. Because of this, Derek Falvey and Thad Levine have dipped into the team's farm system to trade for veteran pitchers to add to the big-league roster. The Twins have a trio of veteran pitchers in their last season of team control. Will the Twins try to extend these arms? The answer is complicated. 
Tyler Mahle
Age: 28
Stats (2020-22): 66 G, 3.95 ERA, 348 1/3 IP, 10.2 K/9, 3.3 BB/9, 117 ERA+
Mahle will likely get the longest free-agent contract because of his age and recent performance. Like many free-agent pitchers, there is risk involved with signing him to a long-term deal. Shoulder issues caused him to have multiple stints on the IL last season. He blames some of last season's struggles on the shorter spring training due to the lockout. So far this spring, his velocity has returned to previous levels, but he has only pitched three innings. If healthy, he is the most likely pitcher in this group to get an extension, but the Twins might also want to avoid a long-term deal because of his injury history. 
Extension Probability: Medium
Sonny Gray
Age: 33
Stats (2020-22): 61 G, 3.68 ERA, 311 IP, 10.0 K/9, 3.2 BB/9, 120 ERA+
Gray has never reached free agency because he signed his current five-year, $50.7 million extension as part of his trade from the Yankees to the Reds. He's made over $60 million in his career, so this might be his lone opportunity to test the free-agent waters. He has become a leader on the pitching staff, which might be why the Twins try to sign him to an extension. Gray posted terrific numbers last season with a 3.08 ERA and a 1.13 WHIP, but he was limited to fewer than 120 innings because of multiple IL stints. For better or worse, the Twins have been hesitant to hand out multi-year contracts to starting pitchers under the current regime. 
Extension Probability: Medium
Kenta Maeda
Age: 35
Stats (2020-22): 32 G, 3.90 ERA, 173 IP, 10.0 K/9, 2.2 BB/9, 110 ERA+
Maeda is returning from Tommy John surgery this season, but he is not guaranteed to return to his previous form. He is entering his age-35 season, and the Twins are sticking with him as a starting pitcher. It will be interesting to see if he stays in the rotation for the entire season or if he will be pushed to the bullpen by other younger starters. Because of his age, Maeda will likely get the shortest free-agent deal out of these three pitchers. The Twins might be interested in a team-friendly deal, but it will be based on his 2023 performance. He's been a dominant reliever in previous seasons, and that might be a role he needs to embrace if he wants to pitch into his late-30s.
Extension Probability: Low 

Qualifying Offer Possibility
Since these players have yet to reach free agency, the Twins can offer any of them a Qualifying Offer. If accepted, the Twins would be on the hook for a one-year deal for around $19-20 million for the 2024 season. This is likely a higher value than these pitchers will get on the open market in a multi-year deal, but it's only a one-year commitment which might be enticing for the Twins. If the offer is rejected, Minnesota will get a compensation pick that equates to a late first-round selection. 
Back in 2019, the Twins offered Jake Odorizzi a qualifying offer which was a one-year, $17.8 million deal. He accepted the offer, but the pandemic took away a large chunk of the 2020 season. Odorizzi only made four starts for the Twins in 2020 before leaving in free agency the following winter. It was a safe one-year deal from the Twins' perspective, even if his performance didn't match his contract. The qualifying offer can be a good fit for the right player, especially since all three pitchers will be looking for multi-year deals. 
Do you think the Twins will try and extend any of these players? Will the Twins offer any of them the qualifying offer? Leave a COMMENT and start the discussion.