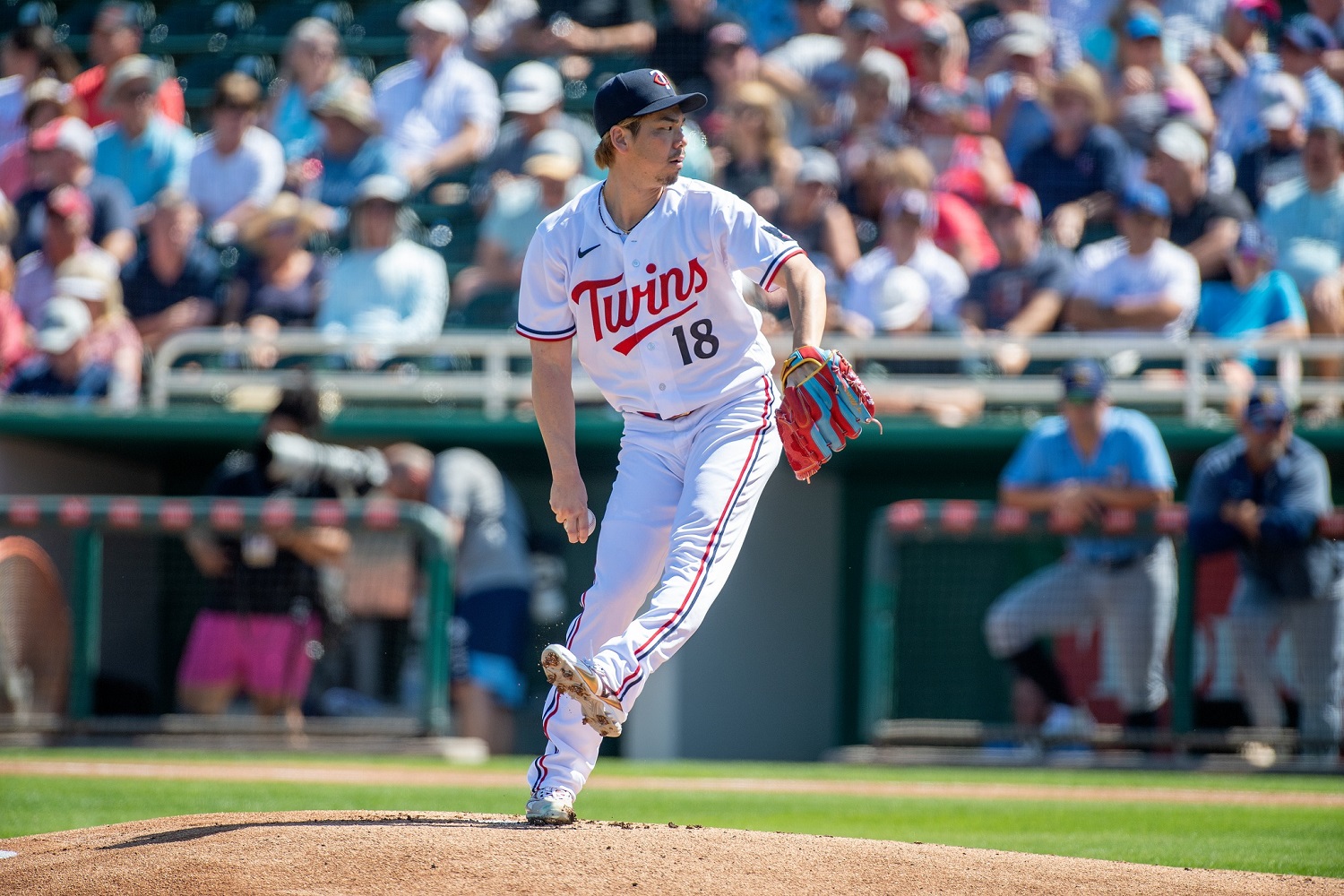 Image courtesy of William Parmeter
Kenta Maeda is roughly a year and a half removed from Tommy John surgery after getting the procedure done in September 2021. He reportedly could have returned last season had the Twins been in contention. This assurance suggested that Maeda would be at full strength to begin 2023, but his performance this spring has been far from encouraging. Is Maeda worth worrying about at this point?
Maeda has publicly taken any opportunity to get back into the pitching routine this spring, sometimes even taking road trips that veterans usually pass up to make a scheduled start. There have been no reports of lingering issues with the elbow, but the performance so far is worrisome. In four outings, Maeda has thrown 9 2/3 innings and allowed six runs. He has nine strikeouts and seven walks, leading to an unsightly 1.86 WHIP.
In addition to the uncharacteristic lack of control, the velocity has yet to return for Maeda. In his Cy Young runner-up 2020, he only averaged 91.6 on the heater. This declined to 90.6 in a less effective 2021. In Sunday's start against Atlanta, Maeda averaged 89.6 on the four-seam as he allowed five runs in four innings. Typically spring numbers can be tossed aside altogether, especially following a season missed with injury. In Maeda's case, there could be some slightly bigger red flags, unfortunately.
At Maeda's age, the often-performed Tommy John surgery carries more risk that his arm doesn't bounce back to pre-injury levels. Maeda was already showing signs of decline in 2021 prior to the injury. He put up a 4.66 ERA in 106 innings pitched in 2021, a far cry from the rotation-leading starting pitcher the Twins were hoping for after 2020. It's possible the elbow had been barking at him all season, but if any of his struggles were a result of natural decline, the two years off since then certainly wouldn't help.
It is possible that Maeda just has to get some feel back in regard to his command and control. The problem is that at his best, he seemed to use pinpoint accuracy to take advantage of hitters. If that skillset takes time and in-game experience to return, the results in the meantime could get ugly if Maeda is also missing his best stuff. It sets up a difficult situation for the Twins to try to handle.
It's hard to imagine the Twins not slotting Maeda into the Opening Day rotation, but it's fair to wonder how long he would be allowed to struggle should his spring performance carry into the season. It's entirely possible this spring is a blip on the radar, but for once the Twins have starting pitching depth. Not only has Bailey Ober staked his claim to a rotation spot, but good performances from Louie Varland or Simeon Woods Richardson in St. Paul could fast-track them back to the MLB after 2022 debuts.
Maeda's contract is also incredibly incentive-laden, particularly based on starts made. It's safe to assume that given their alternative options for the rotation, the Twins wouldn't allow Maeda to hit too many of his quantity-related incentives if the quality isn't there. It's possible that even if he struggles to return to the rotation he could still provide value out of the bullpen at this stage of his career.
Maeda remains a question mark for the 2023 Twins season and carries a fair amount of upside despite what we've seen so far this spring. The hope is that he can take a rotation spot on Opening Day and be a mainstay in the upcoming season. With his age, he's not likely to have a hard innings cap following his elbow surgery and should be able to pitch as his body allows so long as he's doing so effectively. That being said, it's safe to say the lack of velocity and control he's shown so far isn't what Twins fans hope to see when the games start to count. While the Twins may bet on improvements, don't expect them to show too much patience given the depth they have and the possibility that Maeda doesn't have a massive bounce back in him.
Does Maeda's performance so far this spring raise any red flags given his injury and age? Should we wait until the season to have any concerns? Let us know below!