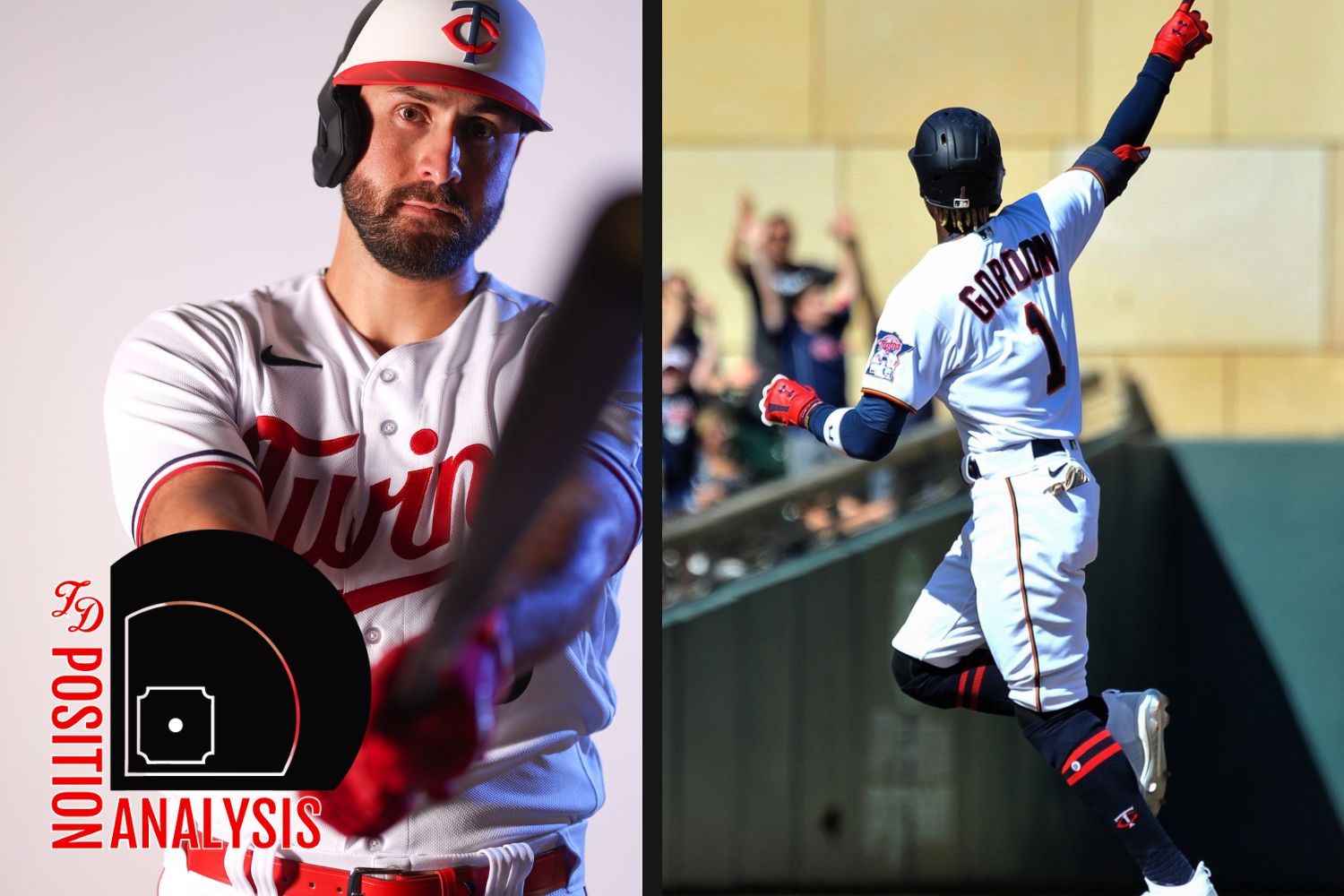 Image courtesy of Nathan Ray Seebeck and Jeffrey Becker, USA Today Sports
Projected Starter: Joey Gallo
Likely Backup: Nick Gordon
Depth: Michael A. Taylor, Trevor Larnach, Gilberto Celestino
Prospects: Emmanuel Rodriguez, Yasser Mercedes, Misael Urbina
THE GOOD
In many ways, Gallo presents the ideal corner outfield specimen. He's surprisingly fast for his build, bringing the range of a low-end center fielder to left or right (not unlike Max Kepler). He's got an absolute cannon arm, the mere threat of which helps to limit the opposing run game.
Most years, he also brings all the slugging prowess you could ask for in a corner bat. In 2021, Gallo launched 38 homers and led the league in walks on the way to an OPS that was 21% above average – despite batting just .199 and also leading the league in strikeouts.
That's always been Gallo's game: boom or bust, personified. His ability to bring plenty of boom made him a fairly consistent asset over a five-year span from 2017 through 2021, notching two All-Star appearances and averaging more than 3 fWAR per season. Gallo is a big, strong dude with a ferocious swing. His exit velocities and hard-hit rates consistently rank near the highest percentiles. 
With this signing, the Twins are clearly hoping to add a game-breaking factor to their offense that was amiss last year when Byron Buxton wasn't on the field. 
Even if he's the primary starter in left field, as planned in a best-case scenario, Gallo still figures to spend time at other outfield positions and at first base. This will open up LF at-bats against right-handers for Gordon and Larnach, who both probably profile best at this position. Against left-handers, Taylor brings an elite glove and capable bat.
Kyle Garlick is also around, and he's a nice depth piece to have on hand for platooning purposes. Don't sleep on Austin Martin to emerge as an option here at some point if he can get healthy.
THE BAD
Minnesota's depth at the outfield corners is tough to knock. The front office added Gallo on top of what was already a strength. He brings real upside to the lineup if he's consistently playing in left alongside the likes of Buxton, Alex Kirilloff, and others. 
A more likely scenario has the defensively flexible Gallo frequently backfilling at other positions, which would allow the Twins to showcase their multitude of quality options in left field. Gordon, Larnach, and Taylor would be clear starters on a lot of teams.
So, what's not to like? The concern here, I suppose, is the specter of Minnesota sticking with Gallo too long in the event he simply doesn't have it anymore. His 2022 season points toward such a probability; he batted .160 with a 79 OPS+ and 40% K-rate. 
The slugger struggled both before and after a midseason trade from Yankees to Dodgers. He was barely a replacement-level player.
Gallo and the Twins are both banking on a rebound, which is why the two sides agreed to a one-year, $11 million contract. His contract and MLB track record will rightfully earn him some length of leash, and it can be difficult to gauge how much slumping is TOO much for a guy who batted .199 during an All-Star season two years ago.
He's still under 30, entering a refreshing change of scenery in Minnesota, and good players have bounced back from worse. At the same time, for boom-or-bust types like Gallo, starting to fall behind major-league pitchers – even a little bit – is anathema. The appeal of waiting out those extended "bust" periods starts to fade quickly when the "booms" are too far and few between. (Just ask Miguel Sanó, still looking for a job at the same age as Gallo.)
There's hope that cutting down his K's slightly and benefiting from the shift could get Gallo's batting average back up into an acceptable range (by his standard). But without an obvious injury to blame for last year's drop-off, and with teams already exploring ways to try and stifle him under the new rules, it's not the most favorable of bets.
THE BOTTOM LINE
Gordon can play several defensive positions. Left field might be the only one where he's truly an asset. It's also where Larnach's glove profiles best. So long as Kepler remains entrenched in right field, these two – along with Matt Wallner, and a handful of defensively ambiguous prospects nearing readiness – must look to left field as one of their best paths to MLB playing time. (Sans DH, which we'll break down soon.)
The Gallo acquisition throws another barrier in the way for this group. But given the uncertainties surrounding most of these players and prospects, it's not a bad gamble. "Too much depth" is a problem the Twins, and any team, would love to have. 
Should Gallo rebound in left field while guys like Buxton, Kirilloff, and Kepler stay healthy and productive enough to keep him from being needed frequently elsewhere, they may find themselves with that happy problem. What a thought.
Nothing wrong with dreaming big, so long as you're responsibly planning real-world contingencies. The Twins have plenty in left field. And as we'll see in then coming days, they have them across the outfield.
Catch Up On Our Position Preview Series: