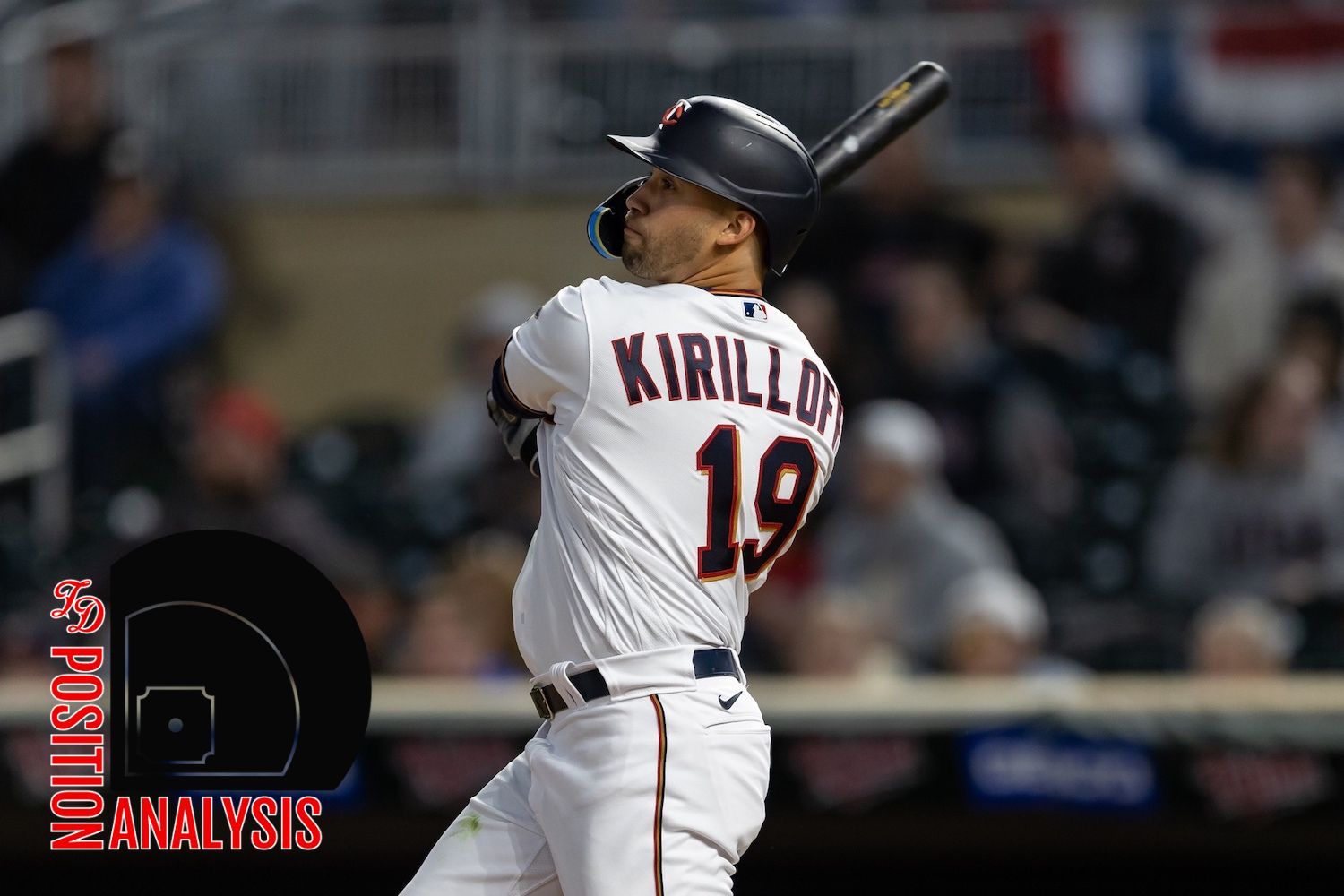 Image courtesy of Jordan Johnson-USA TODAY Sports
Projected Starter: Alex Kirilloff
Likely Backup: Joey Gallo
Depth: Donovan Solano, José Miranda, Tyler White
Prospects: Edouard Julien, Aaron Sabato
THE GOOD
In an ideal scenario, the Twins would be regularly rotating Kirilloff, Miranda and Solano at first base this year, giving the team a pair of young hitting stars along with a veteran line drive machine, and the ability to optimize against any pitching matchup.
Of course, as the strong side of the platoon mix and highest-upside hitter of the bunch, Kirilloff holds the key to that appealing scenario. He's also the biggest question mark on the team in terms of health. 
But if his second wrist surgery proves effective, as he and the team hope, the 25-year-old has the ability to provide ideal production at first base: mashing line drives all over the field, powering the middle of the lineup, producing runs consistently.
We've seen these propensities on display in the majors before, albeit in brief spurts interrupted by recurring wrist problems that completely sabotaged Kirilloff's majestic swing.
Getting that swing back on track would be a game-changing development for the Twins. But it's one they've made themselves less dependent on with the additions of Gallo and Solano. These two could form a solid platoon in Kirilloff's absence.
Even in a very rough 2022 campaign, Gallo held his own against righties, hitting 17 home runs with an OPS+ of 96; in his career he has an .804 OPS versus RHP. Meanwhile, Solano is a reputed lefty masher, having batted above .300 against them in four straight seasons. Both are considered solid defenders at first.
Ultimately, if Kirilloff can't go, the eventuality may well be Miranda as primary first baseman. His defense at third was already questionable before a shoulder injury this spring set him back. It feels like more a matter of when, not if, Miranda will move to first, and depending on how things play out with Kirilloff, Gallo, and Solano, the Twins could be motivated to accelerate that timeline.
Not the worst thing in the world. Miranda profiles as a middle-of-the-order bat befitting the first baseman assignment. But it could have negative ripple effects.
THE BAD
As amazing as it would be to see Kirilloff's swing back in its prime form over a sustained period, that feels like a difficult thing to count on, at least in the short term. To my knowledge, he has yet to even take live BP this spring, much less get into a game, although he's been working in the cages. 
Phil Miller had an update on Kirilloff in the Star Tribune over the weekend, and it contained some mixed messages.  
Said Kirilloff: "I still feel it every once in a while, but it's not painful." The "it" in that sentence looms large for a player whose wrist issues have made it impossible for him to swing the way he wants to in the past two seasons.
Said Derek Falvey: "He's on track. The plan is, if he's healthy at the end of camp, he's competing for a spot." If he's on track, then wouldn't the plan be for him to firmly make the team if healthy? We're not talking about some unproven minor-leaguer here. This is Alex Kirilloff.
It seems ridiculous to be dissecting quotes like this but given the vital importance of AK to this club's outlook, and the dearth of information we've gotten so far this spring, we're left with little choice. Taking all the comments at face value, I'm going to assume Kirilloff is on the unlikely side of being on the Opening Day roster, though I'd love to be wrong.
The options behind him are potentially quite compelling, but fraught with downside. Gallo was a star player in 2021, but he was terrible last year, and has played only one game at first base since 2018. Solano has been a consistently solid hitter, but he's 35, and had played zero big-league innings at first prior to last year.
Shifting Miranda across the diamond is a decent fallback, but his defense at first base pretty rough as a rookie, and this would also mean needing to find another bat to replace him at third base. A more inviting proposition if it's an ascendent top prospect like Brooks Lee or Royce Lewis than Kyle Farmer.
Speaking of prospects, the Twins are conspicuously light at this position. It'd be hard to say they have no first base prospects, because in theory they have quite a few top prospects who could end up there – it's at the bottom of the defensive spectrum, after all. But, notably, none of our top 20 from this year currently play there in any sort of regular capacity. 
The most prototypical first base slugger in the system is probably Sabato, whom the Twins drafted in the first round out of college in 2020 with hopes he'd rise fast as an impact bat. Things haven't gone exactly to plan, with Sabato's extreme contact struggles negating the value of his standout power and patience, but he's been playing a lot in big-league camp this year and could be an immediate factor at age 24 if he takes a step forward in the high minors this year.
THE BOTTOM LINE
Rocco Baldelli has indicated that he "expects first base to be a revolving door similar to designated hitter," as Dan Hayes of The Athletic put it. 
"We don't have a first baseman," the manager said earlier this spring. "We have several guys that are going to play first base. We don't need one guy that's going to play first base." 
They certainly have options, albeit ones with limited experience. (Nick Gordon, owner of zero innings of first base experience at any level, was evidently mentioned as a possibility in the same discussion.)
Then again, if Luis Arraez's emergence as an All-Star and Gold Glove finalist at first taught us anything, it's that experience is no prerequisite. Tell em Wash.
The upside of this position feels capped without a healthy and thriving Kirilloff (in which case it's sky-high), but the Twins have built in enough floor to maintain a relatively high floor if things go amiss once again with their former number one prospect.