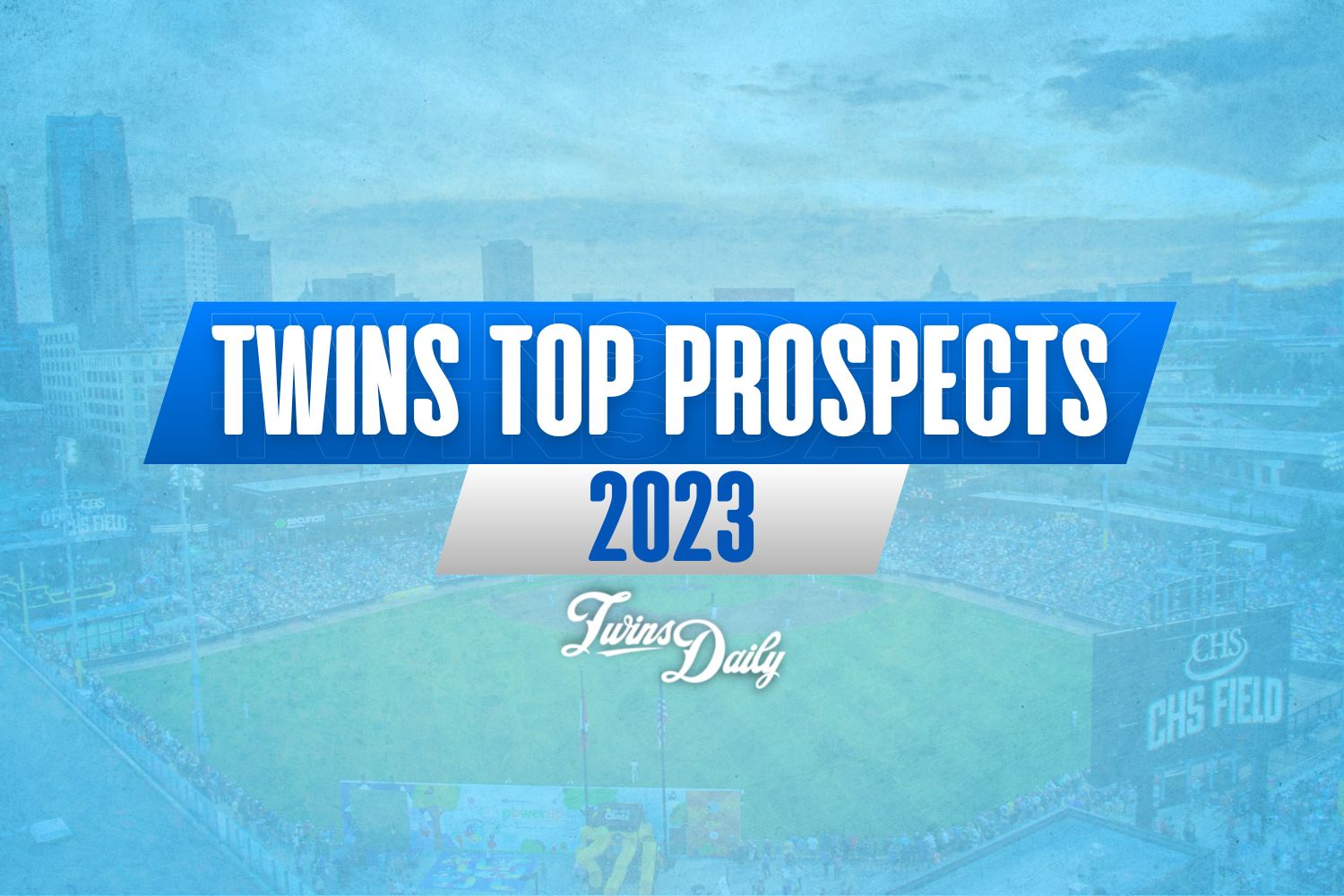 Image courtesy of Thiéres Rabelo, Twins Daily
The purpose of these rankings is to take stock of the Twins farm system leading up to the start of the season. This year we asked 10 different Twins Daily writers, all of whom follow the minors closely, to share their choices for the current top 30 Twins prospects. Then we aggregated them into the list that's been gradually rolled out here over the past few weeks. 
This is a snapshot in time. Prospect rankings are never static, and in order to better follow the movement that occurs over time, last year we launched the Twins Daily Prospect Tracker. It's updated monthly throughout the season with new stats, insights, and re-rankings. I recommend bookmarking that page and checking back often if you love to follow the next generation of Twins talent.
For today, we're going to dive deep on that next generation and how it's shaping the future of the franchise. First, here's a rundown of this year's top 20 rankings – you can click on each player's name to find a profile on him from one of our writers.
Minnesota Twins 2023 Top 20 Prospects

20. Misael Urbina, OF: Has come along slowly since signing as a top int'l talent out of DR in 2018, but still 20 with big tools.
19. Jose Rodriguez, OF: Opened eyes with a spectacular and rare power display in the Dominican Summer League.
18. Tanner Schobel, 2B: 2022 second-round pick saw his college power spike evaporate in pro debut, fading his hype.
17. Ronny Henriquez, RHP: Slider-slinging 22-year-old seems destined to break through in full-time relief role.
16. Jordan Balazovic, RHP: Stellar track record keeps him on the radar following a disastrous year at Triple-A.
15. Matt Canterino, RHP: Maybe the best raw stuff in the organization, but TJ surgery will sideline him again this year.
14. Noah Miller, SS: Outstanding fielder needs to find some semblance of offensive game other than drawing walks.
13. David Festa, RHP: Former 13th-rounder's domination of Single-A sparks hope for another deep-draft pitching find.
12. Yasser Mercedes, OF: Club's biggest int'l signing last summer flashed all five tools in highly impressive rookie-ball debut.
11. Matt Wallner, OF: His off-the-charts raw power will play in the bigs if he can stay relatively disciplined at plate.
10. Austin Martin, SS: Huge dropoff after topping this list a year ago, but the speedy OBP specialist can rebound.
9. Louie Varland, RHP: Continues to outperform his stuff, but also, the stuff continues to get better for hard-working SP.
8. Jose Salas, INF: Twins picked up a dynamic young athlete via Arraez trade in this versatile switch-hitting infielder.
7. Connor Prielipp, LHP: Slid to Twins in second round of latest draft coming off elbow surgery, but has frontline SP traits.
6. Simeon Woods Richardson, RHP: Reached majors at age 22 following lights-out campaign between AA/AAA.
5. Edouard Julien, 2B: He has raked in the minors with an ultra-patient approach, and is knocking on MLB door.
4. Marco Raya, RHP: Word is out on the best-kept secret in Twins system, who dazzled in pro debut at Fort Myers.
3. Emmanuel Rodriguez, OF: Flashed superstar talent and production during full-season debut cut short by knee injury.
2. Royce Lewis, SS: Cemented legitimacy during a convincing return to action before being struck by another torn ACL.
1. Brooks Lee, SS: Drafted eighth overall with a bat that pretty much looked MLB-ready as soon as he reached the pro field.
A True Deadlock at the Top
The most fascinating dynamic of this year's rankings was the choice between Lee and Lewis for number one. I cannot possibly overstate how accurate the word "deadlock" is in describing the lack of separation between these high-end talents in our ranking process.
The results from tabulating our panel of 10 voters placed the two in an exact tie: five voters picked Lewis, five picked Lee. In order to try and swing things one way or the other, we reached out for off-the-record opinions on the matter from a variety of trusted sources: scouting contacts, prospect analysts, baseball people inside the Twins organization and out. 
You know what came back? Pretty much a 50/50 split exactly. Almost everyone expressed a variation of the same sentiment: It's really hard to compare the two directly, because it all comes down to the upside & risk versus safety & floor equation. "If I had to choose, I guess I'd go with X."
We all want to dream on the lofty upside Lewis still possesses: the potential for an electric power/speed combo from shortstop or center field, combined with character and charisma on the Jeter Scale. But no one can ignore the realities of a career that's been sabotaged by injuries, the latest of which undeniably clouds his future outlook.
How do you properly account for this in projecting him as a major-league player? And how do you compare him to someone like Lee, who probably has a lower overall ceiling but also has one of the highest floors you could ask for in a prospect? Lee looked so polished and adept during his pro debut after signing last year that he found his way to Wichita for the Double-A playoffs and was up to the task.
Lee makes it look really easy, and that's the highest compliment you can pay a 21-year-old barely out of college and facing experienced pro competition.
Ultimately, we went with Lee as our choice for as the top Twins prospect of 2023, because the feedback we received seemed to tilt ever-so-slightly in that direction and because the majority of publications we chart our rankings against – MLB.com, Baseball Prospectus, The Athletic (both Keith Law and Aaron Gleeman) – have Lee in front of Lewis.
But if there's a strong consensus to be found around these two it's this: the Twins are very lucky to have them both.
Restocking the Low Minors with Upside
Lee and Lewis both contribute to a robust top end of the pipeline, joining the likes of Julien, Woods Richardson, Varland, Martin, and Wallner as quality prospects who could essentially be ready to make an MLB impact at any time. But a number of breakthroughs from recent draft classes and recent high-profile international signings have populated the lower levels with promising young talent.
This was missing last year, when essentially all 10 of our top prospects were in the high minors and approaching MLB-readiness, save for Chase Petty who got traded shortly after we published. The emergences of teenaged players like Emmanuel Rodriguez, Raya, and Mercedes – bolstered by the acquisition of Salas in the Luis Arraez trade – have done wonders for the lower levels of this system, and the franchise's long-term talent landscape.
Still Lacking Catcher Talent
The lack of standout catching prospects in Minnesota's system is something I noted last year, even before Mitch Garver and Ben Rortvedt were traded away. It's now even more conspicuous. The Twins have sought to backfill at the MLB level with veterans like Gary Sánchez and now Christian Vázquez, but the future of this position continues to hinge on Ryan Jeffers, who has proven little at age 25.
Not only were there zero catching prospects in our top 20, but if you zoom out to the top 30, none are found in the 21-through-30 range either. The highest I've seen a catcher ranked by anyone is Noah Cardenas, who was 25th on Gleeman's top 40 list, but Cardenas was profiled there as a "future backup with some starter upside." 
Another tough year for Jeffers, with Vázquez under control through 2025 but turning 33 in August, would leave the organization's outlook pretty flimsy behind the plate unless new names emerge.
Rebound Scenarios Present X-factors
Aside from some of the big risers, the most stark movements from last year's rankings were the dramatic downfalls of Martin (#1 last year, #10 this year) and Balazovic (#4 last year, #16 this year). Those are tough blows for the system and help explain why it's generally viewed as middling compared to the league. (Law ranked them 19th out of 30 organizations at The Athletic earlier this month.)
The flip side is this: it's only one season, and these players are not far removed from being viewed as viable (and imminent) difference-makers with convincing track records. Martin and Balazovic are legit talents, and both will be 24 this year with ample experience in the high minors. A turnaround for either could quickly thrust them into the big-league picture.
Who's Your Pick to Click in 2023?
I asked this at the conclusion of last year's recap article, so I'll send it your way again. Who is your pick to click and make a huge jump in the rankings in 2023? 
Last year I the name I submitted was Marco Raya, and he went from Honorable Mentions to #4 on our list, so that went well. This year I will go with Keoni Cavaco, who was merely an Honorable Mention this year having fallen off the radar in three unproductive seasons since being drafted 13th overall in 2019.
Cavaco wasn't good last year, but he did seem to take a step forward and he remains an athletic and toolsy infielder. I like him to escape the pitcher-friendly Florida State League and put together a strong age-21 season that vaults him back into the top 20. 
How about you?
Past Rankings
Twins Daily Links: Misael Urbina, OF, Jose Rodriguez, OF, Tanner Schobel, 2B, Ronny Henriquez, RHP, Jordan Balazovic, RHP, Matt Canterino, RHP, Noah Miller, SS, David Festa, RHP, Yasser Mercedes, OF, Matt Wallner, OF, Austin Martin, SS, Louie Varland, RHP. Jose Salas, INF, Connor Prielipp, LHP, Simeon Woods Richardson, RHP, Edouard Julien, 2B, Marco Raya, RHP, Emmanuel Rodriguez, OF, Royce Lewis, SS, Brooks Lee, SS. 
Baseball-Reference Links: Misael Urbina, OF, Jose Rodriguez, OF, Tanner Schobel, 2B, Ronny Henriquez, RHP, Jordan Balazovic, RHP, Matt Canterino, RHP, Noah Miller, SS, David Festa, RHP, Yasser Mercedes, OF, Matt Wallner, OF, Austin Martin, SS, Louie Varland, RHP. Jose Salas, INF, Connor Prielipp, LHP, Simeon Woods Richardson, RHP, Edouard Julien, 2B, Marco Raya, RHP, Emmanuel Rodriguez, OF, Royce Lewis, SS, Brooks Lee, SS.