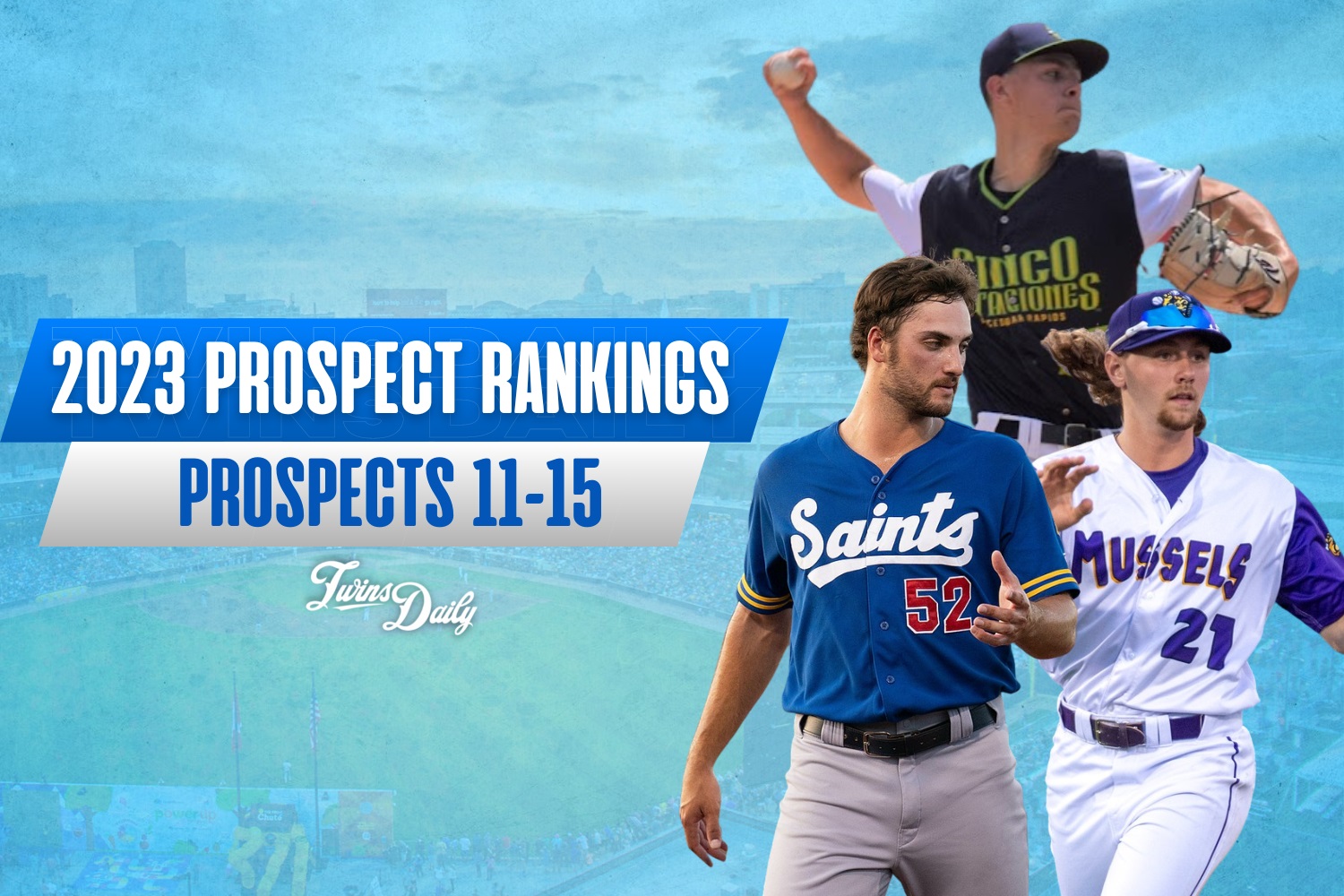 Image courtesy of Rob Thompson (Wallner), Steve Buhr (Festa), William Parmeter (Miller)
The outliers of the top 10 Twins prospects feature names that became more commonly known to avid Twins fans this last season. Two pitchers and three hitters are a part of this section of the rankings, and all have great potential to be big names for the Twins in the coming seasons. 
Here are the 11-15 ranked prospects going into the 2023 season.
15. RHP Matt Canterino 
Age: 25
2022 (Rk, AA): 12 starts, 37 IP, 1.95 ERA, 34.7% K, 15.3% BB
Canterino showed great flashes of success at Double-A Wichita last season posting a 1.95 ERA in 37 innings pitched. His pitches are still ranked at an average level in scouting grads with his slider and change-up as the outliers graded at 60 per FanGraphs, putting those pitches slightly above average.
The greatest struggle that Canterino has had in his professional career so far is his command of the strike zone. Canterino can top out at 97 and 98 mph with his fastball and if he can get his command under control as he recovers from Tommy John surgery, that can make him a greater threat to hitters on the mound. 
The downside for Canterino is he is going to miss most, if not all, of the 2023 season due to undergoing Tommy John surgery last August. If things progress well, there is a slight chance he could see some time on the mound come September. 
14. SS Noah Miller
Age: 20
2022 (A): 108 games, .212/.348/.279, 12 2B, 2 HR, 23/30 SB, 23.5% K, 16.2% BB
Noah Miller, the Twins second, first-round pick in 2021 out of high school in Wisconsin, played his first full season of professional ball in Ft. Myers. While his offense didn't develop, he did work counts, take his walks and put the ball in play. His power was limited to just two home runs and a .279 slugging percentage. Miller is still very young, having just turned 20 in November. There is still room and plenty of time for his power to develop. He is seen more as a contact hitter, that being his best attribute with a scouting grade of 60 according to FanGraphs. 
He is already arguably the best defensive shortstop in the Twins minor leagues right now. He provided consistency and the occasional web gem for the Mighty Mussels. No surprise as those who watched some spring training games saw what he could do late in big-league spring games.  
The hope for Miller is to develop his all-around game in 2023 to reach High-A Cedar Rapids before the season's end.
13. RHP David Festa
Age: 23
2022 (A/A+): 18 starts, 103.2 IP, 2.43 ERA, 23.1% K, 8.6% BB 

David Festa pitched in only four games after being drafted in the 13th round by the Twins in 2021. In 2022, he became a starter and worked 103 2/3 innings. His story is very similar to Louie Varland's a year earlier. Day 3 draft pick dominated in the two A-ball levels. Now, Festa will have to show what he can do against hitters in the upper levels of the minor leagues.  
Festa's performance across the 2022 season showed great development in his pitch command. His 34 walks to 108 strikeouts between Low-A and High-A brought about a 3.18 K/BB ratio, which shows great potential for better command development in his second full season. 
The scouting grade rankings for Festa still place him at an overall average ranking, but the 6'6 righty will do what he can to show he has a place in a future Twins rotation. Those numbers should change as his fastball was sitting 96-97 most of the year and touch 98 and 99 later in the season too. He will need to continue working on his secondary pitches as well. 
12. Yasser Mercedes
Age: 18
2022 (Rk): 41 games, .355/.421/.555, 13 2B, 4 HR, 30/35 SB, 19.9% K, 10.2% BB
Yasser Mercedes has only been in the Twins organization for a little over a year when he signed for $1.7 million, but he already made himself a standout in the DSL in 2022. Mercedes posted a fantastic triple slash and showed mature plate discipline for a 17-year-old across 176 plate appearances. 
Mercedes's skill set based on scouting grades is also a good place for him to be at his age with nothing ranking below an average grade of 50. Speed seems to be his greatest attribute as the youngster stole 30 bases in 35 attempts last season, being one of only six players in the Dominican Summer League to reach the 30 stolen base threshold. He also has power potential, plays solid defense and has a strong arm. 
It will still be a long while before Mercedes ends up in a Twins uniform, but the potential this 18-year-old has shown indicates that he could be the Twins' best prospect a couple of years from now. 
11. Matt Wallner 
Age: 25
2022 (AA/AAA): 128 games, .277/.412/.542, 32 2B, 27 HR, 9/14 SB, 31.3% K, 18.1% BB
The Twins Daily Minor League Hitter of the Year in 2022 and Forest Lake native made a name for himself throughout the 2022 season. Matt Wallner may have the best throwing arm in the outfield in all of the Twins organization right now, and he will have a chance to show it off at CHS Field and Target Field in 2023. 
Wallner's power as a left-handed hitter also makes him a standout in the Twins system. Granted, the current Twins outfield depth with Joey Gallo, Max Kepler, Nick Gordon, Michael A Taylor, Trevor Larnach, and Byron Buxton will likely leave Wallner starting his season with the St. Paul Saints. However, he will do his best like his teammate and fellow Minnesota native, Louie Varland, to make managerial choices for the 26-man roster as hard as possible. 
Feel free to discuss these prospects and ask as many questions as you like in the COMMENTS below.
For more Twins Daily content on these five Twins prospects, click on the link with their name here: Matt Canterino, Noah Miller, David Festa, Yasser Mercedes, Matt Wallner. 
Previous Installments
Honorable Mention
Prospects 21-30
Prospects 16-20 
Prospects 11-15
Prospect #10: Coming Monday!