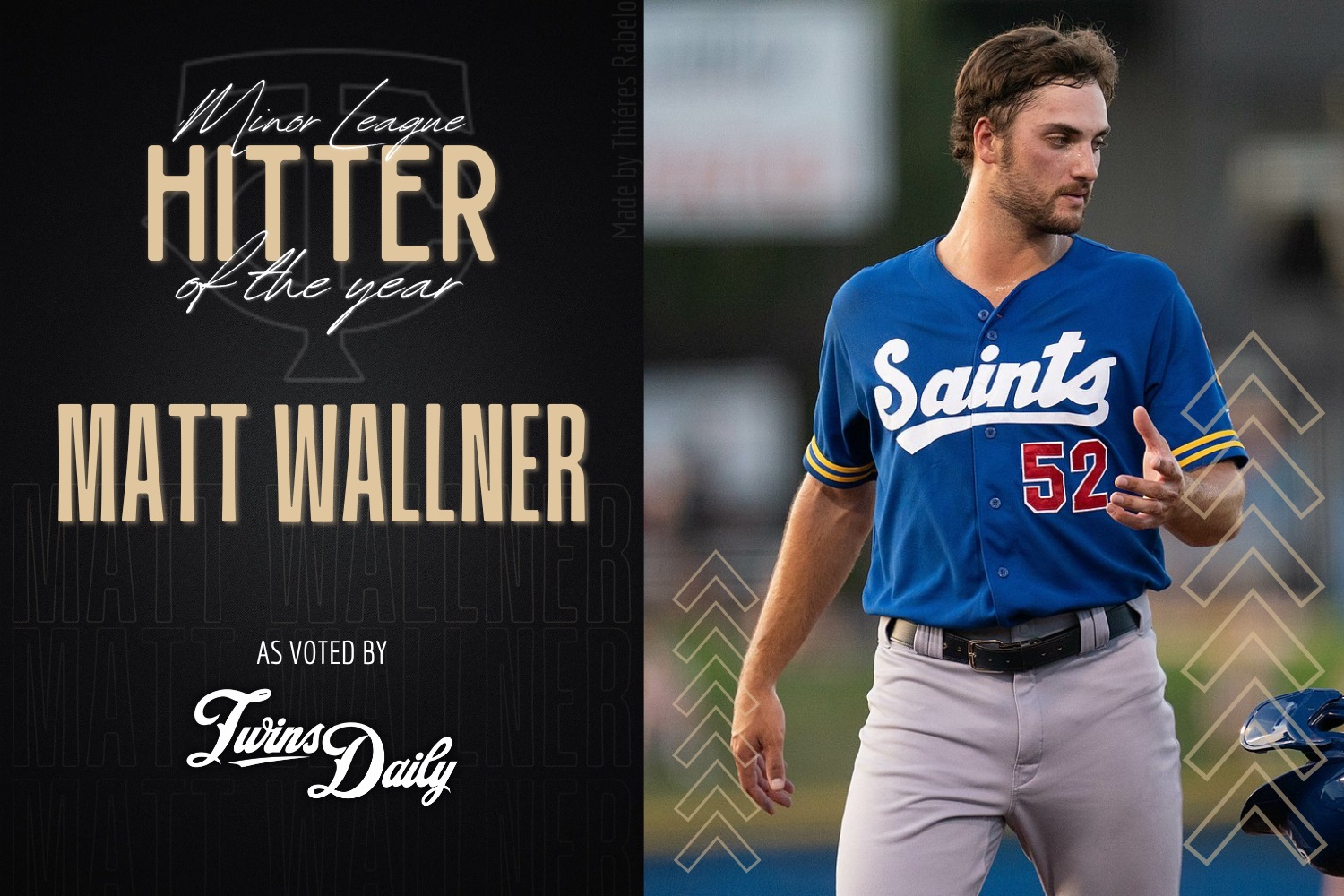 Image courtesy of Rob Thompson, St. Paul Saints (graphics by Thieres Rabelo)
Last season, Jose Miranda compiled one of the best minor league seasons in Twins' history. He was named the Twins Daily 2021 Minor League Hitter of the Year, and fans have seen how he has translated that into a successful rookie campaign. For the second consecutive season, there was a clear choice for the organization's Minor League Hitter of the Year, with Matt Wallner cementing himself into the team's long-term plans. 

Wallner grew up in Forest Lake, MN, and was impressive as a high school slugger. Minnesota took him in the 32nd round of the 2016 MLB Draft (as a pitcher), but Wallner was committed to playing at the University of Southern Mississippi. He became a three-year starter at the school while averaging over 19 home runs per season with a 1.113 OPS. He helped his draft stock significantly, and the Twins took him with the 39th overall pick in the 2019 MLB Draft, this time as a three-time All-American outfielder. 

Wallner showed some power in the lower minors as his OPS was .810 or higher in 2019 and 2021. For the most part, he was slightly older than the average age of the competition at each level, so it would have been nice to see him post even better offensive numbers. He missed over two months of the 2021 season with a broken hamate bone, so the Twins decided to find him some extra at-bats after the minor league season concluded. His performance in the 2021 Arizona Fall League might have been what pushed him to a tremendous 2022 campaign. In 18 games, he went 20-for-66 (.303 BA) with two doubles and six home runs, which resulted in a 1.011 OPS. 
Minnesota sent Wallner to Double-A to start the 2022 campaign, where he was younger than the average age of the competition at his level for the first time since 2019. His season started slowly as he posted a .200 BA and a .741 OPS in April. His bat started to heat up in May when he hit seven doubles and six homers in 24 games (.984 OPS). However, the month of June is where he solidified his prospect status. 

As the calendar flipped to June, Pitchers couldn't find a way to retire Wallner. He got on base in 50% of his plate appearances for the month. In 27 games that month, he only failed to reach base in three contests. He had two multi-homer games and seven games where he walked twice or more. Wallner ended the month hitting .345/.500/.714 (1.214) with five doubles, one triple, and eight home runs.  

July saw Wallner's bat cool off a bit, but the month also saw some other impressive feats. He represented the Twins at the 2022 Futures Game in Los Angeles and hit a two-run homer in a tie game. Minnesota also promoted him to Triple-A, where he was four years younger than the average age of the competition. After adjusting to St. Paul, Wallner posted a .978 OPS with 17 doubles, three triples, and six home runs in 39 games from August 2- September 15. 
With the big-league club struggling, there was some question about why the team wasn't promoting Wallner for the team's playoff push. He quickly made his mark with the Twins as his first big-league hit was a home run with his family in attendance. It was a perfect way to cap a tremendous 2022 season, and there is little doubt that Wallner's powerful bat will be part of the Twins line-up for most of the next decade. 
Runner-Up: Edouard Julien, IF
AA Stats (113 G): .300/.441/.490 (.931), 19 2B, 3 3B, 17 HR, 67 RBI 
Like Wallner, Julien was drafted out of college in 2019 but was taken in the 18th round. In his first two professional seasons, he has combined for a .922 OPS while moving from Low-A to Double-A. He was a staple in the Wind Surge line-up this season and faced older pitchers in over 87% of his plate appearances. Defensively, Minnesota had him focus on second base in 2022, so that's his most likely path to the big leagues.  

Second Runner-Up: Chris Williams, 1B/C
AA/AAA Stats (109 G): .255/.352/.528 (.880), 21 2B, 1 3B, 28 HR, 88 RBI
Williams posted impressive power numbers, including double-digit home runs at Double- and Triple-A. Minnesota took him in the 8th round of the 2018 MLB Draft from Clemson. The 2022 season was the first where most of his plate appearances came as a first baseman instead of a catcher. This may have helped his power numbers increase, as he could keep his legs stronger throughout the season. 

Honorable Mention: Noah Cardenas, C/1B
Low-A Stats (99 G): .261/.421/.413 (.834), 18 2B, 1 3B, 9 HR, 43 RBI
Minnesota took Cardenas with their 8th-round pick in 2021 from UCLA. He impressed in his first full professional season as he caught over 460 innings and played time at first base. Cardenas led the team in many offensive categories. His prospect stock will continue to rise if he can hit for power while continuing to catch. 

What impressed you the most about the names mentioned above? Should a different player have made the list? Leave a COMMENT and start the discussion. 

PREVIOUS WINNERS:
2012 - Oswaldo Arcia
2013 - Miguel Sano
2014 - Mitch Garver
2015 - Max Kepler
2016 - Daniel Palka
2017 - Mitch Garver
2018 - Alex Kirilloff
2019 - Trevor Larnach
2021 - Jose Miranda