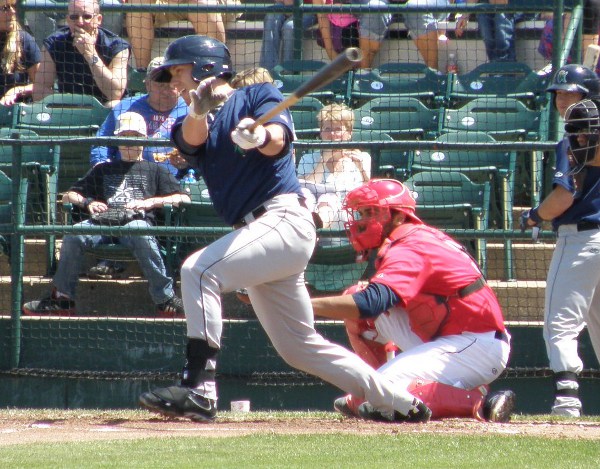 Image courtesy of Steve Buhr (photo of Mitch Garver)
There were a lot of solid performances and performers that did not make the top six for various reasons, be it injury, big league time or simply playing in a short-season league. Here are some honorable mentions that I think will illustrate just how good the top 6 are!
Honorable Mention
Josmil Pinto – Rochester Red Wings – 77-208 - .279/.376/.457 (.833) – 17-2B, 1-3B, 6-HR, 35-RBI

Levi Michael – Ft. Myers Miracle – 76-243 - .313/.389/.387 (.776) – 11-2B, 2-3B, 1-HR, 24-RBI

Travis Harrison – Ft. Myers Miracle – 123-458 - .269/.361/.365 (.726) – 33-2B, 1-3B, 3-HR, 59-RBI

Bryan Haar – Cedar Rapids/Ft. Myers – 114-432 - .264/.318/.438 (.755) – 23-2B, 5-3B, 14-HR, 68-RBI

Deibinson Romero – Rochester Red Wings – 111-419 - .265/.364/.406 (.770) – 31-2B, 2-3B, 8-HR, 45-RBI

Dalton Hicks – Ft. Myers Miracle – 111-423 - .262/.344/.407 (.751) – 24-2B, 2-3B, 11-HR, 76-RBI

Mike Gonzales – Ft. Myers/New Britain – 105-387 - .271/.348/.439 (.878) – 29-2B, 0-3B, 12-HR, 71-RBI

Alex Swim - Ft. Myers/Cedar Rapids - 74-238 - .311/.352/.349 (.700) - 9-2B, 0-3B, 0-HR, 41 RBI

Jorge Polanco – Ft. Myers/New Britain – 124-505 - .288/.353/.395 (.748) – 23-2B, 6-3B, 7-HR, 61-RBI

Hitter of the Year
#6 – Adam Walker – Ft. Myers Miracle (124-505 - .246/.307/.436 (.743), with 19 doubles, 1 triple, 24 HR, 94 RBI)
At 6-4 and 225 pounds, Walker is an intimidating presence in the batter's box. Fortunately for the Twins, he's fit the part of powerful, athletic run producer ever since he joined the Twins organization after being selected as the team's third round draft pick in 2012. In short-season Elizabethton, Walker hit 14 homers and drove in 45 runs in 58 games. Last year in Cedar Rapids, he hit 31 doubles, seven triples and 27 home runs while driving in 109 runs, which was second only to Dalton Hicks in all of minor league baseball. He moved up to the pitcher-friendly Florida State League in 2014 and struggled early. He rarely was able to get his batting average over .250, but he walked eight percent of the time, an improvement. He still has strike zone and contact issues, but there is still so much potential in this 22-year-old.
#5 – Max Murphy – Elizabethton Twins/Cedar Rapids Kernels (75-243 - .309/.403/.556 (.958), with 14 doubles, 2 triples, 14 HR, 41 RBI)
Again, these are full-season awards, but Max Murphy put up such incredible numbers in his debut in the Appalachian League that he was named the league's hitter of the year. That's despite getting promoted to Cedar Rapids with three weeks left in the Appy League season. In 35 games at E-Town, he hit .378/.483/.723, with seven doubles, two triples and ten home runs. He struggled some when he got to Cedar Rapids, but he still hit seven doubles and four homers in 32 games with the Kernels. A Robbinsdale, Minnesota native, Murphy was the ninth round pick of the Twins in June out of Bradley University.
#4 – Jason Kanzler – Cedar Rapids Kernels / Ft. Myers Miracle (113-401 - .282/.344/.444 (.788), with 11 doubles, 9 triple, 12 HR, 59 RBI)
A Rochester, N.Y. native, the Twins made Kanzler their 20th round pick in 2013 after four years at the University of Buffalo. Almost inexplicably, he began the 2014 season at extended spring training, but about two days later he was summoned to Cedar Rapids. There, he hit .286/.334/.448 with eight doubles, eight triples and nine home runs. He finished the season with 27 games in Ft. Myers where his plate discipline greatly improved. Always known for his defense, he won two Gold Gloves in college and provided great leadership in the outfield. He came through big time for the Miracle in the playoffs. In one game, he had a double, a home run and drove in six runs. In the final game, his two-run, 11th inning homer gave the Miracle their first championship. #FearTheStache
https://www.youtube.com/watch?v=rLW1Aw3IXa4
#3 – Reynaldo Rodriguez – New Britain Rock Cats (.278/.337/.495 (.832), with 37 doubles, 2 triples, 22 HR, 70 RBI)
Rodriguez was a powerful force in the middle of the Rock Cats lineup throughout most of the 2014 season. He provided leadership for young Latin players such as Kennys Vargas and Eddie Rosario. And, he was an extra base machine. He hit 36 doubles and 21 home runs for the Rock Cats. He got to play ten games with Rochester as well and added one homer and one double. At 27-years old, he is a veteran who has been in professional baseball since signing with the Yankees in 2006. In 2014, he moved to the outfield after primarily playing first base in previous seasons.
#2 – Kennys Vargas – New Britain Rock Cats (100-356 - .281/.360/.472 (788), with 17 doubles, 0 triples, 17 HR, 63 RBI)
I think it's safe to say that Kennys Vargas has made a pretty strong first impression with Twins fans who just got to know him in the second half of this season. For those who have followed him since he signed as an undrafted free agent in 2009 out of Puerto Rico, his production throughout 2014 has been a pleasant surprise. Vargas is a large man and carries a big bat. His numbers through the first two months of the minor league season were incredible. He put up the above numbers despite the fact that in his final 29 games in AA this season, he hit just .173/.271/.298 with seven extra base hits. The overall numbers still look pretty good because in his first 68 games with the Rock Cats,he hit .325/.397/.544 with 27 extra base hits. It is going to be interesting to see how Vargas progresses and adjusts in the big leagues going forward, but he has made a great impression this year!
Hitter of the Year – Mitch Garver – Cedar Rapids Kernels (128-430 - .298/.399/.481 (.880), with 29 doubles, 1 triple, 16 HR, 79 RBI)
Mitch Garver was drafted by the Twins in the ninth round of the 2013 draft as a fourth-year senior out of the University of New Mexico. Many teams like to draft fourth-year seniors in the second half of the first ten rounds because they can sign them for well below slot and go over slot on others. Whatever the reason for drafting Garver in the ninth round, the Twins got a very good baseball player who showed his potential in 2014 in Cedar Rapids.
Garver started the season strong by hitting .321 (1.041) with 13 extra base hits in April and was our hitter of the month. He slowed down in May, but he posted an OPS over .870 in each of the final three months.
Garver put up the offensive numbers that he did while playing the most grueling position on the field, catcher. On June 24, he took a foul tip off of his face mask that cut his chin and put him on the 7-day concussion DL. He returned and continued to hit.
He also did a nice job behind the plate. He blocks the ball in the dirt pretty well. He has a strong arm that is usually quite accurate. He threw out 32% of would-be base stealers.
At 6-1 and 220 pounds, Garver has a strong, powerful swing that fits well in the middle of a lineup. He is a line drive hitter who puts together quality at bats with his very good plate discipline. He will advance to Ft. Myers to start 2015, but he could be a guy who moves up to New Britain at some point next season as well.
So there you have it. There were some really terrific offensively performances by Twins minor leaguers in 2014. Please feel free to discuss,