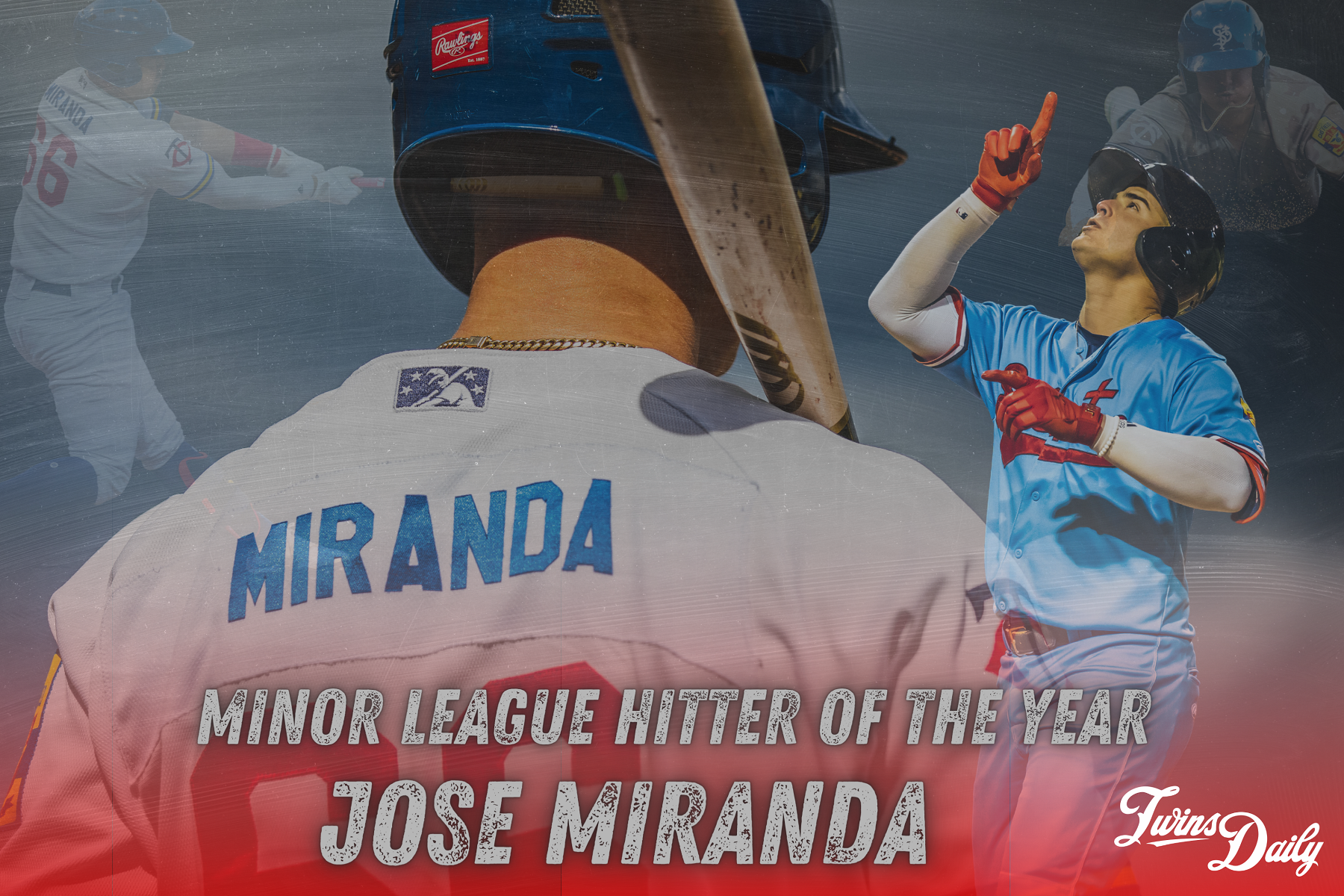 Image courtesy of Rob Thompson, St. Paul Saints (graphics by David Youngs)
It's not wise to overreact to a robust 15 games in the Puerto Rican Winter League, especially for a Minor Leaguer who hit just .252/.302/.369 in the prior season. For Jose Miranda, though, it was a glimpse into the future. His strong showing for Caguas was no mirage: he was improving. 
Miranda always possessed an elite ability to make contact, evidenced by his solid batting averages and low strikeout rates throughout his first handful of years in the minors. That's why his power surge is so exciting.
Starting the year with Wichita at Double-A, Miranda came out firing. He began the season going 13-for-32 (.406) with a double and three homers and never looked back. Miranda's last 20 games before his promotion were outstanding. He hit .386 with a 1.085 OPS with seven homers and two doubles. 
Miranda's ultimate statement came on June 29th in his debut for the Saints. He hit three homers, drove in six runs, and added a double in one of the best Triple-A unveilings you'll ever see. Miranda proved that his great stretch in Wichita was no mirage.
Miranda's 153 wRC+ at Triple-A is the third-highest for a Twin since 2006 (min. 300 plate appearances). His 162 wRC+ at Double-A is tied for the third-best in that span. 

Miranda added patience to his profile while still maintaining a strikeout rate below 13%. He's walking more, hitting for elite power, and spraying the ball all over the field. There are very few flaws to point out in his 2021 campaign. 
The 23-year-old leads the minors with 292 total bases, 176 hits, and 568 plate appearances. He's started 48 games at third base, 29 at second base, 26 at first base, and 12 at Designated Hitter. He offers the infield versatility that the Twins value. 
So what does the future hold? Well, it's interesting. While Miranda seemingly has nothing left to prove in the minors, there's a log jam on the Twins' roster. Josh Donaldson and Miguel Sanó (option) are both under contract at the corners until 2023. Alex Kirilloff impressed in his debut at first base, and Jorge Polanco had an MVP-level season at second. If that's not enough, Luis Arraez needs a spot too.
These things tend to work themselves out, so for now, let's appreciate this incredible season from Jose Miranda. His future looks bright and offers hope that more contact-oriented prospects (like Austin Martin) can develop power in this system. 
While the Twins struggled to win games throughout the 2021 season, many fans found hope in the minors, especially in Jose Miranda. 
Congratulations, Jose!
Below are the Top 8 Twins Minor League Hitters in 2021 (according to our 10-person, Twins Daily minor league writing staff) as well as others who received votes. If you click on their names, you will be directed to the search results for that player and find several other articles they are tagged in. 
TOP 8:
1. IF Jose Miranda - (.342/.400/.568 with 29 doubles, 29 homers at AA/AAA)
T-2. 1B/OF Trey Cabbage - (.264/.346/.535 with 20 doubles, 27 homers at High-A/AA)
Cabbage blasted 27 homers in 108 games and finished his season with a .535 slugging percentage. He posted an OPS over .880 for both Cedar Rapids and Wichita. 
T-2. IF Edouard Julien - (.266/.434/.480 with 28 doubles, 18 homers at Low-A/High-A)
Julien stole 34 of 39 bases, hit 18 homers and walked 110 times in a breakout season. Julien mashed for Fort Myers before hitting .247/.397/.494 in Cedar Rapids. 
4. IF Spencer Steer - (.254/.348/.484 with 18 doubles, 24 homers at High-A/AA)
Steer found his power in 2021, stroking 24 homers across two levels. Steer posted a .915 OPS at Cedar Rapids and hit 14 homers for Wichita. 
5. OF Mark Contreras - (.253/.341/.488 with 29 doubles, 19 homers at AA/AAA) 
Contreras is quietly hitting .253/.341/.488 and improved after a promotion to St. Paul. It was his best season as a Minor Leaguer. 
6. OF BJ Boyd - (.294/.352/.491 with 15 doubles, 16 homers at AA/AAA)
Boyd posted a .923 OPS in Wichita and earned a late season promotion to Triple-A. Boyd hadn't played professional baseball since 2018 but impressed in his return. 
7. OF Jimmy Kerrigan - (.265/.336/.487 with 16 doubles, 19 homers at AA/AAA) 
Kerrigan is a steady force for the Saints, hitting .265/.336/.487 in over 100 games. Kerrigan has tallied 169 total bases, the most in his career. 

8. OF Brent Rooker - (.245/.367/.564 with 8 doubles, 20 homers at AAA)
Rooker destroyed at Triple-A before another promotion to Minnesota, where he's working himself into a 2022 role. "Rook" hit 20 homers in 62 games for the Saints.
OTHERS RECEIVING VOTES:
OF Gilberto Celestino - (.280/.379/.431, 7 HR, 16 2B at AA/AAA)
OF Matt Wallner - (.264/.350/.508, 15 HR, 14 2B, 2 3B at A+) 
IF/OF Drew Maggi - (.255/.358/.470, 16 HR, 13 2B, 2 3B at AAA)
IF Yunior Severino - (.273/.372/.430, 8 HR, 29 2B, 2 3B at A/A+)
IF/OF Michael Helman - (.246/.336/.462, 19 HR, 21 2B, 4 3B at A+)
SS Jermaine Palacios - (.259/.340/.439, 19 HR, 17 2B at AA)
C/1B Alex Isola - (.243/.342/.425, 17 HR, 15 2B at A+)
C/OF Jeferson Morales - (.255/.370/.438, 12 HR, 24 2B at A/A+)
C/1B Tomás Telís - (.292/.336/.411, 11 HR, 11 2B, 2 3B at AAA)
1B/3B Andrew Bechtold - (.239/.328/.459, 18 HR, 23 2B at AA)
OF Ernie de La Trinidad - (.266/.344/.415, 9 HR, 12 2B, 2 3B at AA)
PREVIOUS WINNERS:
2012 - Oswaldo Arcia
2013 - Miguel Sano
2014 - Mitch Garver
2015 - Max Kepler
2016 - Daniel Palka
2017 - Mitch Garver
2018 - Alex Kirilloff
2019 - Trevor Larnach