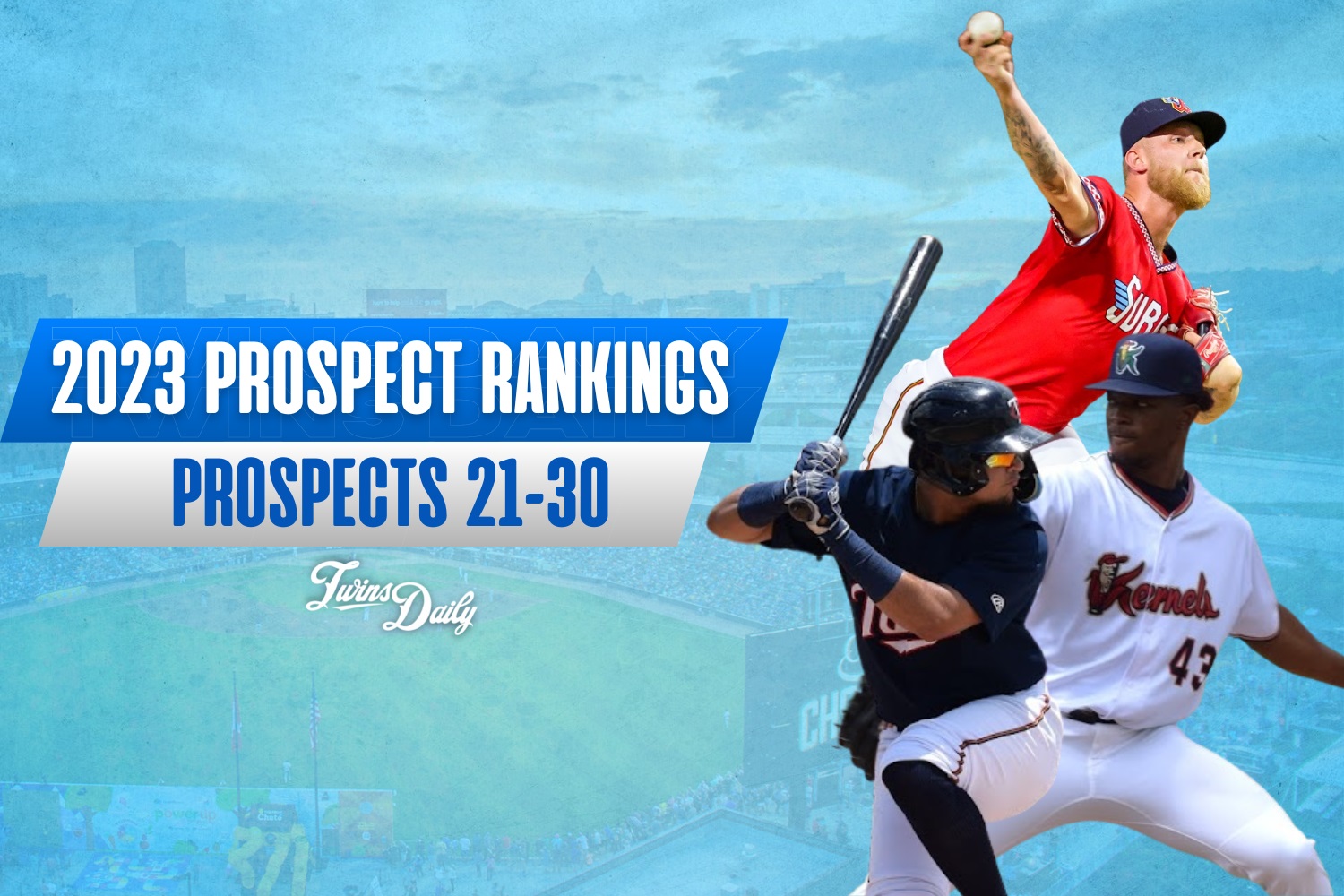 Image courtesy of Ed Bailey, Wichita Wind Surge (Blayne Enlow), Steve Buhr (Danny De Andrade, Jaylen Nowlin)
For the first time, Twins Daily is now sharing our choices for the Top 30 Twins prospects. In reality, it's just one more article for you to read as we are including prospects 21-30 today. It is really an interesting mix of prospects in this range, which isn't surprising. There are several prospects who are very young in their careers. These are players with lots of tools and potential, but a long, long way to go before even approaching the big leagues. There are a couple of pitchers who had exciting 2022 seasons that catapulted themselves to this level, but they were previously lesser known so some weren't willing to push them any higher. As you would also expect, there are some minor leagues who were once Top 20, and even Top 10, prospects and whether it be injury or performance, they have dropped down the rankings. They still have the talent and at least one took that will need to carry them to an opportunity. 
Twins prospects ranking between 21-30 in our series highlights a dynamic group of players, some brimming with upside and others with higher-perceived floors. Let's break them down. 
30. OF Byron Chourio 
Age: 17
2022 (DSL Marlins): 51 games, .344/.429/.410 (.838), 9-2B, 1-HR, 12.4% K, 11.5% BB
Just one year ago, the Marlins signed a 16-year-old Chourio from Merida, Venezuela, for $200,000. He stands 6-2 and weighs about 175 pounds. He had a very impressive professional debut in 2022 with the Marlins' DSL team. He hit for average, got on base, showed good bat-to-ball skills, and showed doubles power. He also stole 19 bases in 26 attempts. He played 20 games in center field, 19 games in right field, and three games in left field. He has a strong arm. The Twins acquired him as a flyer in the Arraez/Lopez trade recently. Jose Salas is the top prospect, but Chourio is equally intriguing. As I like to say, he was impressive in the DSL, but that is six promotions from the big leagues. Chourio is certainly filled with athleticism and tools that should excite Twins fans. 
29. 1B Aaron Sabato 
Age: 23
2022 (A+/AA): 103 games, .215/.336/.438 (.774), 17 2B, 22 HR, 4/5 SB, 32% K, 13% BB
The Twins were excited to select Sabato with the 27th overall pick out of North Carolina where he put up numbers very similar to those of Spencer Torkelson. He really struggled in his pro debut in 2021. He hit just .189 in 85 games in Ft. Myers but came on strong after a late-season promotion to Cedar Rapids where he added eight homers in 22 games. That's where he began the 2022 season. In 80 games, he hit .226 with 13 doubles and 17 homers. He moved up to Wichita for 23 games late in the season and hit .179 with four doubles and five homers before his season ended with a fastball to his wrist. To this point, he has not hit for average. However, he does walk a lot. He has immense power, so when he does make quality contact, he has the ability to hit the ball a long way. The problem is that he has had trouble making contact, especially on good fastballs. He has become a decent defensive first baseman. He should start 2023 at Wichita and will continue to get opportunities, including another spring training invitation. 
28. OF Kala'i Rosario 
Age: 20
2022 (A): 109 games, .239/.320/.408 (.727), 21 2B, 3 3B, 12 HR, 32.5% K, 8.1% BB
In the five-round 2020 draft, Rosario was the team's fifth-round pick out of high school in Waiakea, Hawaii. He was one of the most powerful prep bats in that draft. He debuted with 51 games in the FCL in 2021 and hit .277 with 10 doubles, four triples, and five home runs. As a 19-year-old in the pitcher-friendly Florida State League, his overall numbers may not look exciting, but he was productive and provided some extra base power. However, with that power comes a lot of strikeouts, something that he will need to continue working on as he moves up the organizational ladder. Rosario played both corner outfield positions with about two-thirds of that time in right field. He has good speed and plays average defense. He's got an average arm for right field. He's very young for the level, so he could repeat in the FSL in 2023, though it would be great if he can spend some time in Cedar Rapids as well. 
27. INF Yunior Severino 
Age: 23
2022 (A+/AA): 83 games, .278/.370/.536 (.907), 17 2B, 2 3B, 19 HR, 25.9% K, 11.1% BB
Twice a top international signing, Severino has slowly worked his way up the Twins system. He began 2022 where he ended the 2021 season, in Cedar Rapids. In 46 games, he hit .283/.398/.572 (.970) in 46 games and hit nine doubles and 11 homers. He missed significant time with an injury but when he returned he was soon promoted to Double-A Wichita where he played 37 games. In that time, he hit .273/.338/.497 (.834) with eight doubles and eight homers. He does strike out more than you could like, but he also has a strong on-base percentage thanks to a lot of walks. At Cedar Rapids, he primarily played second base. Once he moved up to Wichita (and Christian Encarnacion-Strand was traded), Severino spent most of his time at third base. While he lacks plus-range, he does make most of the plays. He should start the 2023 season with the Wind Surge where at 23, he'll be about a year younger than the average player. 
26. SS Bryan Acuna 
Age: 17
2022 (DSL Twins): 43 games, .310/.409/.393 (.803), 12 2B, 0 3B, 0 HR, 21.1% K, 11.7% BB
You can't help but start with the Acuna genetics. Ronald Acuna Sr. played in the New York Mets organization from 1999 through 2004. He then spent one season each with the Blue Jays and Brewers organizations. In 2005, Bryan was born in Manchester, New Hampshire, the Double-A home of the Blue Jays. Braves outfielder Ronald Acuna Jr. was the NL Rookie of the Year as a 20-year-old in 2018 and has been an All-Star in three of the past four years. 20-year-old Double-A shortstop Luisangel Acuna was just added to the Rangers 40-man roster. 
Bryan Acuna signed with the Twins last January from Venezuela for $950,000 and made his pro debut in 2022 in the DSL. His overall numbers look solid, including an OPS over .800. That is more impressive when you consider that in his first 11 games, he went 2-for-30 with 13 strikeouts in 37 plate appearances (35%). That also means that over his final 32 games, he hit .368/.455/.465 (.919) with 11 of his 12 doubles, and he struck out just 17% of the time. While maybe not to the same level as his All-Star brother, Bryan Acuna does have a lot of tools. He played in 42 games at shortstop and had 13 errors. He's got work to do defensively. He had no homers, but his 12 doubles show that the power could come too. He should come to the States in 2023 and play in the FCL.  
25. LHP Brent Headrick 
Age: 25
2022 (A+/AA): 23 starts (25 G), 108 1/3 IP, 3.32 ERA, 31% K, 6.1% BB
Headrick was the Twins ninth-round pick in 2019 out of Illinois State University where he pitched for former Twins catcher Steve Holm. Like most minor leaguers, he did not pitch in 2020. He made 15 appearances for the Mighty Mussels in 2021 and posted a 3.82 ERA. In 61 1/3 innings, he walked 33 batters, but he struck out 86 batters. In 2022, he made 15 starts with Cedar Rapids and went 8-2 with a 2.34 ERA and 0.88 WHIP. In 65 1/3 innings, he had just 13 walks to go with 77 strikeouts. He moved up to Double-A, and after a rough first outing (7 runs on 10 hits in 2 1/3 innings), he posted a 3.54 ERA and had 57 strikeouts in 40 2/3 innings. Following the season, he was a pretty easy addition to the Twins 40-man roster.
24. INF Danny De Andrade 
Age: 18
2022 (FCL Twins): 48 games, .242/.333/.371, 9 2B, 1 3B, 4 HR, 4/6 SB, 13.5% K, 7.5% BB
De Andrade signed with the Twins out of Venezuela in January 2021 for a $2.2 million bonus. He spent that summer in the DSL where he hit .264/.340/.348 (.688) with 13 doubles and a triple in 50 games. He came to the States in 2022 and played most every day. He made 32 starts at shortstop and 13 more at third base. He is a solid defender with good range, soft hands and a strong arm. Offensively, he's a work-in-progress. He is an aggressive hitter with a strong swing and good bat-to-ball skills. There is potential for some power. He could spend the 2023 with the Mighty Mussels, which is likely to present a major challenge for him offensively, so don't be surprised if he repeats the level as he will be very young. 
23. RHP Cole Sands 
Age: 24
2022 (AAA): 19 games (13 GS), 61 2/3 IP, 5.55 ERA, 25.4% K%, 8.5% BB%
2022 (MIN): 11 games (3 GS), 30 2/3 IP, 5.87 ERA, 19.3% K%, 9.0% BB% 
Sands represented Team USA events in high school. He was drafted but chose to attend Florida State University. Three years later, he was the Twins fifth-round pick in 2018. That next season, he pitched at three levels, ending the year with one Double-A start. He didn't pitch in 2020, and in 2021, he posted a 2.46 ERA at Double-A Wichita. He had 96 strikeouts in 80 1/3 innings. Moving up to Triple-A in 2022, he maintained his strikeout rate and actually reduced his walk rate. However, as you can see above, he gave up a lot of runs. It was an inconsistent year for Sands. He was promoted and optioned several times throughout the season, and also spent a couple of stints on the injured list. Is he a starter or reliever? There are a lot of similarities in terms of stuff between Sands and Tyler Duffey. Sands sits in the low-90s with his fastball but can touch 95. He also has a couple of very nice, albeit inconsistent,  breaking balls. As we saw with Duffey, that can be very valuable. He would not be the first player to struggle in his big-league debut, learn from it, and have some level of success. With the Twins pitching depth, will he get that opportunity? 
22. RHP Blayne Enlow 
Age: 23
2022 (AA): 24 games (10 starts), 57 1/3 IP, 4.40 ERA, 24.8% K, 11.6% BB
Another Team USA alum, Enlow was the Twins third-round pick in 2017 out of high school in Louisiana when they met his signing bonus request to keep him from LSU. It was a slow-go for Enlow early in his career. Like many, Enlow did not pitch in 2020. He returned to Cedar Rapids (now a High-A affiliate) in 2021, but just three starts into the season, he hurt his elbow and had Tommy John surgery in June. Enlow worked hard through his rehab, and in November 2021, he was added to the 40-man roster. He returned to the mound in May 2022, 11 months after surgery, and made one rehab appearance for Ft. Myers before heading up to Double-A Wichita. He made 10 starts and 14 relief appearances. He went 1-3 and had three saves. He was clearly working to get back his form. He walked 30 batters in 57 1/3 innings, well over his 'normal' walk rate. That is a number he can reduce quite a bit. He also struck out 64 batters which showed that the stuff was still there. Recently, the front office took the risk of placing him on waivers, but he cleared and was outrighted to the minors. While not necessarily great, it might be exactly what he and the Twins need. It might take some of the pressure off of him in 2023 and he can just work on things. With a low-to-mid 90s fastball and a solid breaking ball and an improving change up, Enlow has potential. Again, will that be as a starter or as a reliever? We shall see. (As you can see in the video below, right before his elbow injury, Enlow was dealing, with all of his pitches.)
21. LHP Jaylen Nowlin 
Age: 22
2022 (A/A+): 22 games (14 starts), 71 IP, 3.80 ERA, 36.0% K%, 11.6% BB%
Yet another late-round steal by the Twins scouting department, it appears. Nowlin was the Twins 19th round pick out of Chipola College. He attended Westlake High School in Atlanta with A's prospect Lawrence Butler. In the summers, he played with Braves outfielder Michael Harris. He pitched in just one FCL game in 2021, but he made his mark at Fall Instructional League when the southpaw was touching 97 mph with a fastball and showing a solid slider as well. He carried that into the 2022 season. He began at Ft. Myers where he went 4-4 with a 3.65 ERA. In 56 ⅔ innings, he walked 29, but he struck out 89 batters. He moved up to the Kernels late in the season and made three starts. He was 1-1 with a 4.40 ERA. In 14 1/3 innings, he walked seven but struck out 22 batters. Overall, that is 11 strikeouts in 71 innings, a rate of 14.1 K/9. Clearly he will need to improve his control and command, but the Twins can be patient with him and should be because he has immense talent, he just needs to keep improving. 
Feel free to discuss these prospects and ask as many questions as you like in the COMMENTS below. I will try to get to as any of them as I can. 
For more Twins Daily content on these ten Twins prospects, click on the link with their name here: Jaylen Nowlin, Blayne Enlow, Cole Sands, Danny De Andrade, Brent Headrick, Bryan Acuna, Yunior Severino, Kala'i Rosario, Aaron Sabato, Byron Chourio. 
Previous Installments
Honorable Mention
Prospects 21-30
Prospects 16-20 - Coming Soon!
Prospects 11-15