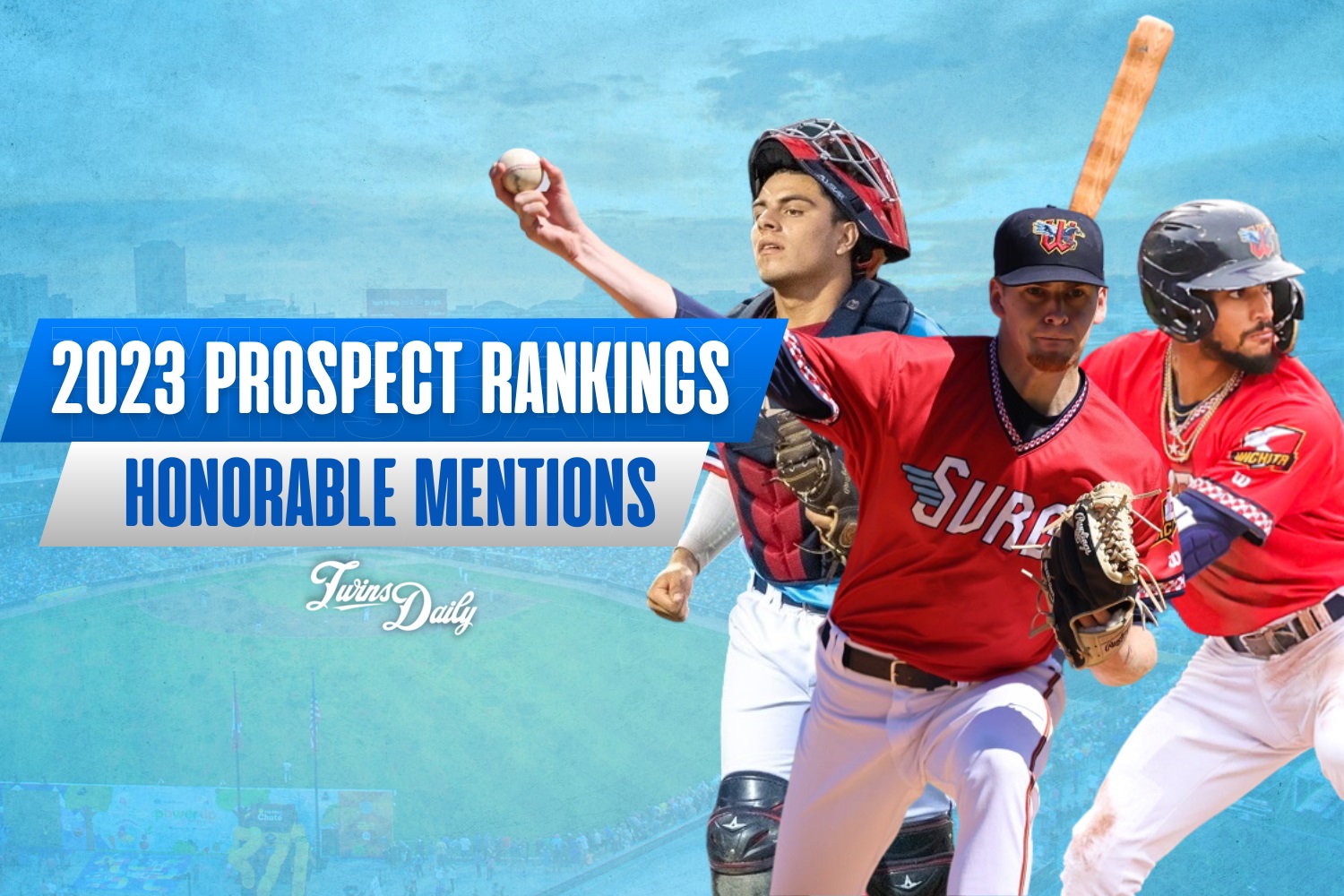 Image courtesy of Ed Bailey, Wichita Wind Surge (photos of Holland, Laweryson), William Parmeter (photo of Cardenas)
In the past, we have presented our selections for the Top 20 Twins prospects before each season. In 2022, that list was the starting point for the Prospect Tracker which we updated at the beginning of each month and after the trade deadline, and then at the end of the season. 
Since the season's end, there have been several changes. Several players became free agents. The Twins lost a couple of pitchers in the minor-league portion of the Rule 5 draft. They made a couple of trades to bring in new talent from the Angels and Marlins while sending two upper-level relievers to the Royals. In addition, our minor-league writers have learned more and more about several prospects, particularly those drafted or signed most recently. 
With all that said, this year, we are moving to a Top 30 Twins prospect rankings for a couple of reasons. First, ten of our minor-league writers provided a list of their Top 30 Twins prospects. Second, why not recognize another ten Twins prospects at this time of year? Now, we are going to do that by adding just one more article. Tomorrow, we will share our choices for Twins Prospects 21-30. With the current schedule, starting next week, we will be jumping into the Top 10 prospects. 
However, today, we will be starting this series by sharing a list of Honorable Mentions, or Also Received Votes, if you prefer. Even within this group, which could make up our prospects from around 31 through around 45, there are several future big-leaguers in the group, a couple that we could see in 2023. 
I've really enjoyed writing this Honorable Mention article because it can show the organization's depth. If we are being honest, it can also show the limitations of prospect ranking. This can be former prospects coming off of bad years. It can be recently-acquired players (via trade or draft) that may not be the top picks but there is something intriguing. There may be players who have never been looked at as top prospects but continue to consistently get moved up and keep themselves in the conversation. 
In 2019, Luis Arraez and Jordan Balazovic appeared in this range of the list. The 2020 Honorable Mention article named players such as Jorge Alcala, Bailey Ober, and Akil Baddoo.) 
Last year's Honorable Mentions were quite interesting. It included 2021 picks that have been traded in key trades such as Cade Povich and Christian Encarnacion-Strand. It also contained 2019 pick Sawyer Gipson-Long who was traded to the Tigers at the deadline. Casey Legumina was traded to the Reds for Kyle Farmer after being added to the Twins' 40-man roster. Oh, and wait until you see which players jumped from Honorable Mention last year into the Top 10 this year. 
Before we start, the following players are no longer "prospects" according to Baseball-Reference: Jose Miranda, Gilberto Celestino, Joe Ryan, Jovani Moran, Josh Winder, and Jhoan Duran. 
FIRST-ROUND FEATURE  
2019 first-round pick Keoni Cavaco fell out of the top 20 last year and this year, out of the top 30. Honestly, the tools, speed, power, and arm strength are all still there. He returned to the Mighty Mussels in 2022 but made the move to third base. In 99 games, he hit .231/.275/.397 (.672) with 18 doubles, five triples, and 11 home runs. He missed a little time. He should move out of the Florida State League, so don't give up on him yet. 
UTILITY TYPES IN UPPER LEVELS 
They may not be top prospects, but you have to have noticed that this organization places a lot of value on versatility and being able to play multiple positions. That becomes more valuable as guys reach the upper levels.  
Michael Helman's 'stock' soared in 2022 when he split his season between Wichita and St. Paul. In 135 games, he hit .258/.337/.432 (.769) with 23 doubles and 20 homers while stealing 40 bases in 45 attempts. Drafted as an infielder, he has played all three infield and outfield spots over the past two seasons. 
Anthony Prato was a 7th-round pick from UConn in 2019. He split 2022 between Cedar Rapids and Wichita. Combined, he played 60 games in left field, 34 games at second base, 22 games at third base, and 12 games at shortstop. He also made starts, and first base and in right field. He played a combined 132 games and hit .285/.383/.444 (.827) with 30 doubles, eight triples, and 10 homers. He also stole 22 bases. 
Will Holland was the Twins 5th round pick in 2019 from Auburn. While he was drafted as a shortstop and made 15 starts at that position in Cedar Rapids, he has made a pretty clear transition to the outfield. He is arguably the fastest player in the organization and has played a lot of center field. After a late-season promotion to Wichita, he played solely in the outfield, playing more in the corners with DaShawn Keirsey in center. In 116 games, he hit .227/.339/.366 (.705) with 13 doubles, six triples, and nine homers. He also stole 32 bases in 38 attempts. 
BACKSTOPS  
The Twins added Christian Vazquez this offseason to team with Ryan Jeffers behind the plate. They have also added several veteran backstops, including Tony Wolters , Grayson Greiner and Chance Sisco, to play in St. Paul along with David Banuelos. While the Twins don't have any high-ranking catcher prospects, there are a few intriguing guys who can catch if needed. 
Chris Williams was the team's 8th-round pick in 2018 from Clemson. He played 117 games between Wichita and St. Paul. He hit .246/.343/.500 (.843) with 21 doubles and 28 home runs. While he made 81 starts at first base, he continued to get time behind the plate with 21 starts. 
A 29th-round pick in 2019 from TCU, Alex Isola, missed time in 2022 with an injury. However, he made 17 starts at first base and 17 more behind the plate. He got a few at-bats and continued to work in the Arizona Fall League where he caught three times and played 12 games at first base. 
Noah Cardenas was the team's 8th-round pick in 2021 out of UCLA. He was the Twins Daily Minor league All-Star catcher in 2022 when he hit .261/.421/.413 (.834) with 18 doubles and nine homers. He started at first base 25 times and at catcher 56 times. He has thrown out 29% of would-be base stealers. 
WE HARDLY KNOW YE, YET
There are several players that we just need to learn more about, and they fit in this category. 
Alejandro Hidalgo is the 19-year-old right-hander that the Twins received in the Gio Urshela deal. In Low-A in 2022, he made ten starts and went 0-3 with a 4.62 ERA and 1.36 WHIP. In 39 innings, he walked too many (19) but had an impressive 58 strikeouts (13.4 K/9). He currently has a low-90s fastball, but a changeup that can be really, really good. He is definitely one to watch in 2023. 
Brayan Medina was part of the Opening Day trade between the Twins and Padres. The 20-year-old pitched in just 10 games for the FCL Twins in 2022. It didn't go well. In 23 2/3 innings, he struck out 24 batters, but he also walked 20 batters. 
Ariel Castro signed with the Twins about two weeks ago as a 16-year-old from Venezuela for $2.5 million. He hits left-handed, and he's from Cuba. He's got a sweet swing, but it'll be fun to start following his career, which is likely to start in the DSL this year. 
Players from the 2022 draft to get some Top 30 recognition include right-handed pitcher Andrew Morris (4th round, Texas Tech) and Cory Lewis (9th round, UC-Santa Barbara), and infielders Ben Ross (5th round, Notre Dame College, OH), and Omari Daniel (14th round, The Walker School in Georgia). The reports are very interesting on both Lewis and Ross. 
INTERESTING ARMS
Cody Laweryson's 2022 season started a little late, but it ended spectacularly. The 2019 14th-round pick from Maine played in the Arizona Fall League in 2021. He began with 16 games (2 starts) in Cedar Rapids and posted a 2.57 ERA and 1.06 WHIP. He finished the season with 19 games, including eight starts, in Wichita. He dominated to the tune of a 1.06 ERA and a 0.95 WHIP. In 94 2/3 innings, he had 111 strikeouts. He doesn't throw really hard, but he's got a funky delivery and hides the ball well.  (See Laweryson's episode of Twins Spotlight.)
Sean Mooney had Tommy John surgery in 2019 and the Twins selected him with their 12th-round pick that year. Since his return, he's struggled to pitch consistent innings, but he has been a strikeout machine. In 2022 in Cedar Rapids, he posted a 3.30 ERA, and in 60 innings, he walked 30 but struck out 82 batters. 
Travis Adams split the 2022 season between Ft. Myers (15 starts) and Cedar Rapids (7 starts). He went a combined 6-8 with a 3.93 ERA. He had 108 strikeouts in 100 2/3 innings and had just 26 walks. While the numbers don't jump out, the 2021 sixth-round pick is incredibly intriguing and could jump into the Top 20 a year from now. 
----------------------
That is a lot of talent, and those are guys who rank outside of the Twins Daily Top 30 prospects. Check back over the next two weeks to see who our 2023 Top 30 Twins Prospects are.