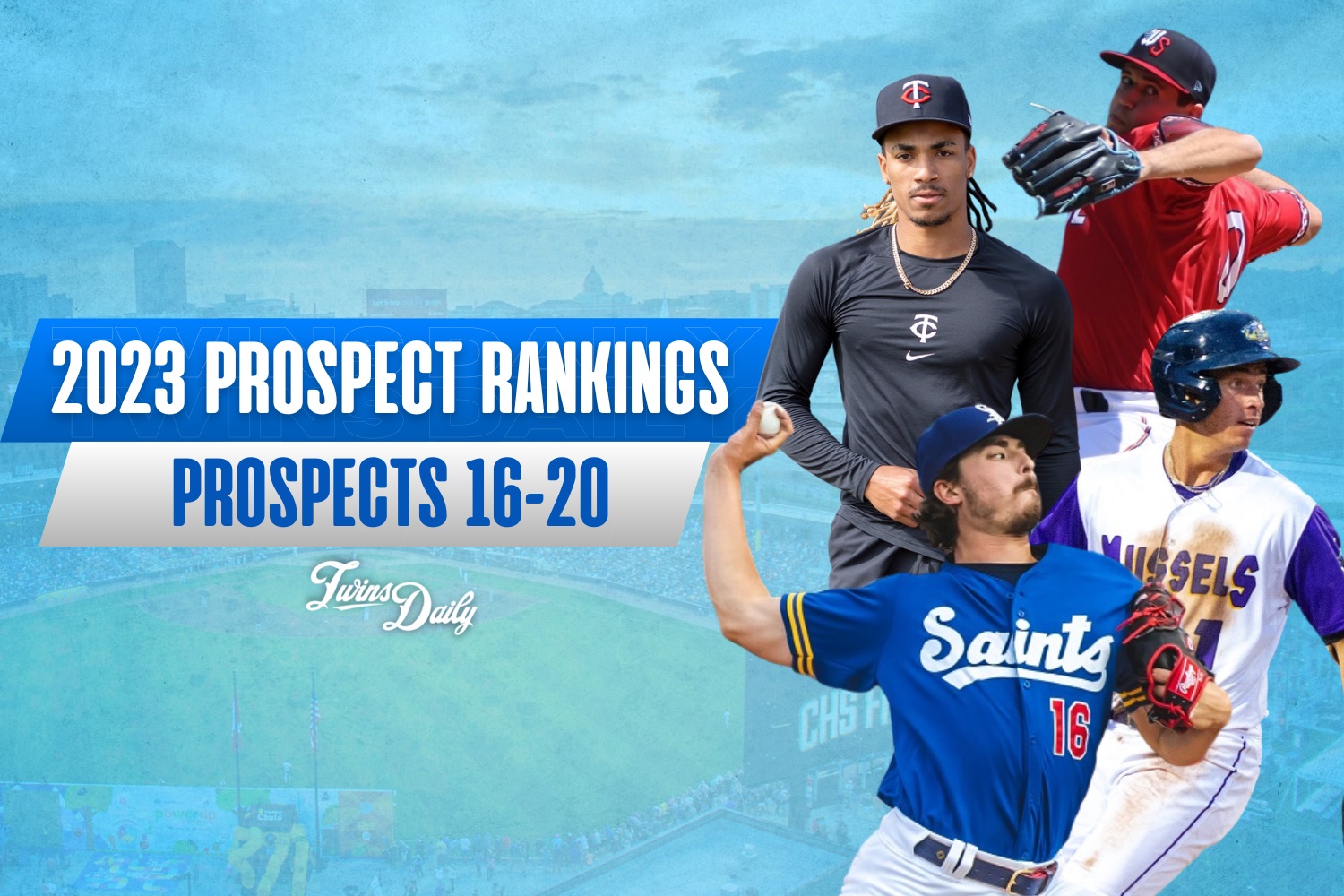 Image courtesy of Thiéres Rabelo, Twins Daily
Earlier this week, Seth Stohs took a dive into the deeper end of the Minnesota Twins system, highlighting players who finished in the 21-30 range of our voting tabulation, and honorable mentions who fell just outside that threshold. (For what it's worth, note that Luis Arraez was once found in these very same outside ranks of our lists and others. And he's only one fresh-in-mind example.)
With that said, the odds of an MLB future start to increase as we break into the top 20 of our list. In this group of five, representing Twins Daily's choices for the organizations 16th-through-20th best prospects of 2023, we find an intriguing mix of untapped promise and fading high-end upside.
20. Misael Urbina, OF
Age: 20
2022 Stats: 263 PA, .247/.323/.407, 5 HR, 27 RBI
He was the Twins' big-money signing out of the Dominican Republic in 2018, scoring a $2.75 million bonus, but four years later he hasn't played a game above Low-A. That's how it can go for players that sign as extremely raw talents at age 16 (especially with a lost COVID season mixed in). Through it all he still won't reach legal drinking age until this April.
Urbina's outstanding tools remain intact but he needs to start backing them up with production in order to keep his prospect status from fading. Thus far he has a .228/.326/.359 slash line as a pro.
19. Jose Rodriguez, OF
Age: 17
2022 Stats (Rookie): 219 PA, .290/.361/.605 , 13 HR, 49 RBI
Typically speaking, when teenage players sign from another country and head to the States to play pro ball, it takes a little while to acclimate and warm up. You'll often see meager results in short-season debuts for players who go on to accomplish a great deal. Rodriguez broke the mold after he signed last summer and joined the Twins' affiliate in the Dominican Summer League.
He wasn't the most high-profile player acquired in Minnesota's 2022 international signing class, which helped make his spectacular showing on the field so jarring. Rodriguez posted a jaw-dropping .966 OPS and led the short-season league with 13 homers in 55 games. He was an absolute slugging machine and it's scary to think how that might evolve as he ages. The stellar showing earned him Twins Daily's nod as short-season hitter of the year.
"Rodriguez's exit velocities may have been even more impressive than his homer total," wrote Aaron Gleeman, who is higher than most on the prospect, ranking him 13th on his list. "He destroyed the ball, in an environment where that isn't supposed to take place."
So far, so very good. And the strikeout/walk rates are promising for future development. But Rodriguez has a long way to go, as a player from a mold that has high burnout rates. He's a candidate to fly up these rankings with a reinforcing 2023 campaign.
18. Tanner Schobel, 2B
Age: 21
2022 Stats (Rookie/A): 136 PA, .242/.367/.303, 1 HR, 11 RBI
The Twins snagged Schobel in the second round of last year's draft out of Virginia Tech, where he emerged as a slugging shortstop to boost his appeal. After signing him to a $1 million bonus the Twins him to get his feet wet in Low-A. There, Schobel's power evaporated.
Following a 19-homer outburst in the college season, Schobel managed just one home run in 120 plate appearances at Fort Myers, producing a mere .303 slugging percentage. He did, however, show good plate discipline with a 23-to-18 K/BB ratio while swiping seven bags.
The power drop-off and move from short to second keep Schobel's helium in check, leading to a lower ranking than you'd normally see from such a highly-drafted prospect in the latest class. But there are some Brian Dozier parallels here, and he's the poster child for late-blooming middle infield power. 
17. Ronny Henriquez, RHP
Age: 22
2022 Stats (AAA): 95.1 IP, 5.66 ERA, 10.0 K/9, 3.1 BB/9 
The Twins were excited to get Ronny Henriquez as an addition to Isiah Kiner-Falefa in last offseason's Mitch Garver trade. They viewed him as underrated addition to their pitching pipeline, capable of racking up strikeouts and moving quickly to the majors.
They were correct on those two counts. Henriquez tallied 106 strikeouts in 95 innings at Triple-A, and reached the majors in September at age 22, posting a 2.31 ERA in three appearances.
With the goods news out of the way, he also allowed a 5.66 ERA at St. Paul, coughing up 19 homers and 33 walks in those 95 innings. Some changes in pitch usage could help Henriquez take the final step to fulfill his potential, and that'll probably start with moving him to full-time relief duty. The righty made 14 starts for the Saints last year among 24 appearances. Don't sleep on him as a significant factor in Minnesota's bullpen this year.
16. Jordan Balazovic, RHP
Age: 24
2022 Stats (AAA): 70.2 IP, 7.39 ERA, 9.7 K/9, 4.5 BB/9
What was supposed to be Balazovic's breakthrough year turned into a total breakdown. From start to finish it was an abject disaster. He was all over the place, utterly hittable when in the zone, and incredibly home run prone. Virtually every start unraveled on the big right-hander, at least up until a decent final month softened his landing at season's end.
There were reports of a bothersome knee issue, but Balazovic was healthy enough to avoid the injured list following his late start, so this seems more an issue of mechanics and execution. The reason he remains as high as he does in our ranks is because Balazovic had elevated himself to such a level prior to this lost season. 
Bad as it was, it's only one season, and the 24-year-old still has time to get (at least somewhat) back on track to recapture the form that made him arguably the system's best pitching prospect prior. Over the past three years he's ranked fourth, sixth, and fifth on this list. 
Feel free to discuss these prospects and ask as many questions as you like in the COMMENTS below. I will try to get to as any of them as I can. 
For more Twins Daily content on these ten Twins prospects, click on the link with their name here: Jordan Balazovic, Ronny Henriquez, Tanner Schobel, Jose Rodriguez, Misael Urbina. 
Previous Installments
Honorable Mention
Prospects 21-30
Prospects 16-20 
Prospects 11-15 - Coming Soon!