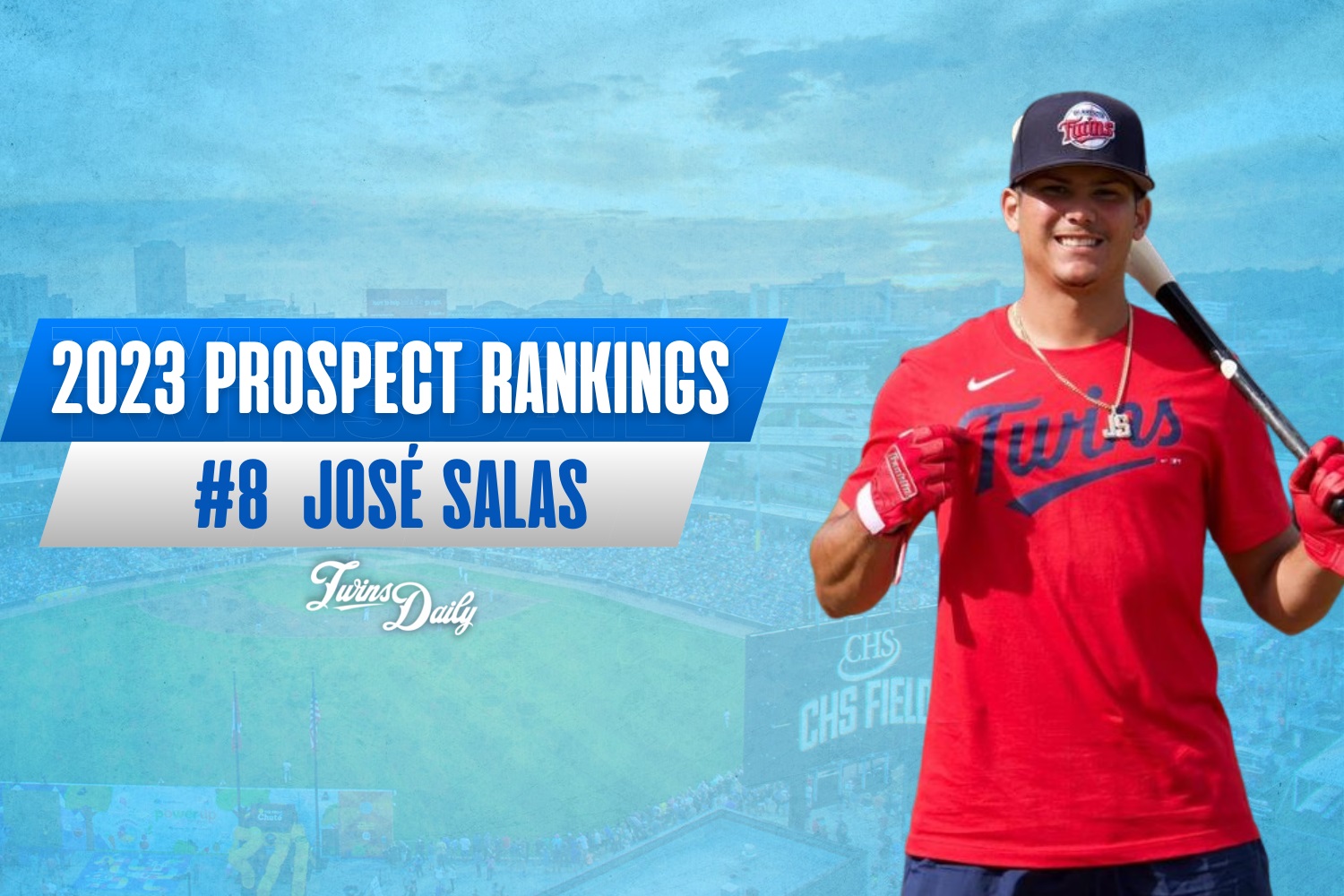 Image courtesy of Jose Salas's Instagram page
There are still many questions surrounding one of the Twins' newest prospects such as what position in the infield he will eventually call home. If he can really develop himself into the power hitter many scouts believed he could be when they first discovered him in Venezuela. 
Age: 20 (DOB: 4/26/03)
2022 Stats (A/A+): 474 PA, .250/.339/.384, 9 HR, 41 RBI, 69 R, 33 SB
ETA: 2024
2022 Ranking: NR
National Top 100 Rankings
BA: NR | MLB: NR | ATH: NR | BP: 93
What's to Like
Before the Twins acquired Salas from the Marlins, he was ranked as one of their higher prospects (fifth by MLB.com) in the system. There is a lot of upside in his play regarding his running game and hit for contact. 
Salas's speed may be his greatest asset on the field right now as he swiped 33 stolen bases in 34 attempts across the 2022 season and had five multi-steal games. His running game is his best asset according to scouts, as scouting grades, have it ranked at a score of 55 to 60 per FanGraphs and MLB.com. 
Salas's contact numbers did take a dip down from his potential in 2022 posting a .250 batting average between High and Low A. Still, scouting grades have his contact skills graded from the 50 to 60 range. In just his second week at High A Beloit, Salas did have his first-ever five-hit game in his professional career. The performance in that game shows there is still room for growth in his hitting that can make him a force at the plate.
What's Left to Work On
Salas has not had the best success on defense in his professional career so far, but 2022 was an improvement from his pro debut in 2021. His defensive game still lacks impact athleticism from each position he plays and he still needs to find a true defensive home. Salas has struggled most as a shortstop in 2021 with 17 errors in 45 games at the position. The number of errors in 2022 was cut down to four at the position in 46 games. 
While the number of errors was cut down in 2022, the strength in his throwing arm and athleticism on defense is still his greatest need to strengthen his game on the field. The Twins will likely still shuffle him around the infield on defense to see where his best position is this year and likely keep him there as he makes his way through the Minor Leagues. 
Salas's power at the plate is part of his game that still needs development. At 6'2, and 191 pounds, he has a growing build that will give him more power as he ages. But he only had nine home runs with a .384 slugging percentage for the season. 
What's Next
The early guesses for where Salas will start his 2023 season in the Twins organization have him at High A Cedar Rapids. With a plethora of infielders in the organization at different levels of the Minor League, there is no need for the Twins to rush Salas up before he is ready for the next level. 
As Salas continues to develop his strengths and weakness on the field, he will be making his way to Double-A Wichita at some point in the 2023 season. 
Feel free to discuss these prospects and ask as many questions as you like in the COMMENTS below.
For more Twins Daily content on Jose Salas, click here.
Previous Rankings
Honorable Mentions
Prospects 21-30
Prospects 16-20
Prospects 11-15
#10: Austin Martin, OF/SS
#9: Louie Varland, RHP
#8: Jose Salas, INF 
#7: Coming Soon