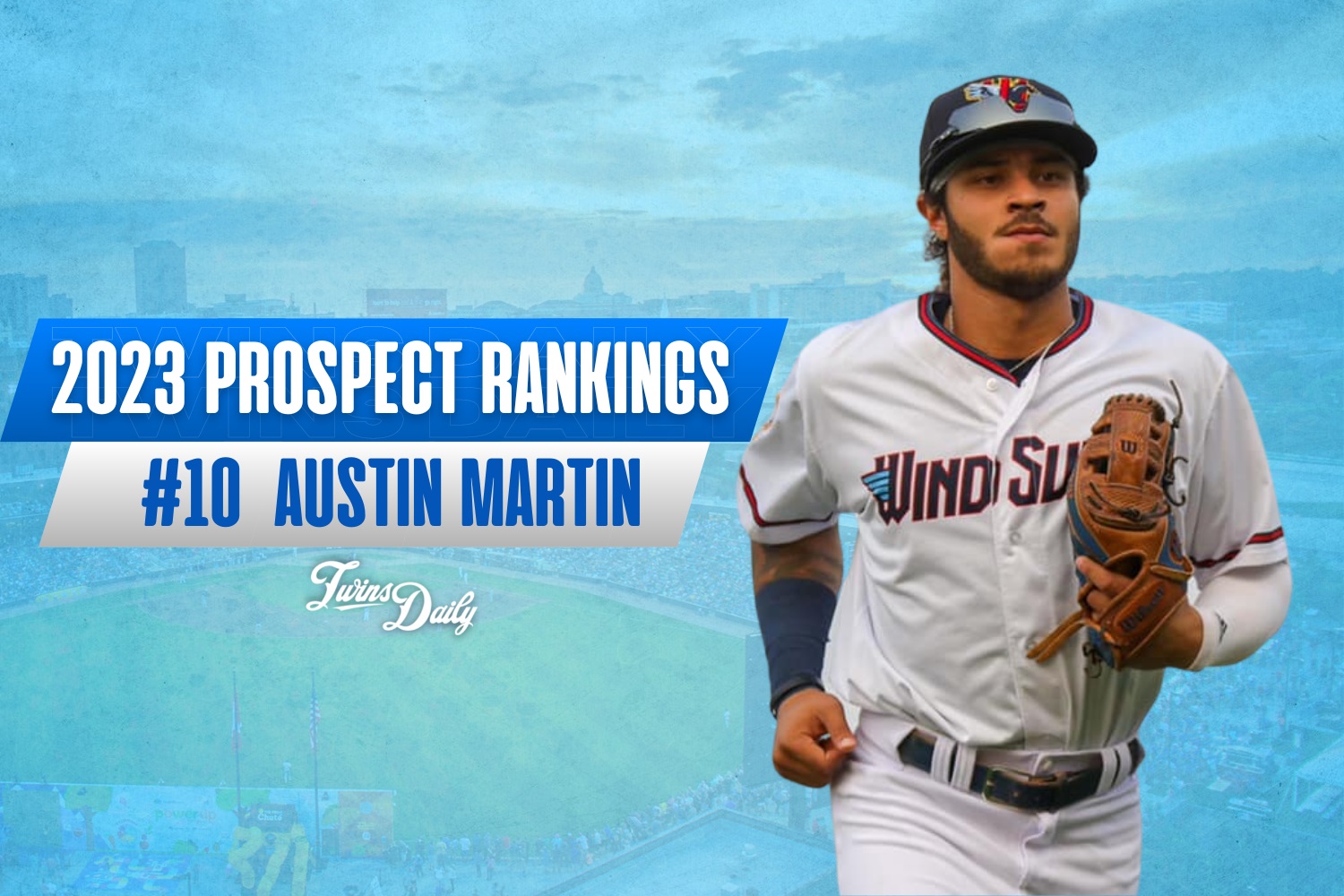 Image courtesy of Ed Bailey, Wichita Wind Surge
Age: 23 (DOB: 3/23/1999)
2022 Stats (AA): 406 PA, 241/.367/.316, 2 HR, 35 RBI, 35 SB
ETA: 2023
2022 Ranking: 1
National Top 100 Rankings
BA: NR | MLB: NR | ATH: NR | BP: NR
What's To Like?
Austin Martin was brought into the Minnesota Twins organization, along with Simeon Woods Richardson, when the front office traded Jose Berrios to the Toronto Blue Jays. It was Martin that was the headliner of that package, and that's not a surprise given he was taken 5th overall in the 2020 Major League Baseball draft.
Martin debuted in the Twins system last year playing just under 40 games at Double-A Wichita. He brought an .807 OPS from the Blue Jays stems, and finished the year with a .779 OPS for the Wind Surge. It was clear that Martin's best offensive skills included a strong on-base ability, and utilizing significant speed on the basepaths.
Sent back to Double-A in 2022, Martin struggled. His 90 games resulted in just a .683 OPS and it was clear there was an emphasis being put on tapping into power. The Twins made adjustments to Martin's swing in hopes of recording more doubles and home runs. That didn't work, and the results spoke for themselves.
Martin then went to the Arizona Fall League and ended his season on a very high note. Putting together a .936 OPS across 21 games against the best prospects in baseball, there is still plenty of reason to believe he can be a big-league regular. Across the action in Arizona, he hit just one homer but racked up six doubles. The power probably isn't ever going to come, but that could make his path to the big leagues more straightforward.
What's Left to Work On
It's questionable at best as to whether Martin can remain at shortstop. He has played some second base and outfield however, and could morph into a guy that has utility all over the field. His speed plays well on the grass, and while his arm strength is nothing to write home about, it works at other positions.
With Minnesota having seen so many debuts a season ago, it's entirely possible that Martin makes it to the big leagues this year. Pushing him to Triple-A St. Paul makes a good deal of sense, and allowing him to be an on-base machine while simplifying the approach could right the course in a big way. He had almost neutral strikeout to walk numbers last season, and slotting in as a traditional leadoff hitter makes a lot of sense.
After his 2022 Martin fell off all national prospect lists, but the year ahead could be a significant one for him. He'll be 24-years-old in March, and going back to what made him so desirable out of Vanderbilt may be enough to trend his stock back upwards. It's difficult to see a perennial All-Star or high ceiling type of talent with the power potential so limited, but there can be a regular in this type of profile and that should make the Twins happy.
What's Next
Depending on how the Twins roster shakes out with injury and performance this season, Martin could find himself contributing at second base behind Jorge Polanco. Maybe he debuts in a Nick Gordon utility type of role, and he could assume whatever playing time Kyle Farmer currently has ticketed for himself. No matter what, there is a multitude of ways in which Martin could factor into Rocco Baldelli's plans.
The sooner Martin begins to hit for average at Triple-A, and uses his on-base skills to generate runs, he'll be seen as a potential option for promotion. He's not yet on the 40-man roster, but a little juggling could certainly take care of that. Assuming the organization has all but moved on from forcing him into power potential, Martin is very close to a finished product.
Previous Rankings
Honorable Mentions
Prospects 21-30
Prospects 16-20
Prospects 11-15