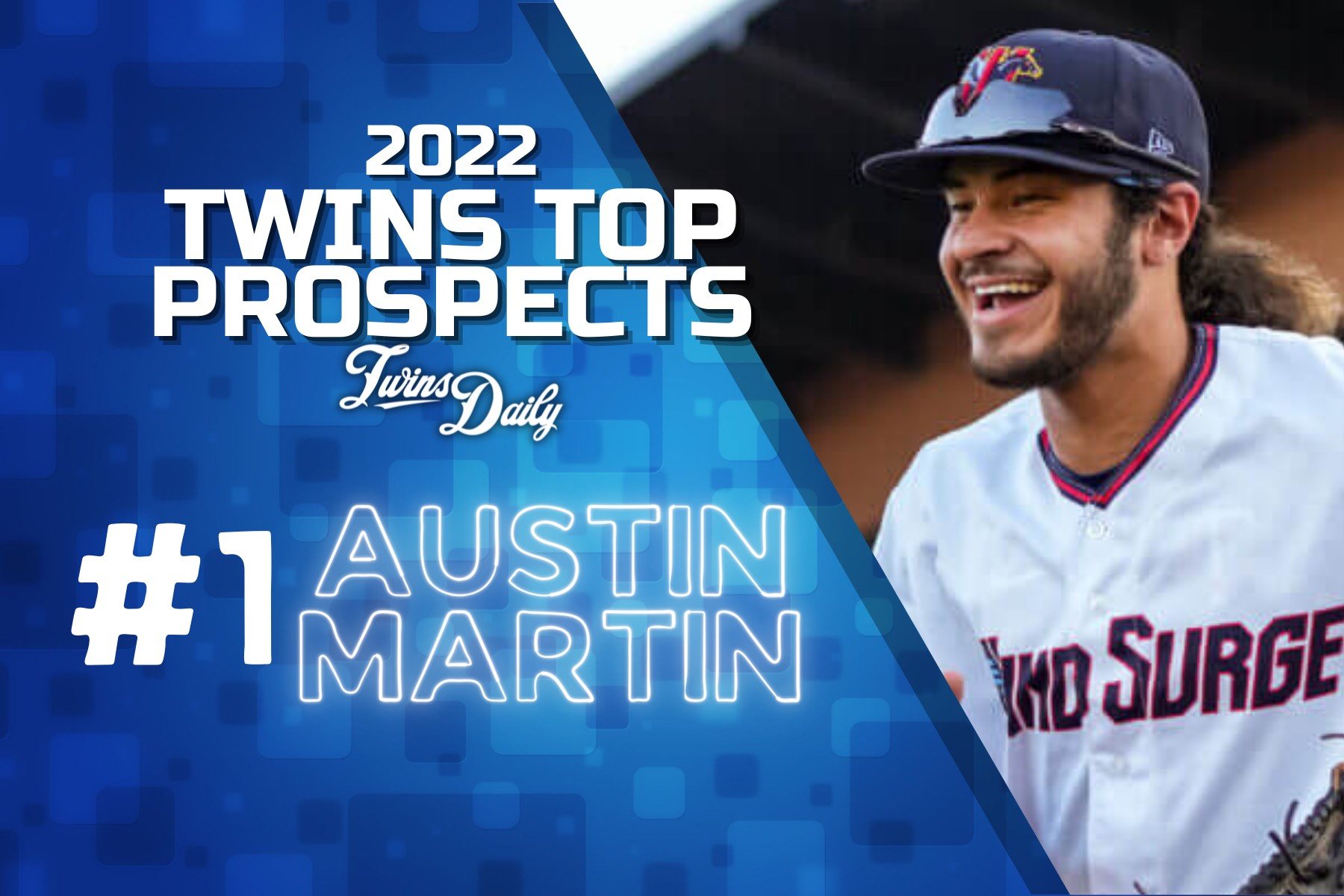 Image courtesy of Thiéres Rabelo, Twins Daily
Age: 22 (DOB: 3/23/99)
2021 Stats (AA): 418 PA, .270/.414/.382, 5 HR, 35 RBI, 67 R, 14 SB
ETA: 2022
2021 Ranking: NA
National Top 100 Rankings
BA: 47 | MLB: 36 | ATH: 25 | BP: 52
What's To Like
Derek Falvey has likely had eyes on Martin for some time. Just months after Falvey claimed Minnesota's top front office job, Cleveland drafted Martin out of high school in the 37th round of the 2017 draft. Of course, he didn't sign. 
Instead, the Florida prep phenom headed to Vanderbilt, where he solidified himself as one of the best young baseball players in the country, dazzling evaluators with his athleticism and stellar plate discipline while putting up monster stats.
Three years later, Martin had emerged as a top draft prospect, viewed by some as a worthy #1 overall pick. He ended up going fifth to Toronto, and instantly became one of the best prospects in the game. The COVID shutdown prevented him from debuting in 2020, but last year Martin went straight to Double-A, where he led the league in on-base percentage (.414).
I can hardly overstate how impressive it is for a first-year pro to lead all of Double-A – a level populated by many of the game's finest prospects –  in the most crucial offensive statistic. Martin blended his keen eye at the plate with his knack for taking an HBP to reach base at a spectacular rate. After coming to the Twins, he reached base via BB or HBP in 20% of his plate appearances.
Meanwhile, he split time between the two most valuable (non-catcher) positions: center field and shortstop. 
He's an elite young talent, ranked as one of the top 50 (or so) prospects in the game by every major outlet. Martin has established a high floor as a contact-hitting OBP machine who brings value in every facet of the game. He's a plus runner, and while the power didn't show up in his first pro season, that is frequently a later tool to materialize. He has all the ingredients to make it happen.
"Making it happen" is exactly what Martin has done up to this point. He brings a tremendous skill set and also that added dimension of "superstar aura," which exuded heavily at Vanderbilt. 
He's electric. He's confident. He's a gamer and a playmaker. You want to see him in big spots.
An All-Star in the making? The Blue Jays seemingly didn't think so.
What's Left To Work On
Just like his immense talent, Martin's question marks and barriers are plain to see. 
First, there is the lack of a clear defensive home. Nobody believes he'll play shortstop in the majors and he's blocked in center field by Byron Buxton. From there, you're looking at different scenarios that diminish his value to varying degrees. 
Will he be a great defensive third baseman? A capable second baseman? A rangy left or right fielder? There's a whole spectrum of potential outcomes and it's hard to put a finger on which is most likely, since the only positions he's played as a pro are two we can feel pretty confident he won't play regularly as a Twin.
Keith Law, who is higher on Martin's overall outlook than most (he has him ranked #25 on his top 100 list for The Athletic), has significant concerns about the 22-year-old's arm. As Law shared in a recent collab article with Aaron Gleeman, "There are two separate issues at play with Martin. One is his throwing, which went south on him in the spring of 2020, right before the shutdown, and still hasn't improved. He was a plus defender at third base as a sophomore, but if he can't throw well from the left side of the infield, that's a non-starter."
The second issue referenced by Law is one that weighs heavily against Martin in every evaluation: a conspicuous lack of power. Even with the aggressive assignment to Double-A, a .382 slugging percentage in Year 1 from a top five draft pick is troubling. In 93 games, he managed just five homers and 18 doubles.
Says Law: "He's had a tendency to shrink himself by crouching and striding toward the plate, which improved his plate coverage but robbed him of his ability to drive the ball."
Says Baseball America: "Gaining more strength and hitting the ball with authority more frequently will determine whether Martin becomes an impact regular or more of an average, everyday type player."
Says Jeffrey Paternostro of Baseball Prospectus: "He still needs to hit for some pop, or major league pitching isn't gonna nibble."
That really gets to the bottom of it: standout OBP skills from the minors tend to fade quickly if MLB pitchers don't consider you a threat. On the bright side, Martin has plenty of time to build on his power output, and there's reason to believe that will happen. 
In his interview with Gleeman, Law called Martin's power concerns "overblown," citing a hand/wrist injury and shift in approach as sapping the natural pop that still resides within him. 
"It's not a lack of strength but a conscious choice to give up contact quality in favor of avoiding the strikeout, and that can be changed — he certainly hasn't always hit this way," says Law. "I absolutely believe the Twins are already addressing this."
What's Next
Having proven himself in Double-A, and set to turn 23 in a month, Martin seems destined to open the 2022 season in St. Paul, where he'll be a stone's throw away from Target Field. From there it becomes a matter of opportunity. 
They won't call him up sit on the bench, and the multi-positional regular role is already occupied by Luis Arraez. An early injury to Byron Buxton, Jorge Polanco or Josh Donaldson might open a door for Martin to step in. 
Another scenario that creates a path is moving Miguel Sanó to DH, Alex Kirilloff to first, and planting Martin in left field. 
But the problem is that Martin has barely played left field – his last official action at the position came in the form of 15 freshman appearances at Vanderbilt. He also hasn't spent significant time at third base since 2019, and has virtually no experience at second.
For this reason, it's likely the Twins will take a somewhat measured approach rather than rushing things. Martin is in some ways a refined product – he could pretty clearly take quality ABs in the major leagues, right now – but he'll benefit from getting reps at different positions, and there may be some work needed yet on his swing. 
Since he's not yet on the 40-man roster, Martin will be able to jump into action when the minor league season commences, even if the lockout delays the MLB season. He might be ready for the major leagues before the big-leaguers are.
Martin has a high bar to reach if he hopes to justify what the Twins gave up for him. 
Previous Rankings
Honorable Mentions
Prospects 16-20
Prospects 11-15
#10: Josh Winder, RHP
#9: Chase Petty, RHP
#8: Simeon Woods Richardson, RHP
#7: Jhoan Duran, RHP
#6: Matt Canterino, RHP
#5: Joe Ryan, RHP
#4: Jordan Balazovic, RHP
#3: José Miranda, 2B/3B
#2: Royce Lewis, SS
#1: Austin Martin, SS/OF