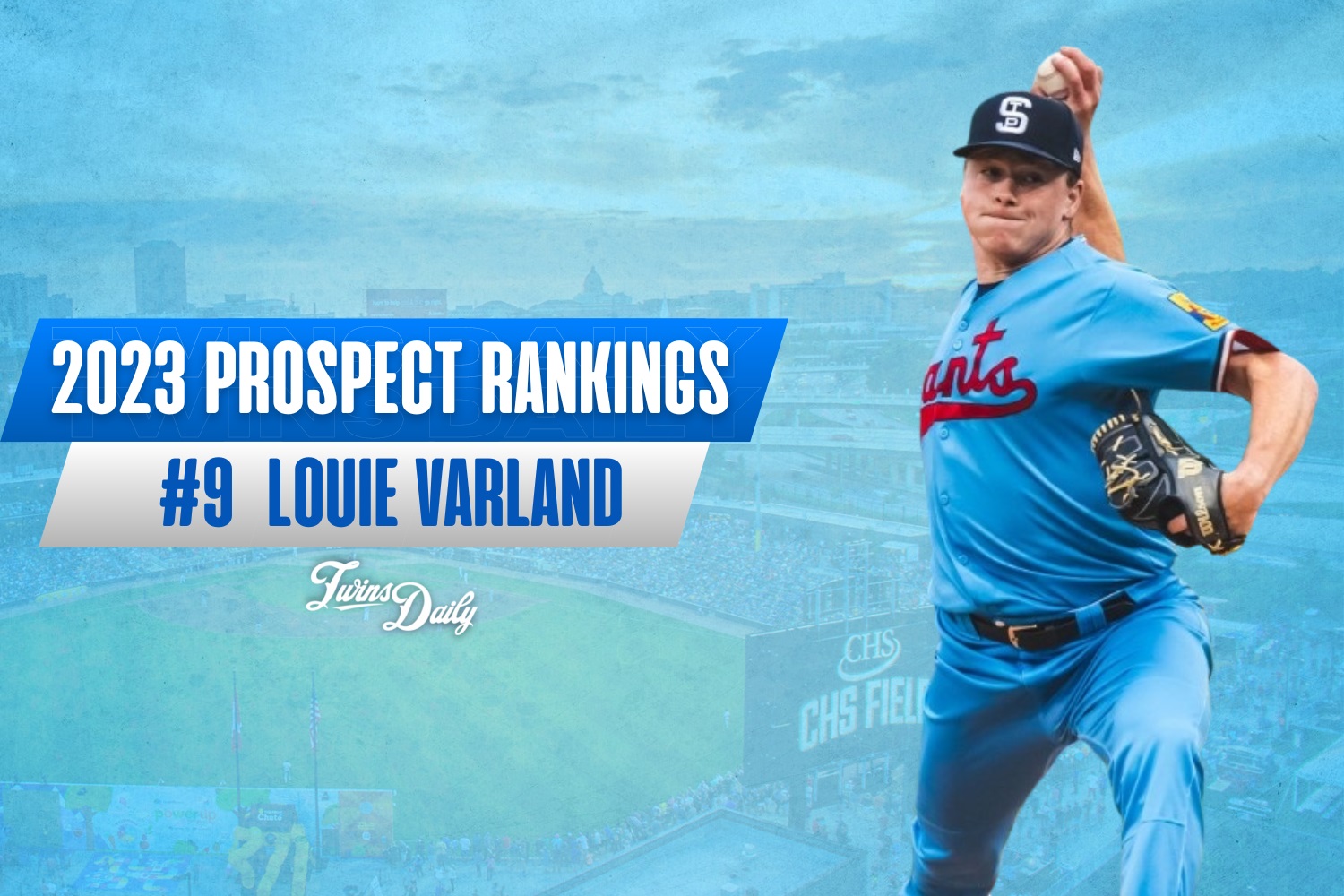 Image courtesy of Rob Thompson, St. Paul Saints
Age: 25 (DOB: 12/9/1997)
2022 Stats: (AA/AAA): 126.1 IP, 3.06 ERA, 1.26 WHIP, 10.4 K/9, 3.0 BB/9
ETA: 2023
2022 Ranking: 15

National Top 100 Rankings
BA: NR | MLB: NR | ATH: NR | BP: NR
 
Varland's big-league debut on September 7th was emblematic of his journey as a prospect, which earned him back-to-back Twins Minor League Player of the Year awards: he met a new challenge with poise and confidence, and he handled it brilliantly.
You could hardly ask for more stressful introductory circumstances than stepping into Yankee Stadium to face MVP Aaron Judge and the Bronx Bombers on behalf of a team desperately clinging onto postseason hopes. Varland took it in stride. In his first match-up against Judge, he got a swinging strikeout with a beautifully executed righty-on-righty changeup.
Varland went to pitch into the sixth inning, finishing with a final line (5.1 IP, 2 ER, 7 K, 1 BB) that reflected his body of work in a five-start September stint with the Twins: 26 IP, 3.81 ERA, 21 K, 6 BB. Add in his outstanding work at Double-A and Triple-A prior to the promotion, and you've got a statement season that lends further legitimacy to the former 15th-round pick's pro credentials.
As much as he's improved his stuff from where it was when he was drafted, Varland still lacks the pure velocity or secondary quality of other pitchers in the Twins' current rotation mix, and others on this top prospects list. But there's something to be said for having the confidence and pace to execute as consistently as he does on the mound, including pressure-packed situations. 
Another thing working for Varland, particularly in the context of Minnesota's current situation, is his dependability and durability. He's one of the few on this list (or currently in the majors) who's been able to reliably take the mound each fifth day without issue. Last year between the majors and minors he threw 150 innings, which is more than any Twins pitcher has totaled since 2019. This, as a 24-year-old with one pro season under his belt.
Clearly there's a lot to like from this hometown hurler who has proven so much. So why isn't he higher than ninth on our list? That comes down to Varland's final proving point ahead.
What's Left to Work On
Varland's overachieving accomplishments have earned him organizational awards and an early arrival in the majors. But they haven't shifted the broader view of his future upside, which helps explain why he still doesn't appear on any global top prospect lists and – despite moving up six spots this year – remains behind eight players (including several pitchers) in our rankings.
It comes down to the substance behind his performance. Varland's fastball plays up due to his extension and deceptive release point, and he's added a ton since his college days, but it still averages under 94 MPH, placing it on the lower side of today's MLB spectrum. None of his secondary pitches – the slider, cutter and change – have shown to be particularly outstanding offerings. 
The righty manages to make the most of his arsenal thanks to a good approach and situational fortitude – for example, he held opponents to a .643 OPS with runners on last year compared to .726 with the bases empty – but decades of evaluation have taught us there's a limit to how far you can go with this kind of raw stuff.
Generally speaking, that's about a third or fourth starter. And that's what Varland has mostly looked like thus far, which is hardly an insult. There's plenty of value in a player with his consistency and reliability providing several cost-controlled seasons of roughly average performance from an MLB rotation.
What's Next
I don't think anyone in the organization would deny that Varland looks like a major-league pitcher. He could credibly be written into the back end of the Twins rotation on Opening Day, if needed, but the Twins have wisely stacked veteran depth to allow the 25-year-old righty to open up at Triple-A (where he's made four starts) so he can serve as a quality rotation reinforcement with a chance to lock down his spot as soon as the opportunity comes.
Reaching the next level of MLB starting pitcher status would require fundamentally improving some of his pitches to overpower batters with more than a polished approach, but we're talking about a guy whose legendary work ethic led to adding nearly 10 MPH in fastball velocity and vastly upgrading his secondary repertoire since being drafted as a little-known 15th-rounder out of Concordia University. If anyone can do it, it'd be Louie Varland.
Feel free to discuss these prospects and ask as many questions as you like in the COMMENTS below.
For more Twins Daily content on Louie Varland, click here. 
Previous Installments
Honorable Mention
Prospects 21-30
Prospects 16-20
Prospects 11-15
Prospect #10: Austin Martin, SS
Prospect #9: Louie Varland, RHP
Prospect #8: Coming Wednesday!