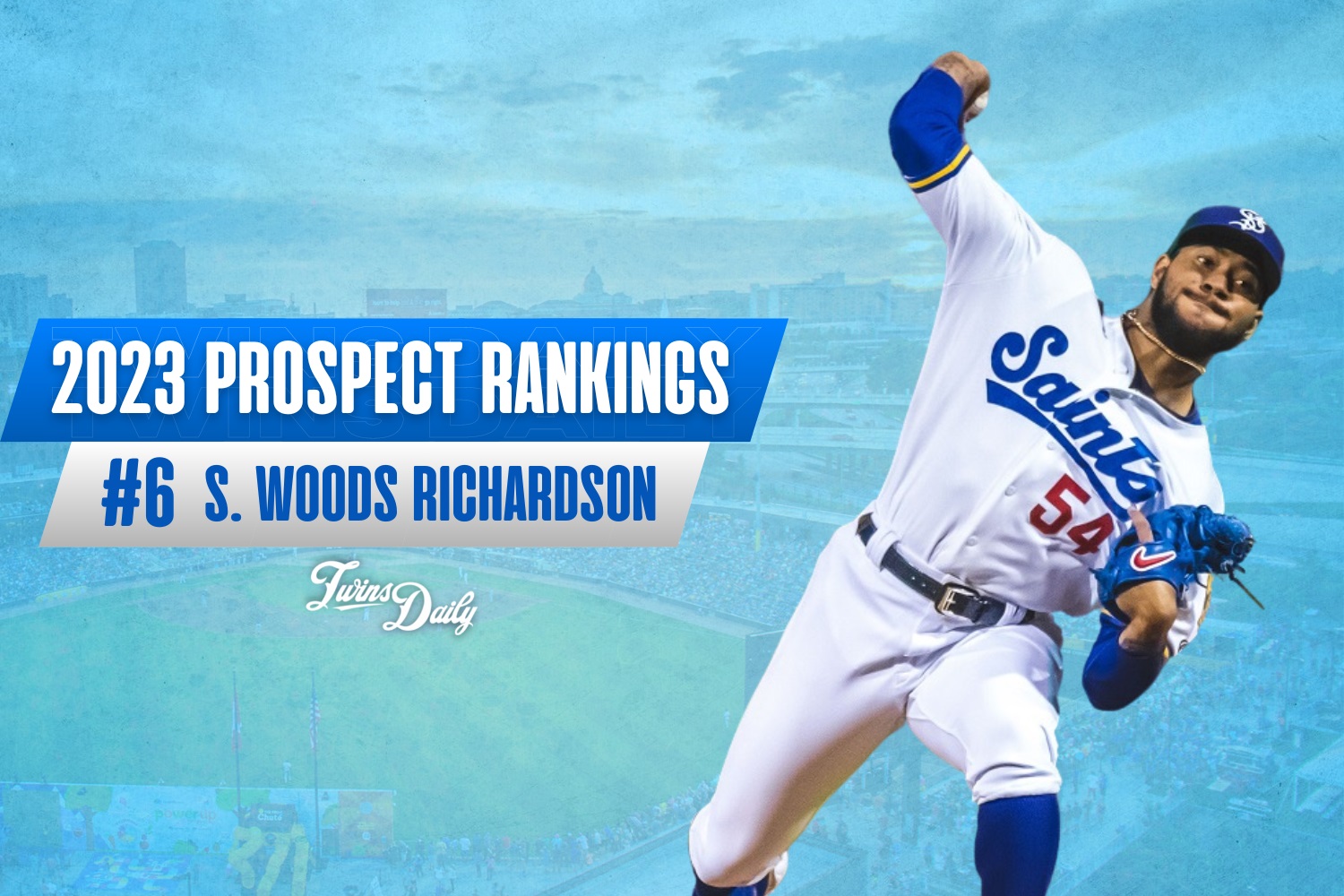 Image courtesy of Rob Thompson, St. Paul Saints
Age: 22 (DOB: 9/27/2000)
2022 Stats: (AA/AAA): 107.1 IP, 2.77 ERA, 1.05 WHIP, 9.6 K/9, 3.0 BB/9
ETA: 2023
2022 Ranking: 8

National Top 100 Rankings
BA: NR | MLB: NR | ATH: NR | BP: NR
What's To Like
The 2021 season was a slog for Simeon Woods Richardson. Pushed aggressively to Double-A at age 20 coming off the lost COVID season, he struggled to find his rhythm, finishing with a 5.91 ERA in 53 1/3 sporadic innings. Spending several weeks abroad with Team USA for the Olympics (where he didn't actually pitch) and getting traded at mid-season for the second time in two years surely didn't help.
The young right-hander took it in stride. He committed to a smoother ride in 2022 and made it happen. After giving up six earned runs in eight innings spread across four appearances at Wichita following the trade in '21, Woods Richardson got off to a much better start in his second tour, going four full turns on the mound before allowing his first earned run of the season. He turned the hot opening into a strong run with the Wind Surge before a bout with COVID in June knocked him out of action for six weeks. 
This time, he wouldn't let the time off derail him. Woods Richardson returned in late July and was lights out. He made five more starts for Wichita, striking out 10 over five innings in the last one before a promotion to Triple-A, where he was consistently excellent through the end of September. 
By the time Woods Richardson got the call to start at Detroit in one of the last games of the Twins season, he had posted a 2.15 ERA while holding opponents to a .188/.255/.266 line in 54 ⅓ innings over his past dozen outings between Double-A and Triple-A. Not much more you can do to earn the opportunity.
He made the most of that opportunity, holding the Tigers to two runs on three hits over five innings. Granted, it was a meaningless game between two eliminated teams eager to close up shop, but still it was a big and impressive moment for Woods Richardson, who was the youngest pitcher to throw in the majors last season. He showed all the polish and poise that got him there.
There are some limitations to SWR's game, as we'll discuss, but his youth gives you the ability to dream on further evolution of his talent. He's still only 22 with room for growth yet. (For comparison, he's about two months older than our #7 prospect Connor Prielipp, who was drafted out of the University of Alabama last summer and hasn't yet thrown a professional pitch.)
What's Left to Work On
Woods Richardson saw a big velocity spike during his senior year of high school in Sugar Land, TX, prompting the Mets to draft him 48th overall and sign him to a $1.85 million bonus.
His advanced stuff played well in the low levels of the minors and Woods Richardson moved fast, reaching High-A by the age of 18. But the trouble is, his stuff sort of stagnated over the next few years. SWR's fastball velo hasn't picked up any added oomph and is now solidly below average in the low 90s range. He hasn't developed a true putaway pitch, although the changeup has emerged as star of the show and helped him decimate lefties last year with an extreme reverse platoon split.
To his great credit, Woods Richardson got the job done everywhere he went in 2022, averaging more than a strikeout per inning, but he wasn't overpowering hitters based on the raw caliber of his pitches. 
Part of what helps him succeed is a funky over-the-top delivery with good extension that routinely keeps hitters from jumping on his pitches. (He allowed only six home runs in 107 innings last year, and has a 0.6 HR/9 overall in the minors.) But Woods Richardson's quirky mechanics can also become a source of inconsistency, leading to occasion command issues that never seemed to surface in the low minors. This was an especially big problem during the 2021 campaign, but he was able to tighten things up last year.
If the lanky 6-foot-3 hurler can further refine and orchestrate all the moving parts in his delivery and find a way to juice up his fastball, he still has the potential to reach another level as a starting pitcher. If not, the Twins will need to decide if they want to keep pushing toward a future in the lower part of the rotation, or potentially bigger things in the bullpen.
What's Next
Woods Richardson reached the majors alongside Louie Varland at the end of last year, so these two stand as the most readily available depth in the prospect pool should a need arise. However, Varland is three years older and seems like more of a finished product, so he's firmly ahead in line.
The Twins will be inclined to show patience with Woods Richardson, giving him ample time and seasoning in Triple-A before they feel ready to promote him for good. They should hopefully have that luxury with at seven starters lined up ahead of him on the depth chart. 
Feel free to discuss SWR as a prospect and ask as many questions as you like in the COMMENTS below.
Previous Installments
Honorable Mention
Prospects 21-30
Prospects 16-20
Prospects 11-15
Prospect #10: Austin Martin, SS
Prospect #9: Louie Varland, RHP
Prospect #8: Jose Salas, INF
Prospect #7: Connor Prielipp, LHP
Prospect #6: Simeon Woods Richardson, RHP
Prospect #5: Coming Monday!