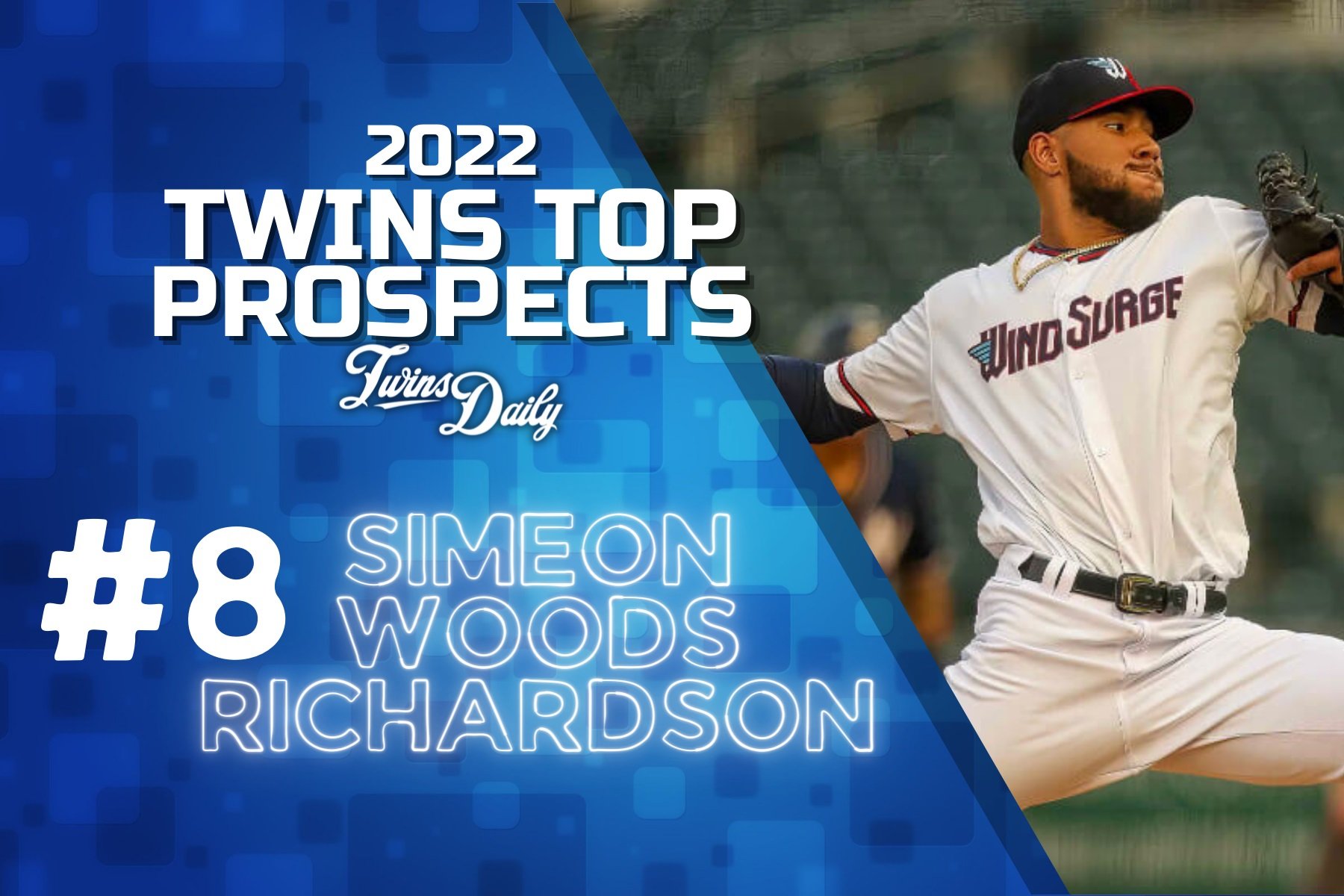 But while Simeon Woods Richardson was billed as one of the building blocks for the future of Twins baseball, the luster of his prospect-dom dulled a little after struggling during his four appearances with the Double-A Wichita Wind Surge. 

Despite this, the 21-year-old still ranks among the team's most promising pitching prospects and comes in at No. 8 in Twins Daily's preseason rankings. 
Age: 21 (DOB: 9/27/00)
2021 Stats (Double-A): 53 1/3 IP, 5.91 ERA, 1.54 WHIP, 77 K, 34 BB
ETA: 2023
2021 Ranking: NR
National Top 100 Rankings
BA: NR | MLB: NR | ATH: NR | BP: NR
What's to Like

In many respects, Woods Richardson's scouting report is fairly straightforward. He owns a traditional three-pitch mix, consisting of a fastball, curve, and changeup, with all three offerings having plus potential. His fastball sits in the low-90s but can reach 94-95 mph every now and then; the curveball, his most inconsistent pitch in terms of quality, can make hitters look foolish when on; and his changeup features significant tailing action and is probably his best pitch overall at the moment.
Woods Richardson has never struggled to rack up strikeout numbers — he has 229 in 177 1/3 minor league innings — and it's difficult to see that changing as he makes his way to the Majors. His raw stuff is among the best in the system and alone warrants his top 10 prospect ranking. Add in his age and athletic build, and there are few pitchers in the Twins' farm system that possess a grander upside.  
What's Left to Work On

However, his weaknesses are just as glaring as his strengths. 

Woods Richardson has never had great command despite owning respectable walk rates prior to the 2021 season. However, his BB/9 jumped from around two per nine innings during his first two minor league seasons to 5.16 while a member of the Blue Jays and a putrid 9.00 after being shipped to the Twins. (He posted a 77:34 KK/BB ratio in 53 ⅓ innings overall last season, though it should be mentioned 16 of his walks came across three particularly bad starts.)

His struggles just prior and following his acquisition were likely the result of multiple factors. For starters, Woods Richardson missed approximately six weeks of action during the middle of the season as he was competing as a member of Team USA during the 2020 Olympics (he did not make a single appearance during the Games). Additionally, Woods Richardson, as was the case with most minor leaguers, did not pitch during games in 2020 due to the COVID-19 pandemic, which likely impacted his endurance in a negative fashion.

But perhaps the most important factor of them all is his mechanics. Woods Richardson's windup and arm motion mirror that of fellow Twins prospect Jordan Balazovic — who, perhaps coincidentally, also struggles with command at times — in that they extend their arm fully and drop the ball well below their respective belt lines during the stride phase of their delivery. They get a good push off from the legs and produce a great amount of force by tucking their glove hand powerfully under the armpit, rotating the torso powerfully.

In and of itself, there isn't necessarily anything wrong with the foundation of Woods Richardson's mechanics, however, it isn't very compact being composed of many moving parts and long levers. The larger the pitching motion, the more unlikely it is to repeat consistently and the more likely it is for minor blemishes to cause large effects. Tightening up his motion ever so slightly may result in improved command and, thus, decreased walks for the Twins prospect.
What's Next

The Twins pitching staff will doubtless work with Woods Richardson to improve his command and overall performance, picking and prodding until the results manifest. After all, he is still years away from arriving in Minneapolis despite reaching Double-A before being allowed to drink legally. In all likelihood he will spend the majority of the 2022 in Wichita with the Wind Surge.

Woods Richardson has all of the talent to land as a Number 2 or 3 starter at the MLB level, it all just depends on his command. 
Previous Rankings
Honorable Mentions
Prospects 16-20
Prospects 11-15
#10: Josh Winder, RHP
#9: Chase Petty, RHP
#8: Simeon Woods Richardson, RHP
#7: Coming Soon 
MORE FROM TWINS DAILY
— Latest Twins coverage from our writers
— Recent Twins discussion in our forums
— Follow Twins Daily via Twitter, Facebook, or email
— Read more from Lucas here