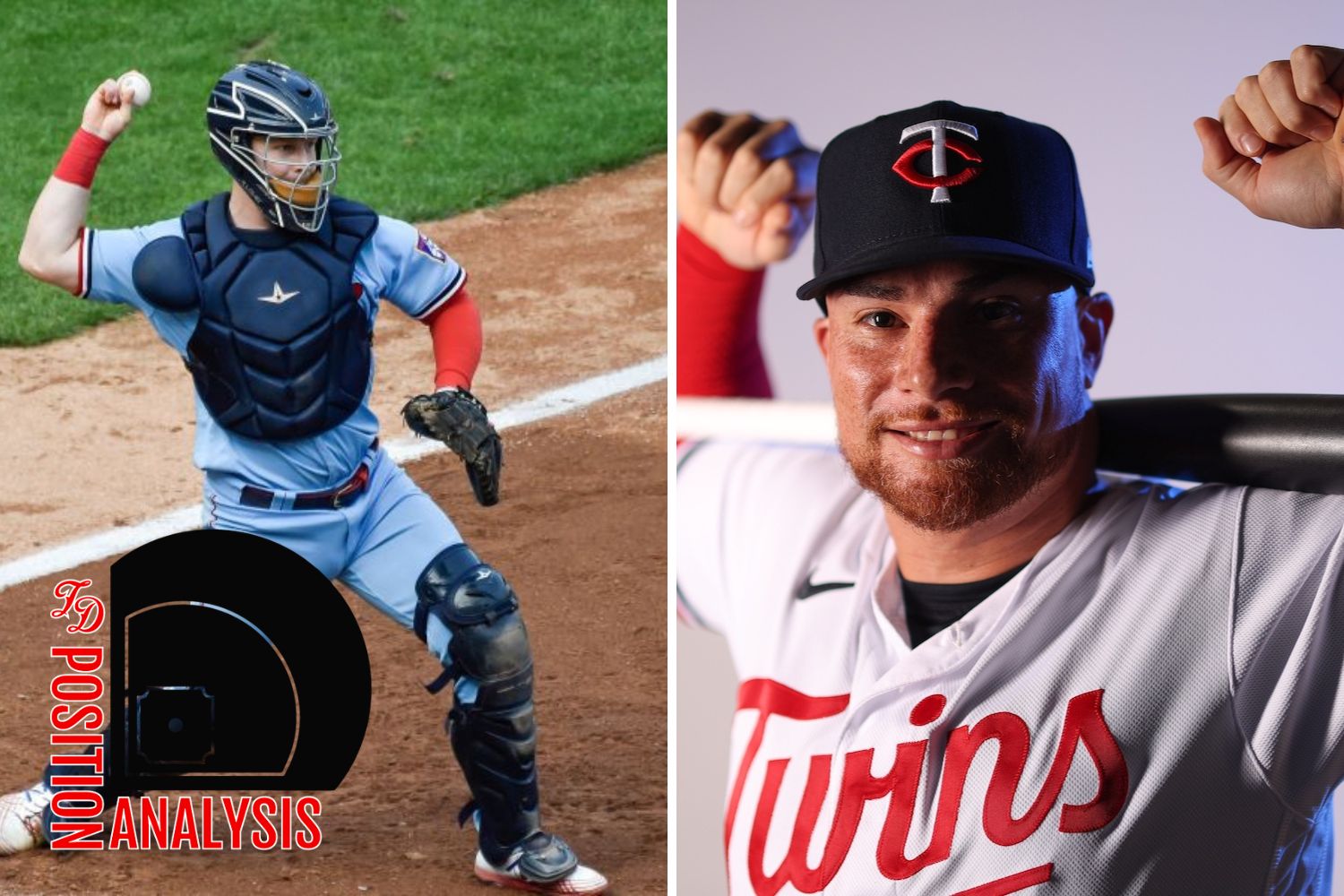 Image courtesy of Jeffrey Becker and Nathan Ray Seebeck, USA Today Sports
Projected Starter: Christian Vázquez
Likely Backup: Ryan Jeffers
Depth: Tony Wolters, Grayson Greiner, Chance Sisco
Prospects: Chris Williams, Noah Cardenas
THE GOOD
Acquiring a veteran catcher was a top priority for the Twins this offseason, and they got their guy, signing Vázquez to three-year, $30 million deal as arguably the second-best free agent at the position. The 32-year-old could hardly be described as a star, but that's not what the Twins were seeking: they wanted stability following a season where they enjoyed very little of it behind the plate.
Vázquez has had a few standout seasons, highlighted by a 2019 campaign where he slashed .276/.320/.477 with 23 home runs for Boston, but the Twins would be perfectly content with a repeat of 2022: average offense (99 OPS+) and steady defense combined with reliable availability. 
The Twins continue to believe in Jeffers as their future behind the plate, but the presence of Vázquez means they don't need to entirely plan around that scenario in the short term, which is probably wise given how things have gone for Jeffers over the past two seasons. 
While the righty-swinging Vázquez doesn't provide a platoon advantage, he's much more capable against right-handed pitchers and should allow the Twins to play Jeffers more to his strength against lefties, against whom he's slashed .263/.344/.450 in his career. 
Both are considered very solid receivers who pitchers like to work with, giving the Twins a more consistent level of quality behind the plate after Gary Sánchez (still unsigned) caught 714 innings mostly out of necessity last season.
THE BAD
The Twins really need to hope Vázquez can maintain his record of staying healthy, because an injury could put the Twins right back into a familiar spot of grasping for answers behind the plate.
Their depth was so sparse last year that when Jeffers went down for an extended period, they were forced to run out Caleb Hamilton for a few games and eventually acquired no-hit veteran Sany León from Cleveland's Triple-A team. He became more or less the primary starter.
Minnesota has built out its experienced upper-level depth a bit with Wolters, Greiner, and Cisco, but those three combined to play four games in the majors last year. Meanwhile, there's no position in the Twins organization with less in the way of immediate pipeline impact. As discussed in this year's top prospect recap, catcher continues to be an area of extreme scarcity in this system.
THE BOTTOM LINE
The front office desperately needed to strengthen the catcher position this past offseason, and while they did, it could still hardly be described as a strength. Although I guess that depends on your assessment of Jeffers. 
In some eyes, he could be viewed as one of the best backup catchers in the game – a still-developing impact starter who now has the luxury of coming along slowly with an established vet splitting time. If both guys stay healthy and Jeffers takes that next step, the Twins will have a catching setup that is the envy of the league. 
The thing is, it's hard to count on that. Jeffers has seen his OPS drop from .791 in a strong rookie campaign to .670 in 2021 to .648 last year, and has struggled to stay healthy. You don't have to squint to see the potential of a two-way asset – I was reminded of his raw power while watching him repeatedly hit absolute tanks in BP last week – but the 25-year-old is already inching toward arbitration without even a 1-WAR season to his credit.
Losing either of their top two backstops would force the Twins to delve into their murky depth, and while Vázquez has thankfully been pretty durable in the past, he also turns 33 this season.