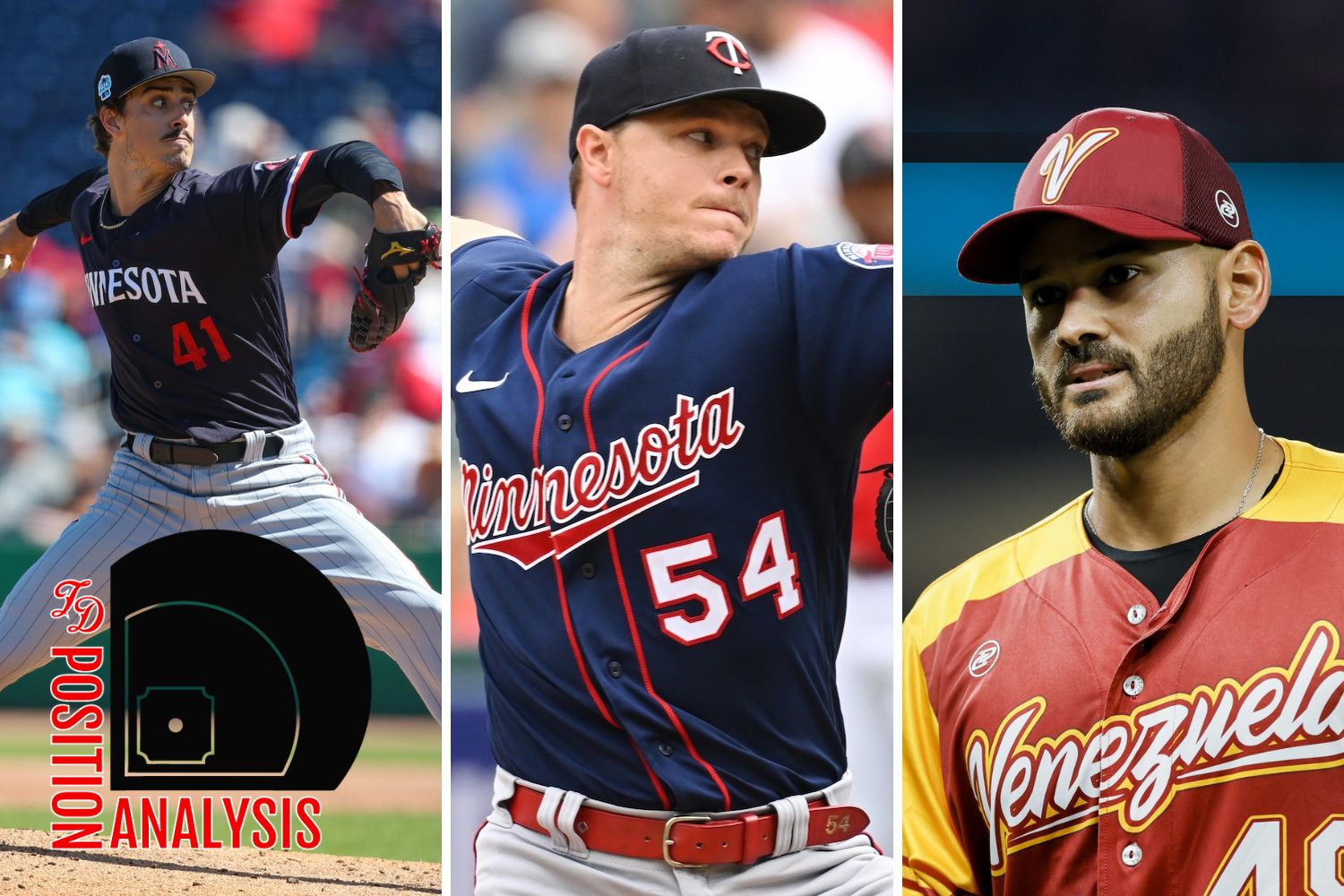 Image courtesy of Ken Blaze, Nathan Ray Seebeck, Sam Navarro-USA TODAY Sports
Projected Starters: Sonny Gray, Pablo López, Tyler Mahle, Kenta Maeda, Joe Ryan
Depth: Bailey Ober, Louie Varland, Cole Sands, Chris Paddack, Aaron Sanchez
Prospects: Marco Raya, Simeon Woods Richardson, Connor Prielipp, David Festa, Jordan Balazovic
THE GOOD
The Twins have at least five pitchers in their projected rotation who could realistically be viewed as top-of-rotation starters. Not aces, mind you, and maybe not even convincing number ones, but clearly a cut above the "mid-rotation" categorization.
When's the last time we could say that? Never?
Gray, who figures to get the nod on Opening Day, is an accomplished veteran with a 117 career ERA+, and four straight seasons of good performance. Mahle and Ryan are strikeout machines with overpowering fastballs and strong recent results. Maeda was the Cy Young runner-up in his last full season. (To the extent 2020 was a "full season," anyway.)
You take that group, add López – a borderline No. 1/2 himself – and the level of established quality depth here is really something special. Being able to send out an above-average starter for every single game is not something most teams can do, but the Twins are aiming to make a habit of it this year. It would be a far cry from a 2022 campaign where Dylan Bundy and Chris Archer made one-third of their starts.
For all of the top five Twins starters to hold up all season is wishful thinking, of course. That's true in any given year, but especially with a quintet carrying the number of injury concerns this one does. The front office recognized this and built sturdy depth with the addition of López, who pushes the very capable Ober into sixth starter status. 
I've got Varland listed as "Depth" at the top of this article even though he still qualifies as a prospect (No. 9 on our list) because he more or less feels like an established option, and is next in line after Ober. The reigning back-to-back Twins Minor League Pitcher of the Year had a strong showing in five MLB starts last year, and has nothing left to prove on the farm. Varland's merely waiting his turn.
Other pitching prospects like Woods Richardson, Festa, and Balazovic seem likely to factor in this year as well, with varying levels of promise. I compare the depth chart of this position to last year and it's night-and-day. 
THE BAD
Durability concerns plague this rotation from top to bottom. Mahle might be their highest-upside starter, but he was derailed by a mysterious shoulder injury shortly after being acquired. It's ... hopefully better now? There's no real way to know.
Gray has surpassed 140 innings only once in the past five years, and posted the second-lowest full-season total of his career (119.2 IP) last year. Maeda is coming off Tommy John surgery, hasn't pitched since August of 2021, and turns 35 next month. (He has also looked pretty rough this spring.) López was healthy last year, but was bogged down by a shoulder injury in 2021. Ober was limited to 56 innings last year by a groin injury, and has struggled to stay healthy throughout his pro career.
The only starter in the Twins mix with no significant known injury risk is Ryan, who was a rookie last year.
The rotation is destined to experience some level of attrition. The question is: how much? The Twins have set themselves up to afford a certain degree of it, but if a few serious issues or setbacks emerge, they'll quickly find themselves stretched thin. That's hardly a unique situation, but few teams are riddled with as many questions marks in the starting five.
THE BOTTOM LINE
While it weakened the team's outlook at first base and designated hitter, the Arraez trade significantly bolstered the rotation depth, and one can make a pretty easy argument that matters more for the Twins in their current state. López adds a crucial veteran layer to hedge against injury while also raising the unit's ceiling via his front-end upside.
Catch Up On Our Position Preview Series: