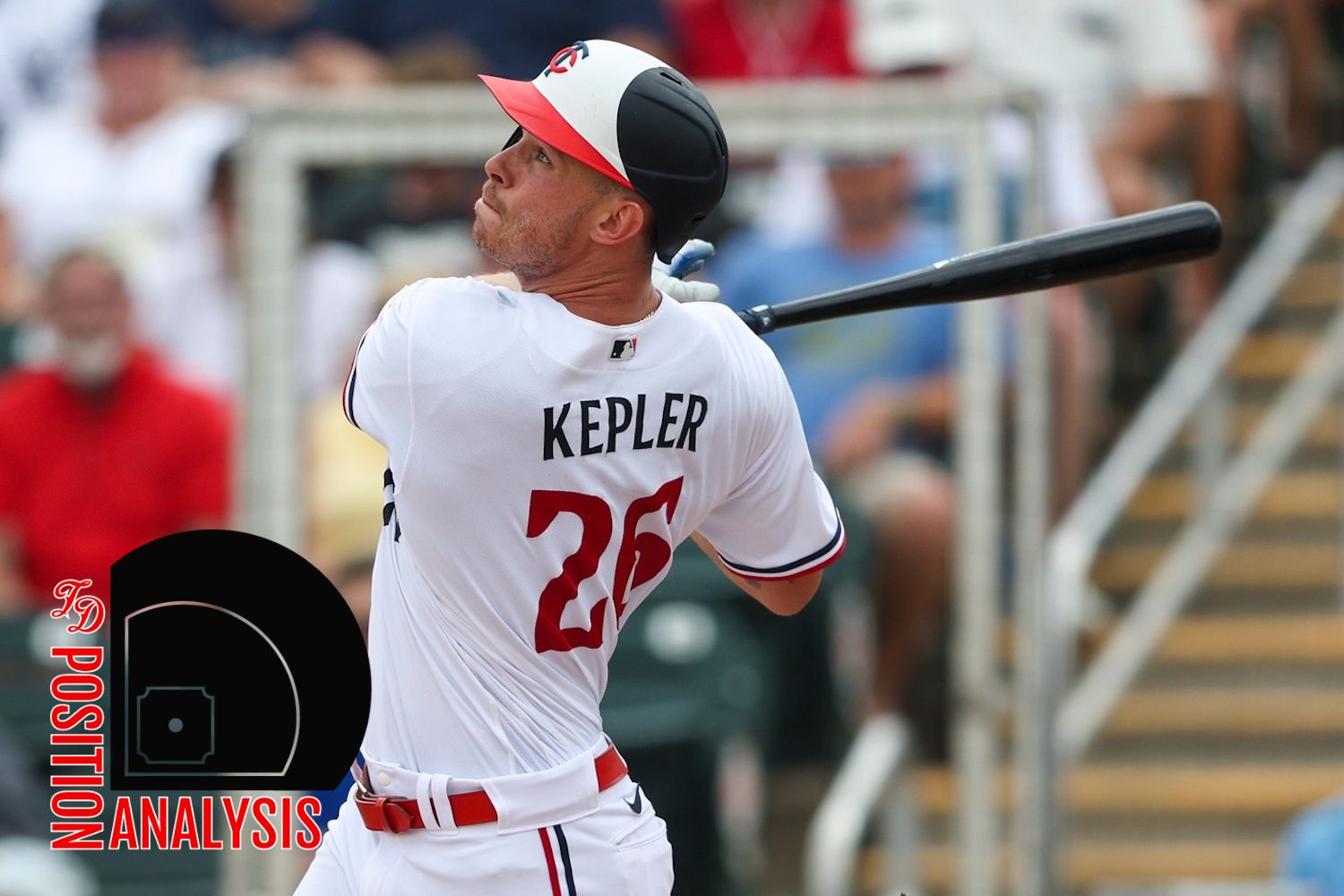 Image courtesy of Nathan Ray Seebeck-USA TODAY Sports
Projected Starter: Max Kepler
Likely Backup: Joey Gallo
Depth: Michael A. Taylor, Trevor Larnach, Kyle Garlick
Prospects: Matt Wallner, Jose Rodriguez, Kala'i Rosario
THE GOOD
Even during a 2022 season that rated as the worst of his career, and had him somberly reflecting on whether he picked the right sport, Kepler's underlying skill and baseball prowess were easy to see.
As usual, he roamed right field with excellence, ranging all over to track down fly balls and line drives most peers cannot reach. The standard for RF, at the bottom end of the defensive spectrum, gives Kepler a big advantage as a stellar athlete with a glove that could play in center. 
He ranked fifth among MLB right fielders in Defensive Runs Saved with 10, and was in the 97th percentile for Outs Above Average. FanGraphs pegged him as the second-most valuable defender at the position, behind Arizona's Daulton Varsho. Kepler's fielding is verifiably elite.
His bat has of course been a different story, but you wouldn't know it from looking at the raw batted ball metrics. Kepler's Statcast sliders are a sea of red, indicating high-end rankings on measurements like exit velocity, expected batting average, chase rate, and beyond. Kepler has a very good plate approach and he routinely makes quality contact. 
Yet, this all manifested last year in a .227/.318/.348 slash line, which – even in a depressed offensive environment – compared quite poorly against the average AL right fielder (244/.310/.407).
Analysis shows that to a large degree, Kepler creates his own bad luck with a hitting profile so predictable that opposing pitchers and defenses have learned to expertly suppress it. That said, last year his level of bad luck was off the charts. The outfielder's fortunes seem naturally likely to rebound, and the new shift limitations figure to further aid his improvement.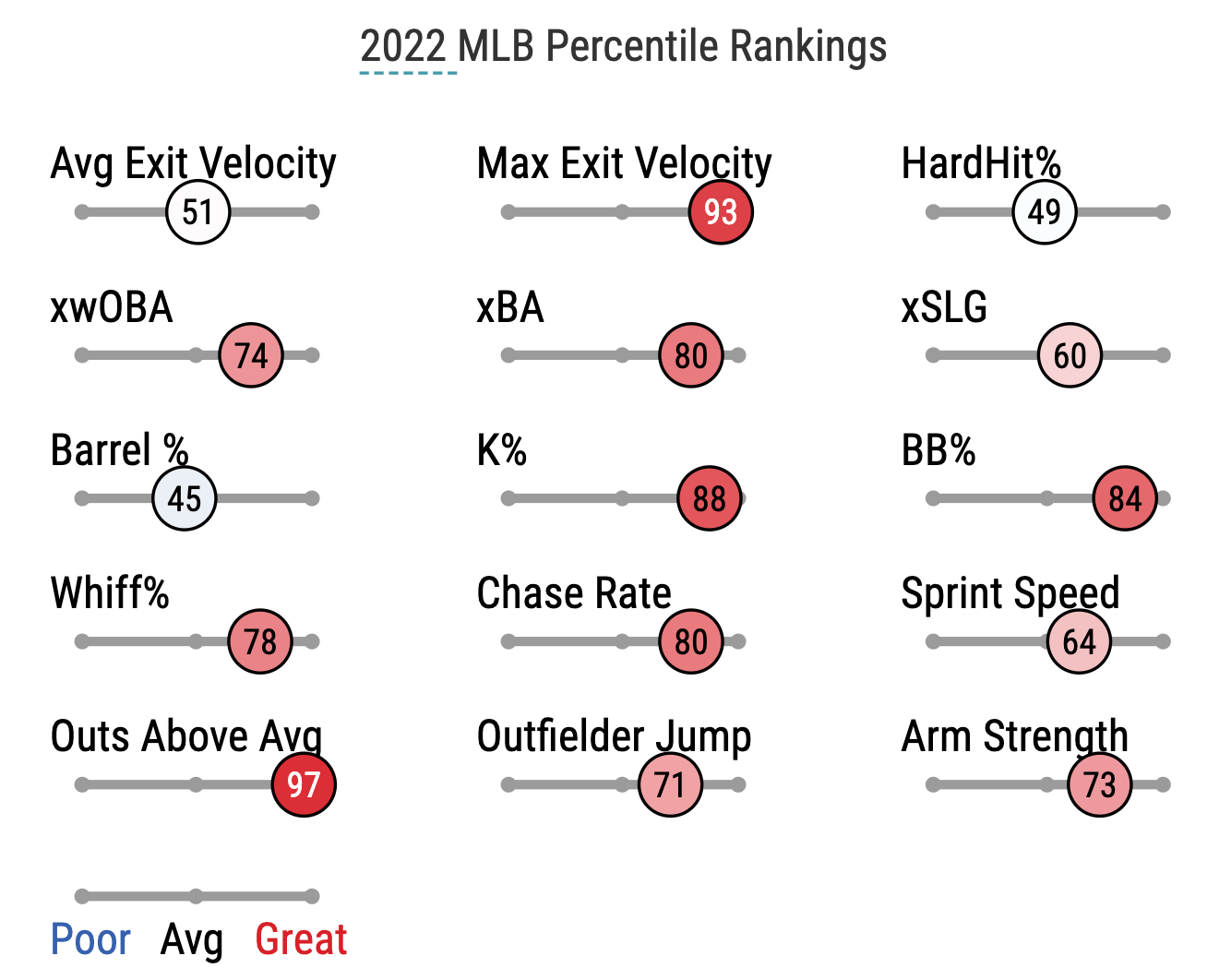 This dynamic gave the Twins hope that another team might fancy Kepler as a buy-low candidate worth ponying up for. Alas, they didn't get an offer that moved them, so the front office held on, and will hope to cash in on their own bounce-back threat, whose return alongside the Gallo signing creates an abundant level of corner outfield depth. 
Taking Kepler's history here out of the equation, I think that if the Twins were to trade for a player sharing Kepler's attributes – an underperforming great athlete in his prime with one more year under contract followed by team options – most fans would see it as a smart gamble.
THE BAD
Among the top five players we have listed on the RF depth chart atop this article, here are their final OPS+ figures from the 2022 season:
Kepler: 93

Gallo: 79

Taylor: 90

Larnach: 104

Garlick: 104
Only two modestly above-average hitters in the bunch, and they both missed most of the season due to injury. As helpful as Kepler's glove is in the outfield, his lack of offense has made him a limiting factor in the lineup. The same could potentially be true of Gallo or Taylor if they're pushed into duty. 
With so many questions elsewhere, the Twins could really use a steady and reliable producer at this bat-driven position. Since Kepler's career year in 2019, the Twins have been below-average in wOBA from right fielders every year, ranking 23rd in both of the past two. If Kepler can't snap that trend, the team is now in a realistic position to move on.
If and when that time comes, Gallo or Taylor or Larnach might not be next in line. Wallner is their reigning Minor League Player of the Year and he got a taste of the majors last September. With decent outfield range and maybe the best arm in the system, Wallner is built for right field.
Bringing lots of strikeouts and lots of power, the organization's No. 11 prospect contrasts sharply from Kepler stylistically, but it's not hard to envision him offering equal value (at a small fraction of the cost) as soon as this year. 
That is: if Wallner can break the mold of K-prone sluggers who mash in the minors but struggle to break through in the majors. The 25-year-old's development this season will have a decisive influence on the plan for this position going forward.
THE BOTTOM LINE
A changing of the guard is afoot in right field for the Twins. Kepler is one of their longest-tenured players, but the nearing end of this player-team relationship feels apparent from a number of different perspectives. 
He's entering his final guaranteed year under contract, was openly the subject of trade rumors all winter, and is now being pressed by several up-and-coming prospects as his game stagnates. 
For the time being, Kepler's still here. Though down and out, he's a skilled and athletic player coming off the unluckiest season of his career, with a few things due to finally break in his favor. 
If he doesn't turn it around, the Twins have a wealth of other current and future options. If he does, it could introduce create an interesting set of decisions for the front office. For as long as he's been around, Kepler is still only 30 and he has a 2024 team option for $10 million.
Catch Up On Our Position Preview Series: