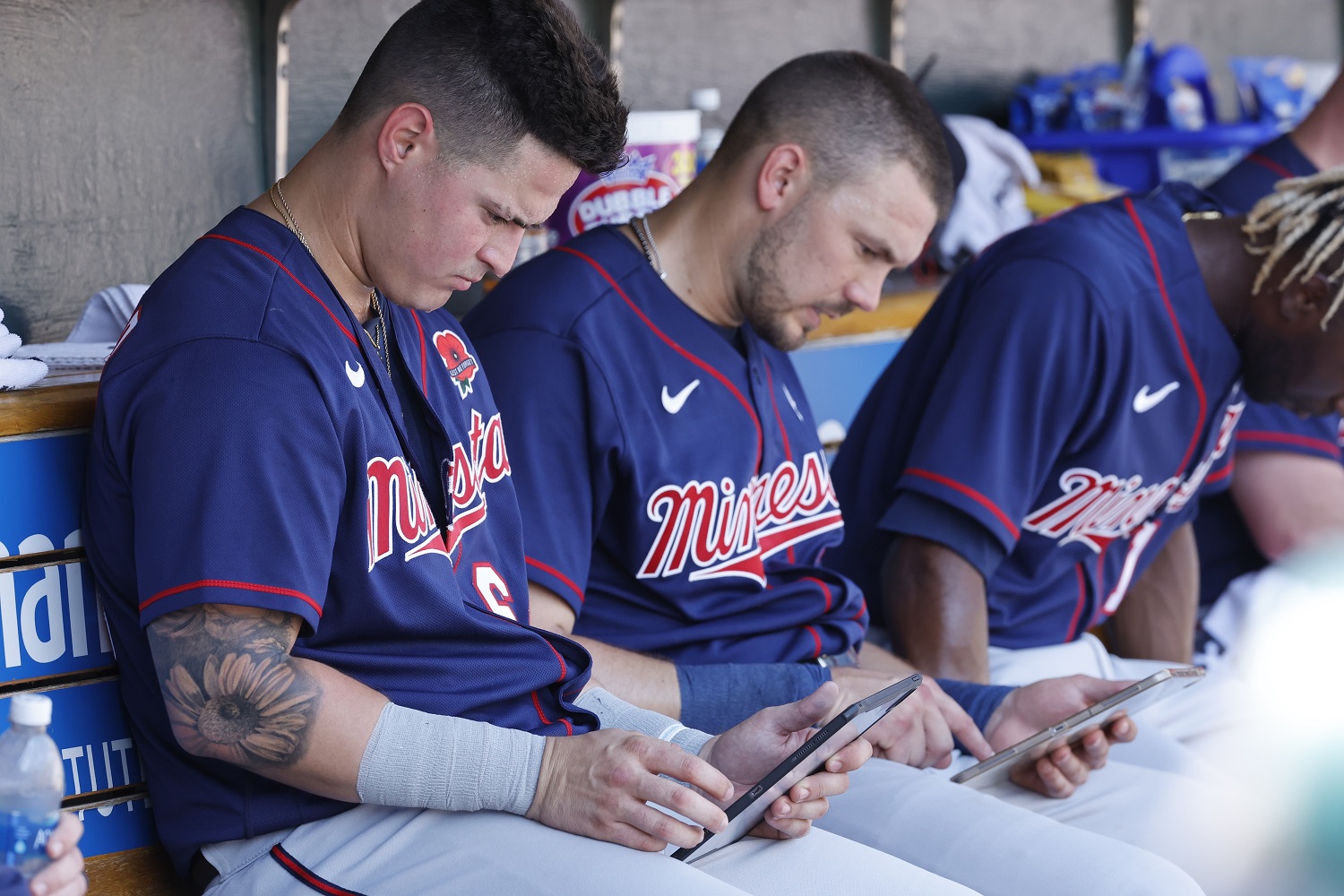 Image courtesy of Rick Osentoski-USA TODAY Sports
Alex Kirilloff was once viewed as a key cog in the middle of the lineup for years to come, but his wrist injuries have prevented him from being that elite bat prospect analysts predicted. While it's still easy to see Kirilloff being a significant contributor to the Twins offense, it appears that may not begin on Opening Day, as he's "a little behind [the Twins] schedule."
Kirilloff was likely slotted to play first base and designated hitter, and the Twins have put together a roster that provides ample flexibility to cover for his absence. Let's look at some of the likely options if Kirilloff starts the year on the Injured List.
Gallo to First, Gordon/Larnach to Left Field and Designated Hitter
Joey Gallo has appeared at first base throughout spring training but last appeared there for significant innings in 2018. Gallo, to many Twins fans' chagrin, seems likely to be a regular, and his athleticism should enable him to play first, at least competently, especially given that he came up as a third baseman. With Gallo playing first base, Trevor Larnach or Nick Gordon can competently cover for him in left field, with others filling in as designated hitter, making this plan very workable. 
Based on Gallo playing first in spring training, this plan seems likely to be deployed against right-handed pitchers if Kirilloff starts the season on the injured list. This plan is suboptimal because of its defensive implications. For all of Gallo's struggles at the plate, his outfield defense has remained a strength. If it's not clicking at the plate and the Twins take him from the outfield, he is giving the Twins nothing. On the flip side, it allows Larnach and Gordon's potent left-handed bats to be in the lineup against right-handed pitchers. This likely lineup combination will work okay defensively but will most help the offense against righties.  
Solano to First Base
Slotting in Donovan Solano at first base is another logical option that doesn't require any other maneuvers. The Twins signed Solano to DH and play first and second base. A right-handed hitter who is just below average against righties and above average against lefties, Solano is acceptable to play regardless of pitcher-handedness.
This option keeps everybody at their natural positions, and Solano is a solid bat to have in the lineup, having been above average at the plate from 2019-21. This approach makes sense, especially if Solano's 2019-21 bat shows up in 2023.
Farmer to Third, Miranda to First, Solano DH
Rocco Baldelli will likely deploy some variation of this lineup combination against left-handed pitchers, even if Kirilloff is healthy. It creates all sorts of problems for left-handed pitchers. All three of these hitters crush lefties, whereas Farmer's or Solano's roles will likely be more limited when right-handers pitch.
The defense of these players also makes the lineup combination extremely attractive for Baldelli. We will see how good Miranda will be at third, but given that Farmer was a decent everyday shortstop last season and had around-average defensive metrics at third, Farmer is likely the better defensive third baseman of the two. This lineup combination is an exciting possibility for a team that has struggled against lefties in recent seasons. 
Garlick Makes the Team
Kyle Garlick is another right-handed bat that could play a role in replacing Alex Kirilloff. Garlick wouldn't be a direct replacement for Kirilloff in the field or at the plate, as he has never played first and is a righty who thrives against lefties. However, replacing Kirilloff with him on the 26-man roster would provide an additional weapon for Baldelli to deploy against left-handed pitchers. 
Garlick can play designated hitter or one of the corner outfield spots, replacing Gallo or Max Kepler against left-handed pitchers. That would allow a righty-heavy lineup while Farmer moves to third, Miranda to first, and Solano to DH. Adding him to that group would give the Twins a potent lineup against left-handed pitchers, as Garlick was 28% above league average against lefties. 
On the flip side, Garlick is poor defensively. Beyond that, he would displace Trevor Larnach on the 26-man roster, weakening the lineup against righties - the far more common matchup. 
Julien is Promoted and Plays First Base
Edouard Julien was optioned to AAA on Tuesday, so this isn't happening for Opening Day, but as the season progresses, it's a different story. Early in the season, this is the most fun and least likely of these four lineup combinations. It would require somebody else to be on the injured list or a surprising player being removed from the roster. With positive developments on minor injuries from Gordon and Larnach, the latter of whom seems to have fully recovered as he has played and homered in Sunday's spring training game, Julien making the roster would be shocking but also fun. 
Julien has yet to play much first (not even in spring training) but isn't a very good second baseman, so getting his bat in the lineup by putting him at first makes sense. In 2022, Julien crushed right-handed pitching at AA, displaying impressive power and on-base ability, showing the ability to hit the ball hard and walk a lot. He has continued his tear in spring training and into the World Baseball Classic, hitting a leadoff home run for Canada on the first pitch he saw of the tournament. The talk of Twins camp won't make the team out of camp, but we can dream for an early promotion.
As you know, Julien was optioned to St. Paul (and minor-league camp) earlier this week. That said, he could be recalled. While it's unlikely, it could theoretically happen. 
How do you see it playing out? Leave a COMMENT below.