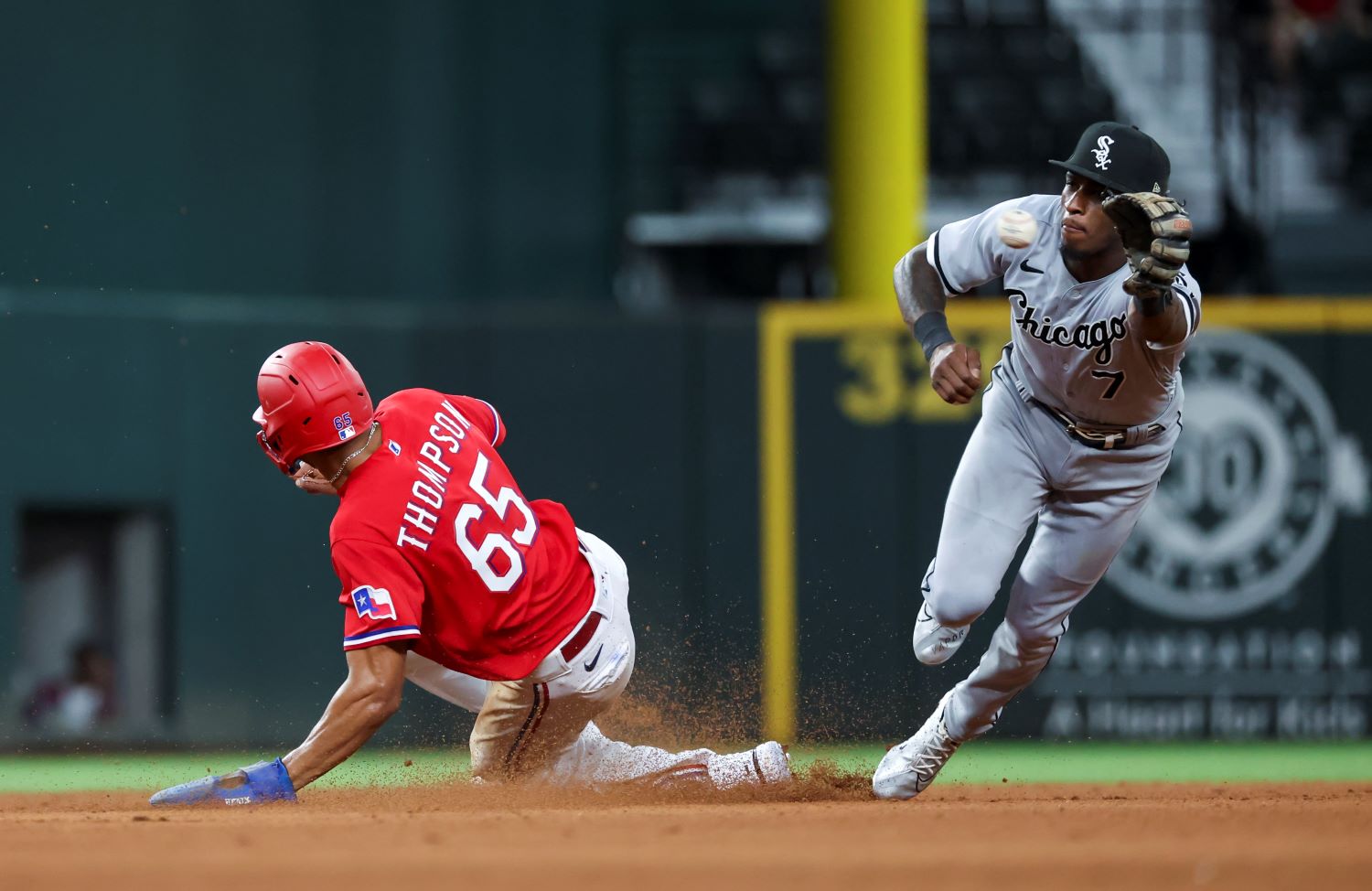 Image courtesy of Kevin Jairaj-USA TODAY Sports
How did last season go?
With clowns to the left of them and jokers to the right, the White Sox finished… 2nd in the AL Central—not quite stuck in the middle, but close enough to make the difference negligible. 
There's something eternally frustrating about a .500 team; the Lord considers their lukewarm nature repulsive and spits them out of his mouth while we baseball enthusiasts have to sift through mediocrity to properly analyze the roster. It's a movie with brilliant visuals and a meandering plot; a book with an empty subtext. Yes, Dylan Cease is inarguably the best non-Bieberian starter in the division, but what do we make of the likes of Yoán Moncada and Luis Robert? Will inconsistency ever make way for undeniable greatness?
The answer, at least in 2022, was no. The team made a solid push for a Wild Card spot but lost eight straight games in late September to seal their fate. 
What did they do in the off-season?
Chicago had a perfectly normal, cromulent off-season. They signed Andrew Benintendi—a sum-of-his-parts outfielder capable of boring production—to a $75 million contract while bringing back Elvis Andrus and acquiring Mike Clevinger on ancillary deals. 
For Benintendi, the move makes sense; Eloy Jiménez has yet to prove that his defense isn't an active hazard to his health while the new guy's bat can help add oomph to a lineup losing some lumber. Clevinger can ideally toss about 120 innings, although in a far less efficient manner than he could before his second TJ surgery. Andrus is back because Chicago couldn't afford to ignore the second base position as a concept anymore.
In a vacuum, it's a fine haul, but it's easy to second-guess Chicago's strategy. So easy, in fact, that I'll do that right now.
In a division with the consistently-competent Guardians and a Twins team gearing up to earn a playoff spot, Chicago's moves appear tepid, made to satisfy a bottom line and work as proof that the team is Trying to Win, not an actual attempt to carry out an effective plan. 
Letting José Abreu walk so that the youngster Andrew Vaughn—he of a 102 career OPS+—could take over first base full-time makes sense, but, man, is it wise to allow the team's heart to walk without an effort to retain his services? For a franchise that staked its identity in Cuban stars, losing one of the finest players the island ever developed seems guaranteed to make a negative impact. Teams need leaders. 
To their credit, the White Sox realized this and canned mutually agreed to part ways with manager Tony La Russa. Often criticized, and never appreciated despite a 2021 Division victory, La Russa endured overwhelming negative noise for his decisions. From intentionally walking a hitter in a 1-2 count to being so pissy over his own player hitting a home run that the New York Times got involved, the game seemed to have passed him by, maybe literally. Former Twins draftee and Royals coach, Pedro Grifol, will man the ship now. 
What should we expect in 2023?
The good news for the White Sox is that this is largely the same team that won the division in 2021. The bad news for the White Sox is that this is largely the same team that won the division in 2021. Remaining stagnant only invites atrophy as your competition increases their talent. 
Sure, they could present new breakout players, but Chicago in modern times has utterly failed to create an environment for internal player development. Their best players are bought, not altered. That may seem like a strange criticism—who cares where you get your players from—but when a team can only capitalize off their most valuable resources, then they aren't doing their homework. 
Take a look at the roster: the team is nearly entirely made of 1st-round picks, expensive international signings, trades including significant major-league players, or free-agent acquisitions. Aaron Bummer—a 19th-round pick made nearly a decade ago—may be their only true success story in elevating from the muck. They robbed Cease and Eloy Jiménez from the Cubs and Lucas Giolito from the Nationals, but those were highly-regarded prospects, not invisible potential; those success stories aren't examples of outstanding talent identification. For a team that refuses to live outside meager means, not finding hidden ability is a death sentence, a ticket to mediocrity that cannot be upgraded no matter how hard they try. 
That issue shows up in their depth, or, really, a complete lack of it. "[T]he Pale Hose are fairly dangerous if they enjoy a very good injury scenario but fall off very quickly if they don't," wrote Dan Szymborski after his ZiPS machine spat out a disappointing projection for the White Sox. Seby Zavala, Gavin Sheets, Jake Burger, and the inexplicable, unkillable Leury García represent the best of Chicago's backups. It's better to leave the topic there. 
Still, it's impossible to ignore the talent. Luis Robert Jr. could be a legitimate top-5 center fielder in MLB, Tim Anderson is an All-Star talent, Yoán Moncada probably isn't as bad as he was in 2022, Lucas Giolito has multiple 4+ fWAR seasons under his belt, Lance Lynn was elite in 2021, and Dylan Cease is a Cy Young candidate. That's more upside than most .500 teams. 
But upside doesn't promise wins, and baseball is a game of depth. Without tremendous, potentially historic injury luck, it's difficult to see the White Sox maintain their top-tier talent throughout the entire season; those games started by the Davis Martins and Jonathan Stievers of the world appear ripe to tank their season. Whether that happens will be a game of fortune, and Chicago already knows what it's like to be burned by the odds.