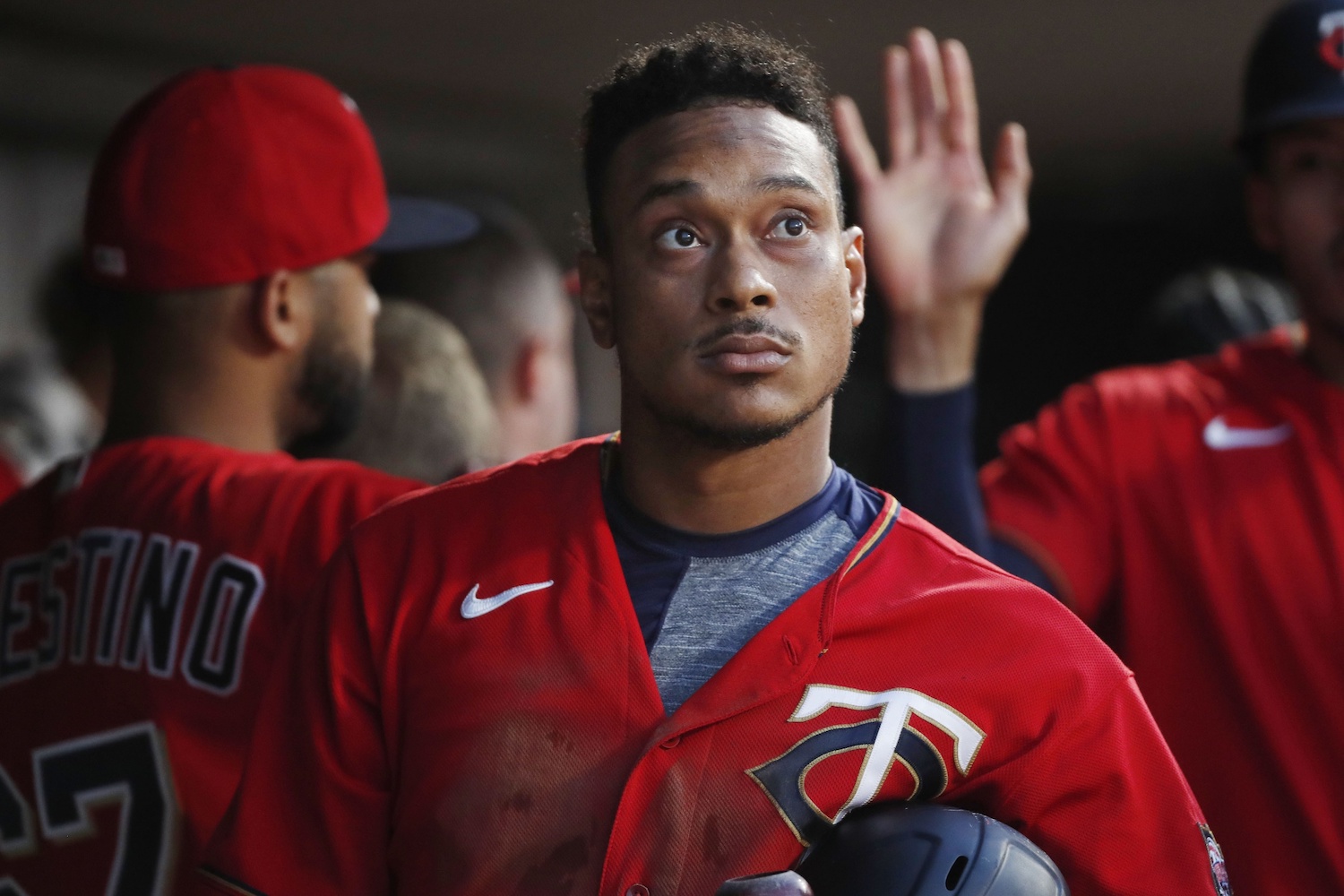 Image courtesy of Bruce Kluckhohn-USA TODAY Sports
Let's start with the good news: Byron Buxton seems to be healthy and on track for the start of the season. Even though he has yet to play in a major-league spring training game, the club's conservative approach to ramping him up seems like it's going according to plan. 
He's getting enough action on the side fields and in minor-league games to sharpen his skills and find his timing, while the Twins are mostly keeping his workload light until the meaningful action begins. 
So that's good. Elsewhere, the recent news has been less encouraging.
We'll start with Jorge Polanco, who's been handled in a similar fashion to Buxton this spring despite much vaguer circumstances. 
We know Buxton was bothered by a knee issue throughout the 2022 season, and underwent surgery to address it in the offseason. Even beyond that, it makes sense to limit exposure for a player who so frequently gets hurt while on the field, and who doesn't seem to need much traditional preparation to find his groove. 
Polanco, on the other hand, is a much more perplexing situation. We know he suffered a knee injury last August and that it was deemed relatively minor at the time. He repeatedly tried to return to the field but couldn't make it back before the end of the campaign. Polanco reportedly spent much of his offseason rehabbing the knee, but there's never been a sense this spring that he was physically right. Unfortunately, that's now been confirmed.
On Sunday, Derek Falvey finally acknowledged to reporters that Polanco is doubtful for Opening Day. 
"He hasn't been able to do all the leg activities and all the legwork and all the running and all the strength and conditioning stuff that everybody would at this stage, so some of it's just responding to where he is from a timing standpoint," Falvey said. "Obviously, the calendar plays a role now as we get closer and closer to Opening Day."
While it's entirely possible the Twins were trying to do the right thing all along here – they might have genuinely thought Polanco was in a decent place at the start of camp, and that a slow ramp-up would get him to where he needed to be – and it simply hasn't played out as hoped. 
But with the way things went last year, this is definitely a foreboding development that will make it difficult for fans to trust what they're hearing from the team when it comes to updating on their myriad health concerns.
Polanco is among three of the four projected starting infielders for the Twins this year who've yet to play an official spring inning at their position. José Miranda has been limited by shoulder soreness which has prevented him from getting much-needed reps at third base, although he does seem (hopefully) close to turning a corner. Meanwhile Alex Kirilloff's status remains in doubt as he works back from a second wrist surgery.
Just days earlier, Falvey had characterized Kirilloff as – between Buxton, Polanco, and himself – "probably the one that's a little bit behind our schedule." Now he's flip-flopped the latter two. From the current view, it's difficult to read this as anything other than: we should not expect AK or Polo to be ready for the start of the season.
On the bright side, Kirilloff did seem to take an important step forward this past week. In a minor-league game on Saturday, he played four innings defensively at first base, and went 0-for-2 at the plate. Getting action in a real game, even on the minors side, is a key milestone for the 25-year-old and theoretically gives him at least a shot at being ready for Opening Day. I wouldn't bet on it though.
Ironically, Kirilloff was involved with another injury scare on Sunday. While facing Jhoan Durán, he smashed a line drive back up the middle that hit the top reliever in the leg. Ted Schwerzler, observing the action in Fort Myers, tweeted that Durán was "walking gingerly" before departing the field on his own power and riding a golf cart back to the complex.
Hopefully nothing to worry about. These things happen, and typically don't amount to much more than a bruise. (That thankfully appears to be the case here.) But for Kirilloff, of all people, to accidentally peg Durán, whose ability to stay healthy for all of 2022 was one of the season's most pleasant surprises, is a cosmic twist of cruel irony. 
Speaking of which, the injury news didn't stop there on Sunday (bloody Sunday). Max Kepler exited the Twins' exhibition game against Atlanta with "left hip tightness." If that sounds familiar, the outfielder also dealt with hip issues during an injury-riddled conclusion to last year. 
Very possibly this is all much ado about nothing (or little). Opening Day is still a week-and-a-half away, and it would be drastic to assume the worst with any of these developing scenarios, let alone more unsubstantiated anxieties like Tyler Mahle's velocity or Kenta Maeda's spring results.
At the same time, can Twins fans be blamed for doing just that? More good news would be eagerly welcomed.