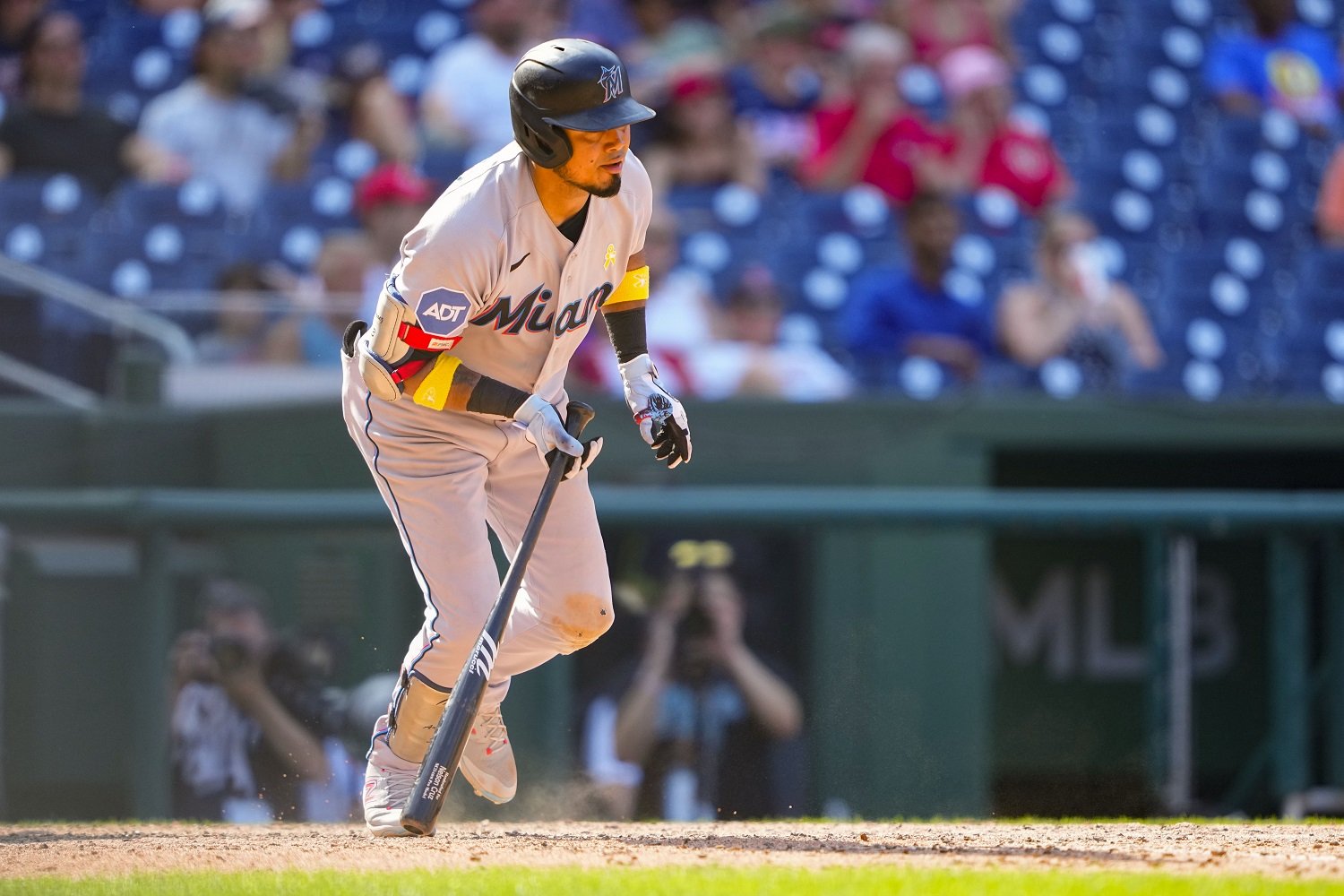 Image courtesy of Gregory Fisher-USA TODAY Sports
When the Minnesota Twins decided to send Luis Arraez to the Miami Marlins it was not because they thought that Rocco Baldelli's lineup couldn't use him. The Twins second baseman was a fan-favorite, and he was coming off winning an American League batting title. Despite looking like the second coming of Rod Carew, questions about defense and health tipped the scales just enough for the front office to dangle him out there.
A deal between the Marlins and Twins came together over quite some time, and the sides talked about different constructions of a fit for a while. With the Twins offense seemingly in a good place, the front office decided that Sonny Gray, Joe Ryan, and Kenta Maeda needed some help in the starting rotation. Pablo Lopez was viewed as a talent that had projectable upside, and the organization doubled-down by signing him to a four-year extension that kicks in during the 2024 season.
So far it's hard to say that the sides didn't get exactly what they were looking for. Miami is watching Arraez trend towards another batting title while having been named an All-Star for the second consecutive season, and the Twins are seeing Lopez pitch like something of a Cy Young candidate. Rather than view the deal just through the lens of a Minnesota trade though, I wanted to get a Marlins perspective. Ely Sussman of Fish on First covers Miami closely, and had plenty of thoughts to share about the new Marlins infielder.
Twins Daily: Having watched Arraez for a full season, what are your thoughts on him as a player and how do they compare to what you believed you were getting?
Ely Sussman: I was optimistic about Arraez continuing to be more or less the same player he had been with the Twins, and he has instead elevated his game a notch. I was concerned about his durability given his history of knee issues, but he's been available for the Marlins practically every day. Although his defensive metrics at second base have been a mixed bag, I have observed something close to league-average performance from him there. Arraez has shown good hands and a knack for making accurate, off-balance throws when necessary. Last but not least, he is very well-liked by his Marlins teammates and proactive about sharing advice with them. He has helped change the clubhouse chemistry for the better, which was sorely needed after losing 93 games the season before.
TD: Moving Jazz Chisholm to centerfield was part of the Arraez acquisition. How has the Marlins defense benefitted or been hurt by the new construction?
ES: Outside of a few April bloopers, Chisholm's transition to center field has been a success. He's been enough of an upgrade over Miami's 2022 centerfield options to mostly offset the drop-off in defense from Chisholm to Arraez at second base. However, the addition of Arraez also stranded free agent signing Jean Segura at third base, where he had limited experience. That went horribly and may have contributed to his struggles at the plate. Segura was among the worst everyday players in the majors before the Marlins dumped him at the trade deadline. Overall, the Marlins have been in the middle of the pack defensively, which is slightly worse than 2022, but that step back is due to other personnel changes rather than Arraez.
TD: Arraez brought a few years of team control with him to Miami whereas the Twins immediately extended Pablo Lopez. Do you see a longer term deal getting done with the Marlins?
ES: When Arraez was hitting .400-something throughout much of the first half, there was concern that he had played himself out of the Marlins' price range! The silver lining of his second-half regression is he now seems more realistically extendable for them. It is tricky to find relevant comps for Arraez given his old-school batted ball profile, but I estimate that the average annual value of an extension would be less than Pablo's $18.4 million. Perhaps a DJ LeMahieu-like deal (6/$90M) would get it done. There is a good chance of Arraez being signed long term, especially if Jorge Soler departs via free agency and vacates the designated hitter spot.
TD: Year one has included a second straight All-Star appearance and Arraez is trending toward another batting title. Has the production been better than expected?
ES: His production has exceeded expectations, yes. Even with MLB's restriction of the infield shift, it's astounding to see somebody hitting in the mid-.300s and consistently coming through in late-game situations, too. There are still things to nitpick about Arraez like his occasional over-aggressiveness, his inability to steal bases, and the frequency with which he grounds into double plays. But he is very valuable just as he is.
TD: Missing Lopez in the rotation, has the presence of a missing starter been felt? Has Arraez's production in the lineup made that worth it?
ES: López has been sorely missed. Sandy Alcantara's fall from Cy Young winner to ordinary innings eater has been well-documented. Also, the Marlins entered the season with both Johnny Cueto and Trevor Rogers in their starting rotation. Not only did they both suffer injuries in April, but then suffered additional, unrelated injuries while pitching in minor league rehab games. Cueto didn't return until the All-Star break and Rogers still hasn't made it back. The Marlins were relatively thin on upper-minors rotation depth and that was exposed by those unlucky breaks. I would still say that Arraez has made up for the absence of López. Miami's bullpen has thrived in clutch situations to cover up for some of the rotation's limitations.
TD: Simply, would you do the deal again, why or why not?
ES: It's a fascinating "what if" because it depends on whether I am tethered to Bruce Sherman's modest budget. The main reason that the Marlins shopped López is because of how his future salary would impact their flexibility to address other roster needs, rooted in ownership's lack of willingness to spend. This club understandably prioritizes veteran hitters over veteran pitchers because they've had much more success developing cheap pitching internally. An aspect of the trade that I strongly disliked was the inclusion of prospects Jose Salas and Byron Chourio. Salas was one of the few Marlins hitting prospects who had a path toward becoming a big league regular, but it turns out that his 2023 campaign was a nightmare, making that ceiling seem less attainable. If I'm stuck living in a universe where the Marlins operate with a small-market mentality, I would do the deal again. If I have the freedom to imagine the Marlins spending as much as the Twins do on payroll, then I would have kept and extended López and upgraded the lineup by shopping younger arms instead.
It's interesting to see what the other side thinks, because even with Lopez's performance, there are plenty of Twins fans that still miss Arraez. Even with the emergence of Edouard Julien, the Twins lack a true average hitter and Arraez had the ability to set the table on a nightly basis.
What is your takeaway from this deal? Would you still make the trade? How have you felt about Pablo in year one?