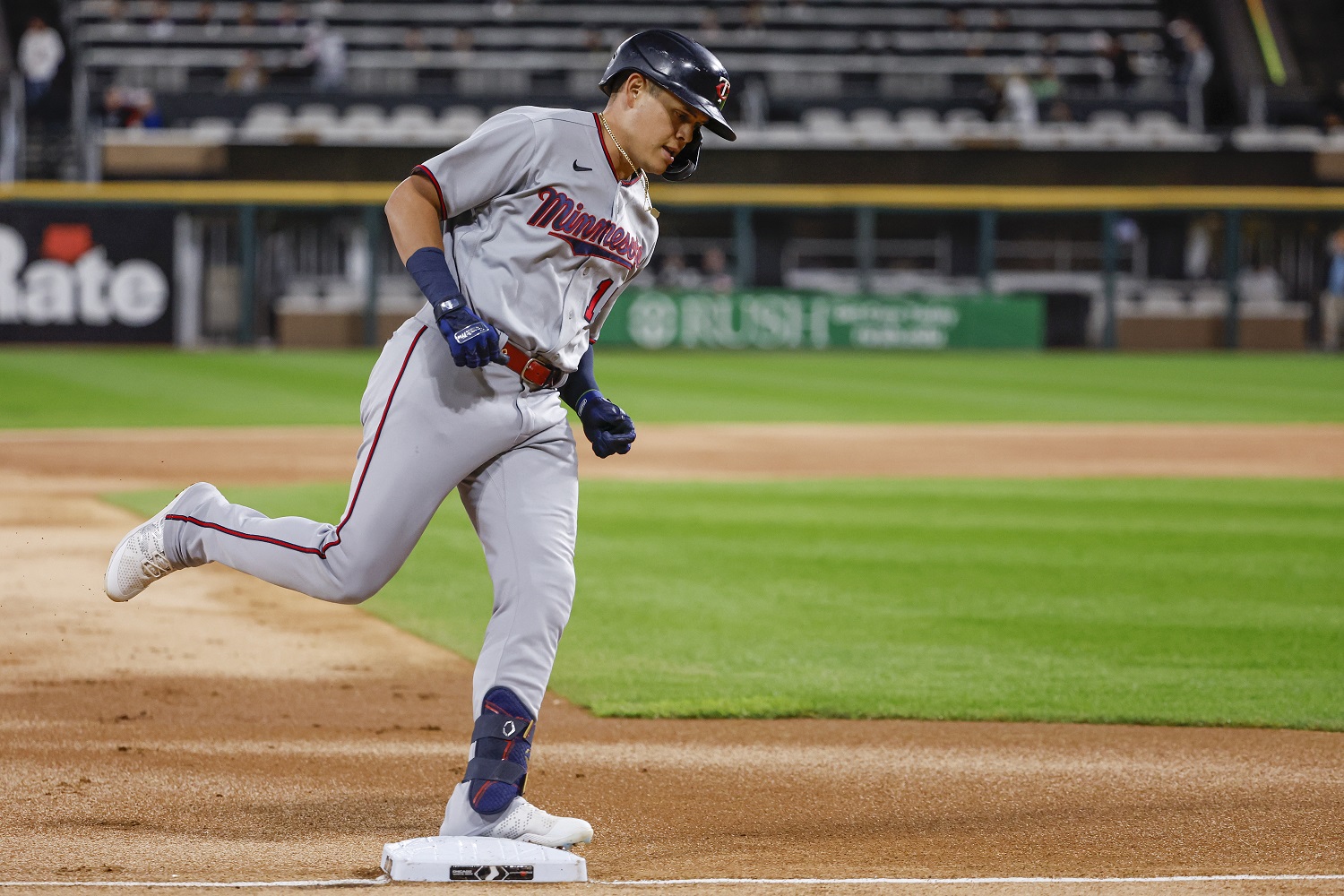 Image courtesy of Kamil Krzaczynski-USA TODAY Sports
We've received more straightforward news on the Max Kepler front these last few days. After speculation grew regarding the Twins possibly keeping the left-handed outfielder, Dan Hayes reports that Kepler sticking around is likely at this point. It's been discussed how Max Kepler still has value in the right role to help the Twins if he stays. This news does make us second guess parting with Gio Urshela earlier this winter, however.
The Twins decision to trade Gio Urshela was straightforward at the time. Jose Miranda is getting a fair crack at being the everyday third baseman, and Urshela's projected arbitration salary was a bit high for a player whose role wasn't certain. They followed it up by signing Joey Gallo to a one-year, $11 million prove-it deal. This all but cemented the fact that Max Kepler was on the way out, as six left-handed corner outfielders on the 40-man roster is beyond excessive. With the addition of Gallo and Kepler apparently staying around, however, the Twins may have misplayed their hand.
It appears the plan with Kepler still being in the mix is for Joey Gallo to play a lot of first base in 2023. With Alex Kirilloff's health being in question and Gallo having some experience there, it makes sense given the state of the current 40-man roster. Consider however that given Joey Gallo's recent offensive struggles, a fair bit of his floor value comes from his defense in the outfield. Perhaps his offense rebounds to passable levels for a first baseman, but his ability to cover ground and throw out runners on the base paths would be all but nullified by a move to first base. 
Make no mistake, the debate didn't have to be Urshela vs Gallo for the first base platoon role. It seemed that the plan was to trade Max Kepler for much of the offseason. The Twins asking price appeared to have been high all along, but given the level of player Kepler is at this point and the context of the roster, it's confusing why they'd play hardball on his price on the trade market.
Urshela was a far more valuable player than Kepler in 2022 by any Wins Above Replacement measure and was essentially given away for free because of his redundancy with Miranda moving over to the hot corner. The irony in this is that the Twins now have Gallo, Larnach, Gordon, Wallner, Kirilloff, and Kepler as left-handed corner outfield options and it appears they haven't lowered their asking price at all. Kepler has a $10 million option for 2024, but do the Twins really plan on paying that if Kepler's performance from the last two years continues?
The Twins current roster includes a massive left-handed logjam with players like Joey Gallo out of position where his skillset isn't being maximized. Several young players such as Trevor Larnach and Matt Wallner who should be nearing their chance to show what they can do are now pushed further down the line by the excessive outfield depth chart. They could have a better platoon partner for Kirilloff and one more right-handed bat in Gio Urshela for less money, but instead, they traded this scenario away for a 19-year-old pitching prospect in the low minors.
It's hard to say there weren't miscalculations on the Twins part this offseason. Looking at the roster now, it becomes clear that Urshela's value to the team exceeded the value he carried on the trade market. This is further exacerbated by the Twins appearing to overvalue Kepler on the trade market despite the obvious lack of need for him on the roster. If they valued Kepler this highly, why sign Joey Gallo at all as opposed to keeping Gio Urshela or designating that $11 million to a right-handed hitter with more experience at first base?
It's possible Max Kepler is still traded before the season and that the roster makes a lot more sense on Opening Day. As things stand now, however, it sure looks like dumping Gio Urshela for anything they could get was a mistake. Do you agree?