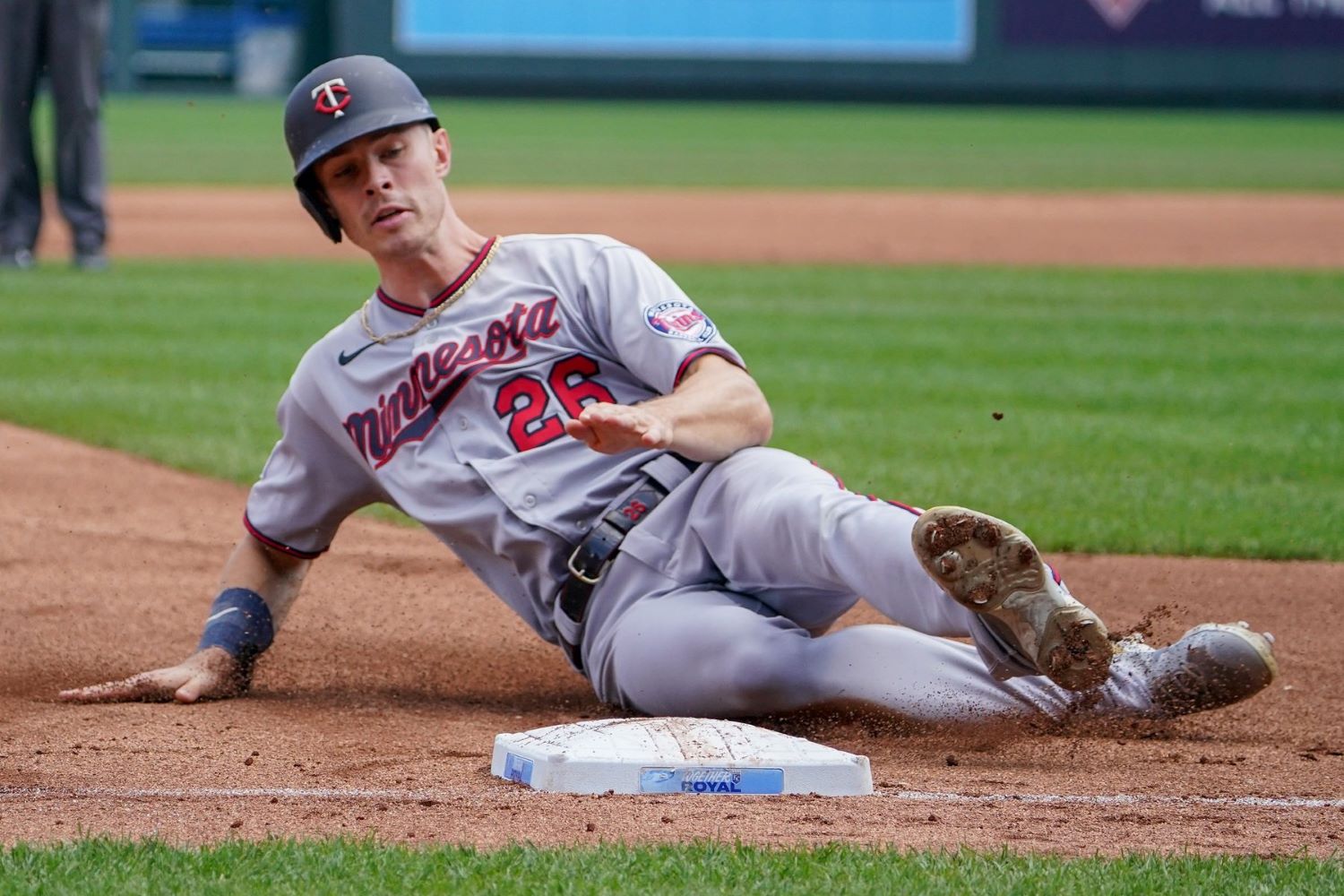 Image courtesy of Denny Medley, USA TODAY Sports
There have been points this winter where we were waiting for a Max Kepler trade announcement within the coming hours, such as when Joey Gallo was signed. Here we are at the end of January, however, and not only is Max Kepler still a Twin, it appears that may not change after all.
When Disco Dan Hayes makes such a statement, it's wise to listen. The Twins still see value in Kepler, at least more than other teams appear to on the trade market. It's a fair stance. It's hard to trade a player for less than a team feels they're worth. That being said, if Max Kepler stays in Minnesota another year, the Twins need to get realistic about what they have in their homegrown corner outfielder.
Max Kepler was seen as a breakout candidate for years before finally doing so in 2019. His 122 wRC+ that year made him appear to be a future star player, slugging 36 homers and crushing lefties, his biggest weakness as a hitter. We now have about 1,500 plate appearances prior to 2019 and over 1000 after saying that Max Kepler is not the player he was in 2019, and it's time the Twins stop pretending he is.
The realistic description of Max Kepler is that he's a defense first strong side platoon player with a plate approach that should keep him out of the everyday lineup. In about 1,100 plate appearances since 2019, Max Kepler has slashed .220/.314/.392. His 98 wRC+ is 2% below league average for that time period, but playing the premier offensive position of corner outfield means that he's even further below average than that relative to his positional peers. 
The Twins roster is ripe with reasons for Max Kepler not to have right field locked down everyday. Trevor Larnach nearly had as many Defensive Runs saved as Kepler in far fewer innings defensively in 2022, and there's still a chance he hits left handed pitching and becomes a legitimate everyday player. Joey Gallo, for as much hate as he gets, is a legit plus player in the outfield defensively, and his career wRC+ is over 30 points higher against left handed pitching while his splits against right handed pitching are nearly identical to Kepler. Newly added outfielder Michael Taylor, who is known for being a non contributor offensively, blows Kepler away against left handed pitching for their careers.
 In 2022, Max Kepler took 60% of his plate appearances in the 1-4 spots of the lineup and about 43% of his plate appearances in the cleanup spot. There's simply no justification for the Twins to continue this moving forward. With a career .744 OPS, Kepler hasn't even reached the .720 mark since the shortened 2020 season. Even against right handed pitching Kepler has been surpassed by players such as Nick Gordon, who performed considerably better offensively as a platoon player in 2022. The Twins have assembled enough depth to keep Kepler from hitting in the heart of the lineup, and from playing in same-handed matchups at all. At 30 years old it's time to recognize that this is the caliber of player that Max Kepler is.
All of this to say that Max Kepler is a fine player… as a depth piece. There will be times where his defensive value is needed, and given the Twins recent injuries, he'll be a fine everyday fill-in for short periods if need be. In terms of 2022 calculated value per WAR, Kepler was still a value as he was paid $6.75m and was worth a bit over $10m by 2022 free agency measures. His $8.5m salary in 2023 and $10m team option for 2024 become much more in question however.
If Kepler plays less in 2023 and/or his defensive value declines even slightly, he becomes less of a value and a prime candidate to have his 2024 option declined. This is why it's still somewhat puzzling that the Twins don't appear to be determined to trade him. With the shift ban on the horizon, it's not a stretch to call it likely that Kepler's value may never be higher despite the fact that it doesn't look like he'll benefit all that much from the rule change.
The Twins may still very well trade Max Kepler. If they don't however, they need to use him in an appropriate role. He's not a player whose performance demands at bats. He's not part of the core of the lineup.