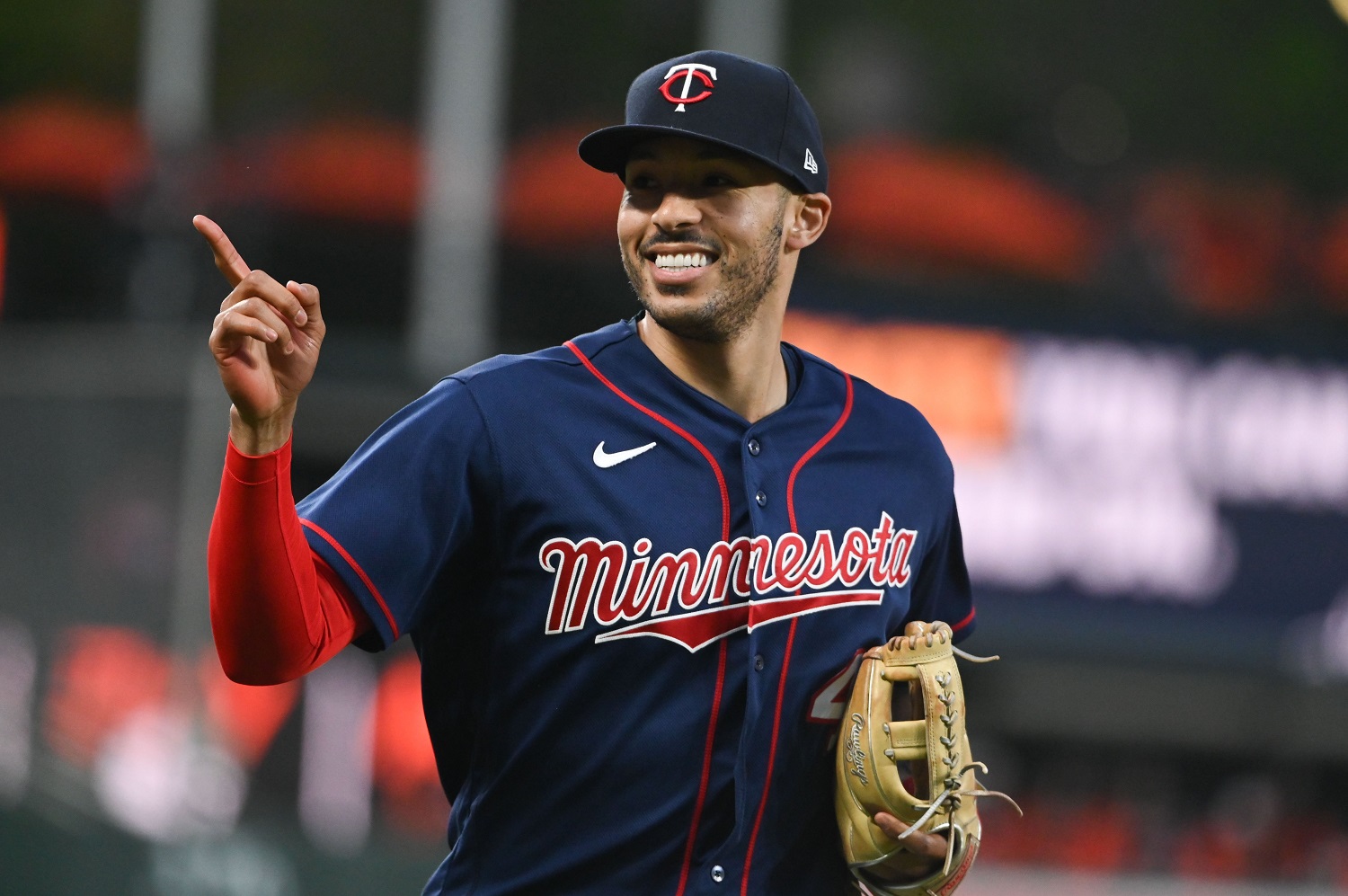 Image courtesy of Tommy Gilligan-USA TODAY Sports
The mutual affinity between Carlos Correa and the Twins does seem genuine. He appears very open to returning, and is at the very least giving Minnesota the time of day by entertaining offers, which is something we've rarely been able to say about top-tier free agents in past years. 
There have been reports of the Twins submitting multiple different proposals to Correa's camp, as the front office gets creative in trying to put forth a framework that entices him away from other monster offers he's sure to receive – while also not being so risk-filled and player-friendly as to defy their sensibilities.
That's a very difficult line to walk. Signing Correa would obviously be a precedent-shattering move for this franchise, at any level, and by all accounts they are ready to take that step. But it doesn't mean they'll hand Scott Boras a blank check. 
Is there a way the Twins could win the bidding for Correa without actually having the largest guaranteed offer? Is there are practical structure for a deal that doesn't force Derek Falvey and Thad Levine to abandon their regard for long-term planning?
I think maybe I've got something. But you tell me if it works for both sides.
Hypothetical Twins/Correa contract: 10 years, $325 million with two player opt-outs.
Here's how it breaks down, year by year:
Year 1: $40M
Year 2: $40M
Year 3: $40M
Year 4: $40M
*opt-out*
Year 5: $30M
Year 6: $30M
Year 7: $30M
*opt-out*
Year 8: $25M
Year 9: $25M
Year 10: $25M
It's a frontloaded contract that is essentially broken down into three parts. After earning $160 million in the first four years, Correa can opt out of six years and $165 million at age 32, or three years and $75 million at age 35.
The reason this feels like a realistic concept is that I can look at it from both sides and talk myself into it, even while accounting for the front office's known tendencies and preferences.
Why the Twins Like It
In trying to come up with this theoretical contract, I presupposed two things from the team's point of view:
They're willing to dish out huge salaries in the short term (they'd have happily paid out Correa's full three-year, $105 million contract), but they're deathly afraid of being burdened by gargantuan commitments for aging mid-30s players down the line.

They recognize that player opt-outs are an effective mechanism for making contracts more appealing to players and their agents, but don't want to include them in a way that robs all of the team's upside from a deal.
I believe the above framework satisfies their preferences on both fronts. The highest salaries are concentrated at the front of the contract, during Correa's prime years, so they'd be ostensibly paying most for his peak production. The diminishing salaries in the latter part of the deal reduce team downside to some extent should things go awry.
Meanwhile, the opt-outs probably aren't too inhibiting. If Correa chooses to re-enter the market after four or six great years the Twins will have been happy to have gotten them. 
Why Correa and Boras Like It
Well, for one thing, it's a legitimate all-time MLB free agent contract. Correa would tie Giancarlo Stanton and Corey Seager for the sixth-biggest guaranteed sum ever. His salary next year would be the highest for any position player in history, and second overall only to Max Scherzer ($43.3M).
These things matter to Correa and Boras – not sheerly out of greed, as some would proclaim, but to pave the way for future players and contracts. It's no coincidence the past contract made Correa the highest-paid infielder ever, just by a hair.
I also could see the frontloaded makeup of this framework having appeal to Correa, if he wants to be on himself an truly maximize his earnings. Should he tear it up while earning $160 million over the next four years, he could easily re-enter the market at 32 and seek another deal approaching $200 million.
Could It Really Happen?
Let's be clear: this contract would not only shatter precedence for the Twins, but for baseball at large. Of the 10 contracts that have ever been signed for $300 million or more, none came from teams outside of the major markets in Southern California, New York, Texas and Philadelphia. 
For Minnesota to be the first flyover mid-market club to break that barrier would be almost hilariously surreal, and yet, if ever there was a time I could see it happening, it's now. The Twins are ushering in a new era with a comprehensive rebrand and ownership shift. Out of sheer circumstance, they stumbled into getting acquainted with Correa and now have a verifiable IN with one of the most talented players in the world. They also have tremendously clear books going forward.
Do I think it will happen? No, I still don't. But I've talked myself into there being a path. What say you all?