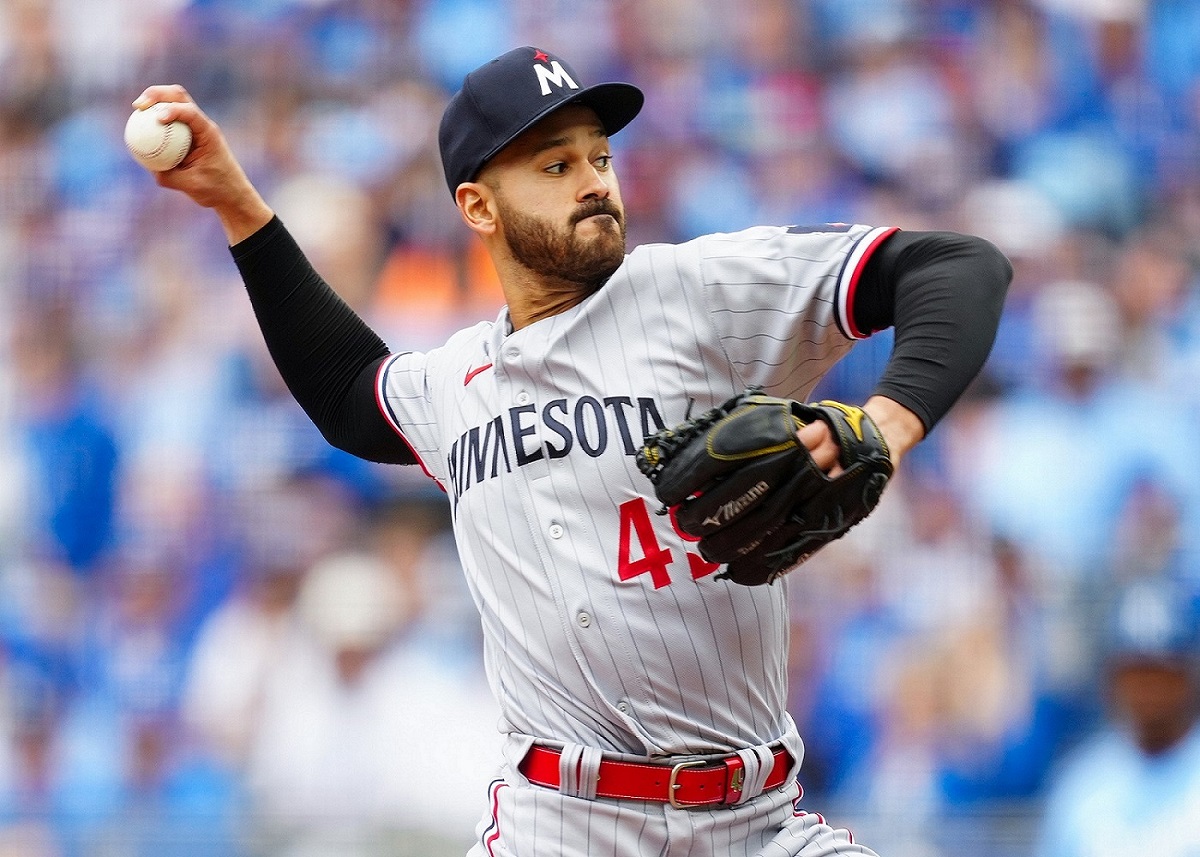 Image courtesy of Jay Biggerstaff, USA Today
Box Score
SP: Pablo Lopez: 5.1 IP, 2 H, 0 ER, 3 BB,8 K (85 pitches, 50 strikes (58.8%)
Home Runs: None
Top 3 WPA: Pablo Lopez (0.316), Byron Buxton (0.156), Griffin Jax (0.89)
Bottom 3 WPA: Max Kepler (-0.144), Carlos Correa (-0.88), Nick Gordon (-0.85)

Win Probability Chart (via FanGraphs)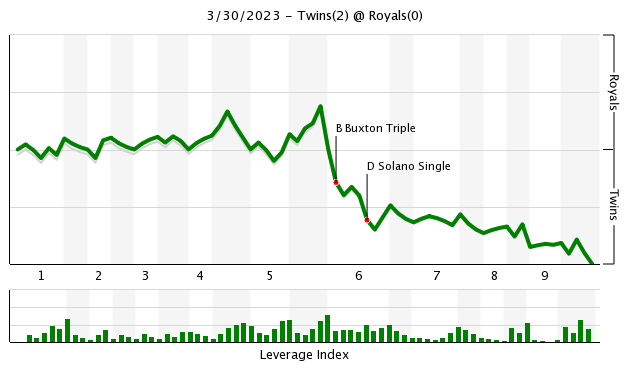 New Season, New Team 
Fifteen players on the Opening Day 26-man roster were not on the team last season, but Carlos Correa and Byron Buxton were.  They started the game by getting on base with a couple of singles. Buxton has been placed in the DH position while they continue to assess his knee. The move appeared to be frustrating for some fans, but for this writer and the team, I believe it's a great move. 
It was enjoyable to see the new faces of Michael A. Taylor, Joey Gallo and Christian Vazquez mingled in with the veteran players. New acquisition Taylor seemed to fit right into centerfield. Trevor Larnach was out the majority of last season with a groin injury that led to an abdominal pull, but he certainly showed why he is an important piece of the lineup. 
Pitchers on both teams and their defenses seemed to keep things at bay through the fifth inning, until Byron Buxton hit a triple to lead off of the sixth inning  and came home on a single from Correa. Zack Grienke was pulled with the Twins ahead 1-0. 
Dueling Pitchers
Sonny Gray's statement about mound time and pitchers wanting to stay out longer than four innings, has been a recent story line. That became more intriguing when, in the fifth inning, starter Pablo Lopez loaded up the bases. Pitching manager Pete Maki made a mound visit with bases loaded and one out, and appeared to calm Lopez down. The Twins got out of the inning with a 6-3-4 double play and he returned in the sixth to retire one more batter before Manager Rocco Baldelli took him out of the game. 
Taking it all in
The new rules with the pitch clock certainly paced the game a lot quicker, but this writer found myself looking less and less at the pitch clock throughout the game. The pace of the game certainly did move faster, but it didn't seem to affect the pleasure of the game. (Game time was 2 hours, 32 minutes!)
The only time it felt rushed was when Amir Garrett seemed to barely get set before throwing the pitch. Oddly, that seemed to benefit the Twins as Donovan Solano singled to extend the Twins lead to 2-0 as Larnach was brought home in the sixth inning. 
Even though the Twins maintained their lead, three times they left the bases full without bringing anyone home. Not everything can be perfect, but a repeat of last year leaving guys on base consistently would be frustrating.
What's Next? 
The Twins will send veteran Sonny Gray in game two of the series (0-0, 0.00 ERA) to the mound on Saturday after the built-in off day for the entire league. The team will face Jordan Lyles, a RHP who finished last season with a 4.42 ERA. The game is scheduled for 1:10 pm.
Postgame Interviews
(Coming Soon)
 
Bullpen Usage Spreadsheet
| | | | | | | |
| --- | --- | --- | --- | --- | --- | --- |
|   | SUN | MON | TUE | WED | THU | TOT |
|   |   |   |   |   |   |   |
| Sands | 45 | 0 | 0 | 0 | 0 | 45 |
| Thielbar | 0 | 24 | 0 | 0 | 11 | 35 |
| Alcala | 33 | 0 | 0 | 0 | 0 | 33 |
| López | 0 | 22 | 0 | 0 | 5 | 27 |
| Duran | 11 | 0 | 0 | 0 | 16 | 27 |
| Moran | 0 | 12 | 0 | 0 | 0 | 12 |
| Jax | 0 | 0 | 0 | 0 | 9 | 9 |
| Pagán | 0 | 0 | 0 | 0 | 0 | 0 |