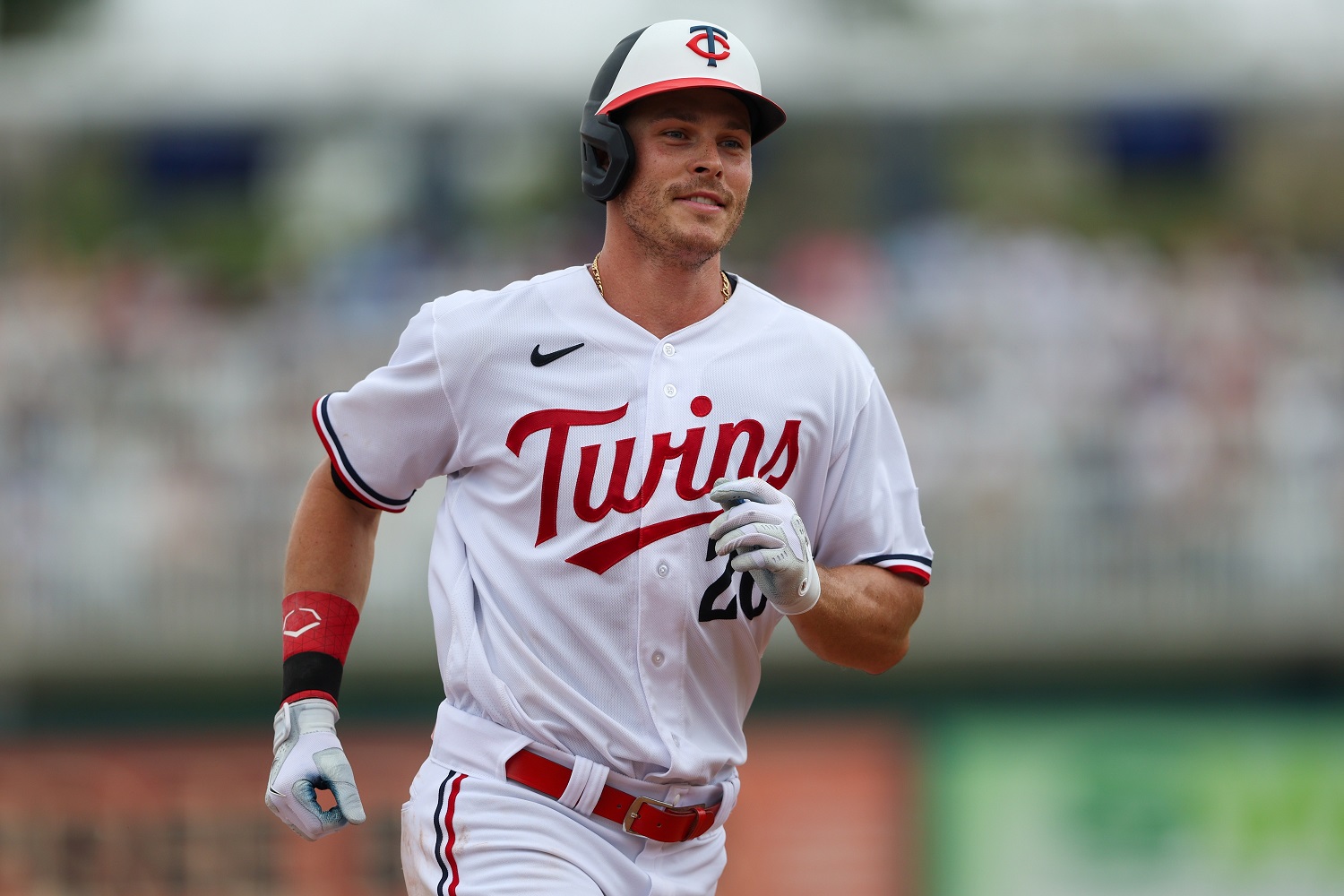 Image courtesy of Nathan Ray Seebeck-USA TODAY Sports
The Twins knew what they lost when they traded Luis Arraez to the Marlins. He was a fan favorite and high-contact hitter, an old-school throwback to a bygone era. Arraez fits nicely into the leadoff spot because he is a career .333/.384/.439 (.823) hitter against right-handed pitching. Last season, the Twins started him at leadoff in 91 games, and he got on base nearly 35% of the time. There are no perfect options to replace Arraez in the leadoff spot, so that the Twins may alter their plans in the coming weeks. 
Max Kepler served as the Twins' leadoff hitter during the opening series in Kansas City. Minnesota might have felt Kepler's spring warranted a shot in the leadoff spot because he went 13-for-34 (.382 BA) with three doubles, two home runs, and four walks. Also, the club faced three right-handed pitchers, but the left-handed hitter went 0-for-13 with a walk. However, there have been some positive signs among those numbers. Four of his nine batted balls have had an exit velocity over 95 mph, which might indicate more hits falling in upcoming games.  
During Rocco Baldelli's first season, he utilized Kepler as the leadoff hitter in 105 games. Kepler had a breakout season and combined for 28 doubles and 32 home runs from the leadoff spot. He was one of the multiple members of the Bomba Squad Twins that utilized a home run-friendly environment (aka, juiced baseballs) to post career highs in multiple categories. 
In recent seasons, Kepler has failed to replicate those totals, with MLB's baseball coming back down to earth, literally and figuratively. From 2020-22, Kepler hit .220/.314/.392 (.706) with a 98 OPS+. Kepler only started two games at leadoff in 2022 and 29 games in the first spot during the 2021 campaign. Arraez's emergence meant the Twins didn't need Kepler in the leadoff role, and the team might need to turn to other options if Kepler's hits don't start falling. 
The Twins gave Joey Gallo multiple starts in the leadoff spot this spring, so there was some discussion of him starting there against right-handed pitchers. Unlike Kepler, he struggled this spring by hitting .214/.298/.333 (.631) with two doubles and a home run. In nine big-league seasons, Gallo has never started a regular-season game in the leadoff spot, and that might have been another reason to pencil him into a different part of the line-up. If Gallo's bat heats up, the team might turn to him instead of Kepler with a righty on the mound. 
Minnesota is scheduled to face a left-handed starter for the first time on Wednesday, with the Marlins scheduled to start Jesus Luzardo. The Twins can go in multiple directions. Donovan Solano is a high-contact hitter that hit .301/.348/.422 (.770) versus lefties in 2022. Few players can match Arraez's contact skills, but Solano's nickname is "Donny Barrels" for a reason. Kyle Farmer might be an even better option, as he posted a .948 OPS versus lefties last season, including a .380 OBP. It wouldn't surprise me to see either name penciled into the leadoff spot on Wednesday. 
Moving Byron Buxton to the leadoff spot is also another option against lefties. He's been the team's most consistent hitter to start the season and has plenty of experience in the leadoff spot. During his career, he's started 83 games at leadoff and hit .240/.305/.521 (.825) with 23 doubles and 24 home runs. Buxton is a tremendous base runner, even if the club doesn't have him steal bases as regularly anymore. Putting him higher in the line-up also means he gets more at-bats per game. 
It will be tough for Twins fans to get a close-up view of Arraez on his new team this week, especially with questions about who should be batting in the leadoff spot. Baldelli has pushed many of the correct buttons to start the season, but the top of the line-up is something to watch. 
Who do you think will be the leadoff hitter versus left-handed starters? How long will Kepler stick in the leadoff spot versus righties? Leave a COMMENT and start the discussion.