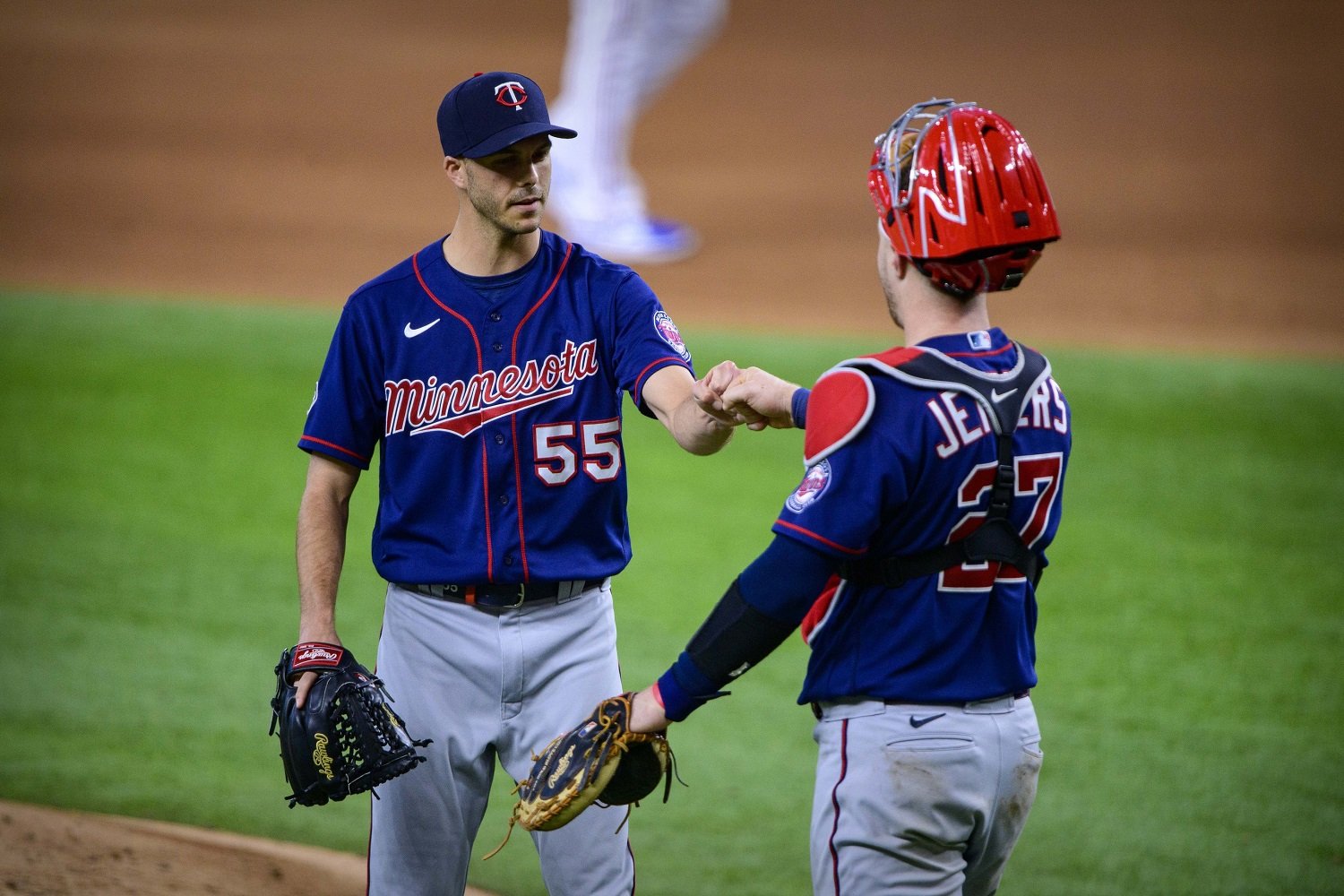 Image courtesy of Jerome Miron-USA TODAY Sports
There is no question that the Twins prioritized adding starting pitching this offseason. To this point, they had added Sonny Gray in a trade with the Reds, and free-agent deals with veterans Dylan Bundy and Chris Archer. 
On Thursday, they added Padres right-hander Chris Paddack and reliever Emilio Pagan in exchange for All-Star closer Taylor Rogers and outfielder Brent Rooker. The Twins are sending $6.6 million to the Padres (essentially paying Rogers' 2022 salary, per Ken Rosenthal), and the Twins will be getting a Player to be Named Later. 
The trade adds a young, team-controlled, backend-of-the-rotation starting pitcher (Paddack) to the team. In return, the Twins downgraded their bullpen a notch (Rogers vs. Pagan) and traded away a prospect they were likely going to lose for nothing (Rooker). In addition, while losing Rogers is difficult, years of team control make the deal make some sense. Rogers can become a free agent at the end of the 2022 season. Paddack has three more years of team control, and Pagan has two more years of team control. 
Emilio Pagan is a 30-year old with over four years of service time. He will make $2.3 million in 2022 and eligible for arbitration in 2023. He played for the Mariners in 2017, the A's in 2018, the Rays in 2019, and the Padres the last two years. Last year, he went 4-3 with a 4.83 ERA. In 63 1/3 innings, he walked 18 and struck out 69 batters. During his season with the Rays, he posted his best season (which will surprise no one). He went 4-2 with 20 saves and a 2.31 ERA and a career-high 12.3 K/9 (96 K, 13 BB in 70 IP). 
Pagan's weakness throughout his career has been that he give up too many home runs. He's always maintained a solid strikeout rate, and his career walk rate is a decent 2.3 BB/9. But he's been susceptible to the long ball, which balances an outstanding ability to keep runners off base. (He has a 1.031! career WHIP).
But he's not Taylor Rogers. The 31-year-old Rogers was the Twins 11th round pick in 2012 out of the University of Kentucky. In 2013, he was the Twins Daily Minor League Starting Pitcher of the Year. He made his debut in 2016 and has pitched in 319 games for the Twins over six seasons. He is 17-18 with 50 saves. In 314 2/3 innings, he struck out 361 batters (10.3). He is coming off of his best season in 2021. He went 2-4 with nine saves. In 40 1/3 innings, he walked just eight (2 intentional) and struck out 59 batters (13.2 K/9). He made his first All Star team, though he also missed the last two months of the season with a finger injury. He will also be a free agent at the end of the year. 
In addition, Rogers has served as the team's player representative the past two seasons and led the Twins players through some rough years. He heads to the Padres where he will be able to compete against his brother Taylor and the Giants frequently. 
The main target for the Twins in this trade is Paddack. He's only 26 years old. As a 23-year-old rookie in 2019, he went 9-7 with a 3.33 ERA. He had 153 strikeouts and 31 walks in 140 2/3 innings. Things haven't been real good since. In 2020, he went 4-5 with a 4.73 ERA. In 2021, he was 7-7 with a 5.07 ERA, though as people have pointed out, his FIP was just 3.78. While he throws a lot of strikes, his strikeout rate has dropped from 9.8 to 8.8 to 82 over his three seasons in the big leagues. 
The other piece the Twins sent in return was Brent Rooker, who was drafted by the Twins in the Competitive Balance Round after the first round in 2017 after an amazing Triple Crown season in his final year at Mississippi State. The powerful slugger debuted in 2020 and hit .316 with two doubles and a homer in seven games before being hit by a pitch ended his season. In 2021, he played in 58 games with the Twins, but surprisingly wasn't called up until late July . He hit .201/.291/.397 (.688) with 10 doubles and nine home runs.
It became increasingly clear that he wasn't going to get extended run with the Twins. In fact, the 'final' roster spot with the Twins appeared to be between Rooker and Kyle Garlick. With this move, we have our answer. In fact, it's possible that's the direction the Twins were already looking. If so, it's very possible that Rooker may have been DFAd to make room to add Garlick to the roster. 
This story will continue to be edited as details and nuances are added. 
What are your thoughts on this deal?