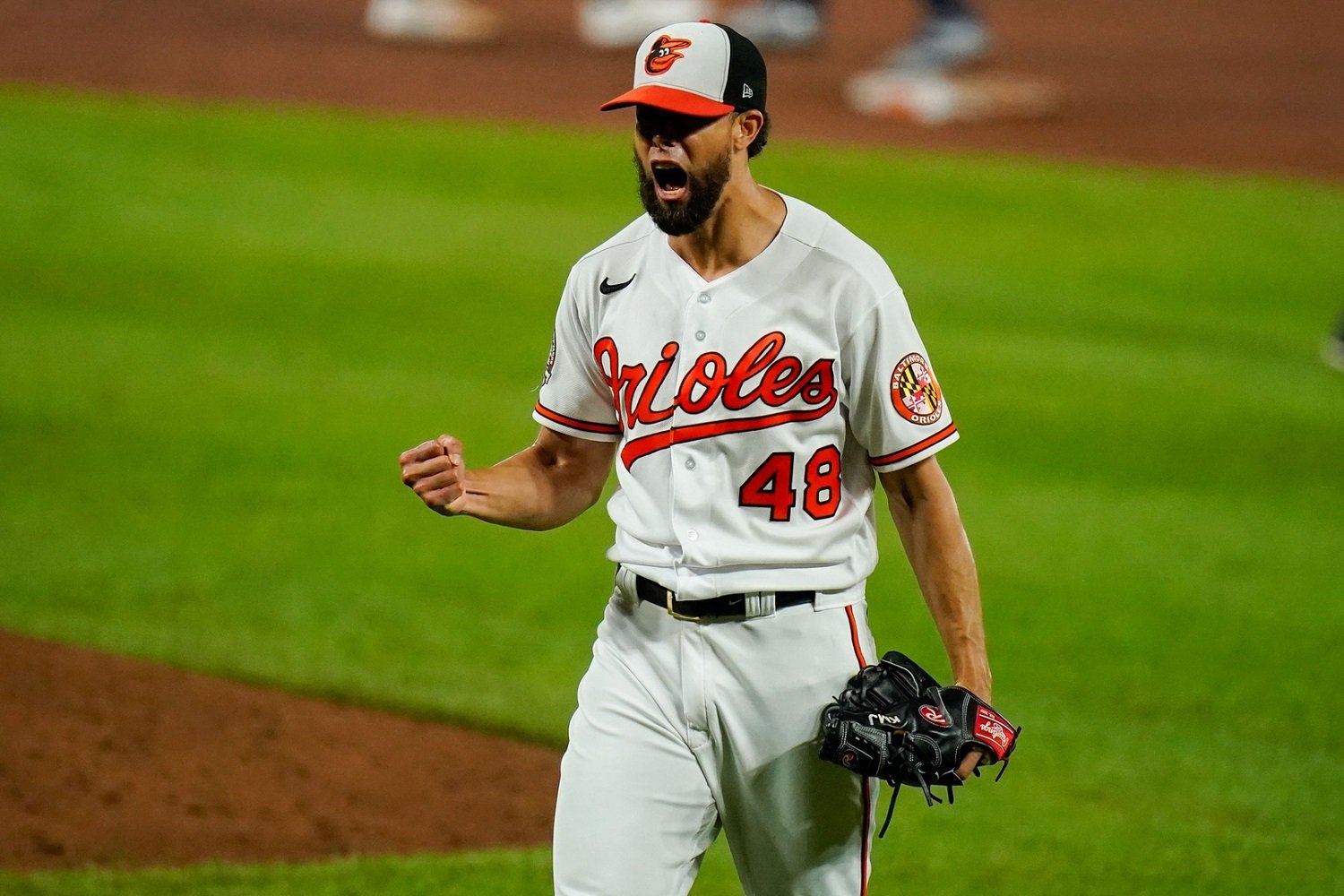 Image courtesy of Tommy Gilligan-USA TODAY Sports
Jon Heyman was the first to report that the Twins are acquiring Jorge Lopez from the Orioles. The Twins will send four pitchers including Twins Daily Top 10 prospect Cade Povich, reliever Yennier Cano, and two more pitchers from the low-minors, Juan Rojas and Juan Nunez. 
Prior to this year, Lopez, 29, was a struggling starting pitcher. He debuted with two games with the Brewers in 2015 and then pitched in another 11 games with the Crew between 2017 and 2018. He went to the Royals and pitched in 47 games between 2018 and 2020.
He went to the Orioles in 2020. That year, he posted a 6.34 ERA over 38 1/3 innings in nine games (six starts). In 2021, he went 3-14 with Baltimore with a 6.07 ERA over 121 2/3 innings.
But this season, the O's moved him full-time into their bullpen and he became an All-Star. In 44 games, he is 4-6 with a 1.68 ERA. In 48 1/3 innings, he have given up 30 hits, 17 walks and struck out 54 batters. He has given up just three home runs, a couple to the Twins in back-to-back blown saves last month. Lopez throws hard, with a fastball averaging over 97 mph. 
As of right now, Lopez ranks as the second best reliever (behind Josh Hader) traded at the MLB deadline, though he's likely to fall to at least third when Cubs closer David Robertson is dealt. He's also under team control for two more seasons after this one. His worth is reflected in the quantity and quality of prospects the Twins gave up to acquire him. 
Twins Daily has learned that left-hander Cade Povich, their third-round pick in 2011 out of Nebraska, will be sent to the Orioles. Povich has spent the season with the Cedar Rapids Kernels. He became a top prospect with the organization when he arrived at instructional league last fall throwing 97 with a slider. 
Cano was signed after leaving Cuba. The 28-year-old has been impressive the past two seasons in Double-A Wichita and Triple-A St. Paul. He has made 10 appearances for the Twins. In 13 2/3 innings, he has walked 11 and struck out 14 while posting an ERA of 9.22. He's got good stuff and a rubber arm and will do well with the Orioles. 
Juan Nunez, 21, signed with the Twins from the Dominican Republic. He pitched in 11 games in 2021 in the DSL. This season, he is 0-2 with a 4.85 ERA in eight games (7 starts). Over 29 2/3 innings, he has walked 10 and struck out 47 batters. 
Juan Rojas is 18 years old, signed out of Venezuela. He also pitched in the DSL in 2021. This season, he is 1-2 with a 3.60 ERA in eight games (5 starts). In 30 innings, he has 38 strikeouts and just four walks. 
So, the Twins need to make sure that Jorge Lopez 2022 is the Jorge Lopez they are acquiring, and not turn back into Jorge Lopez circa 2015-2021. Will Lopez be thrown into the closer's role? Most likely, Rocco Baldelli will be able to simply choose between Lopez and Jhoan Duran, along with Griffin Jax, in the late innings, and that is a positive. 
The Twins made one move... Will they make more? Let us know your thoughts and what more you would like to see in the comment section.