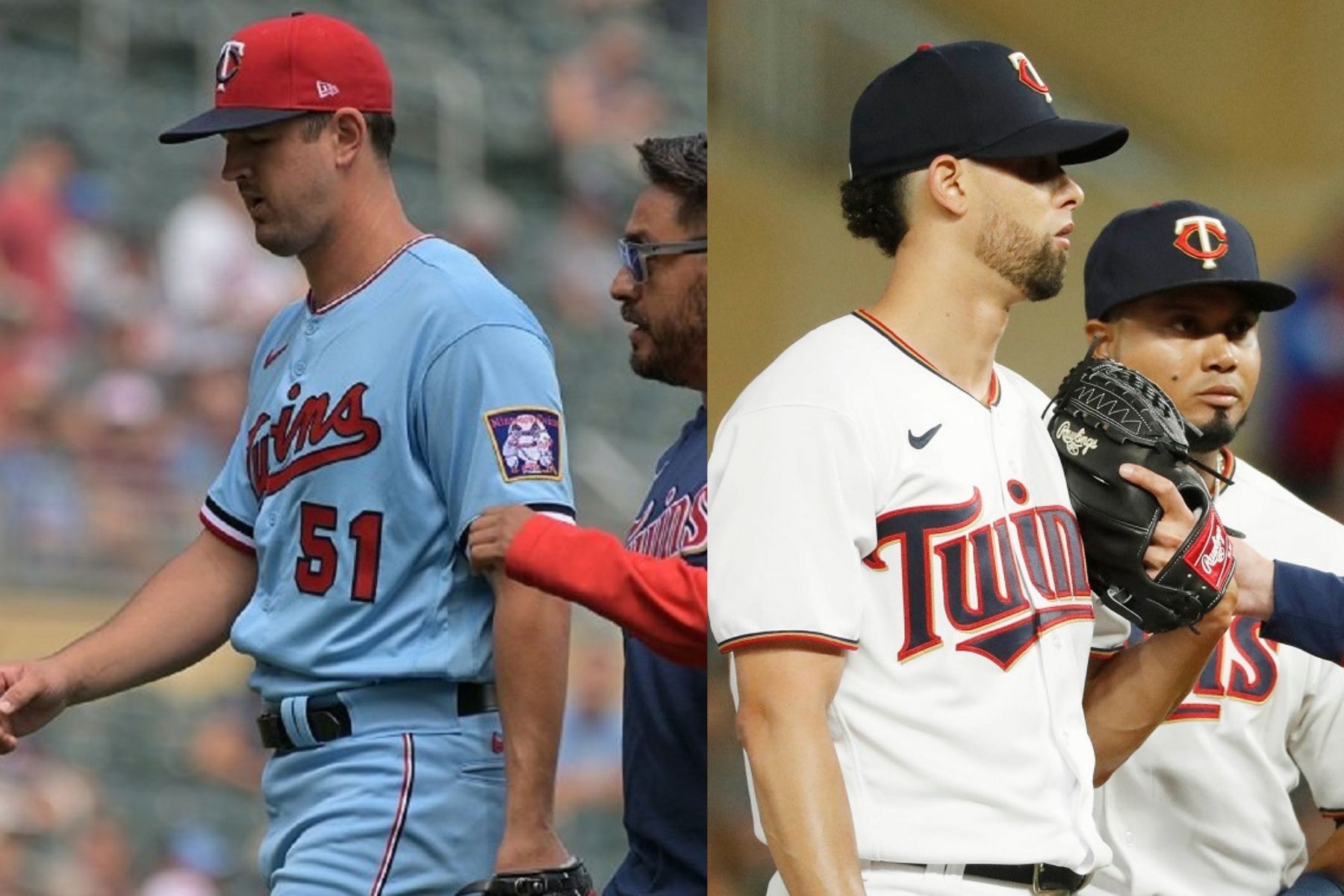 Image courtesy of Jeffrey Becker and Bruce Kluckhohn, USA Today
Frankie Montas was one of the hottest names on the market at the trade deadline, and was known to be pursued by Minnesota last offseason. The Yankees acquired him alongside reliever Lou Trivino in exchange for four prospects on August 1st. The results have not been as hoped.
Montas posted a 6.35 ERA in eight turns, including just one quality start, before undergoing an MRI on his shoulder this week. He landed on the injured list and there's a pretty good chance he won't pitch again for the Yankees in 2022. Barring further clarity around what's affecting him, Montas figures to be a bit of a question mark heading into next season, too.
The Twins can obviously relate. They've gone through a similar ordeal with their own prized deadline pickup. Like Montas, Tyler Mahle had some known shoulder issues when he was acquired. Like Montas, those issues have now grown more problematic, even though – in both cases – MRI results revealed no structural damage, before or after the trades.
This is what differentiates the Mahle outcome from, say, the Chris Paddack move, where the Twins accepted a rather extreme level of risk in the name of acquiring extended control of a good starter. That was a measured risk on its own, but it shouldn't be grouped with the one they took on Mahle, who (like Montas) was more typical of a deadline gambit.
It's the nature of the beast: as a leveraged buyer in a seller's market, under big pressure to improve, you're going to have to take risks – like ponying up big prospect capital for a talented arm with ambiguous health concerns, or buying high on a breakout All-Star reliever who lacks a convincing track record. 
Those who constantly advocate for these types of assertive showings from the front office now sound rather toothless when criticizing them in hindsight. While we can all see the overall results have been unsatisfactory – albeit hardly disastrous for a reigning last-place team – this front office was audacious in shaking things up. Isn't that what we want?
The big deadline moves. Locking down Byron Buxton with a creative extension. Trading their highest-upside pitching prospect for Sonny Gray. Unloading Josh Donaldson's contract. Signing Carlos Correa to a historic deal (albeit at the expense of investment in pitching). 
And going back a bit further, let's not forget about trading José Berríos to Toronto at the 2021 deadline, thus letting the Blue Jays sign him to a massive extension while flipping him into one of their breakthrough pitching prospects. 
That one looks pretty good now. Others don't. And it's beyond valid to criticize the front office for these many moves that haven't panned out, especially those like the Paddack trade, which carried huge red flags from the start. (Although, if we're being honest, they were kinda right about Taylor Rogers, just as they were Berríos?)
There's a big gap between "merits criticism" and "needs replacement." I'm not close to the latter point with Derek Falvey or Thad Levine, although changes at various levels of the organization are well warranted. In terms of leadership vision, we've experienced the opposite approach – one characterized by risk aversion and playing it safe. I dare say that's what sunk them last year when their biggest additions were Alex Colomé and JA Happ. 
As the saying goes, scared money don't make money. Sometimes those bold gambles don't turn out as hoped, and you've got to live with the consequences. It happens even to the Yankees. That won't stop them from staying aggressive and shooting their shots in the future. It shouldn't stop the Twins either, albeit at a different scale given their resources.