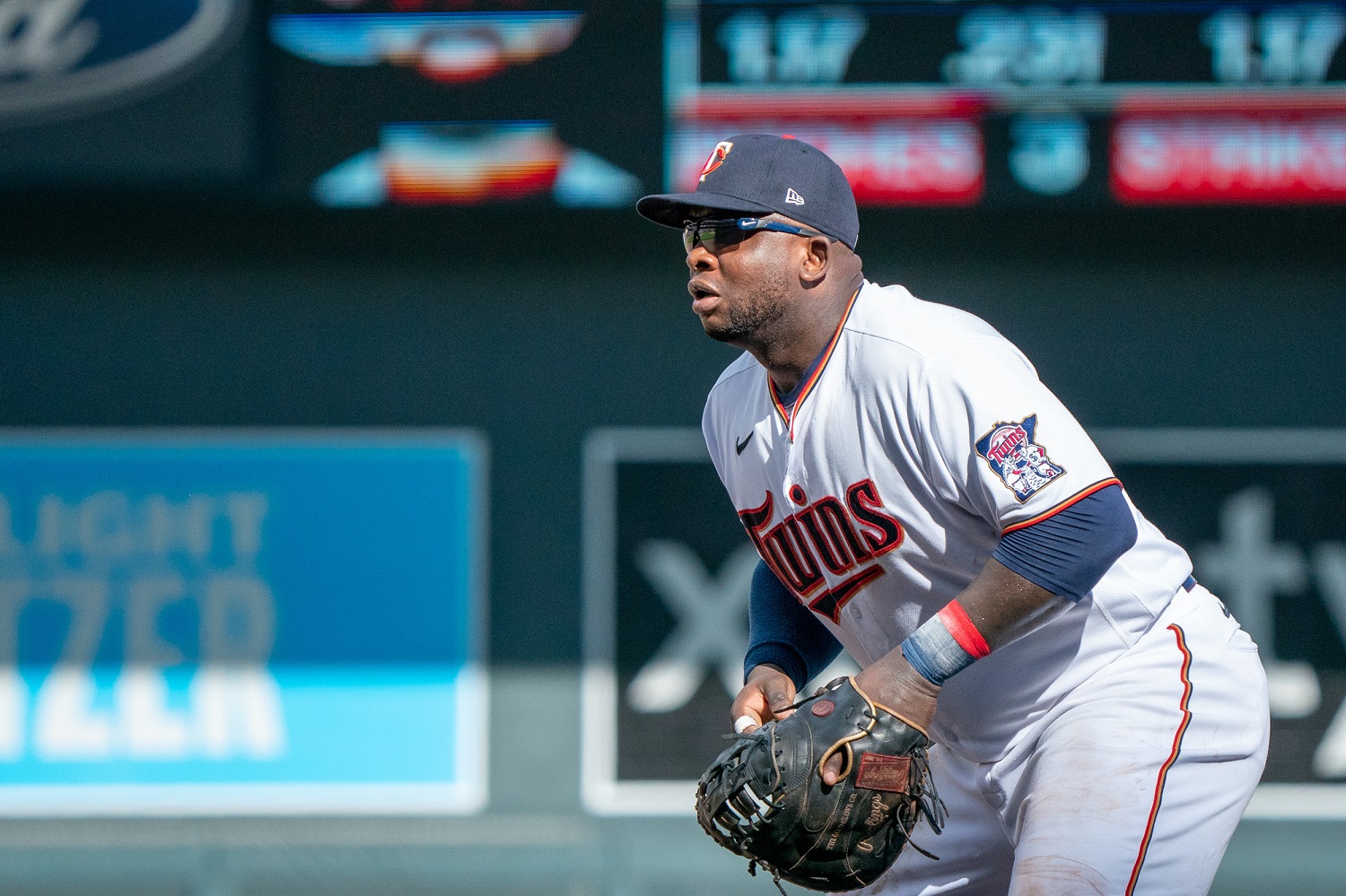 Image courtesy of Matt Blewitt, USA Today
The Twins paid Miguel Sano over $9 million for only one home run among five hits in 60 at-bats in 2022. And then paid him another $3 million to simply go away.
Much has been made of Sanó's inability to stay healthy or in shape or, simply, not show up a few dozen pounds overweight.
Everything above is completely true. So true, in fact, that even those who look for silver linings aren't going to have much of an argument to make. 
But I still think the Twins should consider bringing him back into the fold. 
The expectations surrounding Sanó were sky-high well before he made his major-league debut as a 22-year-old in the summer of 2015. And despite striking out in over a third of his plate appearance, he still managed to hit 18 home runs in 80 games, reach base over 38% of the time and put up an OPS of .916. He rarely played in the field as he was coming off missing the 204 season because of Tommy John surgery, but the vision of being the third baseman of the future was still bright.
Of course, we all know what happened the next year: someone got the wise idea that Miguel Sanó could be a right-fielder (while literally every not-as-smart person knew he couldn't) and Sanó was back to playing third base exclusively by July 1. 
Getting jerked around caused him to struggle offensively, but still he managed 25 home runs and bounced back to be an All-Star in the 2017 season. 
The 2018 and 2020 seasons were both really bad, but sandwiched around a 34-home run year in 2019 where Sanó post a career-high .923 OPS.
You could take the 2020 season for what it was - short with a lack of time to prepare - add it to the 30 home run season in 2021 and think maybe, just maybe, Miguel Sanó could get back on track in 2022. But that train derailed before even leaving the station. 
A torn meniscus on April 26 and more knee issues almost immediately after returning in July caused an abrupt end to a short, disappointing season.
The Twins paid Sanó more than $34 million as a major leaguer and watched him strike out over 1000(!) times. And when his Twins career ended unceremoniously when they bought out his contract, many were happy to wipe their hands off him.
And that's fine.
But as you look at the current construction of the Twins roster, you can't help but wonder about the health and depth of first base. 
Luis Arraez - all 5' 10" of him - is expected to be the Opening Day starter. Arreaz was fantastic in 2021 and led the league in hitting, but is not your prototypical first baseman… and he's not exactly a model of healthy knees.
Jose Miranda played a lot of first base last year… but with Gio Urshela getting traded, Miranda is the primary third baseman.
Alex Kirilloff is a solution… if he recovers from having his arm shortened after battling wrist that cut short his last two seasons.
Max Kepler and Joey Gallo are both options in the sense that they're bigger targets, but neither has played a lot of first base recently. But that's an easy fix. Tell 'em Wash.
And there's where Sanó should enter the conversation. On a minor-league deal with an invitation to Spring Training. If he shows up overweight and out of shape, you can cut him. If he shows up a little overweight and in a shape other than completely round, you can send him to St. Paul to hit bombs and be a call away if the questionable depth fails in front of him.
Miguel Sanó doesn't have to be the #3 hitter. There doesn't have to be the expectations of being an All-Star or hitting 30 home runs. But any gas that might still be in his almost-30-year-old tank sure beats the idea of rostering the likes of the Curtis Terrys, Roy Moraleses and Tim Beckhams of the world.
It does for me anyway.