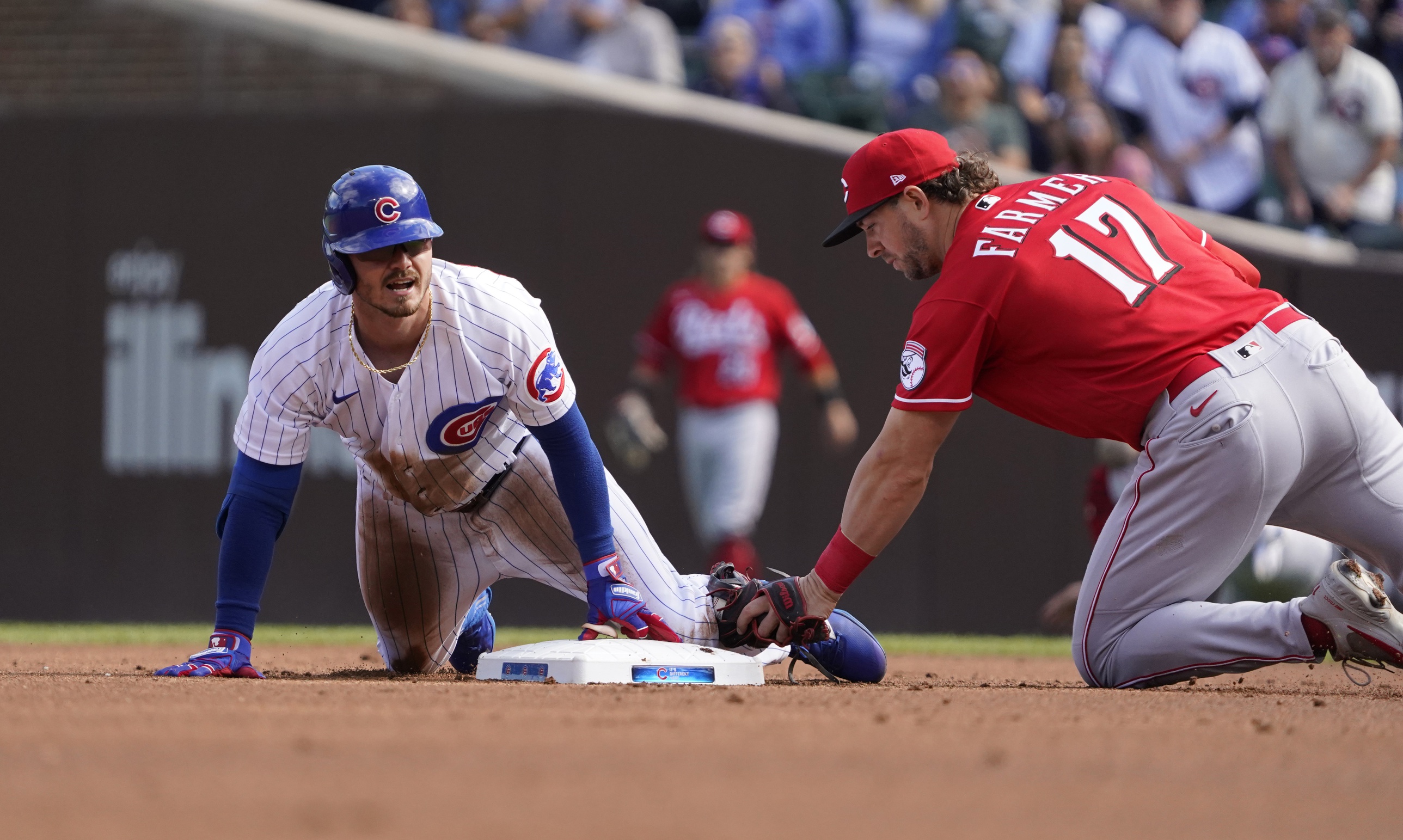 Image courtesy of David Banks-USA TODAY Sports
Acquired in exchange for minor-league pitcher Casey Legumina last week, Kyle Farmer has followed an interesting career path in terms of defensive development. Formerly a star high school baseball star and quarterback (he made a cameo in The Blind Side!), he played shortstop at the University of Georgia before being drafted as a catcher by Los Angeles in the 13th round in 2013.
Farmer had never played catcher, but the Dodgers and other teams liked him at the position because of his big frame and strong arm. He split time between there and at third while working his way up to the majors, where it took him four years to get his long-coveted chance at a return to shortstop.
"Farmer didn't receive an opportunity to play shortstop regularly until he met with Reds manager David Bell in spring training before the 2020 season and told him that he could do it," wrote Bobby Nightingale for the Cincinnati Enquirer. Farmer has since made 234 starts over three seasons at the position, after totaling NINE – majors and minors – through his first seven years as a pro.
Farmer has made 81% of his 289 starts since 2020 at shortstop, impressing enough with the glove to keep getting nods there from Bell and Co. in Cincy, and now to be targeted by the Twins largely for his SS ability. 
But there are other skills in Farmer's defensive toolkit that make the versatile infielder a player who fits under several different scenarios. Which is exactly what the front office liked about him.
Scenario A: Farmer is the interim starting shortstop until Royce Lewis or Brooks Lee is ready.
If the Twins believe that Lewis is on track to fully recover and take over as long-term starting shortstop midway through the season, then this will be the course of action. In fact, to be honest, this will very likely be the course of action unless they can sign one of the top four (highly coveted) shortstops on the market, which means it's probably just going to happen.
It's not the worst thing in the world! Depending on your view of Lewis. Farmer is far from a top-tier starter at shortstop but he's perfectly adequate, with a solid glove and a bit of pop at the plate. 
He's really rough against right-handed pitching, which limits his appeal as a regular at any position, but the Twins could theoretically rotate in Jorge Polanco or Nick Gordon occasionally. If Lewis can return in May or June and pick up where he left off, then Farmer shifts into the role outlined in Scenario B at that point. 
Meanwhile, the Twins have conserved tens of millions of dollars to spend elsewhere while maintaining flexibility to usher in Lewis or Lee as the shortstop of the future. 
Scenario B: Farmer is a semi-regular at third base who fills in around the infield.
What if the Twins manage to land Carlos Correa, or another top shortstop via free agency or trade? In this case, Farmer can still fill a valuable role, albeit it with a less intensive workload. In this scenario, he fills a lesser version of the role Gio Urshela after Miranda came up in 2022, starting a couple times a week at third while Miranda rests, or slides to first base or DH. 
Farmer is the steadier and more reliable glove at third base, and frankly the book is still out on Miranda's defense. There's great value in dependable veteran depth. Farmer can make himself useful on days where Miranda is at third by stepping in at short, second or first. He's even a viable DH option against southpaws thanks to his .837 career OPS vs. LHP.
Scenario C: Farmer is a super-utility backup who plugs in all around the field.
Let's say the Twins are more committed to Miranda at third than I think they are, or should be. And let's also say they find another superior player to start at shortstop. In this case, Farmer probably becomes more of a true utilityman, making starts all over the field to spell starters and backfill injuries. 
"When the Reds acquired him from the Los Angeles Dodgers," notes Nightingale, "he was viewed as a utility guy with extra value as a third catcher." This could be the role Minnesota envisions for him, with his bat platooning around the field against lefties. In addition to shortstop, catcher, and third, Farmer has experience at second, first, and left field. 
His viability at shortstop can make him the top backup at that position (they currently have none, with Jermaine Palacios gone), and he can also serve as third-string catcher, which figures to be a need since they're currently without even Caleb Hamilton-caliber secondary depth.
As mentioned, the ultimate role for Farmer in 2023 will be dictated by what the Twins do elsewhere. But unless they turn around and trade him a la Isiah Kiner-Falefa (who, incidentally, was a trade target to fill almost the exact same role), he'll almost certainly end up being used in one of these three capacities.