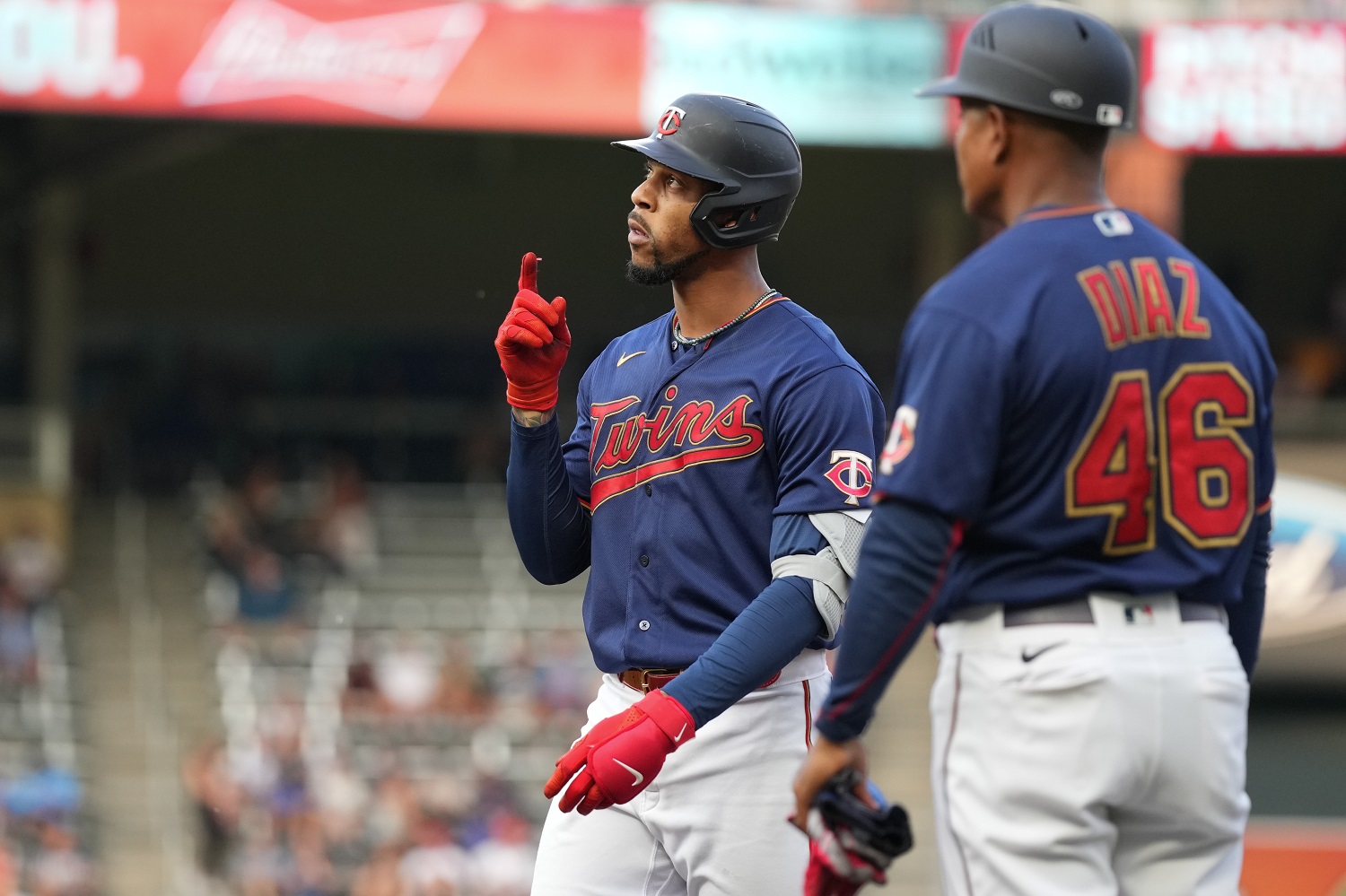 Image courtesy of Jordan Johnson-USA TODAY Sports
Byron Buxton sat out a majority of spring training games to many fans' dismay before debuting at DH last week. Buxton's appearance indicated a readiness for Opening Day but was quickly followed by news that he wouldn't be playing in the field to begin the season. 
Byron Buxton is a dynamic player. At the beginning of his career, while struggling at the plate, he still enamored fans with his ability to run down fly balls to a superhuman degree. He still holds the highest stolen base percentage in MLB history.
He's a different player than he was when he debuted. We rarely see him try to steal bases anymore. Over the years he's made reckless dives at balls less often and rarely goes crashing into the wall as we once saw him do. He rarely takes off from first base. Early in 2023, he won't be roaming centerfield at all. 
As Buxton's game has changed defensively and on the bases, so too has his offensive profile. Not only has Buxton molded himself into an offensive contributor, but he's projected to be the best hitter in the lineup this season as he arguably has been the last few years. The issue of course isn't talent, but how often Buxton has been able to use it.
The Twins know this, which is why they're opting to DH him to begin the season. They've made the decision that his bat is too valuable to risk losing in pursuit of his defensive value, at least for now. Is that the right decision?
In 2022, Byron Buxton put up an .833 OPS, a down year relative to 2020 and 2021. His knee was ailing him, and he became something of an all-or-nothing hitter, something he could hopefully avoid in 2023. Despite his struggles with consistency, he was 36% above the league-average hitter. This would have put him behind only the Astros Yordan Alvarez in regard to designated hitters in all of baseball. Buxton's bat is special enough that even when he's as banged up as he was in 2022, he can be a game-changer without playing the field.
The Twins also insulated their center field depth to a degree they never had before. If you think the Twins will miss Buxton's center-field defense, it's worth noting that Michael A. Taylor is a defensive wizard in his own right. While Outs Above Average has him comfortably below Buxton defensively, his 19 defensive runs saved in 2022 paced out to a similar number to what Buxton would have reached in a full season. It's safe to say that Taylor's presence on the roster should significantly soften the blow of Buxton not playing the field. 
Byron Buxton's inability to play the field when the season starts is disappointing, but he's got plenty of star power to add solely at the plate. Michael A. Taylor still will give the Twins one of the best defensive centerfielders in the game, even though the thought of getting the full Byron Buxton Experience is enticing.
Fans may be tired of Byron Buxton being treated with kid gloves, but he's the kind of star player that's worth taking the conservative route with. By all accounts, a return to centerfield is in his future, and they're in much better shape than in past years while they wait until he's ready. Byron Buxton is worth it.