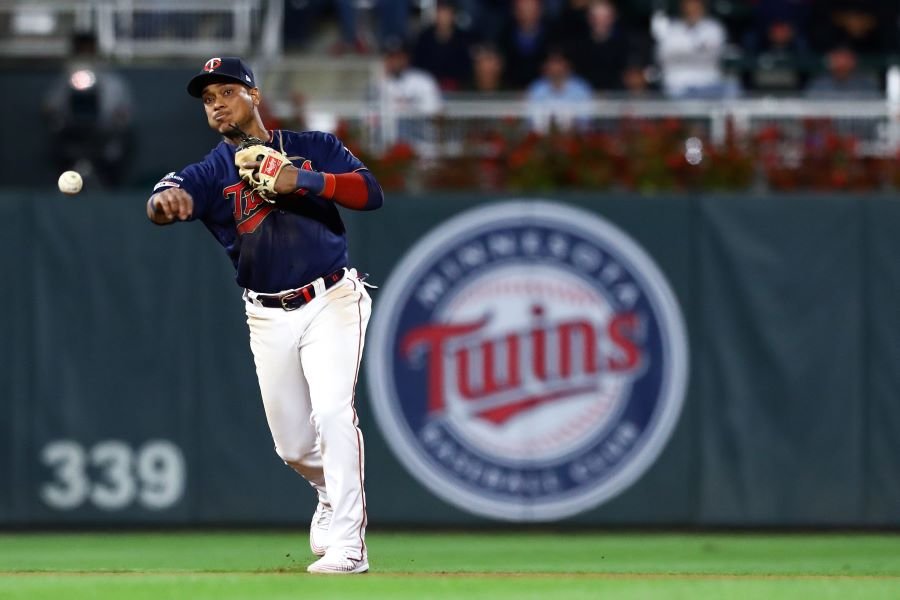 Image courtesy of David Berding-USA TODAY Sports
When the offseason resumes, Minnesota's front office will be feeling pressure to address its extensive needs on the pitching staff. But as things stand, they won't be able to dedicate their full attention to this focus.
Because as things stand, the Twins don't have a starting shortstop. Nothing even resembling a feasible option or fallback plan. That is, unless they're willing to change their position on Jorge Polanco's ... position.
A ready-made starter at shortstop
Polanco was the starting shortstop on the American League All-Star team in 2019. Of his 596 games started in the majors, 470 have come at short. He played the position almost exclusively until last year, when he shifted across the diamond to second base.
No one would deny this was a successful pivot for Polanco and the Twins. He was never a defensive asset at short, but showed standout ability at second, where he looked increasingly comfortable and natural over time. Polanco was able to shake off his power-sapping ankle issues and recapture his excellent standard of offensive production. 
As a second baseman, Polanco got his career back on track and then some. He was the team's most valuable player.
In light of this development, you can see why the Twins would be reluctant to turn around and reverse course. As Dan Hayes of The Athletic mentioned when I posed the idea on Twitter, "It was not lost on [the Twins] that Polanco's health was not an issue after early May and that he responded well physically to second base."
In Dan's well-informed estimation, moving Polanco back to shortstop is "somewhere around Plan M" for the Twins. And I believe it. But my question is ... should that be the case?
Clearly the Twins are not diametrically opposed to playing Polanco at short. He was their primary backup last year and started there 26 times. It's a question of how willing they are to shift him back into regular duties, as a temporary solution to a pressing problem. Maybe the M in "Plan M" stands for...
Making the best
This Twins front office prides itself on being flexible, adaptable, and opportunistic. Through this lens, when you look at all circumstances, sliding Polanco back to shortstop makes a great deal of sense.
Not only does his presence at second base leave a complete void on the shortstop depth chart – it also creates a logjam behind him at second. Luis Arraez is displaced to the point where he looks like a prime trade candidate. Behind him, young talents like Nick Gordon and Jose Miranda have nowhere to play regularly even if they're deserving. Top prospect Austin Martin also might be best suited at second.
Moving Polanco back to short for the time being would free up second base for one or several of these players to step in and receive valuable playing time. Meanwhile, it would prevent the front office from having to make a desperation-fueled move to address the shortstop vacancy.
What else is out there?
The high end of free agency at shortstop has mostly been picked over. The Twins aren't going to sign Carlos Correa and they're probably not going to sign Trevor Story. There are a handful of starting-caliber options remaining, in the Jose Iglesias and Andrelton Simmons mold, but they are not very inspiring. If just a few more names come off the board quickly when free agency fires back up, you're exclusively in backup territory. 
Trades are an option, of course. But that means giving up assets that you could be using to acquire pitching.
Finding a shortstop who's going to pair with Polanco, and give you a better keystone combo than Polanco and Arraez, will be very hard. I say that while being fully aware of the defensive shortcomings yielded by the latter arrangement.
If nothing else, moving Polanco back to short would be a temporary fix designed to buy time. Until Royce Lewis demonstrates that he is (or isn't) the franchise's future at shortstop. Until they've had a chance to sort through second basemen like Arraez, Gordon, Miranda, and Martin. 
Once a better shortstop option comes along, the Twins can move Polanco back to his preferred position across the bag. 
Is this kind of back-and-forth player shuffling ideal or optimal? No, but "optimal" has sorta gone out the window at this point. Polanco's a veteran with plenty of experience at both middle infield positions. He's answered the call whenever needed. If anyone can handle the disruption it's him, and he'd be doing the team a hell of a solid.
Sorting through solutions
Even with the limited remaining options to address shortstop, I'm not saying this is the best one. If the Twins can find a viable taker for Josh Donaldson, or get a really good offer for Arraez, that changes the equation by alleviating the infield logjam. Similarly, if they can swing a no-brainer deal for a shortstop like Paul DeJong, I could get behind that.
But if the "solution" to their problem is signing someone like Iglesias or Simmons as a stopgap, and then struggling to find at-bats for better players buried on the 2B depth chart behind Polanco ... is that really any better than pivoting back to the 2020 setup? 
The simplest solution to the front office's current problem at shortstop is right in front of their face. Are they willing to embrace Plan M?
MORE FROM TWINS DAILY
— Order the Offseason Handbook
— Latest Twins coverage from our writers
— Recent Twins discussion in our forums
— Follow Twins Daily via Twitter, Facebook or email