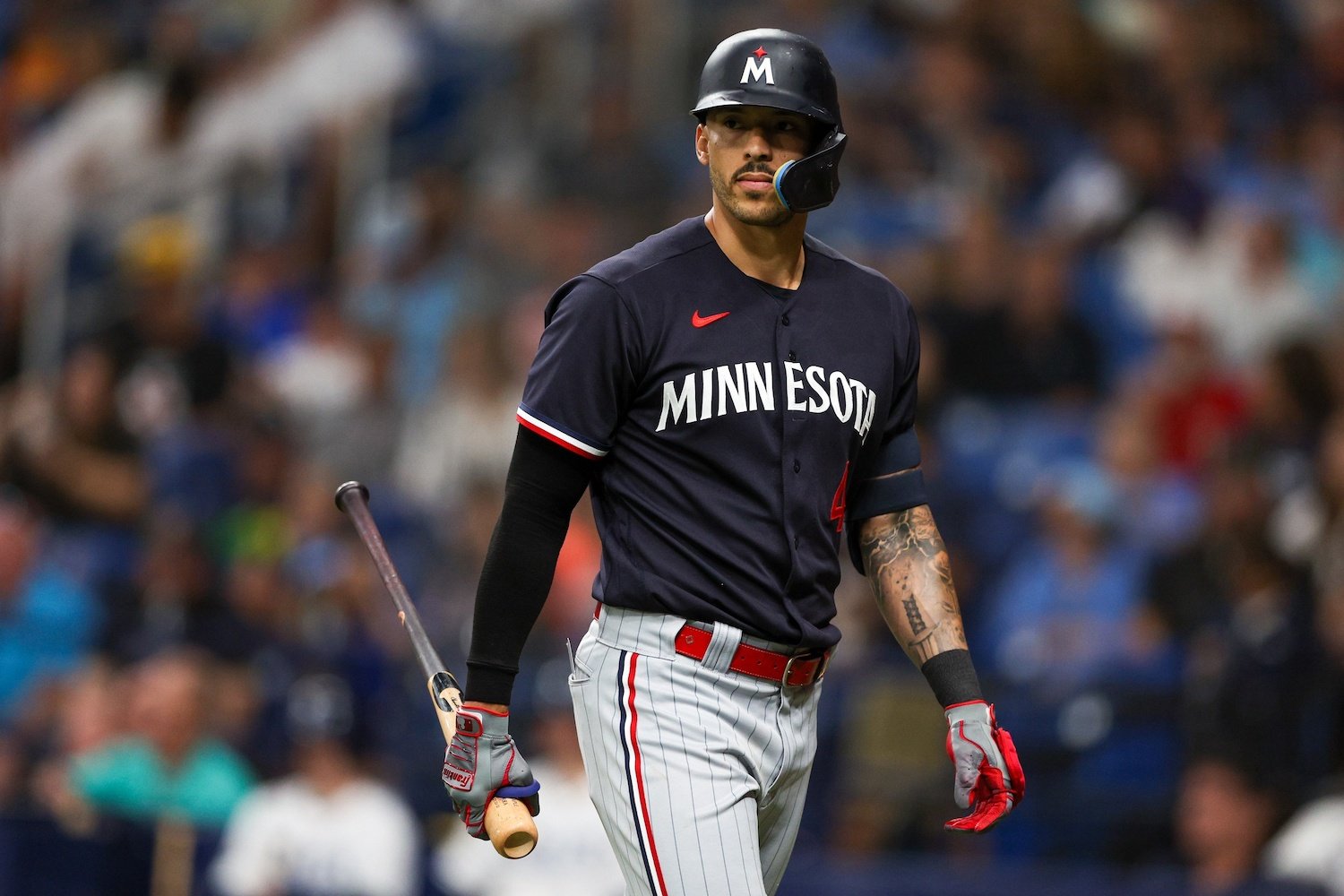 Image courtesy of Nathan Ray Seebeck-USA TODAY Sports
In so many ways, it feels like the stars are aligned for the Minnesota Twins here in 2023. They've managed to assemble one of the best pitching staffs in the league, with a rotation that piles up strikeouts and regularly goes deep. The Twins miraculously landed Carlos Correa during the offseason in one of the most stunning twists seen in the history of MLB free agency, or this franchise. 
A wave of incoming top prospects was set to imminently join the cause, blending with an established veteran core supported by remarkable depth to provide a seemingly sturdy offensive floor.
Most importantly, as we're learning, the American League Central division has turned out to be an absolute atrocity that can seemingly be won with ease. A quality team could essentially lock the thing up by the deadline and start plotting for the postseason.
All of which makes it so much more frustrating and deflating that this group of hitters seems hell-bent on derailing the team's quest. As the bats continually whiff away at the plate, they are threatening to swing and miss at an opportunity the likes of which we may not see again.
An offense plagued by strikeouts
Looking at their overall OPS+ and runs total doesn't quite paint an accurate picture for the Twins offense, which ranks merely as a little below-average in both categories. The timing of their production and distribution of their scoring have drastically minimized the unit's effectiveness in a practical sense.
Minnesota's lineup has popped off for a few big games, but between those sporadic instances, it's been a sprawling desert of lackluster performance, providing the team with no real shot at winning games. The Twins have scored two or fewer runs in 25 of their 63 games (40%) and they've unsurprisingly gone 4-21 in those games, which singularly explains their sub-.500 record and lack of separation in this dreadful division.
Several factors can be traced to this pitiful production, but none more so than the lineup's profound penchant for strikeouts. They are on their way to obliterating the all-time K record, and without corresponding immense power to offset the lack of contact, it's a trend that – at its current extreme – eliminates any chance of success.
Veterans driving the downfall
The youthful lumber infusion hasn't sparked the lineup as many hoped. Jose Miranda is in Triple-A and struggling there. Trevor Larnach is again struggling to stay on the field and produce consistently. Royce Lewis went ice-cold after a loud arrival. Nick Gordon fell completely flat before breaking his shin last month.
However, the team wasn't depending on unproven youngsters to carry the load. These guys were supposed to be supplemental to the veteran core that the Twins assembled – one that looked clearly capable coming into the season, so long as it could avoid another catastrophic bout with injuries.
This year's team certainly hasn't avoided injuries in the position-player corps, but that can hardly be pegged as the primary source of blame this time around. These players plain and simply aren't doing their jobs.
Players like Christian Vazquez and Max Kepler are hitting vastly below their career benchmarks, sinking to baffling new lows. Byron Buxton has arguably been a liability overall, requiring full-time DH duty that limits the lineup while providing decent production that – mimicking the offense in general – comes in short spurts separated by long, costly slumps. 
Taking center stage in this scourge of ineptitude is, of course, Correa. He has been a replacement-level player as we approach the halfway mark, fresh off signing a $200 million contract that locked him in as the franchise's foundational building block for years to come. 
Flailing away at hittable pitches in the zone and churning out brutal, overmatched plate appearances, Correa has shown minimal signs of improvement. It's tough to get excited about Thursday's game, where he launched a long homer to snap an extended power drought, as a slump-breaker, given how Correa went directly back in the tank after his last flurry of life at the plate in mid-May.
No easy answers
The most vexing part of this offense's persisting poor performance: there aren't really any fixes available. Nearly all of their hopeful impact reinforcements have already arrived. The trade deadline isn't too far off, but acquiring one or two good hitters isn't going to resolve the lineup's pervasive issues, and – as we're all too aware – nothing is guaranteed in deadline pickups.
Making a change at hitting coach is on the table, and I'd argue we might be getting close to that point. As I wrote a month ago, David Popkins doesn't have much of a leg to stand on as a 33-year-old plucked out of Single-A before last year. Correa's effusive praise for Popkins doesn't do much to help validate his efficacy, all things considered. Nor does the inability of numerous young hitters to make adjustments and emerge.
Beyond that, there's this bizarre trend of veteran hitters across the roster striking out at levels that don't jibe with their track records. 
It was conspicuous, to me at least, that Dan Hayes' latest column in The Athletic included this tidbit:
"One of those solutions could be adjusting how they approach their game plan. Under hitting coach David Popkins, the Twins are said to feature a technology-heavy approach, one championed by shortstop Carlos Correa. Last offseason, Correa described Popkins as the best hitting coach he's ever had.
But within the clubhouse, there's some concern that not everyone is capable of handling the approach and the team may need to adjust how they prepare their hitters."
That doesn't NOT sound like setting the stage for making a change. And really, a new voice couldn't hurt. But people need to be realistic about what is available at this juncture in terms of replacements, and how much an impact any hitting coach can actually have. A new instructor isn't a magical elixir. They can't go out there and swing the bat.
Players like Correa and Buxton and Vazquez and Kepler aren't developing talents who need to be taught how to handle major-league pitchers. They're longtime veterans who earn millions based on their lengthy track records, which earned them the faith of a front office that bet big on them. Alas, those track records betray the continuing failures to launch we've seen from them and so many others.
Some help might be on the way, but none of it will matter if a few of these cornerstone pieces, around whom the entire 2023 team was constructed, don't step up and start bearing the load. 
If they can't, they'll have to bear the weight of blowing one of the most prime opportunities you could ever be handed, while obliterating the morale of an embattled fan base trapped in some sadistic groundhog's day. 
For now, with 100 games remaining on the schedule, I choose to believe that the tides will turn, and the veterans on this team will awaken to some degree, enabling the Twins to pull away and avert all-out disaster. I choose that because the alternative is too depressing to contemplate.