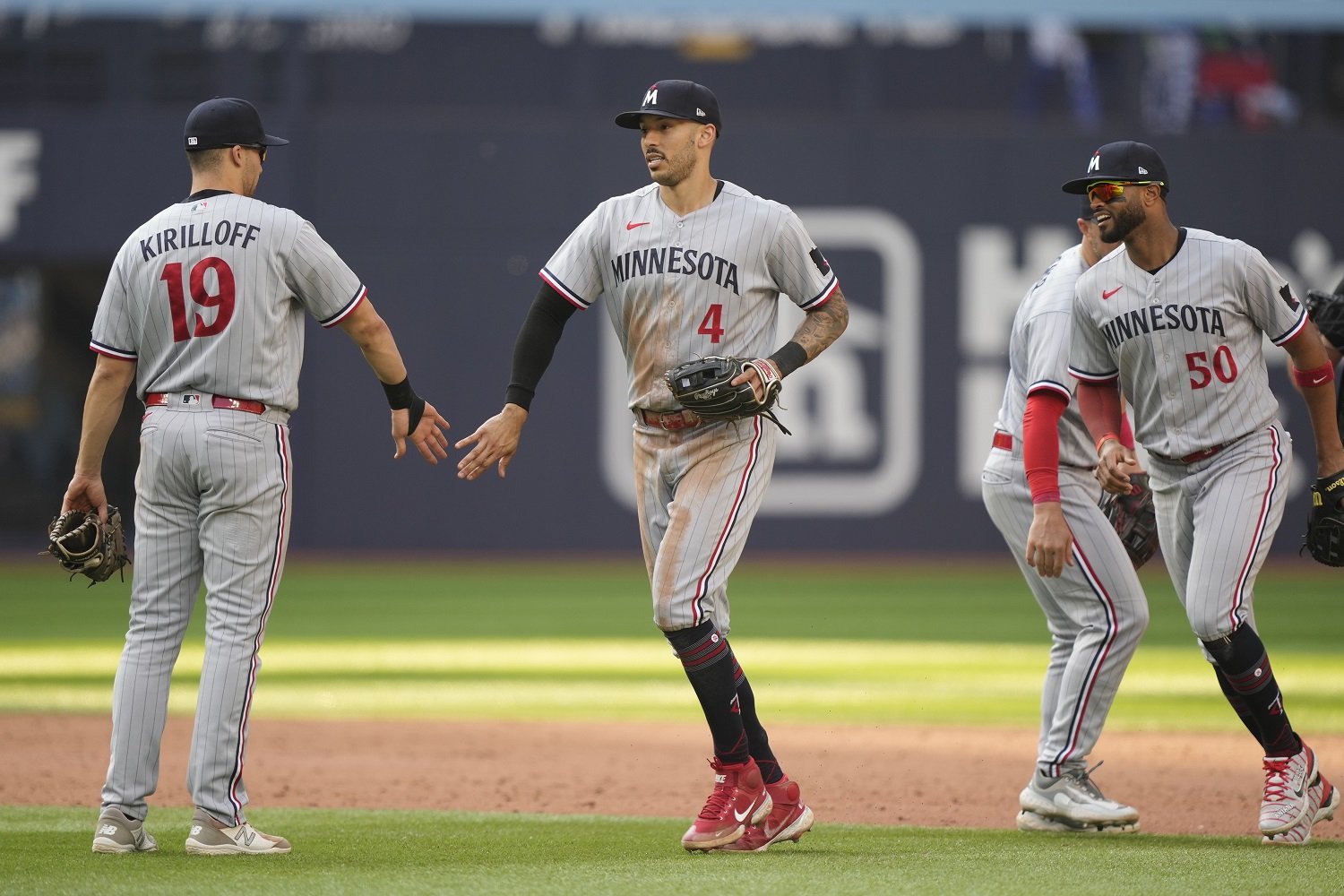 Image courtesy of John E. Sokolowski-USA TODAY Sports
Box Score
SP: Joe Ryan: 6 IP, 6 H, 3 ER, 1 BB, 4 K (84 Pitches, 56 Strikes, 66.6%)
Home Runs: Larnach (6), Correa (8), Kepler (7)
Top 3 WPA: Correa (0.474), Julien (0.171), Solano (0.120)

Win Probability Chart (Via Fangraphs):
Ryan looked to have decent command and stuff coming off a largely dominant outing against Cleveland last Sunday. He missed with most of his offspeed offerings the first time through the lineup, however, and the Blue Jays seemed to have a game plan to be aggressive early in the count, sit fastball and hit the ball the other way. Their best contact hitters, Bichette, Guerrero and Merrifield used this approach to great effect in scoring the two runs that Ryan allowed. Ryan threw the split-change and sweeper for more strikes the second and third time through the order, with a split-change to strike out Bichette a notable highlight.
It does seem that the book on Ryan has evolved, given that he now throws an effective split-change and decent sweeper, toward attacking the opposite field early in counts. Ryan bent but didn't break and gave the Twins his tenth quality start of the year.
Trevor Richards mystifies Twins hitters with something called a changeup
The Blue Jays countered Ryan with one of their more fungible relievers, Trevor Richards, operating as an opener. Richards came in with a 3.61 ERA and five home runs allowed in 27 innings, but flummoxed the Twins with his changeup heavy pitch mix. After allowing a solid double to the left field corner off the bat of Eduoard Julien to start the game, he retired Donovan Solano on a fly ball, struck out Alex Kirilloff and got Carlos Correa to pop out weakly. He then mowed down the rest of the Twins order, setting down Trevor Larnach, Willi Castro, Max Kepler, Ryan Jeffers and Michael A. Taylor on strikes, all on the changeup.
Ed Julien sets the tone early
With everyone on the team striking out (twelve of the first sixteen outs recorded that way) Julien took some great at-bats and ended up going 2-for-3 with a double and a walk, his lone out occurring when he took a borderline pitch on a 3-2 count from Bowden Francis for strike three. After looking pressed following his nightmare game a couple of Sundays ago against these same Jays, Julien looked the part of a patient spark plug, taking balls and not uppercutting his swing quite as much on balls in the zone. His bloop hit against Adam Cimber was key to their seven run eighth inning.
Correa changes the game
After Kirilloff struck out with the bases loaded and no outs, the second time he struck out with a runner on third and less than two outs, Correa stepped up and launched a 75 MPH slurve from Adam Cimber for a go ahead grand slam. The choice of Cimber was curious, as he has not been particularly effective on the year and gave up the go-ahead run of Friday's game just hours earlier. He had also allowed three straight singles prior to the strikeout of Kirilloff. Their best reliever, Jordan Romano, didn't pitch on Friday and was looming in the ninth if Toronto was able to maintain its lead, so it's odd he wasn't allowed to come in and get more than three outs, something he does relatively often.
Kepler shows signs of life
Max Kepler has been the subject of most Twins fans ire in recent weeks, despite carrying a nearly .800 OPS and great defense prior to his most recent leg injury. He certainly has been brutal since returning, going 4-for-33 with no power and a crucial baserunning mistake in Tampa Bay. But one thing about Kepler is that whenever he seems his most hopeless is when he tends to impact a game with a big swing, and he delivered, following Correa's grand slam with a three run shot of his own. This was important because had Kepler tapped into a double play like we all thought, a 5-3 lead would have been handed to José De León, who had not pitched in high-leverage games coming into today's game. Making it 8-3 gave some breathing room to De León, who was about to face the meat of Toronto's lineup. Kepler also singled against a tough lefty, Tim Mayza, earlier in the game.
Bullpen takes care of business without Duran
After Jhoan Duran threw 38 pitches to seal the win on Friday, it would have been justifiable to have Joe Ryan start the seventh inning, as he had thrown just 84 pitches to that point. Instead, Baldelli turned to Jorge López, and for the first time in years, López turned in a clean inning, allowing just an infield single to George Springer. De León came in for the eighth after the Twins took the lead and set down the 3-4-5 section of the Jays' lineup in order. He ran into a little trouble in the ninth, allowing three straight batters to reach and handing the ball to Brock Stewart, who threw one pitch and got the last two outs to book the win.
What's Next
Louie Varland (3-2, 4.40 ERA) faces off against Blue Jays ace Kevin Gausman (5-3, 2.63 ERA) as the Twins look to complete a surprising sweep of a quality Toronto team at Rogers Centre. Varland is coming off his worst start of the year in St. Petersburg, when he gave up seven runs to the Rays over six innings. Gausman was last seen striking out 13 Astros over seven innings in a win on Tuesday and his splitter will be a tough test for the strikeout-prone Twins lineup.
Postgame Interviews
Bullpen Usage Chart
| | | | | | | |
| --- | --- | --- | --- | --- | --- | --- |
|   | TUE | WED | THU | FRI | SAT | TOT |
| De León | 0 | 0 | 26 | 0 | 31 | 57 |
| Durán | 0 | 2 | 0 | 38 | 0 | 40 |
| Stewart | 0 | 13 | 0 | 24 | 1 | 38 |
| Jax | 0 | 0 | 10 | 13 | 0 | 23 |
| Pagán | 20 | 0 | 0 | 0 | 0 | 20 |
| J. López | 0 | 0 | 0 | 0 | 13 | 13 |
| Morán | 0 | 0 | 0 | 7 | 0 | 7 |
| Winder | 0 | 0 | 0 | 0 | 0 | 0 |