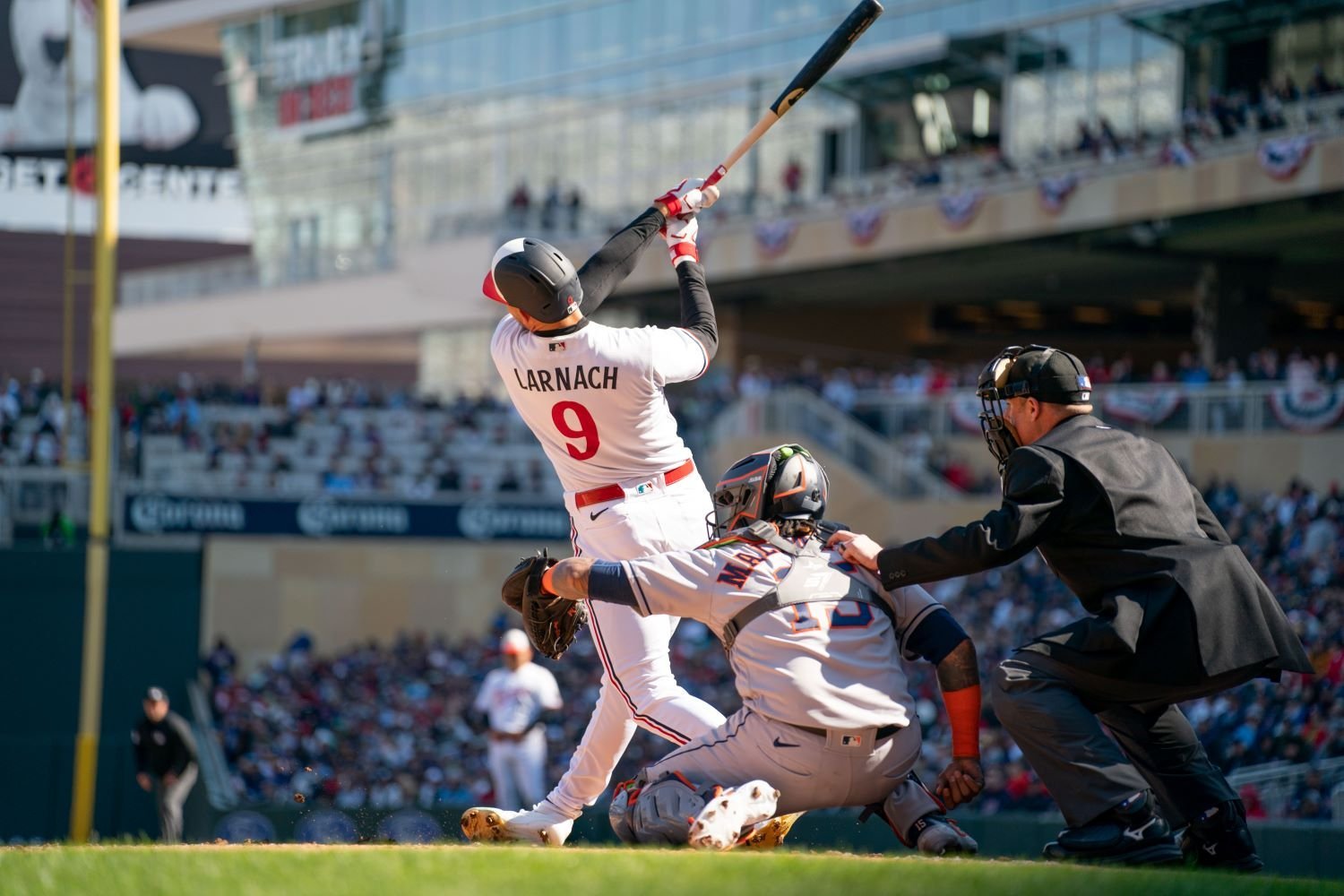 Image courtesy of Matt Blewett-USA TODAY Sports
Minnesota drafted Trevor Larnach with the 20th overall pick during the 2018 Major League Baseball Draft. Derek Falvey and Thad Levine were still getting their feet wet in the front office, and while Sean Johnson was still in charge of the draft, Larnach's selection indicated a new direction. 
This current regime has leaned into college hitters with impressive exit velocities. As those sustain at the next level and give major league organizations something to work with, a player from a National Championship team in Oregon was plenty to get excited about. Three years into his big-league career, Larnach squeaked onto the Opening Day roster in 2023 but had been trending towards Triple-A for most of the spring.
The one-time top-50 prospect had a .708 OPS through 47 games to start the season but got only brief stints in June and July while searching for his missing power. Despite being able to punish the baseball, Larnach's game power has translated into just 20 dingers across his first 188 career games. Due to his inability to handle off-speed pitches at times, Larnach's lack of slugging prowess has held him back.
When Joey Gallo went down late in the year for Rocco Baldelli's Twins, it was Larnach who again got an opportunity. From the end of July to early September, Larnach had a .536 slugging percentage for the Saints, hitting seven home runs in a stretch of 38 games. The Twins were looking for that, and they were hoping it would finally translate.
Filling in as Minnesota headed toward the postseason, Larnach drew starts in just four of eight games. Despite the sporadic playing time, he brought the power from St. Paul. Two of his four hits left the yard, and he doubled in a third. With a 5/3 K/BB, he showed solid plate discipline while stinging the ball when putting it in play, albeit in a small sample.
There wasn't much indication that Larnach would be on the postseason roster, even with Byron Buxton out of the equation. He is a corner outfielder blocked by both Max Kepler and Matt Wallner. That resembles much of the same situation Minnesota will find this offseason, with Kepler's option already picked up. Although some luster has worn off for a soon-to-be-27-year-old, Larnach could be a late-bloomer, not yet arbitration-eligible until 2025.
In dealing Larnach, Minnesota would be moving on from a position of surplus. The outfield corners are ripe with options for the Twins, and a major league-ready talent could be sold as a high-floor breakout candidate if the pitch is correct. 
Sending Larnach out in a deal isn't going to result in a blockbuster, and he won't be the cornerstone of something massive. He does represent much more than a throw-in, though, and the team control he comes with could be appealing to plenty of suitors. Whereas the idea of trading for a young high-ceiling prospect like Yasser Mercedes may be titillating due to what you could dream on, Larnach is a more of the realized version with an opportunity to blossom.
Ultimately, Larnach represents an ideal candidate to be moved by Minnesota this winter, and freeing up a spot on the 40-man roster by adding a more necessary talent is enticing. Sometimes draft picks and prospects are about future capital, and while Larnach wouldn't be playing to his potential in the organization he initially joined, cashing in on him in the form of another provides a lengthened arc for the story.
What do you think? Is Trevor Larnach in the Twins organization on Opening Day in 2024? What type of return do you see him bringing back?