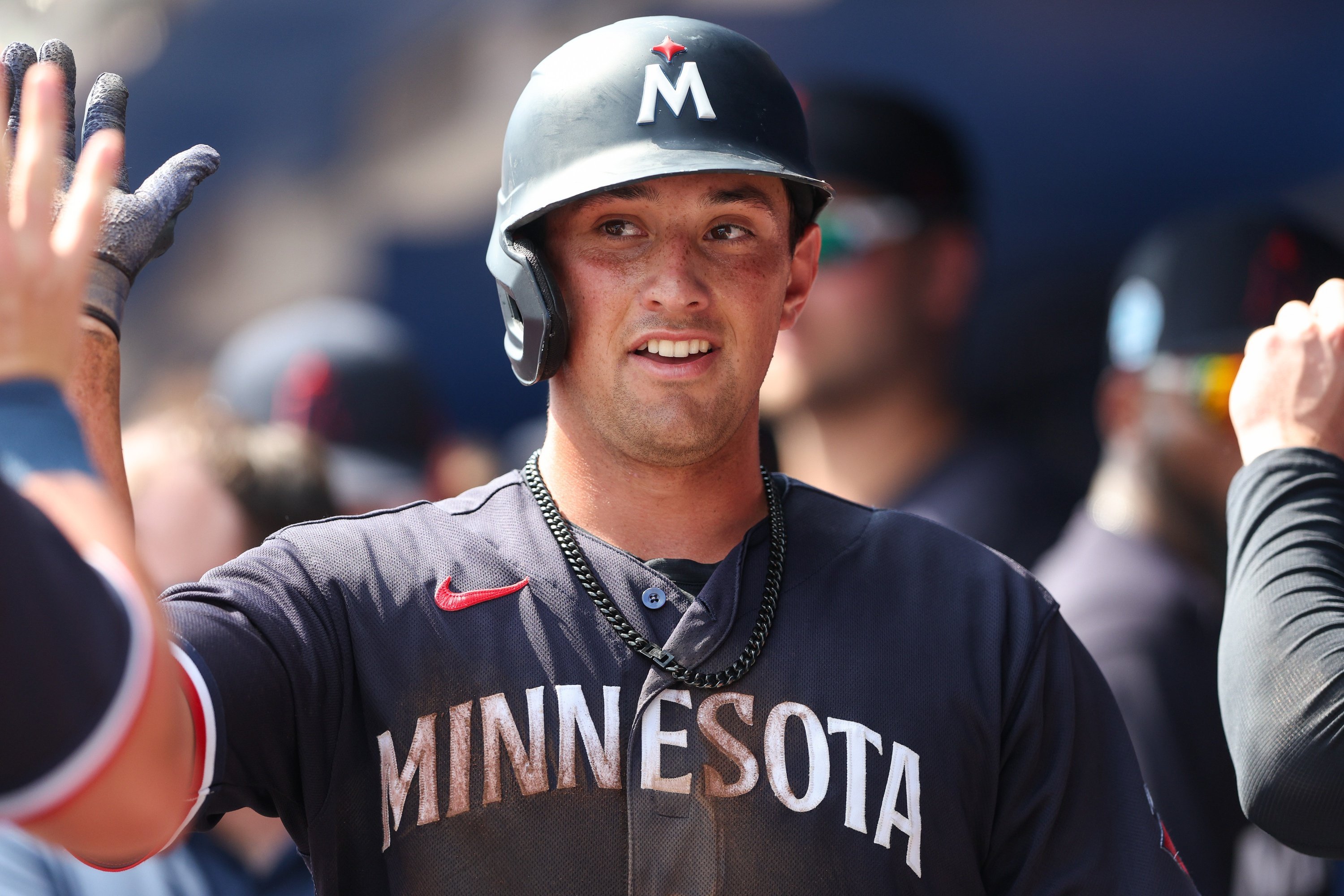 Image courtesy of Nathan Ray Seebeck-USA TODAY Sports
The Twins had lofty goals of establishing a sea of roster depth heading into 2023 and were successful in doing so. They've held onto struggling veterans all season, sometimes at the expense of younger, better players to ensure they avoid a repeat of the 2022 collapse. The marathon is ending, and as they finish the home stretch of the regular season and approach the postseason, it's time for a change in philosophy.
Along with the misfortune of the Twins potentially losing their starting shortstop and third baseman, comes a bit of good fortune in regard to who can qualify for a postseason roster. Any player in the organization can be deemed eligible for postseason play as long as they were in the organization as of September 1 and are replacing an injured player. This includes legitimate prospects who are big parts of the Twins' future, such as Brooks Lee.
One could argue that Brooks Lee has had something of a down season relative to his debut in 2022. That does include an .841 OPS in Double-A, even if his .708 OPS with St. Paul leaves much to be desired. So why should Lee get the call when it appears he has work left to do with the Saints?
If the Twins are without Carlos Correa for the playoffs, very much still an if at this point, this likely pushes Kyle Farmer into a full-time role at shortstop. While Farmer has certainly been a solid contributor to the Twins this season, he's far from a player you want starting every day, especially in the postseason.
Farmer's .708 OPS is a slight improvement on his 2022 numbers, but there are several things to consider before handing him the keys to a starting job when it matters most. He's always been a lefty masher, and while that wasn't quite true to the same degree this year, he was still nearly 20% above league average against southpaws. He's a valuable piece to be able to pull off the bench in a big spot, especially now that Jordan Luplow is likely out of the picture.
Farmer has also posted a .687 OPS against righties this season, a number that suggests tough times ahead when the Twins are facing an opposing team's best pitchers, many of which will be right-handed. There are going to be games where Christian Vázquez and Kyle Farmer are paired together at the bottom of the order, likely making the trip through the bottom of the lineup a cakewalk for opposing pitchers.
So why should we expect Brooks Lee to do any better?
For as much as it looks like Lee has to prove in the minor leagues, nearly all of this has to do with hitting left-handed pitching. Lee has posted a .607 OPS against left-handed pitchers, and an .866 against righties. It sets up a perfect situation where he could be lifted for Farmer later in games should a big spot arise with a left-handed reliever coming in. It seems like a tall task, but if anyone is up to it, why wouldn't it be top prospect Brooks Lee?
For anyone thinking "The Twins would never do this", they found themselves in a similar situation in 2020 when Josh Donaldson and Byron Buxton weren't able to play in the three-game playoff. Alex Kirilloff made his MLB debut in the postseason having not played above Double-A, and not having played organized ball at all that year due to the pandemic shutdown. Desperate times call for desperate measures, and in this case, the Twins still have a week plus to call Lee up and get his feet wet in an MLB atmosphere.
It may seem like a panic response, but Kyle Farmer as the Twins potential everyday postseason shortstop just isn't a good scenario. Likely to contribute nothing offensively against what will likely be right-handed heavy pitching staffs, the downside is as low as it gets, and the upside is extremely limited. That's not to say Brooks Lee's floor is any higher, but at least he has the potential of a top prospect and a track record of mashing southpaws. The potential for him to meaningfully impact a postseason contest should outweigh what will likely be a zero offensively paired with merely capable defense from Kyle Farmer.
Hopefully, it's all a non-factor, and Carlos Correa is ready to return come October. It doesn't hurt to plan for a worst-case scenario though. Brooks Lee is a legitimate piece of the Twins future, and even if he comes up for this stretch and begins next season back in the minors for a bit, it's hard to imagine the experience hurting him.
The Twins have spent much of the season conceding to veterans and their experience. Now that the playoffs near, the possibility of Brooks Lee's talent shining and impacting a postseason game should outweigh the veteran status and perceived "safety" of someone like Kyle Farmer. Do you agree?