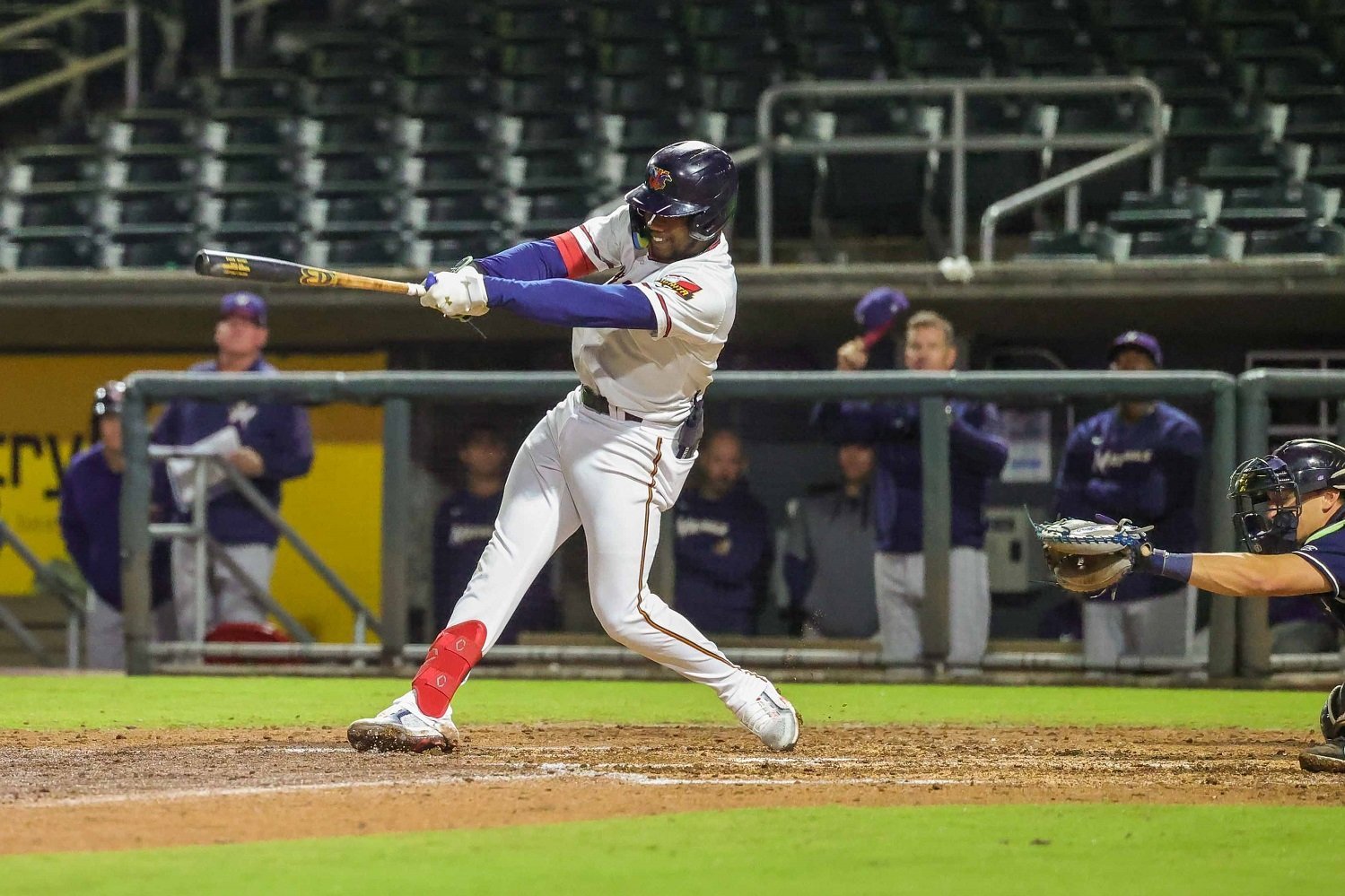 Image courtesy of Ed Bailey, Wichita Wind Surge
Headlined by rookies Royce Lewis, Edouard Julien, and Matt Wallner, the Minnesota Twins just underwent one of the most exponential youth movements in franchise history. These young players, mixed with stars like Carlos Correa and Pablo López, have seemingly ushered the Twins into a new era of baseball, one free of the burden that was the ever-looming Sisyphean 18-game playoff losing streak.
Unfortunately, the sense of renewal and optimism that has reigned over Twins Territory since defeating the Toronto Blue Jays on October 4th has spiraled into yet another Pohlad-induced angst, as it was shared that the team is expected to undergo payroll cuts heading into the 2024 season. 
Expensive veteran contributors like Sonny Gray ($13.3 million), Joey Gallo ($11 million), Michael A. Taylor ($4.6 million), and Donovan Solano ($2.1 million) are likely to depart from the Twins this offseason. Instead of replacing them with similarly priced veterans through trade or the free agent market, the front office, hindered by payroll constraints, may opt for inexpensive internal options. 
While we are in the early stages of the offseason and have yet to learn what the front office's plans are to replace these veteran players' production for the upcoming 2024 season, a handful of young internal candidates may be called upon. Although replacing the production of more key contributors like Gray, Taylor, and Solano will be difficult, a likely candidate to replace Gallo's production has already emerged in 24-year-old power-hitting utility player Yunior Severino. 
Like Gallo, it is vital to emphasize power when discussing Severino, as he finished the 2023 season tied with Astros prospect Shay Whitcomb for the most home runs in Minor League Baseball with 35. Severino accomplished this feat by hitting 24 home runs with the Double-A Wichita Wind Surge and 11 home runs with the Triple-A St. Paul Saints after being promoted on August 3rd.
Beyond his immense power, Severino possesses a versatile defensive profile similar to the one Gallo provided in 2023. During his time between Double-A Wichita and Triple-A St. Paul, Severino played 184 2/3 innings at second base, 556 1/3 at third base, 125 1/3 at first base, and was the designated hitter for 20 games.
To put this into perspective, Gallo played 315 innings in left field, 46 1/3 innings in centerfield, 53 innings in right field, and 322 innings at first base, and was the designated hitter for one game during the 2023 regular season. Severino isn't a viable defensive Major League outfielder, so the Twins will need to look elsewhere to cover the 414 1/3 outfield innings Gallo provided. Regardless, Severino could easily find himself replacing the 322 innings Gallo provided at first, if not more, while serving as at least an emergency option at third. 
In theory, Severino, a switch-hitter, could increase his value and perception of flexibility more than Gallo, who hits exclusively left-handed, ever could. Gallo often found himself part of left-handed heavy platoon employments whenever the Twins would face a right-handed starting pitcher. Typically, switch-hitters like Severino are platoon-proof, but earning that distinction depends on whether the respective player can adequately hit pitchers of both handedness. Here are Severino's splits in Double-A and Triple-A during the 2023 season:
Double-A Wichita Wind Surge
Versus Left-Handed Pitching - .290/.355/.551 (.906) - 76 PA, 20 hits, three doubles, five home runs, five walks, 27 strikeouts

Versus Right-Handed Pitching - .287/.368/.562 (.930) - 299 PA, 76 hits, 12 doubles, 19 home runs, 31 walks, 90 strikeouts
Triple-A St. Paul Saints
Versus Left-Handed Pitching - .286/.400/.429 (.829) - 25 PA, six hits, zero doubles, one home run, four walks, eight strikeouts

Versus Right-Handed Pitching - .223/.305/.527 (.832) - 128 PA, 25 hits, two doubles, ten home runs, 11 walks, 48 strikeouts
Despite a fairly significant drop-off in performance when facing right-handed pitching between Double and Triple-A, Severino still handled them exceptionally well, hitting 29 of his 35 home runs while generating a .881 OPS in 427 plate appearances against them. 
Severino manufactured incredible offensive numbers at both levels, which is why the Twins elected to add him to their 40-man roster to protect him from MiLB free agency and the Rule 5 Draft. If Severino hadn't been added to the 40-man roster, it is near-guarantee that a team would have selected him in the Rule 5 Draft as he is an MLB-caliber player. 
With Severino on the Twins' 40-man roster for the upcoming season, he will inevitably make his Major League debut in 2024. And with payroll cuts playing a prominent role in the Twins' decision-making process this season, it isn't far-fetched to expect Severino to be a key contributor for the Twins in 2024.
Whether Severino can hit for power more efficiently than the current version of Gallo, who seemingly became an automatic strikeout toward the end of his tenure with the Twins, is yet to be determined. Regardless, it is reasonable to expect Severino to be an improvement.
The Twins front office places a premium on power when analyzing which players to add and subtract from the 26-man roster, which is Severino's greatest strength. Severino did possess a roughly 33.9% K% to 9.7% BB% between Double and Triple-A, which is concerning but, at the same time, feasible. As long as Severino keeps his K% around 33.9% and does not skyrocket to the mid-40s, where Gallo lived most of the 2023 season, it is reasonable to think Severino could provide an upgrade for an AL Central Title-pursuing team. 
Assuming Severino's strikeout rate hovers around the lower 30s while effectively hitting for power from both sides of the plate, there is a significant chance he can put more than 0.7 fWAR, which Gallo generated during the 2023 season. Severino, being five years younger and roughly $10 million cheaper than Gallo, presents a unique opportunity for the Twins to immediately improve in a hyperspecific area of roster construction while saving an immense amount of money, which is the Pohlad family and, in turn, front office's main goal this offseason.
With the Twins set to make relatively drastic payroll cuts this upcoming offseason, they will need to rely more on their young internal options than in past seasons. Though this is a daunting proposition, it could also be a silver lining, and the Twins could end up unearthing a viable power-hitting corner infielder who could provide more value than the $11 million risk they took in Gallo in 2023.
Should the Twins put their faith in Severino to replace Gallo's production in 2024? Is giving him the opportunity too risky? Comment below.