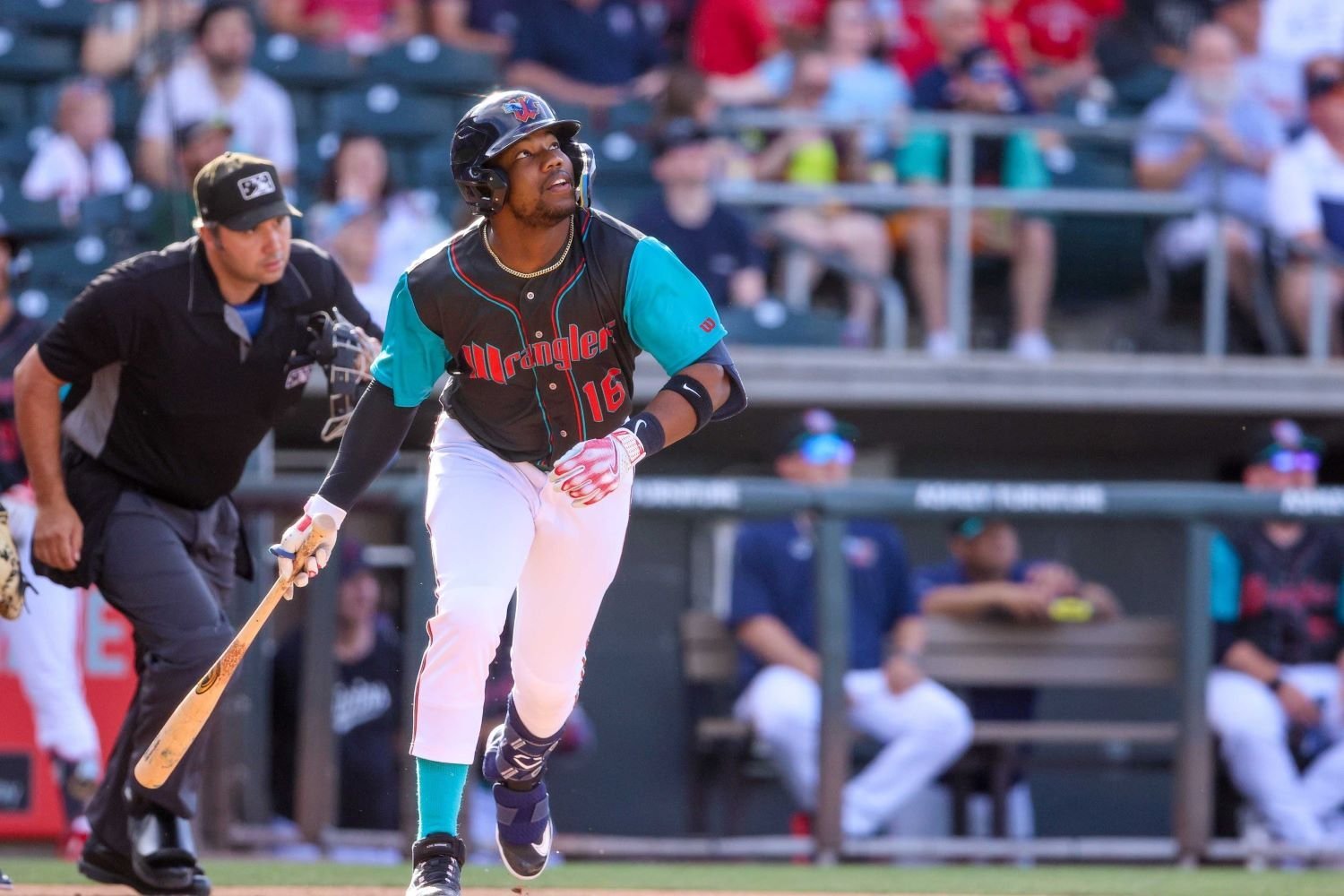 Image courtesy of Ed Bailey, Wichita Wind Surge
It feels like ancient history now, since the Atlanta Braves have come to be viewed as a model franchise, but six years ago they were embroiled in deep controversy. After it was learned the Braves were circumventing league rules around signing international amateur prospects, general manager John Coppolela received a lifetime ban from MLB and 13 minor-league players were released, free to sign with any club.
Among them was Yunior Severino, an 18-year-old who had signed with Atlanta for $1.8 million out of the Dominican Republic in 2016. At the time, he was a smallish second baseman coming off a modestly impressive pro debut. Considered one of the best talents to become available in the sudden purge of Atlanta's system, Severino was in high demand before signing with the Twins for $2.5 million.
Severino progressed gradually through the Twins system, starting at Elizabethton in 2018 and advancing all the way to St. Paul by the end of this past season. Like many prospects, his development was slowed by the lost COVID season. As Severino matured physically, he started transitioning from second base to third, and by late 2023 was often playing first base or DH. His future in the big leagues likely resides at one of those positions.
But on the flip side, as Severino's growing frame has led to a drop in defensive value, it's also led to a massive spike in power. In 2021, between two levels of A-ball, Severino slugged .430 in 98 games. Prior to that point he'd hit 12 total homers in parts of three minor-league seasons.
In 2022, Severino burst out of the gates at Cedar Rapids with 11 homers and a .572 SLG in 58 games. He moved up to Class-AA Wichita and added eight more homers while slugging .497 in the final 38 games. This season, between Double-A and Triple-A, the switch-hitter took his prodigious power game to new levels, launching 35 bombs and slugging .546 between the Wind Surge and Saints.
It does bear noting that the Triple-A hitting environment was extremely favorable this year. To wit: his .511 slugging percentage after moving up ranked 61st among players with 100+ PA in the International League. His .832 OPS translated to a wRC+ of 100, exactly average. Nonetheless, it's easy to see the appeal of Severino for the Twins in their current situation: a productive power bat with remaining upside, and a potentially inexpensive solution at a position of need.
The Twins are planning with a level of uncertainty at first base for 2024. Derek Falvey has been open in stating that it's a position he intends to address via trade or free agency this offseason. Interestingly, the addition of Severino to the 40-man roster will be somewhat restricting in terms of the front office's ability to make additions, so it's very conceivable he could be viewed as a short-term factor in the club's outlook.
A 24-year-old switch-hitter who can mash from both sides and just led all the minors in homers? Sounds like a quality piece to have on hand. If Alex Kirilloff is slow to come back from his latest surgery, the Twins could theoretically give Severino a shot in the spring to take over as interim first baseman. Or they could position him as top-line depth at the position.
The trouble with relying on Severino to fill a major role is that he represents an offensive profile the Twins might be trying to distance themselves from this offseason. He is very much an all-or-nothing slugger in the same vein as Joey Gallo. Severino's 36.6% K-rate with St. Paul ranked fifth among International League (AAA) hitters, and his 31.2% K-rate with Wichita ranked seventh out of 54 qualified hitters in the Texas League (AA).
Unlike Gallo, Severino doesn't offset all the whiffs with a healthy dose of walks. He's just an undisciplined hitter with a big uppercut swing who is looking to hit the ball over the fence every time he steps to the plate. More than a quarter of Severino's hits in 2023 (27.5%) were home runs. 
Planning around Severino as a part of the mix in 2024 would mean leaning even harder into the power-and-strikeouts identity that defined the Twins this past year, to the frustration of many. It would also mean giving a chance to the prospect they gambled on a half-decade ago as he finally evolves into the kind of feared hitter the Twins envisioned at the time.