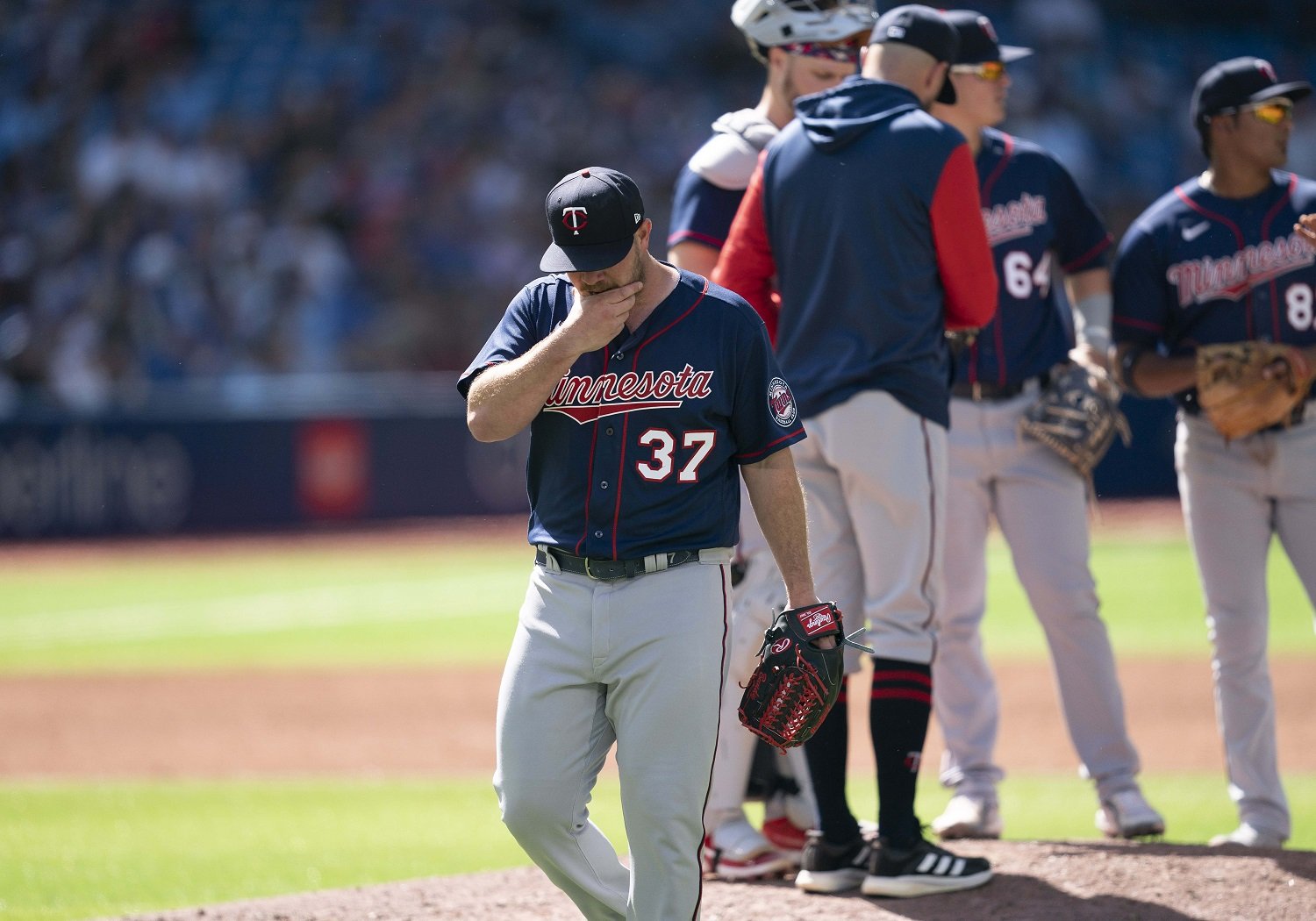 Image courtesy of Nick Turchiaro-USA TODAY Sports
Matt Shoemaker. J.A. Happ. Alexander Colomé. Chris Archer. Dylan Bundy. Emilio Pagán. Each of these players are veteran pitchers who struggled mightily out of the gate in a Twins' uniform, yet were given a leash long enough to pitch well into the Summer (in the cases of Matt Shoemaker and J.A. Happ) or for the entirety of the season (for the rest of the players listed).
The Derek Falvey-led front office of the Minnesota Twins has repeatedly shown an affinity for signing aging middle-tier pitchers and a hesitancy to move on from those veteran pitchers, even when those pitchers are performing especially poorly. 
In 2021, this issue was seen all over the roster. J.A. Happ and Matt Shoemaker were giving up 5+ earned runs per start for months and Alexander Colomé was continuously trotted out to the mound to blow game after game.
Rather than learning from those mistakes in 2021, Falvey's propensity for sticking with veterans too long was even more prominent in 2022. Both Chris Archer and Dylan Bundy somehow made it through the entire season on the roster, despite both of them being terrible all season and each finishing with ERAs in the high 4's. 
And then there's Emilio Pagán. We all know of the struggles that Pagán had in 2022, yet he was continuously relied upon in big moments throughout the season, and the Twins suffered mightily as a result. One would think that after the Alexander Colomé disaster of 2021 that Falvey would have learned his lesson, but things only got worse this season, as Pagán finished third on the team in innings pitched despite having the 8th worst win probability added in the American League. 
The most common rebuttal that I've heard from Twins fans defending Derek Falvey for sticking with his veterans is that there were so many injuries that the Twins had no choice but to stick with these guys. The final months of the 2022 season for the Twins, though, proved otherwise.
Over the final months of the season, the Minnesota Twins saw impressive debuts from rookies such as Louie Varland, Ronny Henriquez, and Simeon Woods Richardson. They also had other arms in the minors performing well, namely Evan Sisk, who posted a 2.00 ERA over 63 innings in Double-A and Triple-A.
Not only were the Minnesota Twins trotting out pitchers day after day that were actively losing them baseball games, but they proved at the end of the year that they had plenty of talent in the minor leagues that could have performed better and also gotten valuable experience they needed as part of the long-term future of this ball club.
Looking ahead to free agency of 2023, let's hope that the Twins front office has finally learned from their mistakes with trusting middle-tier veteran pitchers. Time and time again, we have learned that veteran-ness does not automatically make you a better player and that by giving an opportunity to younger pitchers, you are unlocking opportunity and ceiling that simply isn't there with the Dylan Bundy's and Matt Shoemaker's of the world.