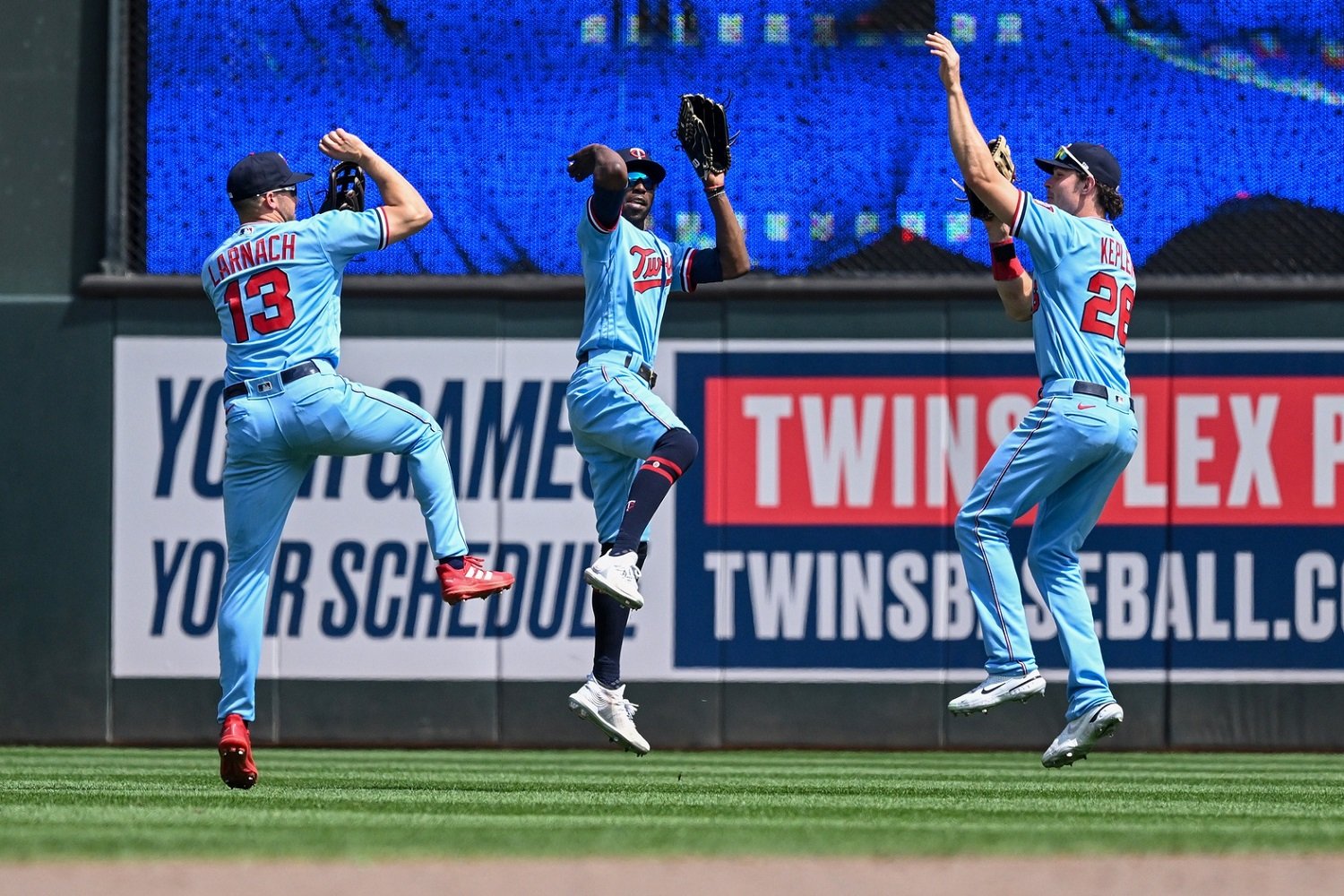 Image courtesy of Nick Wosika-USA TODAY Sports
Every front office spends the offseason trying to create a roster that can be competitive for multiple seasons. This takes a balancing act that includes established veterans, young prospects, and supplemental players. Minnesota has already changed the 40-man roster this winter by trading Gio Urshela and adding Kyle Farmer. These moves help the team set a floor at multiple starting positions, but there is still room to improve. 

Corner outfielders are one area where the Twins have a surplus, with nine outfielders on the 40-man roster. Minnesota hopes Byron Buxton can make most of the team's starts in centerfield, leaving eight players for the two remaining outfield spots. Luckily, many of the team's other outfield options have defensive flexibility. Let's take a look at the team's options. 

Projected Starters: Max Kepler, Trevor Larnach
Kepler is one of baseball's best outfield defenders, providing significant value even if his bat has recently taken a step back. There is a chance that banning the infield shift will help Kepler's numbers, but it's likely only to generate a few extra hits per season. There is also a chance the Twins will attempt to trade Kepler before the season starts because of the younger and cheaper options available. 

Injuries have limited Larnach to fewer than 91 games in each of the last two seasons. Last season, he finished 11th on the team in WAR, even though he only played 51 games. He can play both corner outfield positions, but his defense is more limited than some of the team's other options. Entering his age-26 season, Larnach must prove he can stay healthy and produce at the big-league level. 

Bench Options: Gilberto Celestino, Nick Gordon, Mark Contreras, Kyle Garlick
Celestino provides the Twins will insurance for Buxton in center field, but he isn't far removed from being considered one of the team's top outfield prospects. He's only played 51 games at the Triple-A level because the Twins have had an outfield need over the last two seasons. He destroyed the ball last May by hitting .364/.426/.418 (.844), but his second-half OPS dropped to .582. Celestino will play significant innings, but it seems in the team's best interest for those innings to be in center. 

Gordon surprised many with his 2022 performance by hitting .272/.316/.427 (.743) with a 113 OPS+. Kepler was the only corner outfielder to accumulate more WAR last season, and his OPS+ was 20 points lower than Gordon's. Among AL left fielders, Gordon ranked fifth in SDI, which was impressive considering he had limited innings at the position entering the year. Entering 2023, Gordon will likely continue to fill a utility role. 

From a roster construction standpoint, it will be intriguing to see if Garlick and Contreras can survive the offseason on the 40-man roster. Together, they form a natural platoon, with Contreras being a lefty and Garlick being a righty. However, they are lower on the team's depth chart at both corner outfield spots, so they seem unlikely to make the Opening Day roster. They each have minor league options remaining, so they can offer organizational depth. 

Other Outfield Options: Alex Kirilloff, Matt Wallner
Kirilloff was considered one of the team's best prospects before injuries limited him in his first two big league seasons. For his career, he has hit .251/.295/.398 (.694) with a 94 OPS+, but a wrist injury has impacted his power production. Kirilloff underwent a unique wrist surgery in August, and few professional athletes have had this procedure. If healthy, Minnesota's best defensive alignment likely has Kirilloff at first base. 

Wallner powered his way through the upper minors last season with a .953 OPS. Minnesota waited until the middle of September to call him up, and he posted a 105 OPS+ in 18 games. He is one of the best power-hitting prospects to come through the Twins organization over the last decade. His stock continues to rise, and the team will likely make him the first man up from Triple-A when there is an injury. 

It's great to have depth at any position, but it's easy to see where the Twins may have too many corner outfield options. Can the team deal one or more of these players to fill other needs? Or are there enough injury concerns to keep all eight players on the roster? Leave a COMMENT and start the discussion.